POV Holder:
?
Next POV
Aug 30th
POV Used
?
POV Ceremony
Sept 1st
HOH Winner
Caleb
Next HOH
Sept 4th
Nominations:
Nicole and Christine
Have Nots
Derrick and Nicole
POV Players
?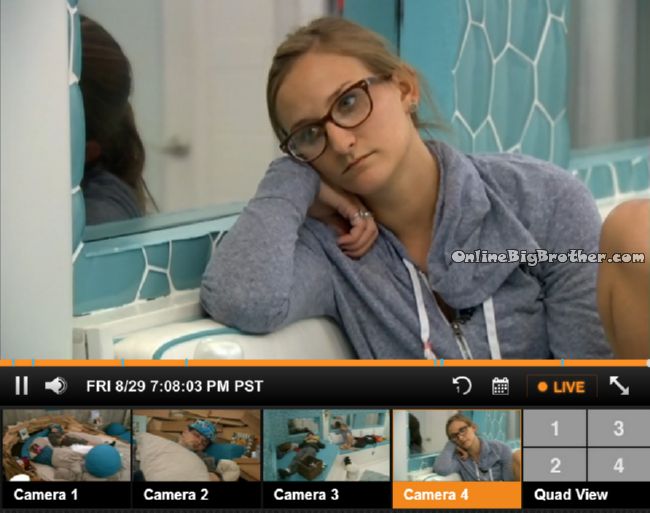 7:09pm Bathroom Derrick and Christine
Christine says she will pick Cody for houseguests choice. She feels more comfortable with COdy than Frankie. Derrick thinks Nicole and Cody are close thinks she might pick him.
Christine says she got a migraine from eating a reese's butter cup, "My stomach is bubbling not painful but uncomfortable"
Christine brings up a twitter fight she had with someone about feminism.. says she finds it funny.
Christine thinks there will be a lot of haters why they get out.
Christine says Tim's hair looks so good, "Don't cut your locks you know I like them.. I wonder if he got any new clothes.. we both had the same wardrobe for 3 years.. I'm just curious he went out to buy some"
They talk about how nobody will understand what it's like in the Big Brother house. Derrick says they will never understand the level of stress they deal with by being apart from their family.
They talk about Danielle (BB14) and how bad she must feel for using the veto on Dan and putting Shane up in his place. Shane went home and would have taken her to the end. Derrick says Dan was lucky Ian honoured his final 2 with Dan.
Christine says Spencer (BB15) was a floater and boring.. "Gina Marie's speeches were so drastic"
Derrick yeah they were crazy..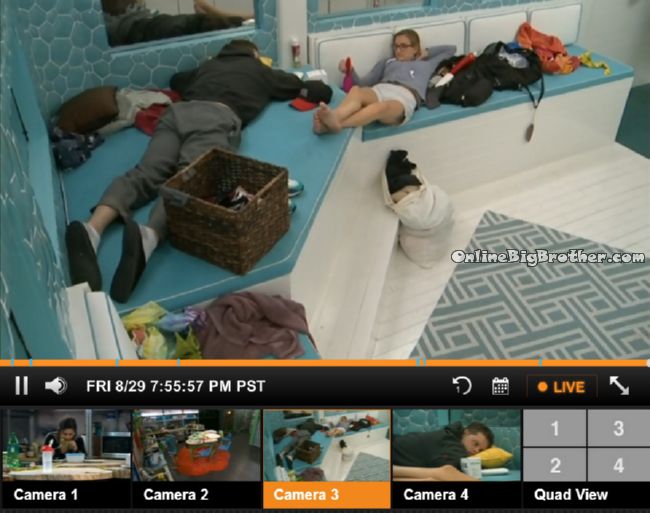 7:55pm Christine and Derrick
Christine – Nicole is probably going to work to destroy me..
Derrick doesn't think it will work
Christine is worried Nicole will win the VEto
Derrick doesn't think she should worry.
Christine wonders what Nicole was saying to Caleb last night. (For damage control Caleb told Christine Nicole was throwing Christine under the bus, this didn't happen all Nicole said was If Nicole doesn't win the Mental comp Christine would most likely win.)
Christine says today Donny enters the Jury house. They are probably all pissed them.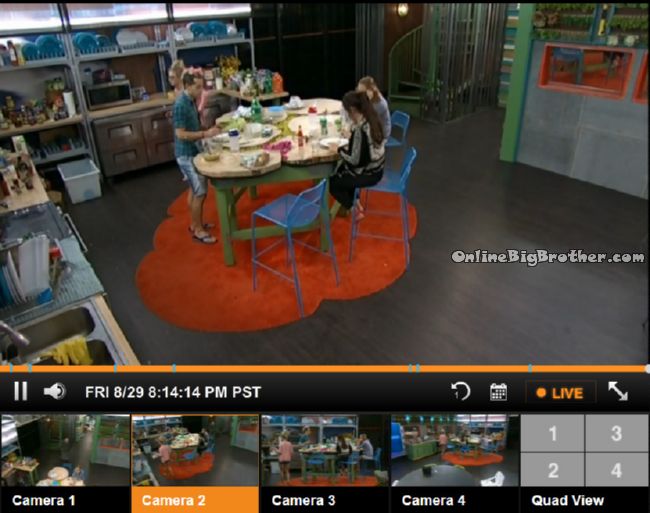 8:13pm Kitchen Frankie, Caleb and Victoria
Frankie made Dinner for everyone
Frankie and Victoria think they will go to bed after they eat. "I only slept for an hour last night"
Nicole has just woken up rolls through grabs some juice "ahh I gotta pee"
8:38pm Caleb and Cody HOH
Caleb can't wait until that Backyard is open slam a monster and hit the weights.
Caleb – dude 20 days left
Cody – how crazy is that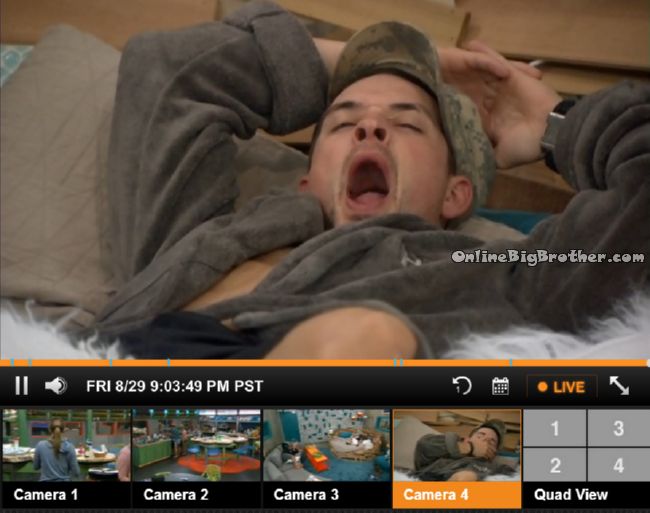 9:00pm Still not much going on..
Caleb says Christine will go home during the double eviction, "THat would suck man I would hate going out the fourth person"
Cody says Zach was a snake, played it dirty and didn't play it good. "This season was dirty dirty game play"
Cody explains how the final 3 works "It's so intense it's so exciting we're so close"
Caleb – I would hate to play the game I played and be the third person not make it to final 2"
Cody tells them from here on in only the winner feels safe.
Caleb – I literally feel safe if you guys win
Cody – ya I was just thinking that.. I would feel safe if you were HOH
Cody – we have 3 more weeks to enjoy this insane journey
Caleb – people don't understand what it's like
Caleb says when he was talking to the DR they said they will have to talk to "Caleb's Agencies"
Cody says when he gets out of here he's going to get an agent.
Cody is worried he said something he didn't mean and it blew up
Caleb – I said the R word a bit
Cody thinks they will be OK with that. They both agree Zach is probably taking a lot of flak for the things he said about girls calling them the "B" word
Caleb – I like JEssie dude
Cody – she was in a season of SMOKE BOMBS
Caleb – SHe had a DONK son
Cody says Amanda wasn't bad she wasn't great.
Caleb – in a way Brittany was hotter than Amber.. Amber was all around a good girl inside and out. that is why caleb liked Amber more.
Cody – and she cooks absurd food
Caleb – she cooked like the iron chef
Christine joins them. Say neither Victoria or Nicole will talk to her or look at her. Christine looks at Victoria and Nicole on the HOH TV, "Oh looks like they are talking about something serious"
Cody says it finally clicked in Victoria today "I'm f***"
Christine – WE'll Nicole and Victoria talked for a hour today
Cody says Victoria can't win a comp and she' realizing she was literally dragged this far the entire time
Caleb – she was horrible yesterday
Christine – did she get it half way
Cody – she didn't get it a quarter
Cody gets called into the Diary room.
Caleb is saying that Nicole is the target and being a have nots twill make her weak in the POV. He adds Brittany went on slop three weeks in a row and he was on slop too.
Frankie comes in.
Christine says sh'es 99% sure the Veto is the double evict veto with the maze and the rod.
Frankie knows that one.
(Apparently something big is getting built in the back yard)
Caleb – are we all ready for the veto tomorrow.. my knee is starting to feel better.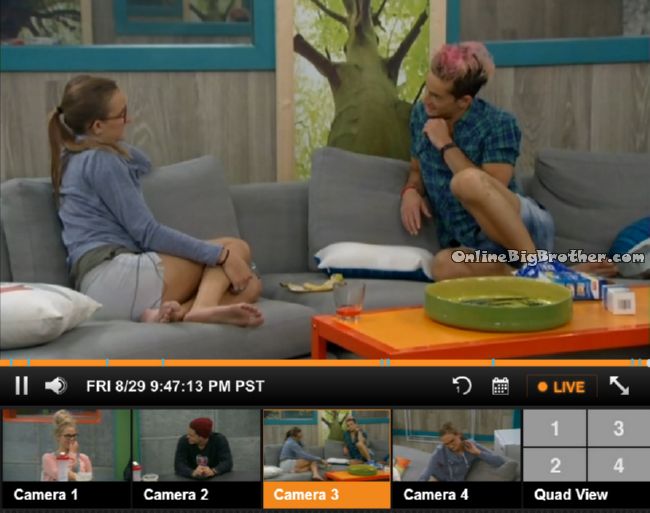 9:45pm HOh Christine and Frankie
Christine saying that Nicole and Victoria are not talking to her or looking at her. She Asked them if there hips still sore and none of them answered.
Frankie says they are pissed at her because how safe Christine has been acting. Christine says Victoria is going to get picked for the Veto but won't win it. As long as Nicole doesn't win they are final 5 like they planned.
Christine thought if Victoria wins veto and uses it on Nicole she's in trouble but there's really no chance of Victoria winning anything.
Frankie doesn't think Victoria will choose Nicole over Derrick
Christine – She's good with her words she's like making things up .. good things
Frankie – Victoria is broken I loved what Caleb said to her today.. everything you said fell on deaf ears"
Frankie about Nicole – I hate her.. she's the worst
Christine – She is..
Frankie – I can't believe neither of us say this coming.
Christine – ya right
Frankie – how did we not know that she was a monster..
Christine – I honestly don't know she hid it so well from me.. we should have seen the signs.
Frankie – I can't believe how calculating convincing and manipulative she is.. I just want to beat her fucking a$$ tomorrow"
Christine start coughing.. (Her cough is really bad)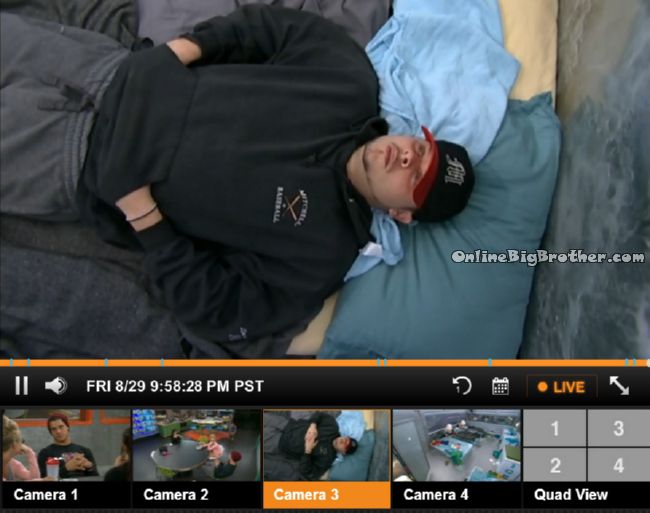 9:56pm Derrick talking to the cameras giving his reasons why they didn't save Donny it would draw a line between team america and the detonators. Mentions he would have to turn against his closest ally in the house Cody.