POV Holder:
?
Next POV
Aug 30th
POV Used
?
POV Ceremony
Sept 1st
HOH Winner
Caleb
Next HOH
Sept 4th
Nominations:
Nicole and Christine
Have Nots
Derrick and Nicole
POV Players
?
Take Advantage of the FREE 2 day Trial to watch all the drama!
12am – 12:30am Up in the HOH room – Caleb and Frankie are talking. Frankie is telling Caleb that how when picking havenot he should have just pointed to Nicole. Its like ripping a bandaid off. They discuss what happens when it gets down to the final four. Frankie says it all comes down to the jury. Caleb says yeah. Frankie tells Caleb that you need to stop telling people you have the jury votes. If people think you have the jury votes they won't take you. You can tell Derrick but that's it. Frankie tells Caleb – I think you have a wonderful shot at winning this. Frankie says that he didn't even notice Nicole for the first 7 weeks. That would be my one regret not recognizing Nicole as a good game player earlier. Caleb says I would love to see you and I in the final two. As long as we're sitting there I'm okay with it. As bad as I know it will be a tough decision in the end I would still take you. Frankie says I think you have a better shot than I do but I would still take you. Caleb says they could be voting on who won the most comps. Frankie says I need to keep winning comps. I don't think Jocasta liked me. Donny said he respected me for my competition wins. Frankie says I don't think anyone could beat Derrick of Cody. Caleb and Derrick head downstairs to the kitchen to eat.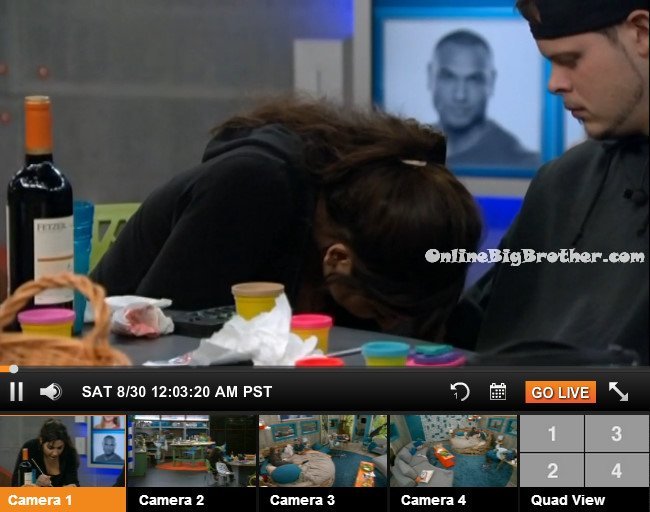 One way to support this site that doesn't cost you anything extra is making your Amazon purchases through the links Below
For in Canada use the following link: Amazon.ca
In the kitchen – Victoria paints on Derrick's arm and then he pains on her arm. Meanwhile in the bathroom Cody showers. Cody and Christine are in the kitchen eating with Caleb and Frankie. Frankie asks Cody if Brittany tells you she doesn't have kids do you A) get mad at her or B) rail her in the bathroom? Cody says nail her in the bathroom. Frankie asks your biggest regret in the game is A) talking to Devin on day 1 or B) not nailing Brittany. Cody says B. The conversation turns to talking about medications. Frankie says he's obssessed with reading labels for medications.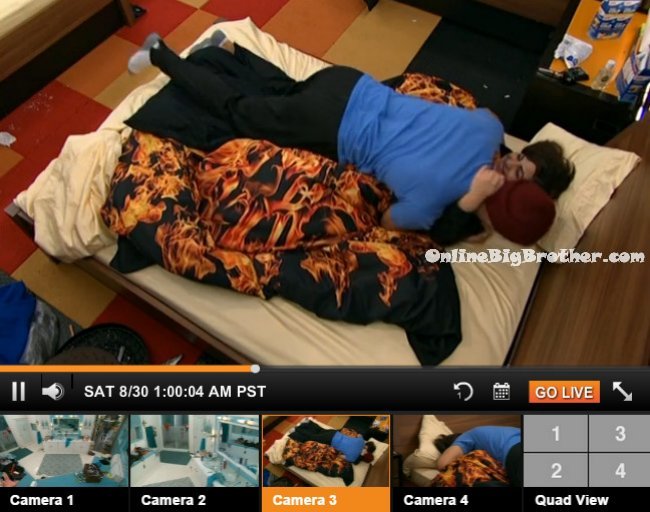 1am – 2:15am In the fire room – Derrick says good night quickly to Cody and Victoria. Victoria asks is that it? That's how you're going to say good night?! Derrick says life's tough, get a helmet. Derrick leaves the room. Nicole and Derrick are in the havenot room talking about up coming comps will be. Nicole says coming back in here I lost some of my fire. I am done crying. Derrick says its okay to cry. Nicole says I'm tougher than that. Derrick says for my being here I gave up a lot like the my kid growing up and I can't get that back. If I don't win I lose you know what I mean. Derrick tells Nicole that she at least leaves with a good friendship and maybe more. Nicole says I just want to go home. Derrick says like you don't want to go to jury. Nicole says I do but I don't. I just really want to see my family. Derrick says that she just needs to win the veto. He tells her that its not looking good but that she just needs to win the veto. You have an equal opportunity to win it. Nicole says she thinks this season has way more butt kissing than she's ever seen. Nicole says Caleb said he would take someone he could beat but I would take someone that would make for a tight game and give me a run for the money. Nicole says I can't believe I'm a failure at comps. Derrick says you're not you've won 3. Derrick says I would love to see you still in this game but I can't jeopardize my game. Nicole says I know I wouldn't as you to. Nicole says I don't know how Donny pull out so may veto wins. Derrick tells Nicole that Cody and Christine are definitely close.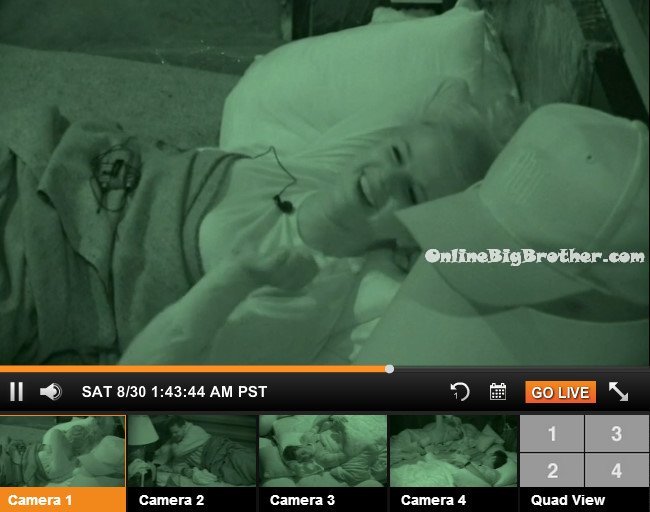 1:30am – 2:15am Cody and Christine lay in bed in the earth room talking about movies and music. Cody loves watching good love stories. Cody says that in Tim's video to Christine he looked so cute. Christine agrees and says that she wishes his tattoos were showing. Christine starts talking about Tim's music. She says that he has a following in Tucson. He has a voice of an angel. She says that after this is over she will pay for Tim to go to Nashville to record his music. She says that her and Tim's combined income is 24K a year. Cody asks what Tim's band is called? Christine says Spider Cider. They continue to talk about random things and then go to bed.
9:30am – 9:50am Big Brother blocks the live feeds to wake up the house guests.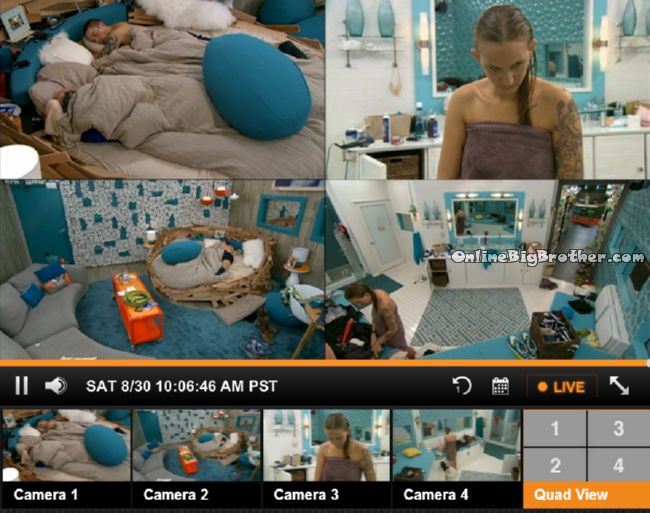 10:07am
Christine is the only one up on the camera
Frankie and Caleb sleeping in the HOH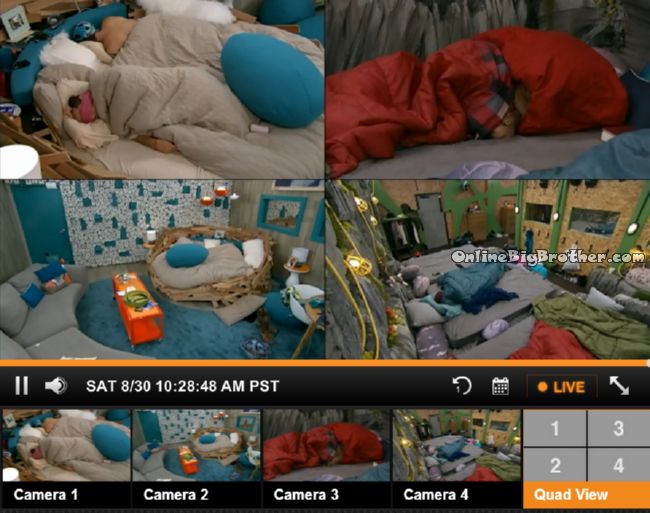 10:30am Back to everyone sleeping
Christine crawls into bed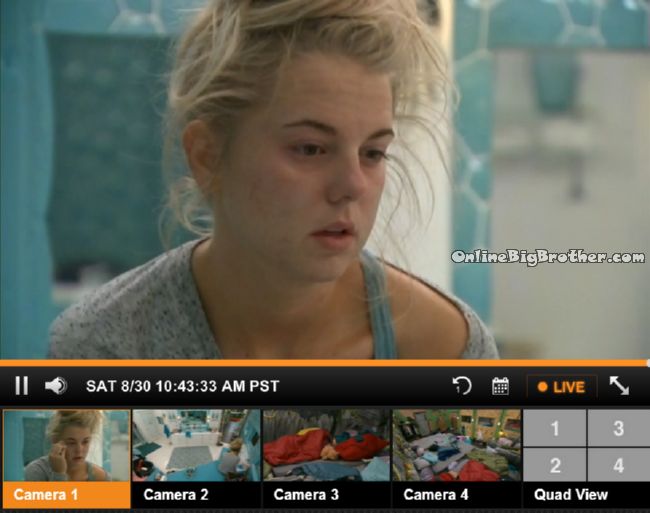 10:46am Not the best morning for Nicole
10:57AM Nicole and Christine have been in the kitchen preparing/eating their breakfasts nothing is said. Cody rolls through, Christine is all giggles until he leaves then it's back to silence.
Victoria wakes up rolls into the kitchen tells them she's super sore. SHe wonders when they pick the veto players.
11:10AM Most the houseguests are getting up now.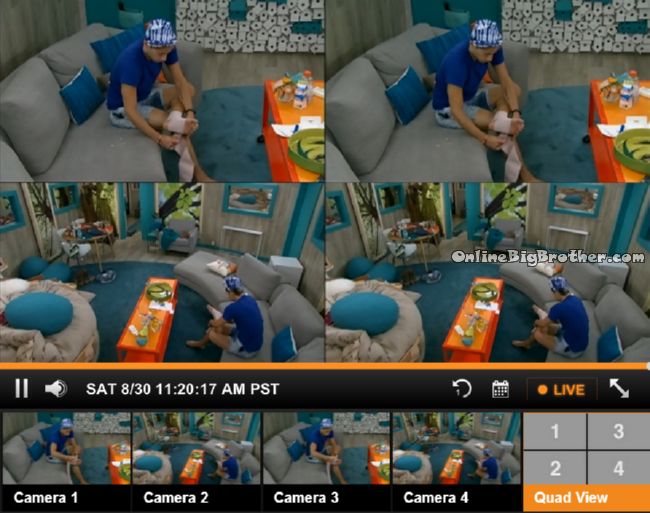 11:16AM HOH Caleb and Frankie
Caleb says his throat is sore feels like there's frogs in it. Frankie tells him to gargle with Salt water, hydrate and steam shower.
Frankie – I'm not going to put make up on OH mY GOD
If you're enjoying the live feed updates this season, please consider donating. Simon and I work 24/7 all season long to keep you updated on everything that happens inside the BBUS house. Any amount is greatly appreciated! Your donations go directly to paying the server and bandwidth fees required to run this site.
[polldaddy poll=8274218]