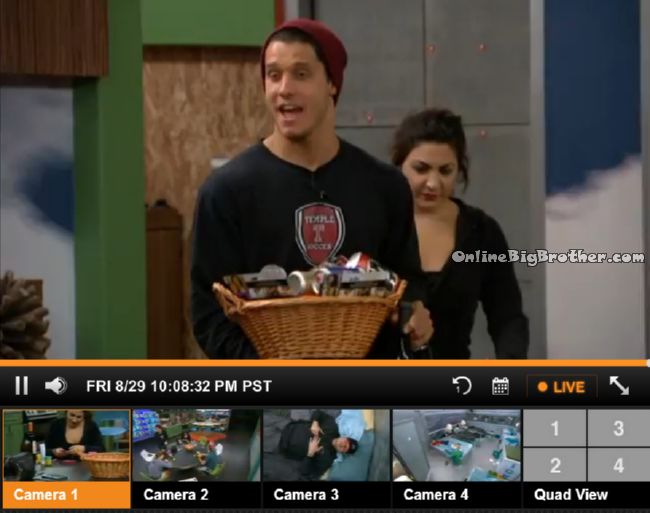 10:10pm
They get beer, wine and playdough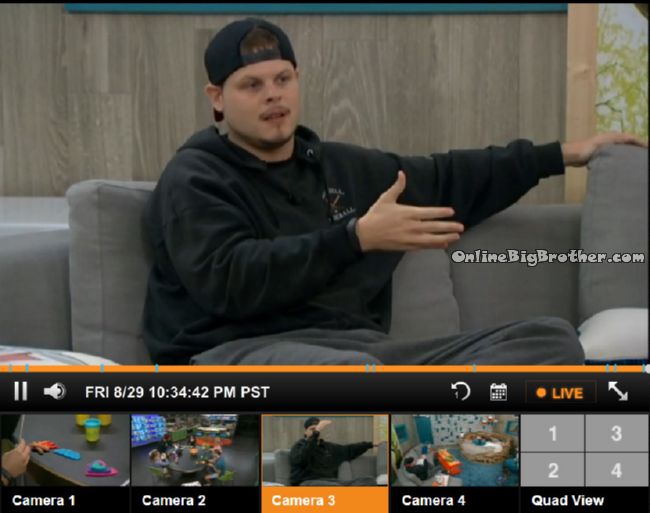 10:23pm HOH Caleb and Derrick
"Derrick Open your mouth let me hear a HOLLA"
Derrick feeling any better
Caleb – ya, me and Cody were talking a little bit of game.. about the final 4 how hard it will be to choose.
Caleb – between me you and Cody Frankie will go..
Derrick – of course.. I won't speak for COdy only my self.. we're all playing strong games you know.
Derrick says Caleb and COdy are the two top contenders for 500 thousand, "If you and COdy get there it will be a battle I can't tell you who will win"
Derrick says 6 people still need to leave this game that is 2 less that has already left . Stresses that anything can happen.
Derrick says he never told Cody about the frankei/Caleb final 2
Caleb – if it comes down to you and Frankie i'm picking you.
explains that Derrick has never wronged him
Derrick says he saw on the screen where the money was going.
Caleb – you are the only person that haven't been on the block
Derrick – I don't truen my mouth.. you've been on the block because you are a competitor's.
Derrick explains he's not viewed as a competitor nor is he vired as a person that will run their mouth and talk sh1t.
Caleb told COdy he's hoping it's going to be Cody, him and Derrick final 3
Derrick says the final HOH will be a battle between Caleb and Cody.
Caleb tells Derrick if he wins the final HOIH he'll take Derrick.
Derrick warns him if he goes to the final 2 with Cody and Frankie it will be tougher for Caleb to win. "It'll be a title fight"
Frankie joins them. "we succeeded in breaking up CHristine and Nicole" Frankie says Nicole is alone in this house and trying to get Victoria on her side.
Frankie adds that Victoria and Nicole were talking in the room for 90 minutes
Derrick says Cody is very tight with Christine. Frankie says Nicole will not talk or look at Christine.
Derrick think that is all paranoia points out on the HOH TV that Nicole, Cody and Christine are talking in the dining room.
Frankie says he asked Victoria if she was going to have wine and she told him no there is a POV comp tomorrow.
10:52pm Lots of talk about how hard it would be to beat Cody in the finale. They agree Cody has the three girls left in the house. Derick says if Cody has Nicole he's got most of the Jury.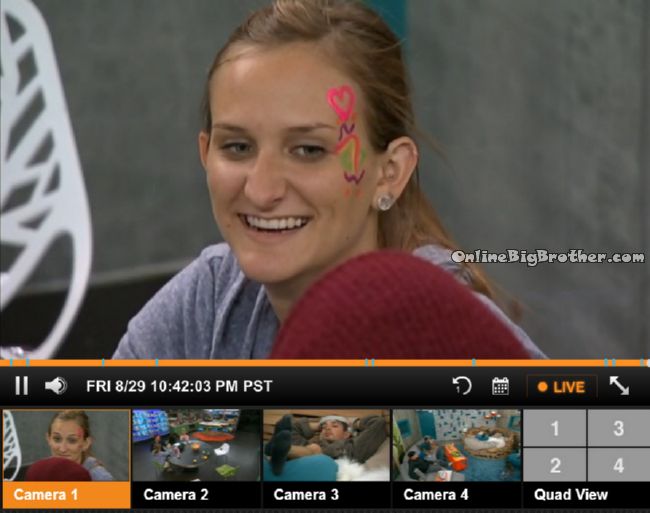 10:48pm Cody is going to paint a man on one side of her face and a women on the other
11:05pm HOH Derrick, COdy and Frankie
Frankie says his sister being on the show drummed up excitement for the show.
They talk about Nicole saying Frankie's sister snubbed Hayden when he was evicted.
Frankie – f***g Nicole's mouth for all I know she wasn't even there"
They start talking about movie stars, Frankie says Mark wahlberg made 40 million for Transformers. ..


11:13pm Christine 1/2 man 1/2 women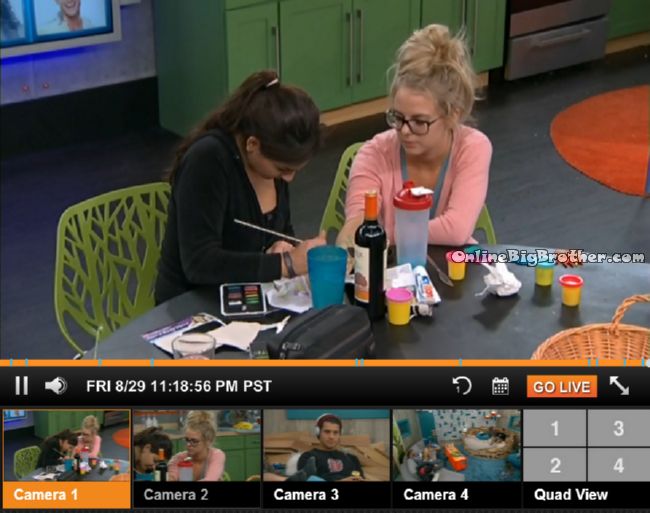 11:20pm Victoria and Nicole
Victoria is painting a black rose on Nicole
Talking about their dislike of Christine. Victoria brings up telling Christine that Birth COntrol causes cancer. and Christine argued it in a way that belittled Victoria's intelligence. Christine agrees that Birth COntrol isn't good for you says it reduces your chances of having children. She only took it for a 3 month trial.
Nicole – Christine seems extremely confident
Victoria – she doesn't know sh1t
Christine gets called into the diary room walks by them says imagine when we walk out Julie tells you you were the most hated person on big brother you were one of the mean girls. Nicole points out that Julie never mentioned that the first time she was evicted so she thinks she's good.
Christine comes back says she has to wash off the makeup they want a "reaL DR " now.
Victoria hopes Derrick makes it to final 2 he's never been on the block hopefully it will stay that way. "Crazy I always told HAyden how I saw him winning this game"
Nicole – I thought Derrick or Hayden.. "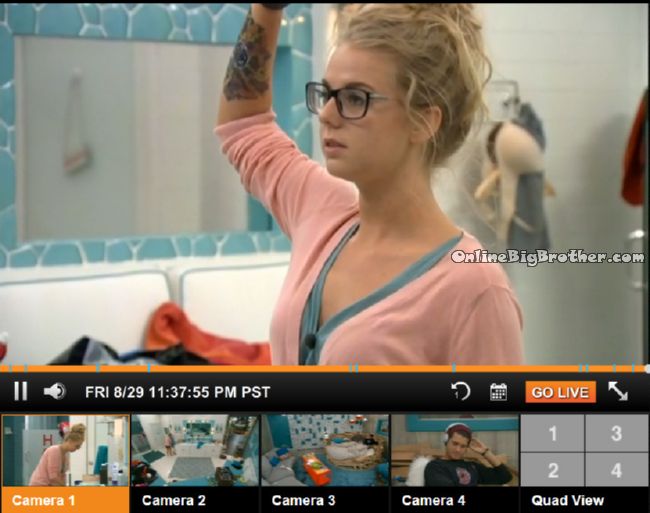 11:38pm Nicole shows us the finished job
11:49pm Victoria painting Derrick now.
11:49pm HOH Frankie, Caleb and Cody
Trying to figure out why Donny thought he was going to get America's Player. Frankie says
Frankie – My following are not fans of this show now there is a bunch of 12 year old girls now watching this show.
Frankie says he's brought fans to Big Brother.
Frankie – My sisters fans are not watching this show.. my action in this game will dictate if I win America's Favorite.
Caleb – Donny, Literally we ONLY targeted him 3 times..
Frankie says Donny has won 3 vetoes.
Frankie says A gay person has never won America's Favorite player. Frankie tells them Andy was the only gay person to win the Show.
One way to support this site that doesn't cost you anything extra is making your Amazon purchases through the links Below
For in Canada use the following link: Amazon.ca
[polldaddy poll=8274218]