POV Holder:
?
Next POV
Aug 30th
POV Used
?
POV Ceremony
Sept 1st
HOH Winner
Caleb
Next HOH
Sept 4th
Nominations:
Nicole and Christine
Have Nots
Derrick and Nicole
POV Players
?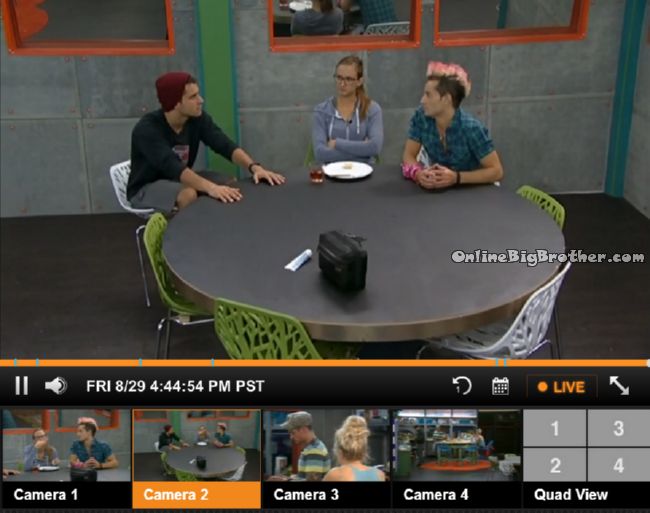 4:43pm Kitchen
Christine tells Cody she's worried that they will air her saying the 'S' word after she fell in the Endurance Competition. Frankie joins them and they start talking about America's next top Model. Frankie says one of the girls that one were hideous but she took the best print.
5:00pm Kitchen
They are saying Derrick is the person whose best to be a have nots with cause he's always cooking food.
Nicole knows she was a Have not with Derrick when they had the pizza and fish.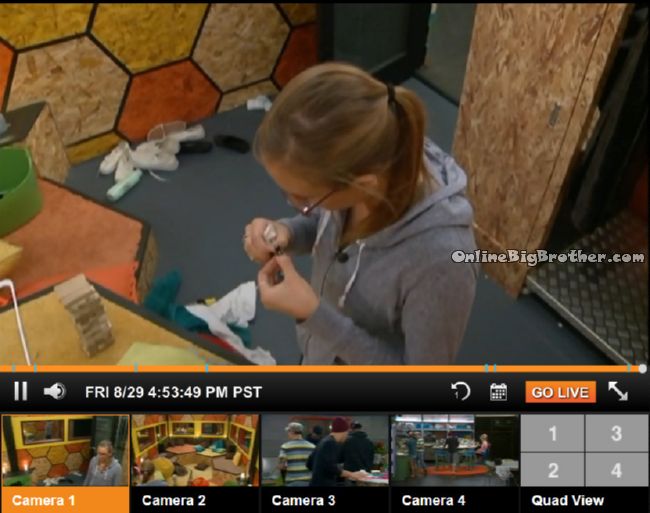 4:53pm BEEHIVE Christine
I hate them I've done so much crap for the stupid Detonators F***G bombsquad and I always end up on the block i'm F****g done .. I'm playing for myself and that means I don't want Vittoria up and If I win next week she's not going up.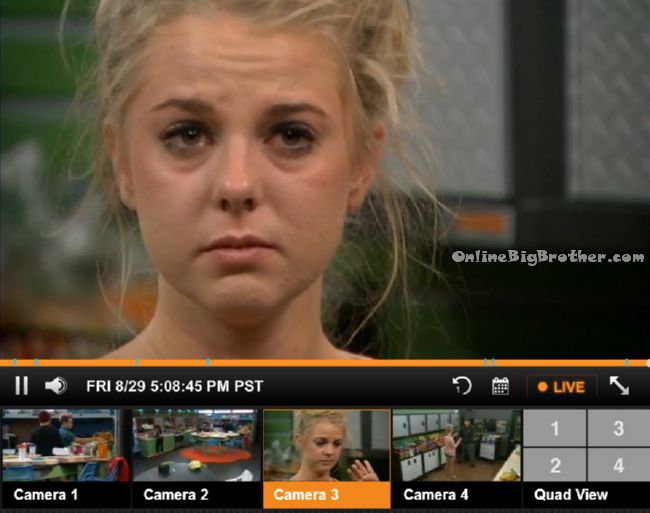 5:08pm Storage room Nicole and Derrick
Nicole knows how it goes in the house when there's a person on the block and they are the target. Everyone ignores them. She wants at least someone to talk to. Derick tells her they can talk anytime. She's going to go to sleep after the dishes. Derrick will do the dishes for her. Nicole is worried that people will start saying she's leaving dirty dishes laying around. Derrick tells her not to worry he's taking care of it.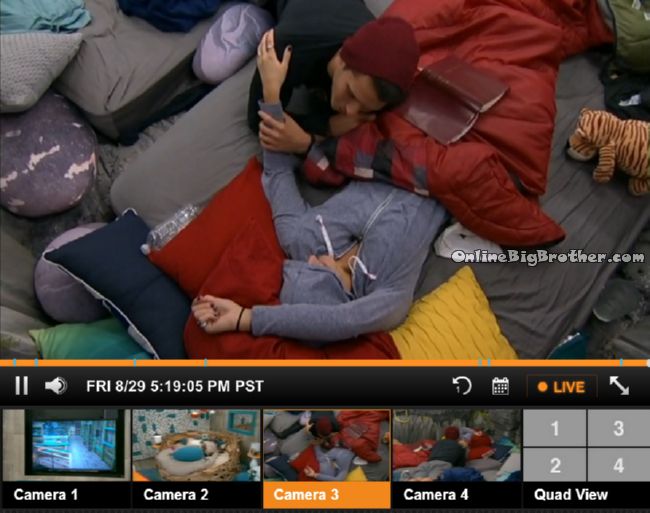 5:19pm Cody and Christine
Chit chat.. He says hopefully it's a running around competition because that way he'll CRUSH it.
The Live Feeds are archived. You can go back and watch everything that happens
Try It Free! Subscribe now to the official BB16 Live Feeds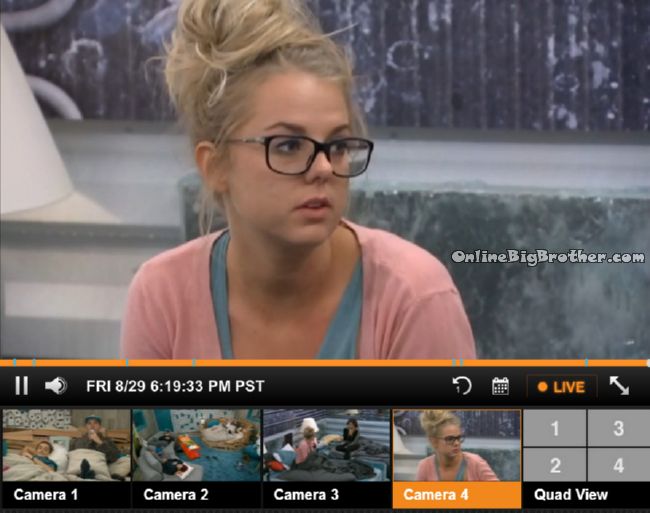 5:30pm Nicole and Victoria have nots
Victoria is icing her ankle it was sprained in the competition
Nicole says Christine went up as a pawn and she's the target she needs to win POV to stay in the game.
Nicole – that speech was so weird
Victoria – the vibe is so weird
Nicole says Frankie is manipulating Caleb sand using him.
Victoria has had enough of the fakness in the house
Nicole has never seen so much fakness before she just wants a real person to talk to.
Nicole laughs 'It's a waste of a HOH i'm by myself he's doing what Frankie wants.. this is not a big move.. "
She explains she's by herself in this game, she's not targeting Caleb she's not a threat at all to him.
Victoria – there is no drama there is nothing.. it's pathetic.
Nicoe – I can't believe Cody and Christine are so close.. they are obviously together game wise..
Nicole doesn't understand what Caleb is thinking about he can't play in the HOH next week and Christine will never put up Cody.
Nicole says about Frankie "He was laughing before the nomination ceremony he always knows what is being said"
They both hope Frankie's chip doesn't get pulled and he plays the veto.
Nicole – I hope I pull your chip..
Nicole – they can't do something physical if they do Caleb will win it he's not sore.
Victoria – Caleb's knee is f***d up he can't walk up the stairs.. the Doctor told me I can't walk so the competition cannot be physical .
Nicole – Cody is super close with Caleb, Derrick and Christine.. you can't keep everybody safe..
Victoria – It's a boring a$$ season
Nicole agrees says the group of 5 hates everybody else and they share information they never keep anything to themselves, Donny, Hayden and Jocasta are all loyal and they are in the jury.. this isn't a season of keeping your word this is a backstabbing group it's crazy.. it's so crazy..
Victoria will be disgusted if Frankie makes it to the final 2
Nicole thinks there will be a lot of people that will be disgusted.. "I'll have a hard time voting
Victoria knows that they are saying really nasty thing in the Diary room
Nicole says Frankie tried to flip the house at the last minute yesterday because he was scared of Nicole.
Nicole – It's not strategy to get me out it's for Frankie's satisfaction.
Nicole – there is no one here that will change or work with me.
Victoria says things change all the time
Nicole says there hasn't been any changes in this game thus far
Victoria says they finally got to see the real Cody when he was outside..
Nicole says Christine is not real either she's just as fake as Cody.
Victoria – she's brutal
Nicole – she told me  all the crap she said about you in the DR.. and she talks crap about me to.
Nicole – She talks more crap about people than anyone i've seen in my life. They agree that Christine is the worst.
Victoria – She is the most brutal person i have ever met.. she gets pleasure about talking bad about people
Nicole everything that comes out of her mouth is negative unless it's about Cody
Victoria – I really don't like her.. Frankie doesn't like her.
Nicole didn't know that about  frankie and Christine were not close.
Nicole – I knew she wasn't a good person when she told me you and HAyden made out..
Victoria – that is so personal
Victoria claims that Rachel was never mean in her season.. "She never got personal" (LOL huh)
Nicole says Dan was such a good player and never talked bad about people.
Victoria says last year was racist this year is personal it's you getting bashed all day long
Nicole says she's been trying to get people to notice thing in this house but it's not working "I want to open people's Eyes"
Nicole points out that Derrick and Cody are close they will do whatever they want .
Victoria doesn't think so.
Nicole – I think if I would win the veto Christine will go home nobody wants to send you home you are in a very good spot.. honestly don't be worried about that..
They agree if Christine comes down they will put Victoria up and get rid of Nicole but if NIcole wins POV they might backdoor Frankie.
Victoria – no way no how
Nicole wonders if maybe Cody will go up so they can get Christine out.
Nicole – I think Derrick is playing a great game I would love to give him the $500 000

6:24 HOH Detonators (they've been up here for the last hour)
A mix of Studying, talking bad about people and chit chat.. bashing Victoria, Bashing Nicole and when she's not around bashing Christine.
When Christine isn't around they study. Frankie says Big Brother is the hardest thing he's ever done in his life after this he can accomplish anything.
Frankie – I would be talking to my shrink every day if I was this stressed in the world.. And my life coach.. "
Frankie explains that Actor health issuance pays for Life Coaches.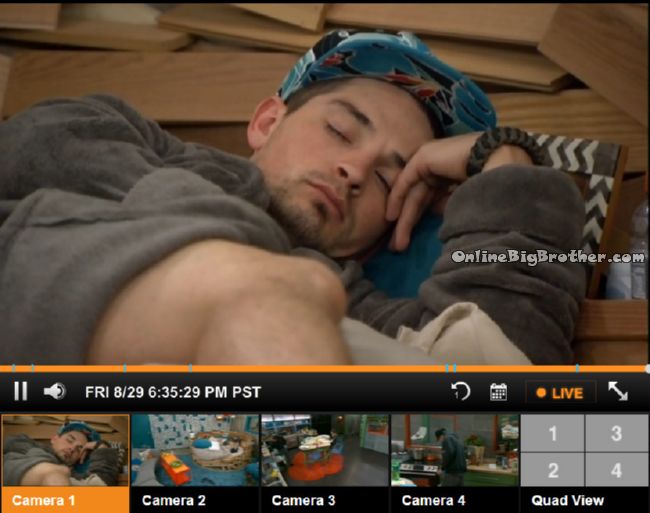 6:36pm Detonator b1tch fest is over
Frankie stays with Caleb to sleep. Christine and Cody heads downstairs off camera. Derrick stay in the kitchen with Victoria chit chats.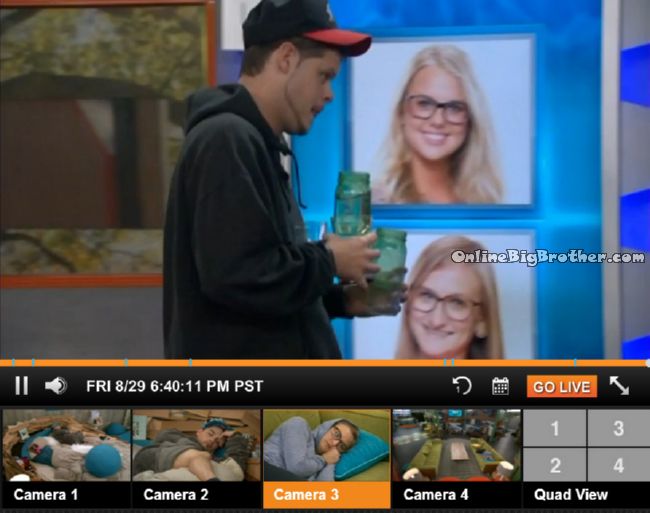 6:41pm Derrick goes around collecting the dirty cups says people leave them in all the different rooms.
6:47pm Derrick tells Christine who is in the living room laying down that some of the cups he found have been in the rooms since week 2 or 3.
(The majority of the house is sleeping)
One way to support this site that doesn't cost you anything extra is making your Amazon purchases through the links Below
For in Canada use the following link: Amazon.ca
[polldaddy poll=8274218]