POV Holder:
Big Meech
POV Competition
July 23rd
POV Used
NO
POV Ceremony
July 25th
HOH
James
Next HOH
July 28th

1


Original Nominations:
Frank AND Bridgette
After POV Nominations:
Frank AND Bridgette
Have Nots
?
CBS All Access: Live feeds are only $5.99 per month – Try it FREE for 1 WEEK!
2:10am Paul goes to get in bed in the London bedroom. Michelle starts laughing. He then smells the baby powder all over the bed. Paul says you motherf**ker!! There is so much baby powder on my side of the bed. All you pieces of sh*t! You f**king a$$holes! I knew it! He gets up and turn on the light. You peices of sh*t. Michelle says its all over your back, your leg. Paul says your boy goes to the DR and comes back .. GHOST! It looks like I've been doing blow all night. Who pours the entire bottle on my side of the bed.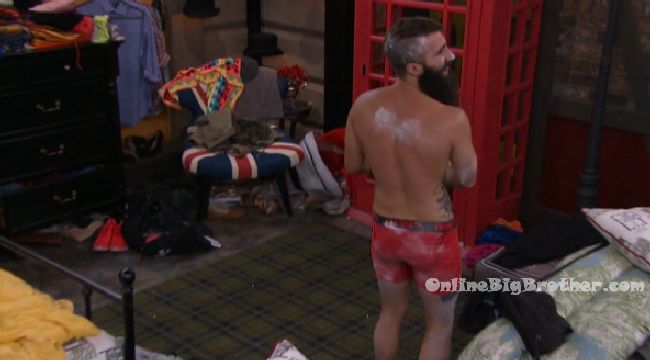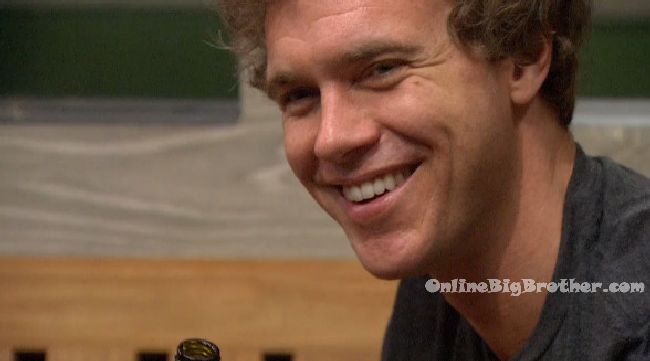 See what they can't show you on TV – CBS All Access: 1 WEEK FREE Trial!

1:30am In the Safari room – Frank and Bridgette have a bottle of wine. Frank pours a cup for both of them. Bridgette tells him don't make it so full I'll drop it. Frank says well you shouldn't drop it, you're an adult. Paul joins them. Frank tells Paul about how Bridgette said he was offensive. Frank laughs. Frank says he's going to ask in the DR if he can say eat sh*t and die in his speech. Paul says I would watch it. Paul asks is your speech going to be grandiose. Frank says he finished his speech after OTEV. Frank tells Bridgette they're all full of sh*t. Obviously if its a unanimous vote tomorrow, then you can't trust Paulie. I told him not to vote for me and he said he was going to no matter what everyone else is doing. It could just be a ploy to get you to trust him. You know, like I still voted for Frank. I wish I had a better read on people to help you out. Obviously you need to get rid of Da and Nicole and then Paulie. If you separate Nicole from Corey you could work with Corey. You need to use Michelle being bummed about be going. You need to look at Da and Nicole as deadends ..not possibilities. Don't trust Nicole worth sh*t. James and Nat are going to float around a little bit. Its not the best thing to work with them. They're too emotional. James isn't going to win anything but endurance comps. He's too stuck on being the endurance king. You can beat him. Don't trust Paul for sh*t. He is going to flip flop to the power. Maybe try and work with Paulie in the short term. You might be able to work with Michelle. Maybe you can build something of of that. If you can string together a couple of wins, things might just work out for you. Become a deaf mute if that's what works. Be the baking fairy .. bake some cookies when no one is around, leave them out and then go to bed. Be invisible. I feel like you have to win HOH and if you don't you have to win POV. Nicole joins them and says that Vic yelled at them for chatting while he was trying to sleep.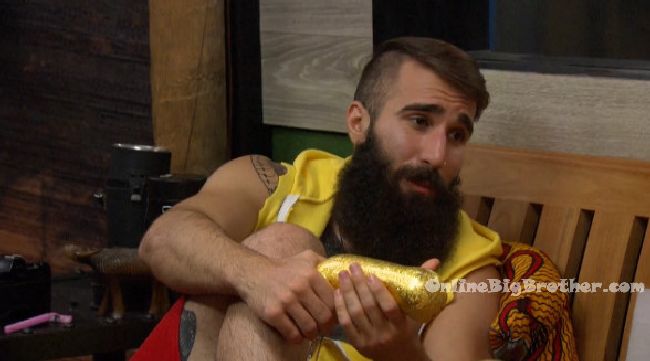 4am – 4:25am Nicole, Corey, Bridgette and Frank hangout chatting and eating in the kitchen. They all head to bed.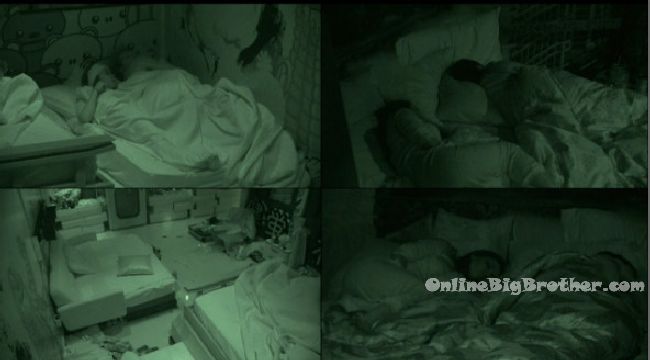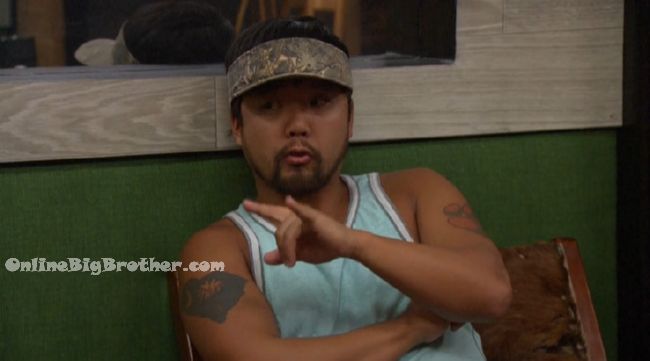 6:45pm Paulie, Paul and James (They are whispering Very hard to hear them)
James is saying Corey gave Frank a hug, "I dunno friendship.. sketch"
Pau land Paulie say they never got a hug.
Frank – maybe they made amends.. maybe they made peace.
James wants them to make sure they don't drop out of the HOH until Bridgette has dropped out
(They are talking about the next target and who is best they put up. I hear Nicole and Corey's name and "putt them UP" the rest of the conversation is tough to hear)
Zakiyah walks by and they change the topic to "Playing the smoosh game"
James leaves..
6:58pm Big Brother calls Paul into the Diary room
Paul – you got to be shitting in my mouth
This leaves Zakiyah and Paulie..chit chattting..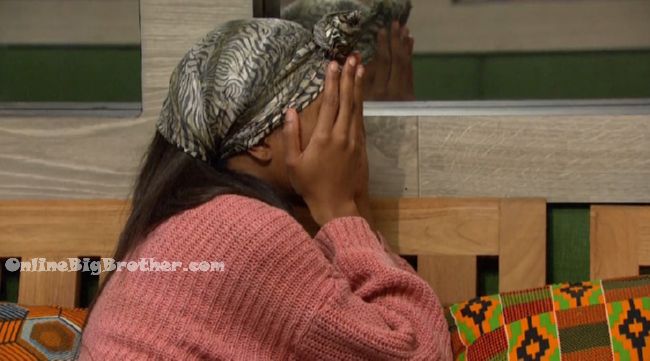 7:05am Zakiyah and Paulie
Zakiyah is defending her position getting mad at Paulie for being flirty with the other girls.
Paulie – Things like that mean nothing.. I come from an Italian family (Paulie's get outta jail free card is is italian family.. This is something I'm going to try 🙂 )
Zakiyah says she knows now that his family is like that.
Zakiyah says she's not being petty she doesn't flirt with the guys.
Zakiyah – you're making me feel stupid
Paulie – you shouldn't feel stupid if you do that's you.. I didn't ask to sleep in a bed with someone else to get a reaction outta someone else..
Zakiyah – you're making me feel a type of way now..
Zakiyah says she's adjusting to the way he's is around people.
PAulie – You tried to be spiteful…
Zakiyah – if anyone right now should be upset it's me. . Are you like this with everybody.. Every girl..
Zakiyah – I'm really territorial.. I'm not that way with anybody else here… I don't do that.
Paulie back to the family.. Saying they don't go to random people at the bar.. They are close to people they are friendly with people they know and are close to. Paulie says Nicole was talking to someone else at the time they are friends and feel comfortable with each other.
Paulie – Nobody thought anything of it but you
Zak – so something is wrong with me
Payulie – no
Paulie explains she's interpreting it differently.
Paulie – you're the only person I cuddle with at night you're the only person I cuddle with in general.. Someone rubbing my head for 2 minutes doesn't outweigh spending an entire night with someone.
Paulie says Corey and James are friends of his and Nicole and Natalie are close to those guys. It's just playfulness..
Paulie – i'll do my best to be mindful of it so that you feel better. .
Paulie – I don't want people to try and use if they see you mad in a way that can hurt me yo or someone else we are sowking with becuase they feel like thay can use it against you and me
Zakiyah says she never intended to meet a guy in the house
Paulie says she never planned on meeting a girl
Zakiyah – I had asked you you want to keep it strictly business..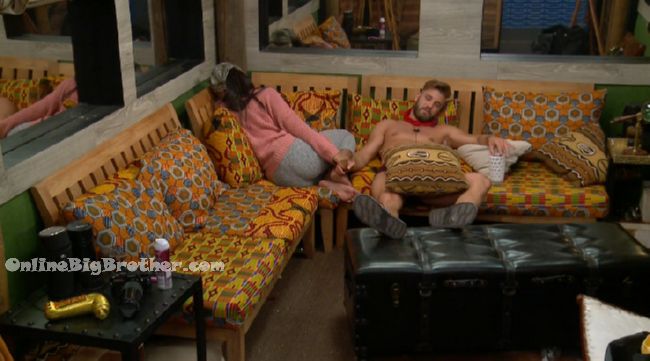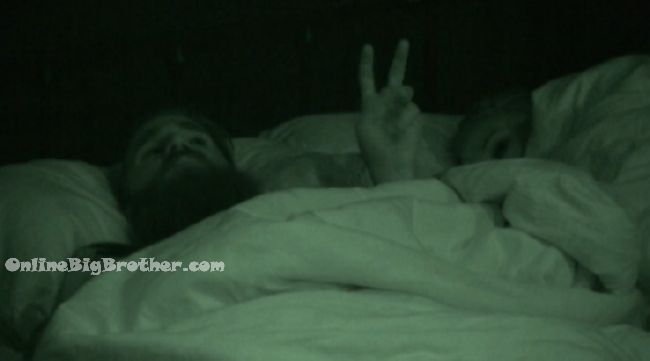 7:07am Paul and Michelle
Michelle asks if he thinks Frank has the card
Paul – No never cared
Michell e- never cared
Paul says they'll send Frank back.
7:18pm Paul still going on and on about Frank…. "Nobody is really sneaky"
Michelle – nobody is strategizing at all
Paul – It's going to be a long thing whoever can survive nobody has a grandiose plan.. It's whoever dodges the most bullets.
Paul asks who is making good TV this season
Michelle – you
Michelle – people are probably disappointed in Nicole because she'es in another showmance
Paul – she's got a big showamnce
Michelle – James has one for some reason.. a big Fan base. I don't get why
Paul – James is a nice guy
Michelle – if he comes off Cocky sometimes.. I love james..
Paul says James really likes the fan attention he's getting..
Paul – Cocky is like Damn i'm the best.. he just loves the attention.. he loves his fans he loves talking about it.. that's not a bad thing
Michelle agrees.
Michelle – I hope people like me.. I don't want people to thin I'm mean
Paulie – nobody thinks you're mean .. I think Frank is going to get a lot of shit
Michelle – he did a lot of shitty things and did said a lot of shitty things..
Michelle – I hate him
Paul says Frank is trying to be someone who he sin't and it blre up in his face. Paul is claiming that Bridgette and Frank cuddle. (not really)
Michelle says it's weird.
Paul – significant others.. pissed..
Michelle says Frank use to shout out "Ashton" (Franks girlfriend) but hasn't in 3 weeks
Paul – pissed
Michelle says yesterday they (Frank and Bridgette) spent their day telling Bridgette synopsis of movies.
Michelle – it's so boring
Michelle starts to impersonates Bridgette (implying her voice is annoying)
Paul follows suite. (don't want to look mean right?)
Paul – it's really weird
Michelle – you should try and steal the NASA hat.. i'll wear it when he's gone
Paul – i'll do it tomorrow
Michele – no don't do it he's had it since he was a kid
Paul – I won't do it.. Do yo thin he'll get booed
Michelle – no idea
Paul – I'm pretty sure the whole a$$ slapping was on TV
They agree Cody and Derrick were both boring..
Paul- they were really nice guys just nice..
Michelle- I liked Caleb and Zach.. I was hoping he came back
Paul – if he (Zach) came back we would butt heads.. we're both energetic and loud.
They talk about the girl that
Michelle – OH MY GOD I don't like feminists at all..
Michelle – she said this really creepy thing.. yo know the favorite parto her body is
Paul – knees..
Michelle – what the heck
Paul – she's a little odd..
The talk about Bridgette having a knee fetish and how weird she is.
Michelle – is it possible to put a knee up you v@gina
7:48am Paulie joins them conversation changes..
They plan to play a prank on Victor making him think there was more clues for a secret power while he was sleeping
Paulie – we should make it like Jumanji.
10:16am Everyone sleeping
12:04pm Feeds on Jeff houseguests are in HOH Lockdown
1:22pm Feeds back, showing sleeping houseguests on 1 bank of cameras and 3 houseguests eating on another bank.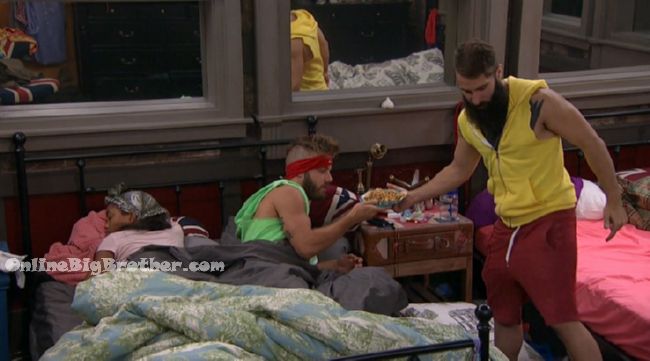 1:39pm Paul brings Paulie breakfast in bed.
1:54pm Paul and Nicole
Paul is going on about Bridgette and Frank cuddling where they both have significant others at home.
Pau l- I wold be embarrassed
Nicole – I would be sad and embarrassed
Nicole doesn't think her fans are cool with the Corey showmance.
Nicole says her and Hayden broke up 6 months ago.
They talk about Natalie being shown like this seasons Victoria.
Nicole – I came back I wanted another shot..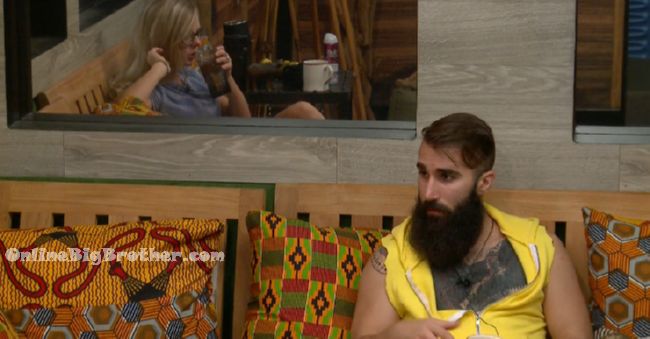 2:26pm Safari room Paul and Nicole
Paul saying he doesn't like being "put in a box" he has no outlet he's going to freak out. He's got no creative outlet.
Paul goes on about how being free and being his own boss is more important than money. He likes to have a spontaneous life and doesn't want to get tied down at a regular job making money. Some times he wants to be able to say "Hey wanna go to japan for 2 weeks" (His family is wealthy)
Nicole now saying money doesn't matter to her.
Paul says in university he wrote his dissertation on Happiness. goes on to explain the philosophy of happiness..
Paul says he took a bunch of dual core classes and when he went to community college they gave him credit for him so he graduated early.
Paul goes on to explain his time at Pepperdine university.
Paul goes on to talk about the area of philosophy of happiness.. "Lower your means of happiness" (it's interesting.. this conv is cool but not game related.. )
Nicole starts talking about getting married and having a family… (LOL of course she is)
Paul says he's a serial monogamist.. "I just like being in relationships"
Paul – when I got on coffee dates it lasts 4 or 5 hours
They go on and on about past relationships. ..
Nicole explains her relationship with Hayden says it felt like they were together for 4 -5 years. It was a long distance relationships.
3:25pm Feeds to Jeff… probably won't com on until after the live show.

[polldaddy poll=9477458]
[polldaddy poll=9477456]
[polldaddy poll=9477457]