POV Holder:
Bridgette
POV Competition
July 9th
POV Used
?
POV Ceremony
July 11th
HOH
Bridgette
Next HOH
July 14th
Roadkill Competition Winner:
Frank
Original Nominations:
Paul, Tiffany, Bronte
After POV Nominations:
?, ?, ?
Have Nots
Nicole, Corey, TIffany
CBS All Access: Live feeds are only $5.99 per month – Try it FREE for 1 WEEK!
Big Brother 18 Alliances Help Guide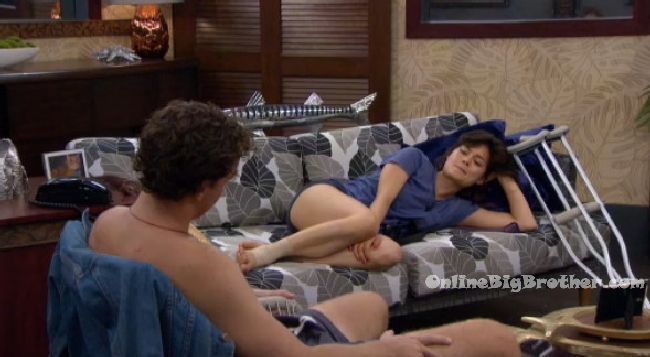 6:30pm Bedroom – Tiffany asks if Paul says I think that I'm okay. I don't want to ask .. just a vibe. I don't feel anyone has any animosity. Tiffany says I've heard that more than likely it won't be used. She doesn't want to ruffle any more feathers by having to put up another person.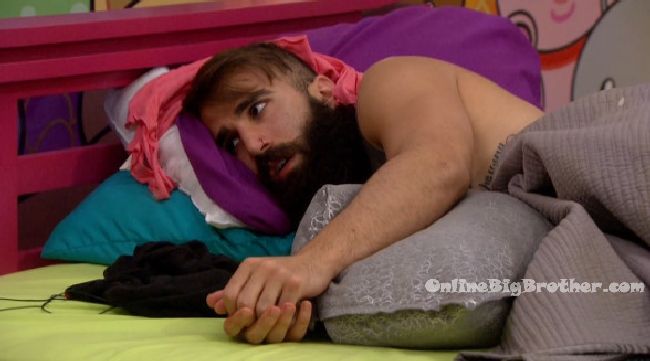 6:40pm James and Michelle are talking. James tells her that Frank is wanting to take her out. Michelle says I don't get why? James says I think because he thinks you run your mouth. Michelle says but that would be good for his game .. easier to beat. Maybe he is telling you one thing and the group another thing. He needs to go! He said Day and then me next. James says he said he wanted me to take out Paulie or Corey. Michelle asks what's his deal? James says he thinks we don't talk to each other. Michelle says he totally forgot how to play big brother. I wish I could send him home. James says you should! Michelle says I can't (She's on his team). James says Frank will only put up the people he knows he has the votes for. He doesn't have the votes to get me out. Michelle says I think Bronte needs to go … her and Bridgette. She's a lose cannon and does whatever she wants. He (Frank) scares me .. he's dangerous. Like seriously we need to!! You're not secretly working with him are you? James says promise. Michelle asks did you agree you would put me up? James says no. I said I would put Corey and Paulie up and then I went and told Corey and Paulie. Michelle says I want to confront him. James says you can't not until he's on the block. If we don't take him out before jury .. he's be competing to get back in here. Michelle asks why does he want me out.. He told Paulie its because I can win mental comps and told you its because I run my mouth .. which is it?! James says its probably both. Michelle asks can you convince Natalie and Bronte to throw it? James says I want to win it. James says that Natalie is on board. She doesn't know everything but she knows enough. She doesn't like Frank because he's always messing with her.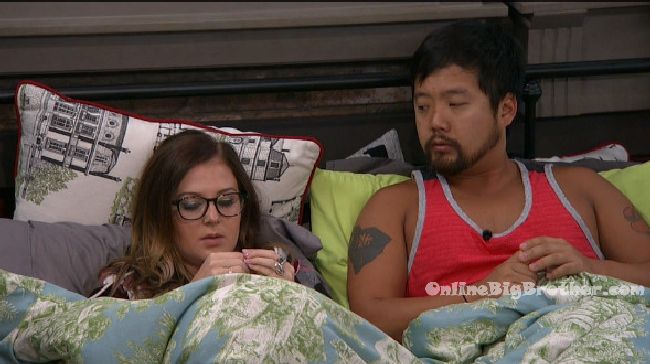 7pm Big Brother blocked the feeds. While the feeds were blocked Category 4 (Frank, Bridgette, Michelle and Paulie) got to choose another team to join them for the Outback Steak House dinner in the backyard. The picked Big Sister (Paul, Zakiyah and DaVonne) to join them. In the HOH room – Natalie tells Bridgette it was a good move not picking us. Bridgette says people would group us together. Frank and I talked about it. It's obviously Zakiyah's birthday. Paul's been second place to me twice and I put his a$$ on the block. And Day and Frank need to repair their relationship after what he did this week. And if I show that I'm respecting Zakiyah's birthday .. maybe people will respect mine next week… and not nominate me.. not that I think people would.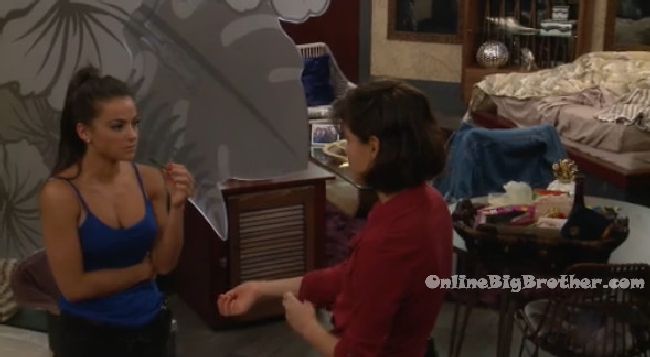 7:25pm Bridgette show them her bruise. She says I'm trying to play it off because I don't want people to think I'm weak. (LOL WHAT?! That's a good thing, it makes you less of a threat.)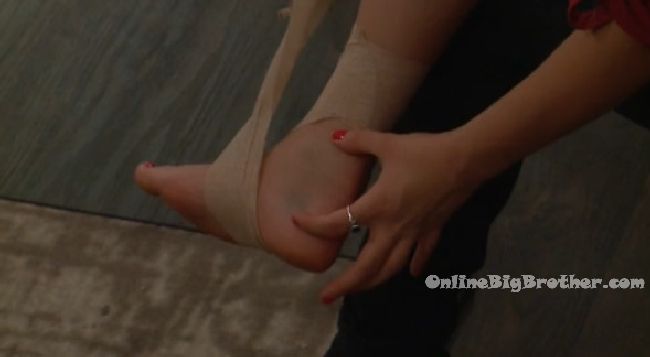 Bedroom – Michelle is annoyed that Frank is telling people different things on who he wants out. He needs to go. DaVonne says he's next. You're throwing it. Paulie's throwing it and he's throwing it. Nicole joins them and they talk about why Bridgette chose team big sister. Nicole says I think its because they didn't want her team (DaVonne) and my team together alone in here. You saw how quick she picked. They already talked about it.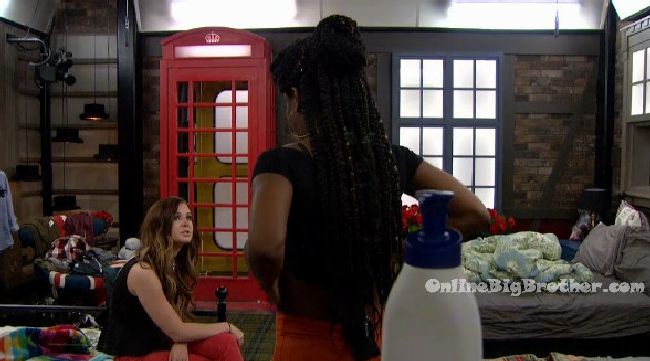 Michelle, Zakiyah, Nicole pose for the live feeders. Michelle tells them how James told Nalalie about getting out Frank. I think she needs to go after Frank. Nicole agrees.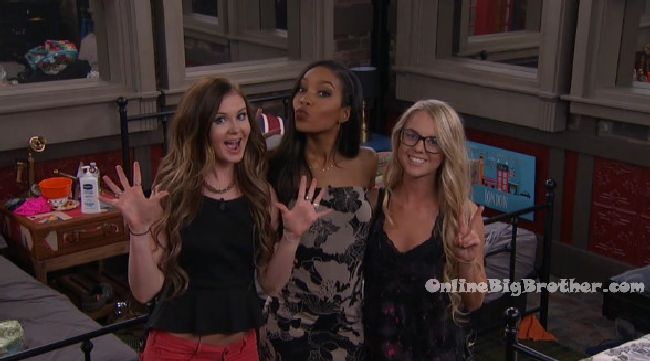 7:55pm – 8:05pm Safari room – Corey says that James said .. do you want to know what the final 6 looks like its right here. (James, Nicole, Corey, Tiffany, Natalie, Bronte) Nicole says its not good for us to get rid of our own 2 weeks in a row. Nicole talks about how she doesn't trust Tiffany. I think she will play dirty when it comes down to it. Nicole says getting Jozea and Vic out was huge .. its like getting Zack and Franke out.. they were huge personalities. I don't want to vote to get Bronte out .. and be the only two to not vote Tiffany out and paint a target on our backs. I tried to test the waters with Z and she wants Tiffany out 100%. I do want Bronte out this week though. Corey says I don't care .. she sucks at comps. Nicole says you need numbers.. Tiffany would never put us up during a double eviction .. Bronte would.
8:30pm James, Natalie and Bronte are in the living room chatting.

8:40pm Nicole and Corey listening at the backyard door to see if they can hear the Outback Steak House dinner the other house guests are enjoying.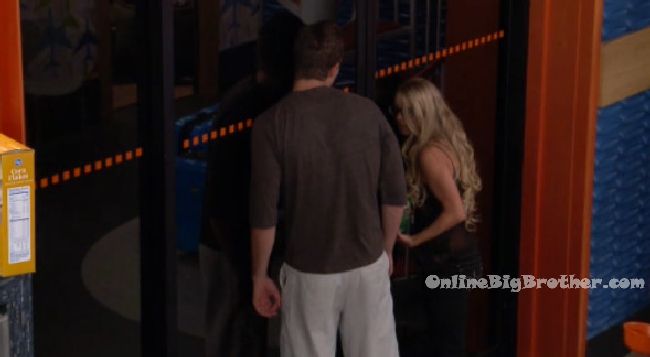 8:50pm Corey talks to Tiffany and Nicole about how he girls he's dated and how he would drop hints about not wanting to see them any more but not come right out and tell them.
8:55pm – 9pm Category 4 and Big Sister come back in from having their Outback Steak House dinner. They met the Outback Steak House guy Adrian. Michelle is drunk and kissing Corey, Paul and James.
Michelle kissing Corey@bigbspoilers #bb18 pic.twitter.com/KpDmJL7dmr

— Dawg (@DawgsBigBrother) July 11, 2016
FLASHBACK and watch everything you missed: CBS All Access FREE Trial!

[polldaddy poll=9465176]
[polldaddy poll=9464369]