POV Holder:
Bridgette
POV Competition
July 9th
POV Used
?
POV Ceremony
July 11th
HOH
Bridgette
Next HOH
July 14th
Roadkill Competition Winner:
Frank
Original Nominations:
Paul, Tiffany, Bronte
After POV Nominations:
?, ?, ?
Have Nots
Nicole, Corey, TIffany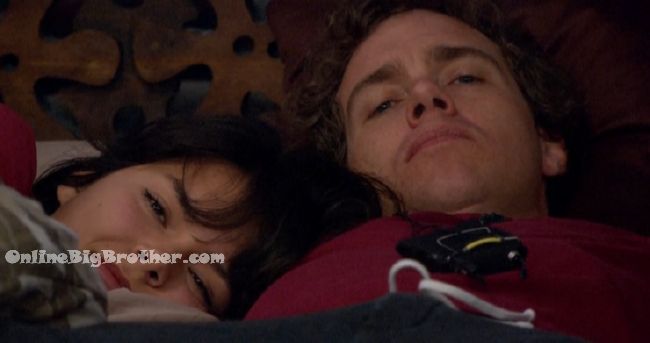 9:00pm Frank and Bridgette watching the spy screen..
Frank says Da'Vonne is a influencer he'll get one of the boys to get rid of Da'Vonne. Bridgette says she won't be the one that does it.
Frank says these next couple weeks will be interesting adds that Jozea and Victor were part of the group so them going home was easy. Tiffany's going home because she was starting shit. .
Frank – Corey will never put me up.. But I don't want to go to the end with him.
Frank adds that Corey and Nicole aren't that close. Bridgette calls Zakiyah's game a "Floater game" adds that her game would be a "float Game" if she hadn't won the HOh this week.
Frank – Michelle's a floater she's not going to win anything.. I say that but she'll be good at some of these comps.. Later in the game. She lacks a lot of common sense.
Frank – Ideally Michelle wins next week..
Bridgette – what about you Frank
Frank – I don't want to have to win until it's so low and I need to.. If I win next week everybody will expect em to put up Bronte.. Again.. I'll let Michelle do it and try to win Roadkill and put somebody up like…..
Frank I might go after Corey next week
Frank says PAulie trusts him. Bridgette doesn't think he trusts her. Corey says PAulie is too well liked and he's too strong a competitor he'll need to be taken care of soon. Frank thinks he can get James .
Frank – nobody looks at me in a bad way right now
Frank says if he wins BB roadkill he would put Da'Vonne p and if she comes down he'll put up Corey.
Frank admits to winning the Roadkill he put up Bronte because he knew Tiffany was going home.
Bridgette – I won't tell anyone.. I trust you
Frank I know you won't… I trust you..
Frank admits to putting her up week 1.
Frank says Da'Vonne should go next week before jury, Da'Vonne or Paulie. Frank wants to get DA'Vonne, Paulie and Corey out over the next 5 weeks.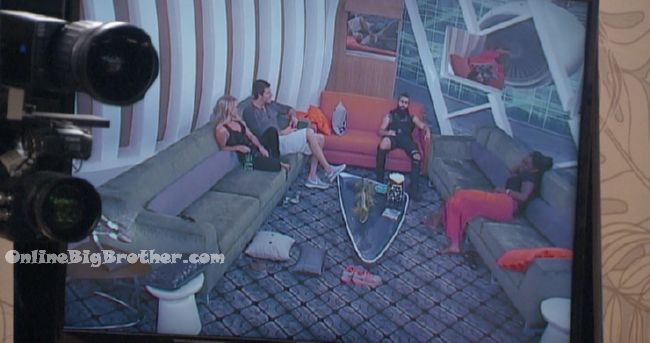 10:00pm Frank and Bridgette still watching the spy screen as the girls prepare a dance.
Frank calls Corey a goober.. Says he's a good kids but sort of a goober. Bridgette says Corey is just here for the free advertising.
10:09pm Paulie and Corey
Corey wanting to send Bronte home this week over Tiffany says Frank wants to get rid of Tiffany and Da'Vonne two people in their alliance.
10:18pm There's going to be a dance competitions girls vs guys.. Paulie, Paul and James are in the bathroom practicing.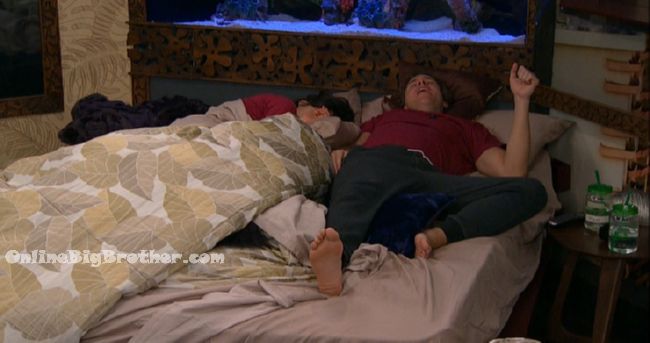 10:22pm HOH Frank and Bridgette
Frank says they're getting to the point where they have to make a move. Frank says he likes Nicole and Zakiyah they are good and trustworthy he also trusts the boys.
Frank – they can be casualties.. I would like to take a shot at Corey and Da' next week.
Frank – we got to utilize some roadkill comps. He pointed out that between the two of them it was a clean sweep this week.
Frank says if they end up in the final 3 and she wins the HOH she has to take him. Bridgette says she will.
Frank says he's not even thinking of teams he wants to send Paulie and Michelle home eventually. Says he's not worried about Michelle right now because she won't win shit but PAulie will.
Frank doesn't expect Natalie to win a competition this year. BRidgette says she's confident but she does stress out a lot.
Frank says Nicole and Z are so much more level.
BRidgette – Z has her ups and downs
Frank – she does.. She was on slop for 2 weeks.. What do you mean ups and downs?
BRidgette says one moment she's crying holding her giraffe.. She spends an hour a day putting on makeup she doesn't have her eyelashes on she doesn't leave the room.. Girl get your sh1t together.
Frank says Da'Vonne mentioned to him she spend 1 to 2 hours a day putting makeup at 10pm at night so she can stay up late with Paulie.
Frank has noticed not seeing Da'Vonne all day either.
BRidgette – she (Zakiyah) doesn't say sh1t about people all she says is good things.. She hasn't say one bad thing about a person (BRidgette doesn't year all of what da says.. lol)
Frank jokes says all he does is talk shit about people.
Frank says out of all the people that have left already Glenn would be the one he wants back. Bridgette argues that Glenn is so neutral it might be better for a jozea to come back. Frank now agreeing says Jozea coming back would be best he won't win shit and everyone wants him out.
10:50pm They are trying to figure out why all the guys are not wearing any shirt, Frank has noticed a lot of guys wearing their underwear as pants.
Bridgette says she's scared of the shit Da'Vonne can pull any second.. Right now Da'Vonne is chill especially after she survived the first 2 weeks.
Guys do their dance.

10:57pm Girls do their dance.
10:58pm Paul challenges Michelle to a rap contest..
Big Mich vs King Friendship
11:11pm Frank and Bridgette HOH Lights going out.
Frank – 50 thousand for you half a million for me .. I'll buy you a new surfboard


11:40pm Zakiyah says Bridgette and Frank went to sleep Together she points out that they both have significant others. Zakiyah adds "Didn't she say she doesn't want to lay with a man"
Paulie says Bridgette will cling to whoever she thinks has the power in the house, "She did the same thing with Joeza"
PAulie saying they will get rid of Frank then Bridgette after that it's smooth "Cut the heads off.. Momma Da wants to send Frank home"
Zakiyah – Big Time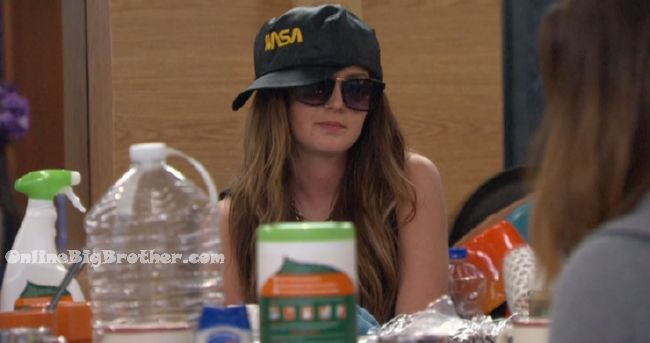 12:03am They just sang happy birthday to Zakiyah.
Chit chat..
– people that are old and are "Hot"
– Denzel Washington return being 3 times
– etc etc..
[polldaddy poll=9464831]
[polldaddy poll=9464369]
[polldaddy poll=9465176]