POV Holder:
Big Meech
POV Competition
July 23rd
POV Used
NO
POV Ceremony
July 25th
HOH
James
Next HOH
July 28th
Original Nominations:
Frank AND Bridgette
After POV Nominations:
Frank AND Bridgette
Have Nots
?
CBS All Access: Live feeds are only $5.99 per month – Try it FREE for 1 WEEK!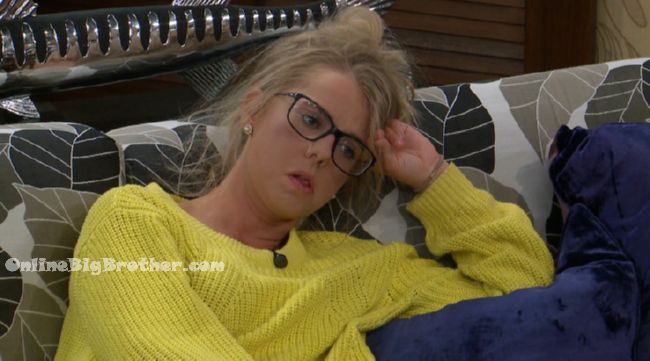 9:22pm Natalie and James
Natalie wonders why Zakiyah said that "You going to get your nails done"
Nicole comes in. She says she's voting out Frank.
Nicole – it'll stink if Frank comes back.. All of ours are loser cards… It'll mean none of us can come back .
Nicole leaves to see if Paris is open.
Natalie – so if Frank makes it back we're still not at Jury..
James – yup
Natalie – effing hell..
Natalie asks if James is going to stick with his guys alliance after all the targets are gone.
Jame says if anyone talks about "Plucking" natalie off he'll "Pluck" them off.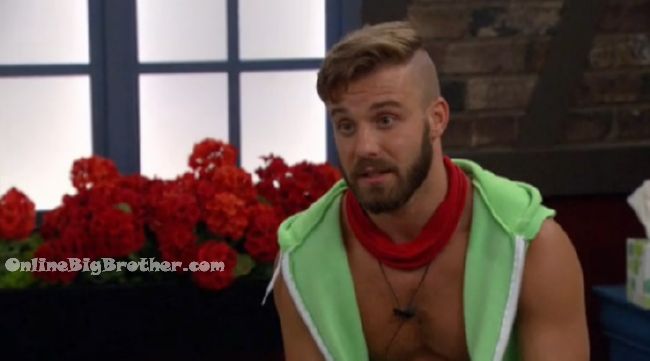 9:40pm Da'Vonne and Paulie
Da'Vonne says Nicole told Zakiyah that Da is throwing her name around the house.
Da brings up Corey says why is all the heat on Corey and Nicole why isn't it on Da, "Why would he say that"
Paulie – I think he's saying that in regards to Frank..
Da – that's so weird
PAulie says they were panicking
Paulie brings up that Nicole came up to him and said if he wanted to flip the house with Corey she's up for in.
Da'Vonne is wondering why Nicole and Corey were in the storage room for 15-20 minutes.
They agree Nicole is fishing for information.
Da – She's panicking and starting to say Da'Vonne
Da says Nicole and Corey don't have the numbers to save Frank.
Paulie says Natalie shouldn't feel sorry for Bridgette when she says she's alone. Paulie thinks this is part of Bridgette's game points out this is how she was early in the season then she "Beasted" it
Michelle comes in.. They are all suspicious about Nicole and Frank talking again after she was so against him yesterday.
MIchelle impersonates Bridgette's speech.. Says she's here to bake and she's never done anything to anyone.
Da'Vonne and Paulie laugh..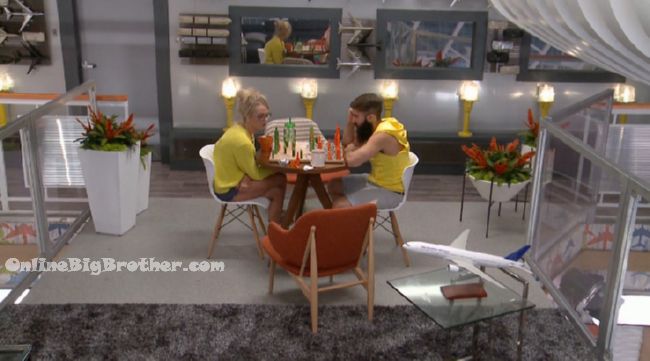 9:46pm Nicole and Paul
Talking about getting frank out..
Nicole says Corey told her Frank said not to trust her.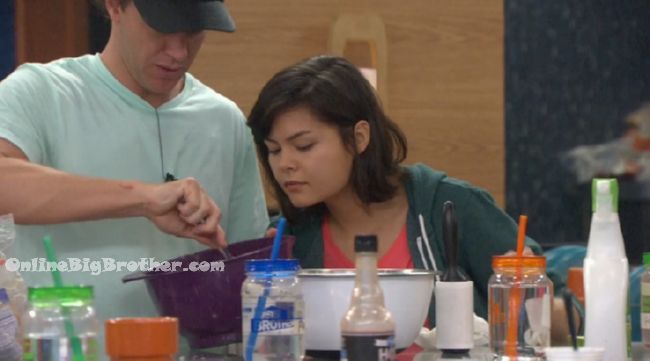 10:17pm Frank and Bridgette
Frank is explaining the plot of Star wars episode 1
Bridgette's never seen it. "I never measure Vanilia it's one of my rules"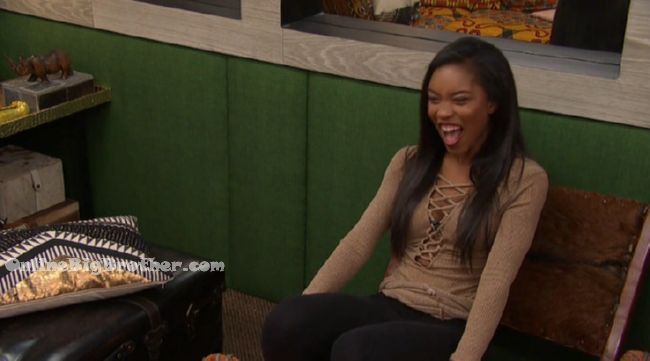 10:36pm Safari Zakiyah and Michelle
Talking about being jealous about Nicole and Paulie. Apparently she saw him lay his leg over her legs while she scratched his hair.
Zakiyah – I'm just territorial.. You know what i'm saying.. Once I pee on my tree..
Zakiyah – I play games.. I play dirty..
Zakiyah points out that Paulie was jealous when Victor scratched her back. Says what Paulie was doing with Nicole in the real world that doesn't fly.
Nicole comes in the camera moves to her at the door
Zakiyah snaps her fingers "Come back Camera"
Zakiyah says she's not sleeping in Paulie's bed.
Nicole – what's wrong Z you always tell me .. Did Paulie do something
Zakiyah – ya.. ya .. I'm just teaching him a lesson
Da'Vonne comes in..
Nicole find out why Zakiyah is mad at Paulie
Nicole – OMG he's my friend..
Zakiyah says it's not her it's Paulie, she's getting her revenge tonight by sleeping in Victor's bed.
Zakiyah says Paulie was going thing with Natalie earlier today , She's pissed.
Zakiyah – the tree I peed on.. My tree is letting dogs all over him .. Everybody is peeing on the same tree
Nicole says Paulie and Cody are a real touchy feely family.
Nicole – I really like Corey so it's nothing like that.. MEECH do you understand what i'm saying
Michelle does says Zakiyah wasn't saying she's upset with Nicole
Zakiyah complains that she's not getting as much attention from Paulie as she would like. Brings up Rachel and Brendon's showmance and how Brendon spent a lot more time with Rachel.
Nicole says she's completely sorry Nicole leaves.
Zakiyah tells MIchelle she's not mad at Nicole.
Zakiyah goes on and on to michelle about PAulie making her mad.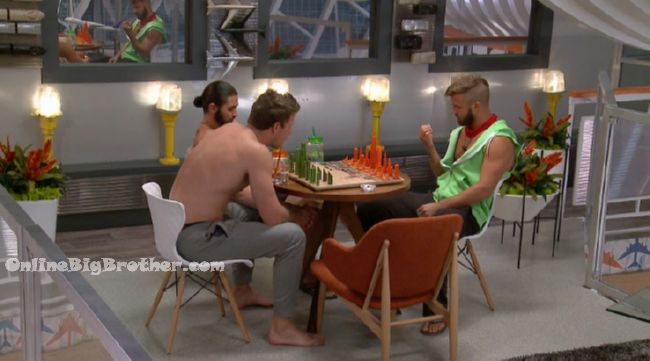 11:02pm Paulie, Victor and Corey
Paulie saying that Zakiyah always finds something to be pissed off at him about.
Paulie – she's expects me to date her after this
Paulie – me and my boys we roll deep girl pulls that BYE
PAulie – I'm telling ya her and Da have something going.. You need to tell Nicole to not talk to Z about DA
Paulie – she said something about Da to Z right back to Da to me
Nicole joins them .
Paulie wants to know what Zakiyah's problem is – "is it because Natalie wanted to do my nails."
Paulie – there's 2 people trying to stir up sh1t (Da/Zakiyah)
Paulie – I'm sorry I don't care how hot somebody is that sh1t don't fly with me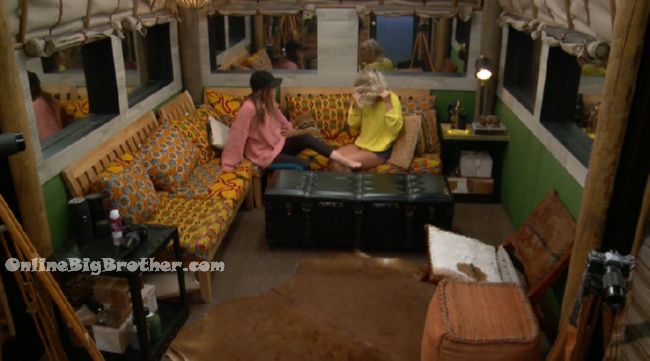 11:02pm CAm 1-2 Michelle and Nicole
Nicole – I meant nothing by that.. I don't want her to hold it against me
Michelle assures her there's nothing to worry about. Zakiyah is not mad at her.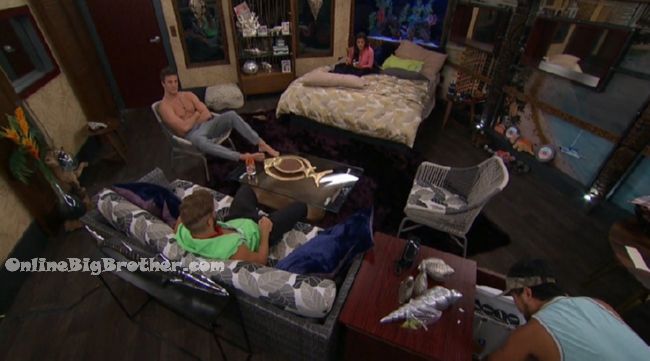 11:12pm HOH Paulie, Corey, Natalie, James and Nicole
Paulie is complaining about Zakiyah…
Natalie – was it because I offered to file your names
Paule thinks so
Natalie – oh my god
James is surprised
APulei – i'm not a child i'm a grown ass man I don't play these game.
Payulie – she's got to hope her or Da win HOH… she goes around the house saying I pulled the empress tarot card meaning she's the queen of the house
Corey is surprised.
Paulie says she was trying to sleep with Victor in his bed. Victor said no.
Corey and James – Oh my god
Natalie – Paulie you want to sleep up here (HAHAHAHAHA do that she'll like it)
PAulie – when I was an athlete girls would try that sh1t
Corey – that's petty sh1t
James – how about we all sleep up here tonight and lock the door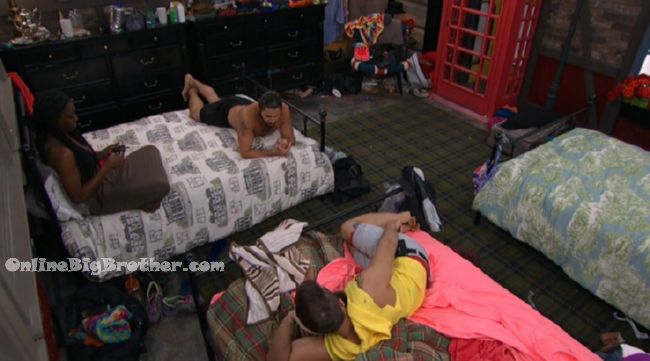 11:20pm Victor, Da and Paul
Victor saying Tiffany told him to only trust Frank.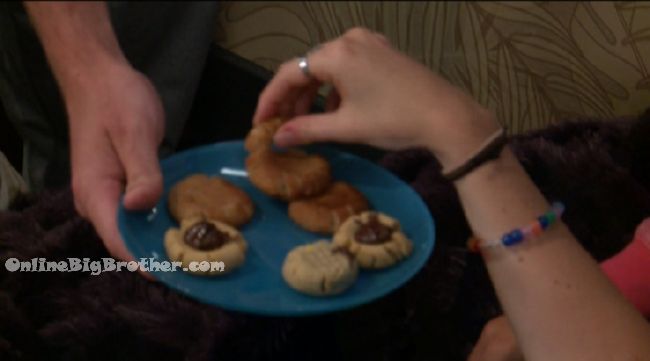 11:27pm Everyone loving Bridgette's cookies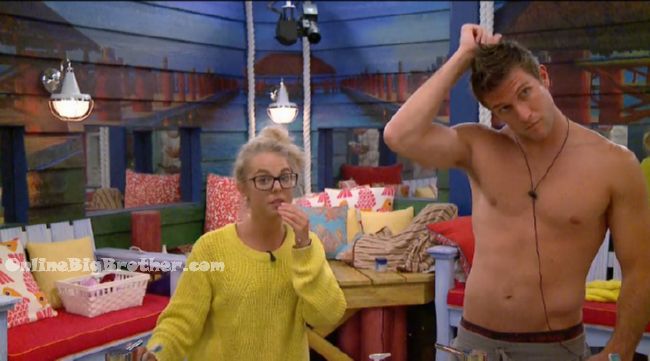 11:33pm Nicole and Corey
Nicole tells him another reason Zakiyah is pissed..
Corey – do you trust Zakiyah.. I just think we need to be careful.
Nicole did trust her up until she say how Zakiyah reacted today.
Nicole – Z is saying I don't get Jealous..
Nicole – this is the worst Jealousy in my life.. I've never seen anything like this my entire life..
Nicole – She said luckily it was my friends and not Natalie cause I would freak out right there..
Nicole – Michele was on her side.. you can not get mad about that.. it's not a big deal..
Nicole says she told Zakiyah she would keep a 10 foot radius from Pauli and she said OK
Corey is going to find Zakiyah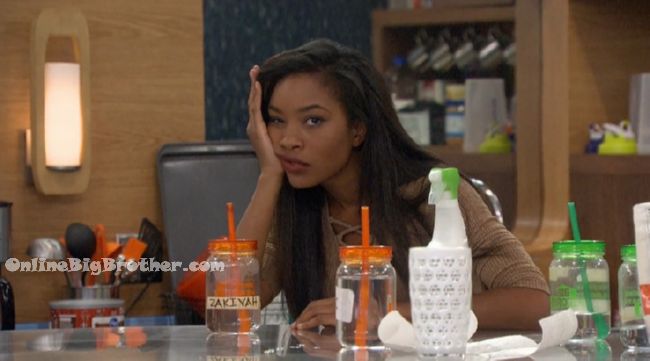 11:49pm
Zakiyah – I don't care, I don't care, I'm mad
Bridgette – "Where the f** are my yoga shorts" #BB18 @DawgsBigBrother pic.twitter.com/OLKOLSXY9S

— OnlineBigBrother.com (@bigbspoilers) July 28, 2016
midnight
12:05am Hard for them to talk to Paulie. Corey whispers the reasons Zakiyah is mad to him.
12:09am London room Nicole and Zakiyah. Zakiyah going on about Natalie flirting with Paulie.
Zakiyah says she's not mad at Nicole she's mad at Paulie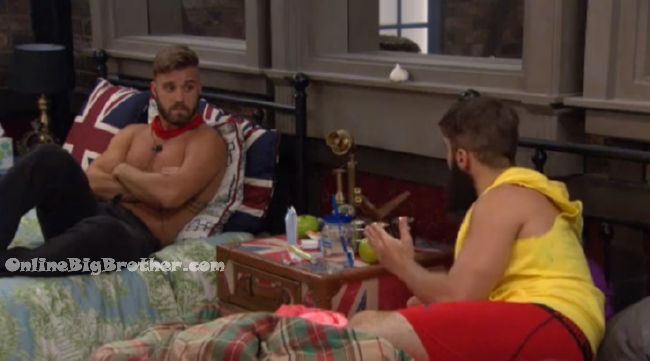 12:27am Paulie and PAul
Paulie says the girls are playing them all. He wants to take out Da and Nicole out sooner than later.
Paul – I wouldn't mind taking a guy like Vic far..
Paul says Vic is closer to them, "We're the only people he trusts"
Paul warns that the more time he spend with Corey the more pissed Da'Vonne and Zakiyah get.
Paul says Corey will vote them out.
Paulie – the second Nicole is on the block she's blow out Information
Paul says Corey will vote them out over Nicole.
Paul says Victor told him in the storage room he doesn't trust Nicole and Corey they back-stabbed him. Paul was told by Vic he's putting up Da'Vonne and Corey. They need to get him to put up Corey and Nicole. When POV is played they put up DA'Vonne, "Vic gets all that blood on his hands.. he don't give a f**"
Paul says Vic and Corey/Nicole don't like each other he thinks they leave that blow up on it's on.
Paulie – Nicole and Da, got to go.
They agree theirs no need to win HO hthis week
Paul – if we win we gotta take Bridgette out to show the house
Paul goes on saying he promised to put Bridgette up so he's doing that.
Paul – Meech is a loose f***G cannon
Paulie – loose cannon.. all the girls are that way we gotta get rid of all of them..
Paulie – Real talk.. they are using us while they can
Paule showmances – never cared
Paulie – who do you think is trying to push that sh1t .. her
Da'Vonne comes in says Corey and Michelle were whispering and acting suspicious. Paulie gave information to Corey and it got back to Nicole that's the last bit of information he'll give her.
Paulie is saying Nicole presented the alliance to Frank not the other way around.
Paulie says they should get Victor to win the HOH.
Da'Vonne – Corey is working Michelle
Paul counts the votes says Natalie, Da'Vonne, Paul, Paulie, Victor, Zakiyah are locked not questions asked. "Michelle, Nicole Corey they can do whatever they do never cared"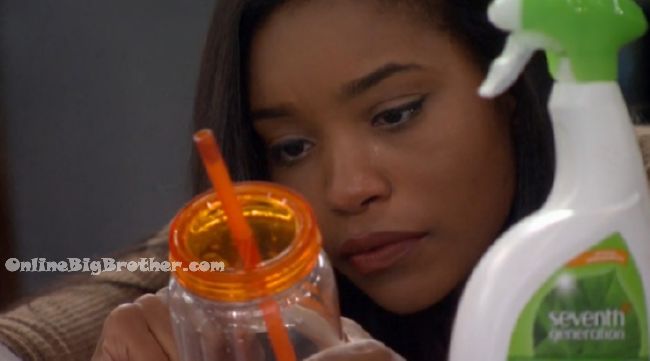 12:30am Zakiyah crying
12:44am DA'Vonne, Paul and Paulie
Da – can I have a conversation with you.. confidential , stay in this room..
Da – I don't know what hell you got going on with these other girls in the house but can you calm down becuase she goes off the deep end she going to join forces with the other side, becuase she pissed at your a$$
paulie – what is she pissed at me for
Da – you put your leg on Nicole.. stupid petty girl bull shit i don't know
Paulie – She got pissed at me for sleeping in the have not room because Natalie didn't want to sleep alone
Da – it's stupid
Paulie – that's james' girl so I would never f***g to that.. plus I chill with Z
Paulie – If Nicole is playing with my f***g hair and my leg is on her like Nicole is f****g close
Da – it's so petty
DA'Vonne tells her the think he's got going on with the other girls has got to stop because Zakiyah is losing it. Zakiyah is going to go off the deep end and join the other side.
Paulie – if she is playing with my f***G hair …
Da'vonne – I don't know what you have to do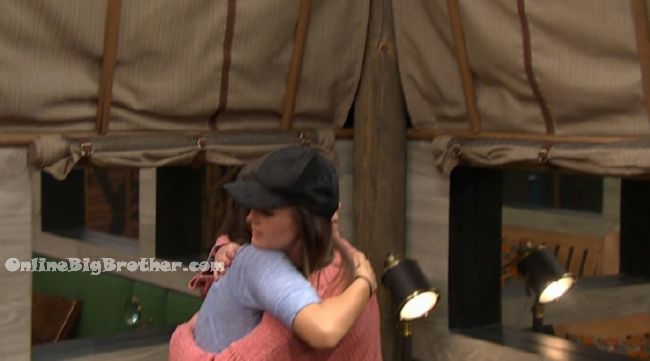 12:49am Bridgette and Frank
Frank is saying put up Da/Nicole or Da/Paul
Bridgette – why
Frank – just hate em
Meech comes by gives Frank and Bridgette a hug
Michelle says Frank never said anything bad about Bridgette she doesn't know where some of the things came out, 'He's a good guy.. he's always said good things about you.. he's a good guy.. I'm sorry you had to go through that.. "
Frank – thanks Michelle .. so it looks like i'm going home right
Michelle – I'll be honest YA.. trust me I tried..
Michelle leaves.
Frank – somebody's happy .. because you get to stay
Bridgette says she's just really happy she got a hug from Michelle.
Michelle and @BridgetteD_BB18 hug #BB18 @DawgsBigBrother pic.twitter.com/qdHppyosxZ

— OnlineBigBrother.com (@bigbspoilers) July 28, 2016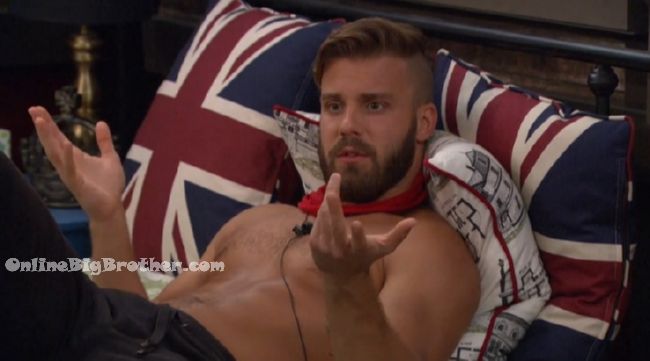 12:56am London room Nicole Paulie and Paul
Nicole is apologizing for getting Paulie in trouble with Zakiyah. Paulie tells her not to worry that is how his family is like.
Paul asks if Nicole and Corey are voting out Frank. Nicole says she would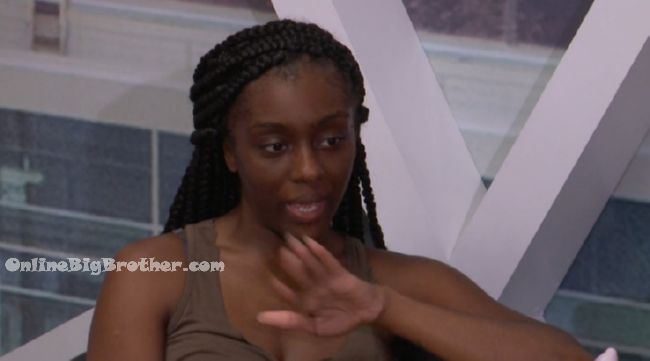 12:58am Da'Vonne and Michelle
Talking about Zakiyah and Paulie.
Da says Paulie is in teh wrong
Michelle doesn't understand why he doesn't talk to her he's ignoring her taht's what has her upset.
[polldaddy poll=9477458]
[polldaddy poll=9477456]
[polldaddy poll=9477457]