POV Holder:
?
Next POV:
Aug 25 (Saturday)
POV Used
POV Ceremony
Aug 27 (Monday)
HOH Winner:
Frank
Next HOH:
Aug 30 (Thursday)
Original Nominations:
Dan And Danielle
Current Nominations:
Have Nots
Dan
Last Evicted Houseguest
Boogie and Ashley
Pandora's Box POwer
Ian -> Has a veto power
12:30am Shane, Danielle, Britney and Jenn are sitting around talking about random stuff. Jenn starts talking about how her and Boogie will get together after show and have dinner at her friends place. She talks about how they will laugh about everything. Britney says that on her season she cried when Monet went home and now when Janelle went home. Britney wonders how Janelle is doing. Shane says that Ian played better then Boogie. Birtney says that Boogie just underappreciated both Jenn and Ian. Everyone agrees. Jenn brings up how its just a game and some people forget that. Danielle comments on how some people take it personally. Jenn says that she thinks they will start to see different sides of frank now that Boogie is gone. Shane says that Frank will be more genuine. Jenn says that and he won't have someone pumping him up all the time. Britney and Danielle head inside. Shane says he won't forget Boogie and Frank saying he was a b***h and a p****y. Jenn and Shane talk about how he was prepared for it though. Shane says that he knew they were going to act like that.
Superpass Live Feeds: 3 Day Trial!
Britney, Dan, Danielle and Joe are talking. Joe tells Britney that he thinks Frank is planning to back door Shane. Joe says that he thinks because Frank said Shane was now his number one target after Shane nominated him and that this is all a plan to back door him. Joe says that he wants to come up with a plan for power of veto in case Frank tries to do that. Joe says he doesn't think Ian will use veto. Britney, Dan, and Danielle agree. Joe asks Dan if he's talked to Ian about using veto. Dan says yes he talked to him and I don't think he will be using it on me.
Big Brother Live Feeds FREE 3 Day TRIAL: Try them and see what's happening right now!
Meanwhile in the backyard Shane, Ian and Jenn talk about Ashley. Ian says that he is sad she is gone and says that he started to cry when he saw her stuff. Jenn tells Ian that he isn't responsible for other people's decisions. Jenn tells Ian that she knows the other night was crazy but you did your thing. Ian says that he regrets my nominations and that Joe got lucky. Ian says that he doesn't regret voting out Boogie. Ian talks about what Boogie said to him after the eviction. Ian says that when Boogie said to him not cool, dawg not cool, he should have said neither is saying I'm expendable. Ian talks about how Boogie didn't want to be here anymore.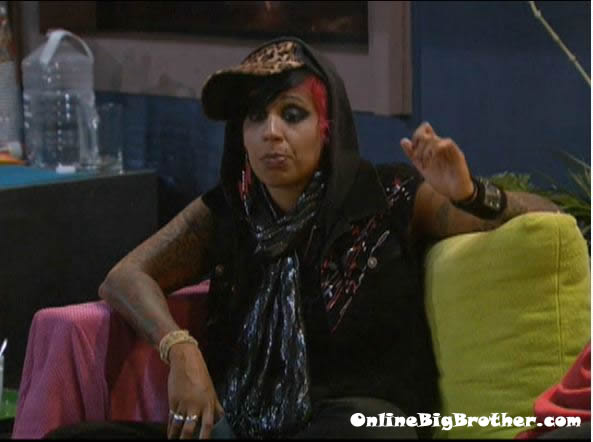 Danielle and Shane are in the bathroom talking. Shane says big day tomorrow, it might look better if Britney wins. Shane says if he wins and takes her off and Ian takes Dan off cause that would not look as suspicious for the quack pack. Shane says that if I win I would put up Joe and Dan. Danielle says Dan wouldn't still be here. Shane says that he is banking on Dan being here. Danielle asks why wouldn't you put Ian up. Danielle and Shane talk about voting out Britney. Shane says that he is good with this, says he had been doing all the hard work to keep Britney in the game, and how she hasn't won any competitions. Shane says that if he's on the block with Danielle, he wouldn't campaign against her. Shane says that he wants to try and back door Frank next week and says that he thinks it's the only way to get him out. Shane tells Danielle that he will try and protect her as best he can. Danielle says that she thanks for being so sweet today. Shane asks was I, I didn't even notice. Danielle says that he gave her extra hugs. Shane says he knows how bad it sucks, your welcome. Shane says that he think Joe is running up to Frank giving information. Danielle says that she thinks Dan is trying to get people to vote to keep her. She says it makes her said; it breaks my heart that he would do that. Shane says that Dan is a very good guy. Danielle asks Shane if he would keep her or Britney. Shane says you, she has already played this game. Shane says he is true to his word, final two with you. Danielle says that if Britney stayed she would beat anyone because she has a personal relationship with everyone. Danielle says that people will feel bad for her for getting so close last time and not winning. Shane says but she has not won anything.
1:20am Britney and Danielle are in the arcade room talking. Danielle tells Britney that both her and Dan agreed to throw the power of veto. Britney says that she is still mad about the way Dan played the Pandora's Box and says that if Dan had just tossed her a few quarters she could have won and they would all be safe. Danielle says that it was just a pride thing for Dan. Britney is trying to convince Danielle to play for power of veto. Britney says that if she wins it, she won't use it. Danielle says that if Dan won it, he would save her. (She is delusional) Britney tells Danielle that she has got a deal with Frank making her and Shane safe. She says she knows what Frank says in his diary room sessions. Danielle leaves and goes to Dan to tell him about her conversation with Britney. Dan tells Danielle that if he doesn't win the power of veto, he is going home. Danielle says she wants him to play for it. Dan says he won't know until he sees what type of competition it is. Danielle asks if he would shave his head. Dan says that he doesn't know. Danielle says that Frank said he would not. They talk about how they think Shane and Britney would take one of them off. Dan says that he isn't sure about Ian. Dan asks do you think Ian will use it? Danielle says that if Shane or Britney wins I do. Danielle says that she just wants the four of us to stay. Dan tells Danielle the only way you're going home is if I win veto. Danielle asks what do you mean? Dan says that he would use it on himself and not her.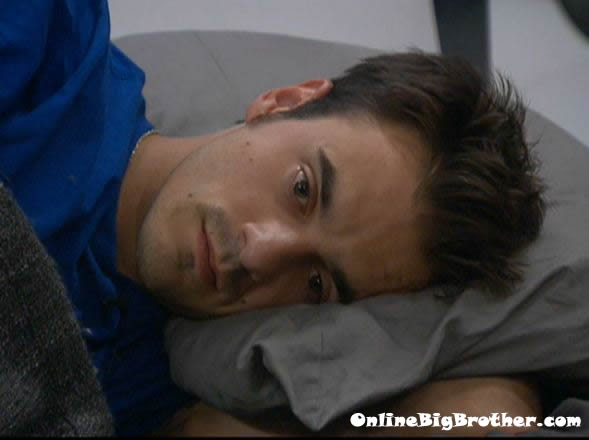 Shane and Ian are in bed talking. Ian asks how do you deal with a problem like Frank? Shane says that I just have to be the one to take him out. Ian says that he wants everyone to play hard tomorrow. He says that he did Frank wrong once already and that he just can't do it again that's why he told Dan and Danielle to play hard. Shane says that he doesn't want them to throw it and then I chicken out of using the power of veto. Ian says I can't do it, I give you the Moon and then you ask for the stars. Ian is referring to what he did during live show and now Dan wants him to use the veto. Ian says that he can't keep betraying Frank.
Watch it ALL on FlashBack: Pick the Day, Time and Camera View!
2:10am – 3am Britney and Shane are talking. Britney asks Shane what are you going to do tomorrow? Shane says win it! Shane says that Dan and Danielle will take all the rewards and that he is going to take all the punishment. Britney says that she will take some punishment too. Shane says that Ian said he doesn't know if he will use his power. They agree that he will use it if one of them use the other one. They say it will be one of the biggest moves in big brother history if quack pack pulls it off. They go to sleep. Meanwhile Jenn is the only house guest still awake. She is in the arcade room playing out scenarios and then heads into the kitchen to eat. After a while she heads to bed.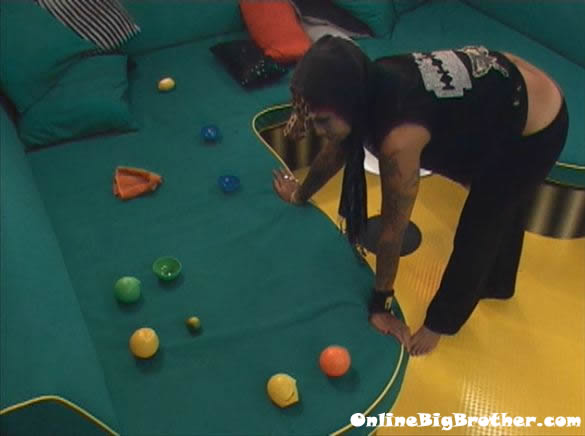 5:50am All the house guests are still sleeping..


Share it YO!!
Tweet