POV Holder:
DAN
Next POV:
Sept 1 (Saturday)
POV Used
Yes
POV Ceremony
Sept 3 (Monday)
HOH Winner:
Ian
Next HOH:
Sept 6 (Thursday)
Original Nominations:
Jenn and Frank
Current Nominations:
Frank And Joe
Last Evicted Houseguest
Britney
Superpass Big Brother 14 Live Feeds: 3 Day FREE Trial!
5:30pm – 5:50pm Danielle is taking a shower, while Dan and Shane are cleaning up in the kitchen. Joe is making dinner. Frank is sitting at the kitchen table talking to them. They are talking about how eating soy releases estrogen in your body. Dan says that he will end up going home with D cups. They discuss whether or not it's true and how they want to see a scientific study done on it. Shane joins Danielle in the bathroom when she is done. Shane starts talking about a car that someone he knows has where you push a button and the top goes back. Danielle says "my friend Trey has a car like that but it's super nice." Shane asks your dad? Danielle says my friend Trey. Big Brother cuts the feeds.
5:50pm – 6:05pm Frank and Joe are in the backyard talking. Frank says that its going to be pretty depressing if I get sent home by someone that was on my same team since the beginning. Joe says yeah I didn't think of it like that. Frank says it sucks you don't know who you can trust. Joe says yeah you never know who someone is when they come into the game and how they want to play the game. Frank says that the only to loyal mothaf***ers in this game were Boogie and I. Joe says that it was already unfair how the coaches got a three week pass. Frank says look at it from Mikes perspective he lost his chance at 100 grand. Joe say yeah this far in the game each one of the coaches would still have a shot at the 100 grand. Frank says all I know is if I win this s**t, CBS owes Mike $100 G's! Joe asks did he push the button. Frank says hell no! Frank says he thinks Dan and Janelle pushed it. Joe says there is no way I would give Dan the money and if I am in the jury I am going to convince people not to give it to him too. Joe says that he still has 7 more hours left to campaign tonight. I need to flip some people. Frank says you think I got the votes? Who do you think I got? Joe says he isn't saying.. you'll see who I am in a room with. Joe talks about how he ratted Jenn out. Frank calls him a snitch, it didn't help you any. Joe says it helped me more than you know. Joe says I would want to know if someone was stabbing me in the back. Frank starts raising his voice and says well why didn't you let me know that Ian was stabbing me in the back? Joe says I didn't know! Frank says okay. Frank says it was low down you telling Jenn that Ashley was stabbing her in the back. Joe says you don't know what it did for me. I can't tell you how it helped me. Frank says it didn't do anything for you, we are both up on the block. Joe says you don't know what it did for me, you will see when you get out.
Watch it ALL on FlashBack:
Big Brother 14 Live Feeds – FREE 3 Day Trial!
6:05pm – 6:20pm Joe tells Frank that he thinks it would have been better if Frank had gotten rid of Dan instead of Britney. Frank doesn't agree. Joe says that he doesn't think Ian would have put you up if that had happened. Frank doesn't agree and says that Britney still would have been in his ear to put me up. Joe says we will never know until we see Dan sitting in the final two winning this s**t. Frank talks about how he is going to work on all four votes. He says that he thinks he has one for sure and that's what he is working with. Joe says that he thinks he has one for sure too. Frank says I don't think you even have one with that s**t eating grin. Frank asks who, Shane? Joe says Jenn, I saved her from Ash. Frank laughs.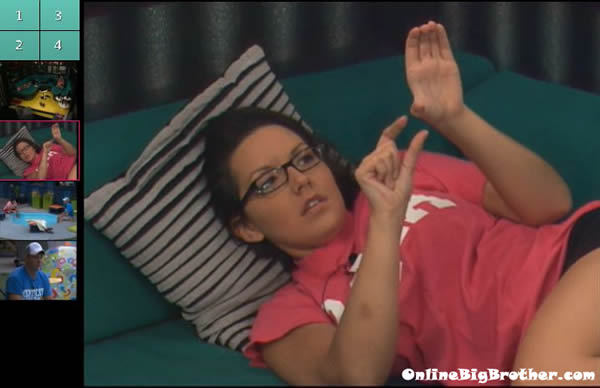 6:35pm – 6:45pm Danielle and Dan are in the arcade room talking about her home state and telling personal stories. Meanwhile Joe and Shane are talking with their feet in the hot tub. Shane tells Joe that Danielle talked to Jenn and she is 50/50. Joe says you never know, I know they are friends but she could just be trying to get information for him. Shane says you could be right. Shane tells Joe that he has his vote and Danielle, so it will at least be 2-2. Joe says and that isn't that bad for me, because then Ian breaks the tie. Joe says from his talk with Dan it sounded pretty positive too and he said he would tell me for sure tomorrow. Shane says yeah and at least you will know who to target if you stay. Joe says that's right. Shane goes to lay out on the lounger. Joe starts doing laps of the yard for exercise.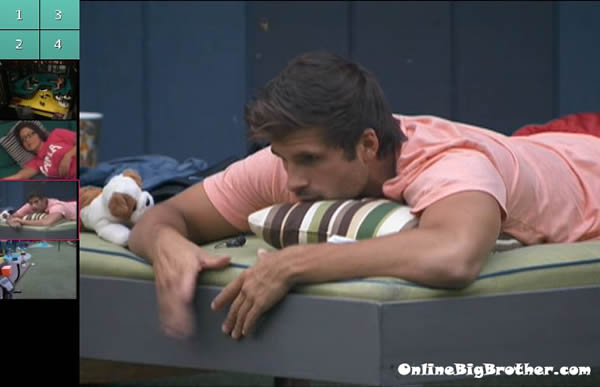 6:50pm – 7:05pm
Frank and Ian are up in the HOH room. Frank says that there is a possibility that there might be a tie vote, I just want to know what you think. Ian says that well you can't play for HOH this week. I don't know where the vote is, I can't get a good grasp on it this week. Joe thinks it is going to be a tie vote. Frank says if I go out I can just see it being you and Dan going up on the block. Ian says okay. Frank says if I stay then it would be Dan I on the block. Frank says I really wanted to work with you this week, but you don't seem too receptive to that. I still want to work with you, the way I think of it is that no harm no foul. Ian says that there is some obvious pairing off right now… Shane and Danielle, Dan and Jenn… which leaves me with Joe. Frank says I see why you think Dan and Jenn are working together but I think she is more with me than him. If I stay then it could be me, Jenn and you working together and Dan would be all alone. Frank says I still see you as a big competitor and want to work with you. Frank says even if Dan and Jenn are working together and I go …then they really will be working together and you'll be the odd one out. Frank says if you keep me and Jenn wins HOH, you won't be going up. And even if you do go up and I win the POV I can pull you off. Ian says you never know with Joe whereas you are straight up. Frank says at the very least even if you don't want to work with me, it will mean you will be good for another week because it will be me and Dan going up on the block. Frank says I hope it's not the person that I've been working with since the beginning that votes me out. Ian says right, I hope it's not a tie vote because it's going to be tough to make that decision. Frank says even with the silent six alliance we were only going to try and get down to the final 8 and then join up with you and Jenn and go four on four. Frank says I am not trying to sound like an a**h**e but I think I deserve 6th place more than Joe does. Ian agrees and says you probably deserve to be here a lot more than a lot of people. Ian says ah man, got a lot to think about. Frank says do you really want to be stuck with Joe as your duo? Ian says oh man it's like being stuck with Adam (BB13).
7:15pm Dan asks if Frank went to work on Danielle. Frank says that he did and that he worked Ian a little bit. Dan asks what did he say? Frank says that he needed to sleep on it. Frank tells Dan that Ian thinks you and Jenn are working together. Frank says that he told Ian he didn't think so and that it was more like Jenn is campaigning to keep me. Frank wonders if it will be a 4-0 vote. Dan says you never know. Dan asks so you've got Shane right? Frank says yeah. They talk about how you never know, that people could just be telling you what you want to hear, just like with Janelle. Frank and Dan talk about how they will get down to the right amount of people in the house. Dan and Frank start talking about past seasons. They continue to talk about past house guests.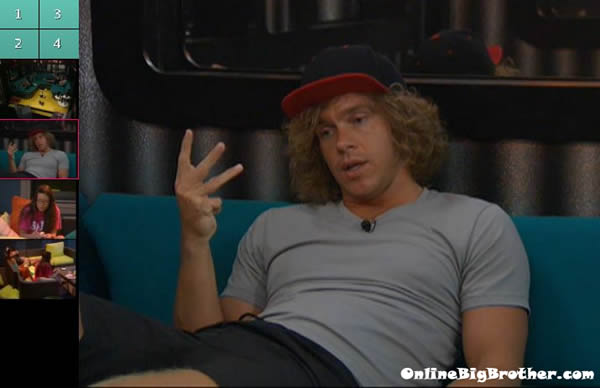 7:15pm – 7:30pm Meanwhile out in the backyard, Jenn and Danielle are talking about Frank. Jenn says that she believes Danielle 1000% when she says that Frank has been arrogant because I have heard it from other people as well. Not that I wouldn't believe you but.. Danielle says I am just trying to think what I did to him to make him not like me. Jenn says that she is worried that he will just not talk to you because he think I did. Jenn talks about how she wants Dan to let her know how he is voting so that she can decide how she is voting. Danielle asks when is he supposed to let you know? Jenn says tomorrow, when I talked to him this morning he said I was 50/50. Jenn talks about how she is trying to help mend that bridge between Danielle and Dan.
7:35pm Frank talks about how he said to Danielle something along the lines of how he deserves to be here more than other people. Dan asks did you say that? Frank says no exactly in those words. Dan laughs. Dan says it would be cool for you if you came back a second time. Frank asks you think? Dan says yeah. Frank wonders in what capacity? Dan asks would you want to play in a season with all return players? Frank says hell yeah! He says that's one thing that Mike told him that in All-stars it was such a great feeling because each week you get out a good player. Dan tells Frank that he needs to watch Big Brother 2 and says that Boogie was a good player but no one will ever be as good as Dr. Will. Dan brings up how Boogie proposed to his showmance at the end of seasons two. Did Boogie not tell you that? Frank laughs and says no! Frank and Dan talk about how the prize really should be a million. They end the conversation and leave the room.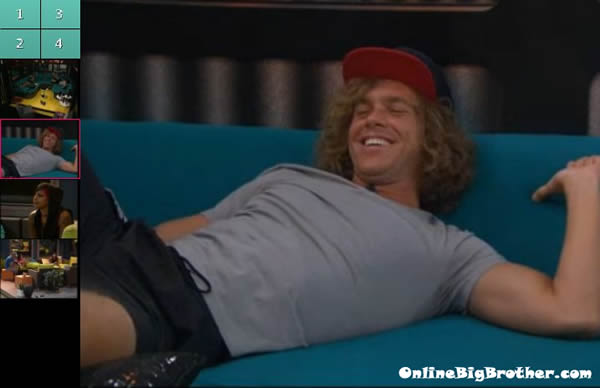 7:50pm – 8pm Shane, Frank, Joe, Dan, Jenn and Danielle are out on the backyard couch talking. Ian is swinging in the hammock. Shane is talking about how he only makes $26,000 a year and has $25,000 of his $60,000 student loan to still pay off on top of other bills and paying $700 a month for his parents rent. They continue to talk about random stuff. Ian and Joe heads inside to make dinner.
8pm – 8:30pm Ian and Dan are sitting at the kitchen talking about Ian's talk with Frank. Dan asks Ian how it went with Frank up in the HOH. Ian says that Frank said that next week if Frank leaves, Ian will be nominated with Dan. Ian says that Frank said that people are worried about me being smart. They talk about why Frank thinks it would be them nominated together. Dan gets up and says even Frank doesn't know about the quack but he's going to feel the quack tomorrow. Shane, Frank, Danielle, Joe and Ian eat dinner at the kitchen table and talk about past events of the house.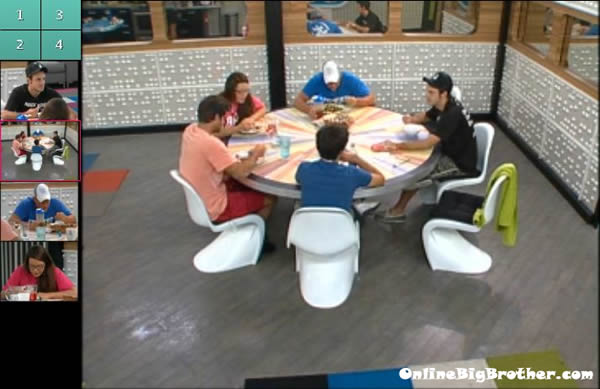 Sign-up for the Big Brother Live Feeds and get the MOBILE Feeds for FREE!
Simon and I work 24/7 all season long to bring you all the live feed updates and spoilers, please consider donating. Any amount is greatly appreciated, your donations go directly to paying the server and bandwidth fees needed to run this site. Donation Link
Share it YO!!
Tweet