POV Holder:
DAN
Next POV:
Sept 1 (Saturday)
POV Used
Yes
POV Ceremony
Sept 3 (Monday)
HOH Winner:
Ian
Next HOH:
Sept 6 (Thursday)
Original Nominations:
Jenn and Frank
Current Nominations:
Frank And Joe
Last Evicted Houseguest
Britney
Superpass Big Brother 14 Live Feeds: 3 Day FREE Trial!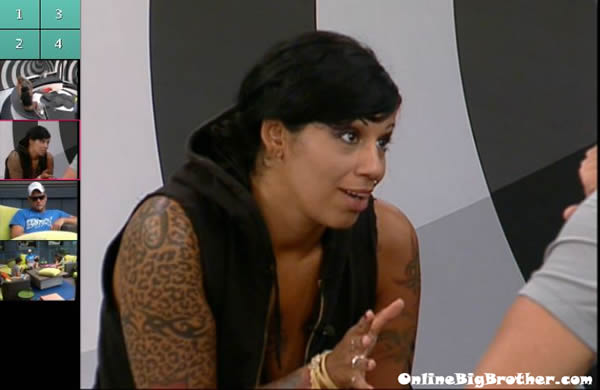 2:50pm Jenn and Frank are in the have-not room. Jenn tells Frank that she had a talk with Danielle. Jenn tells Frank that Danielle is good with the four of them but that he needs to talk with her again. Jenn says that you need to be really sweet to her, you need to treat her like a delicate flower. Jenn says that she thinks Frank has said things to Danielle in the past that have rubbed her the wrong way. Frank asks like what? Jenn says that she isn't sure but that you may have come off a little arrogant like saying you deserve to be here more than anyone else. Jenn tells Frank that he needs to work on Danielle. Frank says oh okay. Jenn says but you don't necessarily want to bring that up to her, just talk to her and be nice. Frank asks so do you think I am still alright with her for tomorrow? ..But more for down the road? Jenn says yeah, yeah, just have a talk with her and everything will be good. Jenn tells Frank to stop with the jokes with Danielle, it's not working with her. Frank says okay good talk, thanks. Jenn and Frank hug and leave the room.
Watch what happens, AS it happens: Big Brother 14 Live Feeds!FREE for 3 Days, then ONLY $14.99 per month!
3:10pm – 3:20pm Dan and Ian are playing a game of pool. Jenn is sitting at the kitchen table looking at the memory wall. Shane, Danielle, Joe and Frank are sitting on the backyard couch talking about survivor. They discuss the possibility of a fast forward / double eviction.
3:25pm – 3:30pm Danielle comments on how she saw Frank already cornered her. Jenn tells Danielle that she had a talk with Frank and how she told him to have a talk with Danielle and to treat her delicately. Jenn laughs and says I'm horrible. Danielle starts talking about how she figures production has already gone to her and Shane's hometown to ask their parents about them. Jenn says that she hasn't even thought about that. Jenn figures Danielle is getting a lot of air time because of it. Danielle says what because of the yo-yo over there.
3:35pm – 3:45pm Frank heads inside to take a nap. After he leaves, Shane comments to Dan that Frank thinks you are on his side 100%. Dan says I love it! Ian says a little blindside action! The pool game ends and Shane starts to work out. Dan and Danielle can be heard splashing around and laughing in the pool.
4pm Danielle and Dan playing hoops in the pool.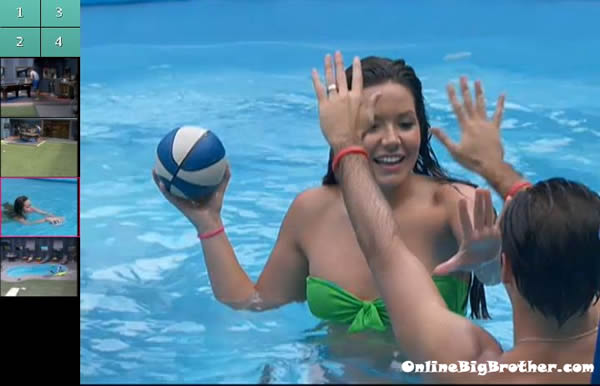 4:20pm Dan is diving to the bottom of the pool. When he comes up he wonders if BB will ever put a camera down there. Ian says that in the UK BB there was a scandal in the pool where people claimed that a couple did it in the pool and now there is a camera down there. Danielle asks Ian what the HOH competition will be since we aren't locked down. Ian says a quiz comp. The conversation turns to talking about politics, the election, back to school ads and school.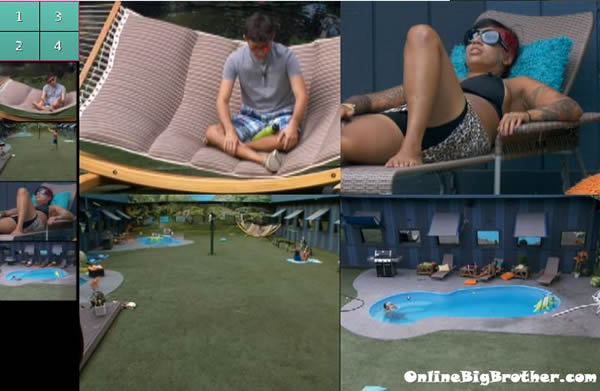 4:20pm They talk about April and Ollie doing it in the HOH room and the arcade room. Ian talks about how there are youtube videos of them doing it and April telling Ollie to c*m on her. Dan laughs and says that he didn't even know they were doing it and didn't find out until the backyard interviews.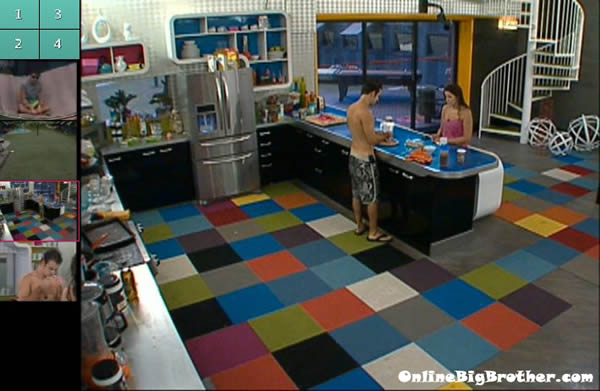 4:30pm – 4:35pm Dan and Danielle are in the bathroom whispering. They head into the kitchen. Dan asks what Jenn said to her. Danielle says that Jenn told her that she trust Dan and that Danielle should too. Danielle says that she told Jenn that she does but that she trusts her (Jenn) more. Dan asks do you think there is any way that Jenn thinks you and I are working together? Danielle says no. Dan asks what about Shane? Danielle says no. Danielle goes to take a shower. Dan heads out into the backyard to grill the turkey burgers and hot dogs.
Dan and Ian are talking out in the backyard. Dan and Ian confirm their deal and say that they think everything is going good. Dan asks Ian if he thinks anyone knows about the renegades. Ian says no, and says no matter who gets the HOH it it's unlikely that we would be put up together. Ian says that if it was me versus Shane we would have the votes. Dan says for sure. Ian says that we have to focus next on taking Joe in and Jenn. Ian says that if that happens the four of us will roll. Ian says that if it's Joe and Danielle we are taking Danielle. Dan heads inside with the burgers.
5:05pm Frank wakes up and joins Dan and Danielle in the kitchen. They offer him the hot dogs and burgers. Frank tries the hot dog and says woof those are bad! None of them like the veggie dogs. Ian comes from the backyard. Dan tells him to have a hot dog. Ian doesn't want one. Dan starts throwing the hot dogs at him. Ian heads up to the HOH room. Joe comes down from the HOH room and tells him he has to try the vegan veggie dogs are really good. Joe tries one. Everyone starts to laugh. Joe spits it out and says ewww!! Danielle says that she can't believe he tried it. Joe says well you sold me on it! Dan is posted up in the kitchen waiting for Ian to come back down, he wants to throw more hot dogs at him because he wouldn't taste them.
Watch it ALL on FlashBack: Pick the Day, Time and Camera View!
5:10pm – 5:20pm
Ian knows Dan is posted up outside the HOH room to get him. Ian yells nice try Dan. Ian then paces back and forth repeating nice try Dan. Ian comes out and tells Dan not to waste food there are starving kids in Africa. Ian says that they are all over the floor, I am not trying them now. Dan says all you had to do was try one. Ian goes into the HOH room and say oh ..I'll get him. He grabs Dan's "crusty a** underwear" and threatens to throw them at him. Big Brother tells Ian to stop that. Ian says I didn't even do anything. Ian goes back into the HOH room. He keeps repeating oh come on Dan, and that's a waste of food, there are starving kids in Africa. Ian yells out the HOH door that if Dan wants him he is taking a bath.
Simon and I work 24/7 all season long to bring you all the live feed updates and spoilers, please consider donating. Any amount is greatly appreciated, your donations go directly to paying the server and bandwidth fees needed to run this site. Donation Link
Share it YO!!
Tweet