POV Holder:
Frank
Next POV:
Aug 18 (Saturday)
POV Used
POV Ceremony
Aug 20 (Monday)
HOH Winner:
Shane
Next HOH:
Aug 13 (Thursday)
Original Nominations:
Boogie and Frank
Current Nominations:
Have Nots
No Have Nots This Week
Last Evicted Houseguest
Wil
HOH temptations
Britney Safe this week, Boogie gets 10grand
8am – 9:10am Boogie is up and out in the backyard. Awhile later, Jenn and Ashley come out to the backyard couch and start talking about Britney. Ashley tells Jenn that Britney talked about Jenn and said that she really liked her. Boogie comes by and asks if they happened to know if Frank got the last talk with Shane last night. Jenn explains it in a roundabout way. Boogie says so you really don't know if he did or not? Jenn says that if she had to bet on it she would say he got the last talk because he was up talking about burning the midnight oil. Jenn and Ashley go back to talking about Jojo. Jenn and Ashley head inside to make breakfast. Frank joins them. Meanwhile Boogie is still working out in the backyard.
Watch it ALL on FlashBack: Pick the Day, Time and Camera View!
9:35am – 9:50am
Frank heads out into the backyard and they start talking about Franks conversation with the HOH crew last night. He says that they headed down stairs again and that they came out into the backyard and got a chance to Shane. He says that he talked to Shane alone and he said that it was a big decision but that Danielle had told him that she would not hold it against him if he put up Dan. Boogie says BOOM! Frank says that Shane said it's not just him that wants Dan gone, a lot of other people have come up here wanting him out like Jenn, Ian and Ashley. Frank explains that Shane mentioned that he Shane said that he really didn't want to get home and find out that Dan was playing him. Boogie says that is great news, I think you did some great work last night and I think we can hammer this home today. Boogie says here is the think Jenn and Ian are done with him, so should we get her to have one last talk with him today. I think we should get her to talk with him today. Frank brings up how Dan said good night to him last night. Boogie says you know why he is doing that right? Dan did that every night to Jerry and Jerry said in the end that was the reason why he voted for him because no one else would talk to him. Boogie says that he was surprised that this week Ashley has stepped up her game a lot. She mentioned that she wants Dan out and that he doesn't talk game to her at all. Boogie says oh okay I'll talk game to you all night long. Joe comes out and Boogie switches the conversation quickly to sports. They start to talk about Shane again and who he will nominate. Joe says that he just can't get him to budge and say one way or another. Boogie says its because he hasnt watched the show before. Boogie says that he and Joe and Frank are more decisive than Shane. Boogie talks about how Dan is a smooth operator Dan. Joe thinks Shane has his mind made up but Shane is just not saying. Joe says that he knows the word on the street is that I might go up. Joe says that he did not go up and push either way, he just told him the whole threat thing and why not to pick me.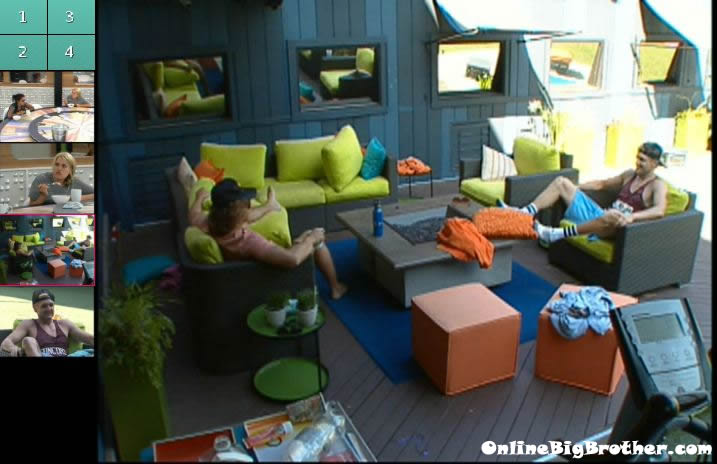 10am Big Brother wakes up the house guests. Frank heads outside and starts talking to the camera, saying it time for him up stairs to make a decision. He says we will see if all this hustling will be worth it for us. Frank says that he thinks it might be Dan but that even if it isn't it might be Joe which would be good for us. Frank says if Dan stays then obviously I have to worry about Dan winning HOH. Who would I put up if I won, it depends on who goes up today. If Dan goes up then I might have to put up Joe and Ash. I like Shane but he is taking too long to make a decision and that is risky. Ian joins him.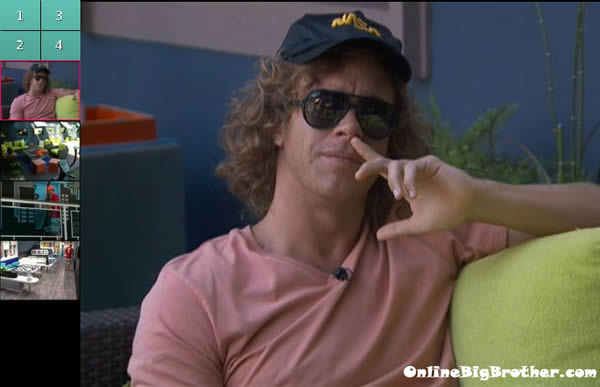 10:20am – 10:35am Boogie heads up to the HOH room to talk to Shane. Shane says that his mind isn't made up yet. Boogie tells Shane that Janelle tainted his name and then the other day with Britney's name, I would like to think in the last 40 days … Big Brother cuts the feeds. Boogie then explains how Dan is saying goodnight to Frank and how he did that to Jerry in his season too. Shane says he know that. Boogie brings up how he talked to Danielle. Shane says I know and she talked to me after saying she wouldn't be against it if I put up Dan. Boogie explains how he can help and introduce Shane to a lot of people when they get out of here. Boogie says that we talked about that before when we were equals and no matter who you put up I will try and help you out. Boogie talks about how Dan doesn't want to lie in this game so that he can go home and say that he never lied and that is why he gets quiet when confronted. Shane says that he's noticed that and doesn't want to go home and be played in the dairy room. Boogie heads downstairs and out into the backyard. Frank tells Boogie that he had a good talk and feels good about it. He tells Frank to have the last word with Shane before the veto ceremony.
Big Brother Live Feeds FREE 3 Day TRIAL: Try them and see what's happening right now!
10:50am – 11am Frank heads up to talk to Shane in the HOH room. Frank explains that everyone is on board with getting Dan out. Frank says that it's a good decision because they you aren't rocking the boat too much. Shane says that Dan hasn't even come talk to him yet. Frank brings up Dan saying good night and how he did that in his season, yet he wanted to change beds. They talk about how Dan won't win competitions but cloud their decision. Shane says look what he did to my HOH he clouded my HOH too. Frank asks so what is Britney's thought on it. Shane says that she isn't necessarily against it but that she doesn't want to stir the pot. Shane says that this is a blessing in disguise and after this happened it really opened up my eyes. Frank brings up that Dan tried out for the show twice before and got to semi finals once and passed it up to go to Italy. Frank says that he had the opportunity to go work in Guam for a year and make $70G's and I passed that up to be here… Big Brother switches the feeds to TRIVIA..
11am TRIVIA..
11:50am Still TRIVIA..
Frank got the last word with Shane, do you think it was enough to sway Shane's decision on who to nominate?
Re-Watch ALL THE DRAMA on FlashBack: Big Brother 14 Live Feeds – 3 Day Trial!
Share it YO!!
Tweet