POV Holder:
Frank
Next POV:
Aug 18 (Saturday)
POV Used
Yes
POV Ceremony
Aug 20 (Monday)
HOH Winner:
Shane
Next HOH:
Aug 13 (Thursday)
Original Nominations:
Boogie And Frank
Current Nominations:
Boogie And Jenn
Have Nots
No Have Nots This Week
Last Evicted Houseguest
Wil
HOH temptations
Britney Safe this week, Boogie gets 10grand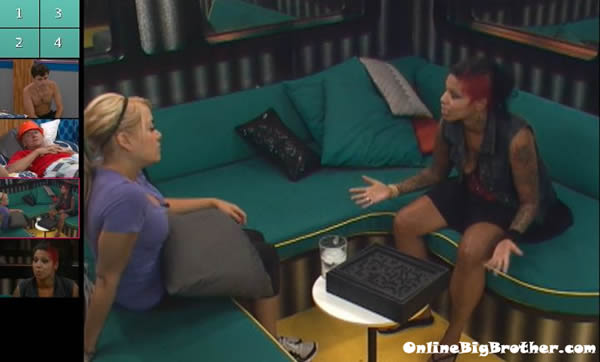 11:55am Jenn and Ashley are in the arcade room talking. Jenn says that she just knew Shane was going to nominate her, she says that he was looking at her a lot right before so she just knew she was going up. Jenn says that she is just going to sit by the pool and do the dishes and start thinking about her speech. Jenn says whatever the line is fu*king drawn and I am going out for blood after this! The cameras switch to the HOH room where Danielle, Britney and Shane talk about how pissed Jenn is. Britney says that she is going to go talk to her and tell her that she is sorry and that she will tell her to come up to talk to him (Shane). Britney goes down to talk to Jenn. Jenn is in the kitchen and yells FU*K. Britney takes Jenn into the arcade room and tells her she is sorry that she got nominated that she didn't know it was happening. Britney tells Jenn that she told Shane she didn't want to know who he was going to nominated after getting her name thrown out there with the nominations. Jenn says that she wants to campaign for Britney's vote. Britney says absolutely. Britney tells her that Shane wants to talk to her. Jenn says that she wants wait until she calms down.
Watch it ALL on FlashBack: Pick the Day, Time and Camera View!
12:05am Boogie, Frank and Ashley are in the kicks room talking. Frank and Boogie talk about how done they are with Shane's back and forth answers. Boogie says that he will be in the jury house by the pool with salt all around my rim talking so much sh*t about his game to make sure he doesn't get the votes. Frank says all he will be doing is banging hammers now. Boogie says he just burned his bridge with me, that's all he will be doing is banging hammers, there is no way I will help him out in LA now. Fu*k that and I told him I would help him too, but that's done! Boogie says that he wants to go up there and call out Shane on his manhood, you are Dan's bit*h! Boogie says that he wants to smash his fu*king face! He can go back to his pathetic life in Vermont, I could have changed his life and now there is no way!
Ian and Jenn go into the arcade room to talk. Jenn says that that it is hot out in the streets. She says that she thinks Dan scum bagged her. Jenn says that she doesn't know if she is the target or not. Jenn says that she is gonna calm down and do dishes before she talks to Shane or else she will rip his head off. Jenn leaves and realizes Dan is doing the dishes, so she goes up and talks to Shane. Jenn asks Shane to tell her what the hell is going on. Shane says that he had to put her up because you have the best relationship with Boogie. Shane tells her that he put a huge target on his back right now because of all of this. Jenn says you sure did! Shane says that he has been told by people that Jenn was getting information for team Boogie. Jenn denies it. Shane tells her that she has a better relationship with Boogie than Ian, and that it is harder for Boogie to campaign against her, but that he thinks she has a very good chance to stay. Shane says that he has been told she is running back to give them information. Shane tells her he hopes she is never in this position to have to because it hard.
12:25pm Jenn and Ian join Boogie and Frank in the kicks room. Jenn talks about how she went up to talk to Shane. She tells them that she was washing dishes next to Dan and started singing the lyrics you look so pretty digging your grave. She says that she then walked away. Ian asks if he incites an argument later with him will they support him? They say oh yeah, yeah. Ian says that he might, or he might not we will see. Frank, Boogie and Jenn leave the kicks room. Frank goes up to Ian after and tells him not to start a fight right now I don't want you to be painted in a bad light.
12:30pm – 12:40pm Britney, Danielle and Ashley are in the arcade room talking. Britney says that it is so awkward out there no one is looking or talking to each other. They talk about how pissed Jenn is that she is on the block. Meanwhile, out in the kitchen, Boogie and Frank are yelling at Shane. They are pissed because Shane was implying to them that Dan would be going up on the block and he didn't. Frank asks why Shane was yanking them around so much and saying that he was leaning one way or another. Shane says yeah I said that I was leaning one way or another I didn't say which way. Frank says yeah you were insinuating one way. Boogie says now you are just Dan's bit*ch! Boogie says that he has put a huge target on his back and that he better hope his daddy Dan wins next week while he is on the sidelines watching. Boogie tells Shane that he is going to get what he deserves. Shane asks is that a threat?! Boogie tells him he isn't in the game anymore, but that my man Frank is coming after you to back up that threat! Frank says you just went from not being on my hit list to being number one on my sh*t list and that Dan is now my number two! Shane says that he knew that would happen and he's fine with it.
Great Yelling match in the kitchen, WATCH it on FlashBack:
Pick the Day, Time and Camera View!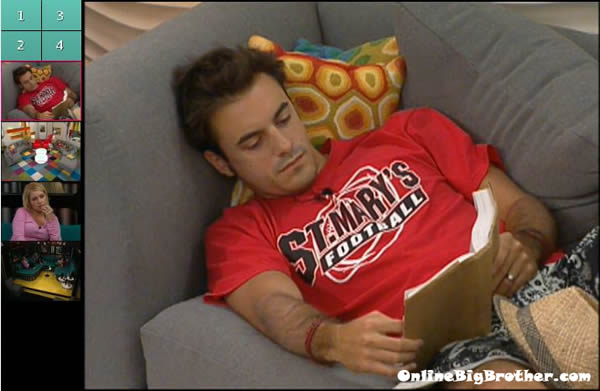 12:40pm Boogie says what is great for you three (Ian, Jenn and Joe) is that all three of us are going to be in the jury house making sure they don't get the votes in the jury house for scum bagging us. Ian says you know what that means, ..new mountain bikes! (?)Frank says I would like to point out one thing too your boy (Dan) isn't helping you out one bit in here. Maybe he will throw the HOH again, just like he did last time. Mike goes and walks by Dan in the living room and says nice fu*king play, nice one, getting them to do your dirty work. Dan sits there in silence reading the bible. Boogie tells Frank we have to give it up to this guy he is good.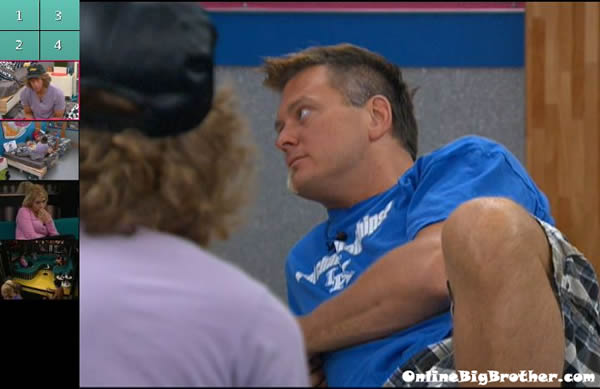 Frank, Joe and Boogie go into the kick's room to talk. Boogie tells Joe that they are tight and don't have your back. With us you know where we stand and that we are ready to roll with you. Boogie says it is going to be real uncomfortable in here this next week. It is going to be a war! You are in a great position. Shane is in power now, but that is going to end soon. They have nothing to offer you! Frank says if you come over here with us it will be 5 against 3. We aren't asking for just a week, we want to work with you. Boogie tells Joe to think it over for a day. Joe says that he just needs the 24 hours to think about it and he will not drag it out he will let them know. Joe says that he needs to know that Ashley is with them 100% before he makes his decision. They bring up how Dan didn't come in and back up his man Shane. Joe leaves.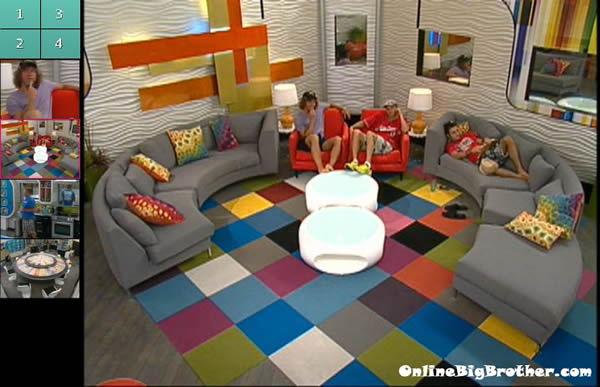 12:53pm – 1pm Frank and Boogie head into the living room to sit by Dan to make him uncomfortable. Boogie asks Dan if he is going to ignore him all week. Dan says I'm not ignoring you man. Boogie says I tip my hat at you. I hold no ill will against you in the real world, but in the game it's a different story. Frank says that he disagrees, he says he is pissed at Dan for trying to scumbag him. Frank says that he is going to start a website how to really get on realitytv.net. Boogie says the only thing I asks is that you don't do Ian wrong. Frank is a big boy and can handle himself. You and Ian have been friends since the beginning. Just don't do him wrong. Ian is there and says yeah salsa ball. Ian leaves. Boogie says okay Dan we did a good job of hiding the alliance. Boogie says that Janelle is home enjoying a large dildo right now enjoying this… They laugh.
Share it YO!!
Tweet