POV Holder:
Frank
Next POV:
Aug 18 (Saturday)
POV Used
POV Ceremony
Aug 20 (Monday)
HOH Winner:
Shane
Next HOH:
Aug 13 (Thursday)
Original Nominations:
Boogie and Frank
Current Nominations:
Have Nots
No Have Nots This Week
Last Evicted Houseguest
Wil
HOH temptations
Britney Safe this week, Boogie gets 10grand
1am Up in the HOH Danielle, Dan, Britney and Shane are talking. Dan says that he feels the same way about the alliance he was with last time. Dan says that he might do some crazy stuff, but that it will never involve any of them. Britney says that she started trying to work on Ian because he was saying that if he wins HOH, Joe needs to go. Britney says that she doesn't care how uncomfortable it makes you; Frank is what stands between this alliance getting to final five. Britney says that Ian doesn't want to do anything, and says do you think it's been easy on Dan to have to stand up for you all week long? Britney says that Ian doesn't want to have to do the dirty work. Dan says that he feels good, he's going to vote the right way. Britney and Shane agree. Danielle says she will put him up and so will Dan. Britney tells them that the backdoor situation needs to be considered. Shane says that the chances of drawing POV are there. Dan says that it is going to be such a waste if he doesn't go next week. Dan says you know, knock out Ashley or Jenn? Dan says that if we get him out, we'll steamboat. Shane says that we will steamboat, and I hate to say it, but we'll get out Ian. They talk about how two-faced and untrustworthy Ashley is in the game. They talk about how she says mean things about Frank to Britney, but that she really likes him. Britney says that Ashley did the same way with Janelle.
Watch it ALL on FlashBack: Big Brother 14 Live Feeds – FREE 3 Day Trial!
In the kicks room, Boogie and Frank are talking. Boogie tells Frank that if Shane puts Dan in that seat tomorrow, I would just die. I would be like, oh my god, I can't believe we made this happen. Frank says one thing Shane won't forget, is that mother fu*ker would say sh*t up there that fu*king night. Then he will sleep in a bed with me, what does that tell you about the guy? He's fu*king scared, he's cornered right now. Frank leaves the room so Boogie can sleep.
1:25am Joe, Jenn and Frank are in the backyard talking. Frank says that he is trying to burn the midnight oil tonight. Joe says you're good, what are you worried about? Frank says my homie's not, though. Frank says that he and Boogie talked about how Dan is up in the HOH room, and he plans to stay up and get the last word in. Frank says that with this show, even when you're at the top, like way out there, you know you could plummet, you might have hurt somebody's feelings, or stepped on somebody's toes. He says that he thinks Boogie and Britney haven't gotten to talk a whole lot today, and that will make a big difference. They talk about Janelle going home. Joe is asking Frank what happened the week Janelle went out and who the alliance of 6 was. Joe asks was it a pack of 6 or 4? Frank says he doesn't know. It was like, hey, you know, y'all put Janelle up, we'll try to get Wil or Joe out, and we'll be good for a couple weeks. Joe says that it made sense because you were in a pack, the ones that weren't in the pack, are the ones going home.
Watch what happens, AS it happens: Big Brother 14 Live Feeds!FREE for 3 Days, then ONLY $14.99 per month!
Frank says that when he goes up to the HOH in a minute, he is going to push for Dan. He says one thing that we have going for us is our track record. Frank says when you guys got my back the first week, we had your backs when I got the HOH. Frank says that Dan has been shady as hell. He told us we had Danielle's vote, and he told Mike later he wanted me to go, so he could work with Mike. Frank says that he is kicking himself in the ass, because he could have sent that guy home twice. Frank says that he and Boogie are working so hard to get him on the block. Frank says that Shane had the fu*king balls to put me and Mike up, which is a pretty ballsy move. Joe says that he has got to be thinking if you win HOH, he's going home, or him and Dan, or whatever. Frank says that if Mike goes home, he won't forget it. Frank says that he has had my back, and I won't forget it. If that happens, I'll be working with you guys, but I'm still at the top. Put him up if you get the chance, back door him if you get the chance, and I have to win every week just to save my a$$. Joe tells Frank to just tell them you want to talk. Frank leaves to go inside.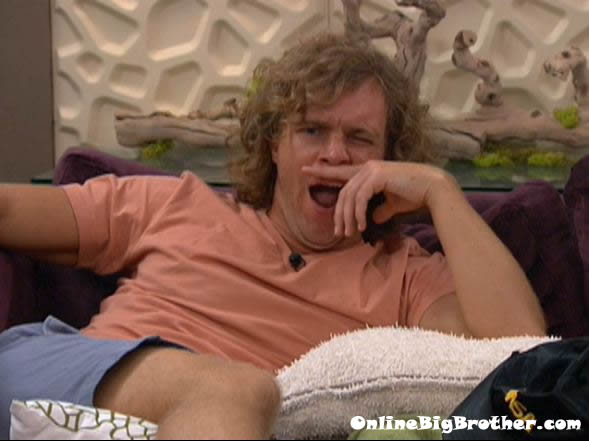 2am Frank heads up to the HOH room to talk. Frank says that everyone is going to bed downstairs. Shane is in the bathroom having a shower. The others talk about random stuff, like Janelle and the HOH basket. Britney heads downstairs. Frank says that Mike said earlier that he has worked more in this game so far than he ever had to work, even in his season where he won. The conversation turns to how many people are still in the house and what week it is in the game. Britney says that the show should end one month from today, and there's ten people left. Danielle says that just tells you how sh*t's about to get crazy.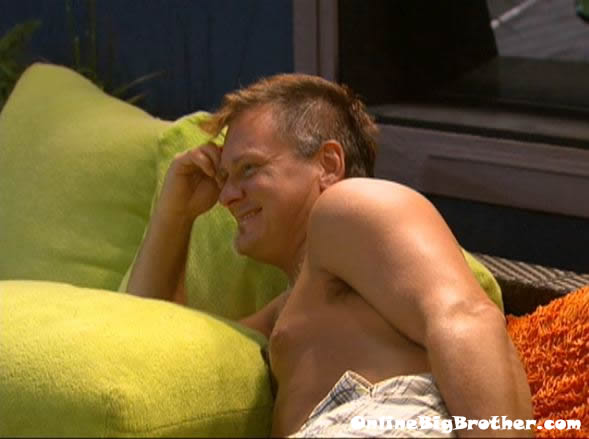 2:25am
In the backyard Shane, Joe and Danielle are talking. Joe asks if Frank is talking to Britney and Dan. Danielle says that it was extremely awkward when Frank came up to the HOH room. Shane agrees. Danielle asks why Frank was being so sweet to Joe. Joe says that he has heard everything. Joe says that they're trying to get everyone else if they can't get Dan. Danielle asks you mean Frank and Boogie? Joe says I know they're talking about me, but they tell me it's never me. Shane and Danielle say that they've thrown Joe under the bus. Joe says that he is mad about the personal attacks against himself. He says that it makes no sense. Shane says the more he has thought about it, I am glad you didn't react. Joe says that Frank came in and apologized, but I said no problem, I realize you weren't saying I was calling you a dick and all this sh*t. Joe says that he doesn't understand why that's such a whole kill Joe thing. Joe says that he has never said your name upstairs. I have only said Dan, and that's who I want out. Shane says that Boogie has said your name, he is going to flip out when Jenn goes up. Joe says that he went and told Ashley, he cheated. Boogie looked out from the booth, and said "Fold." He then folded. Shane says that Ian, Ashley, and Jenn came up and said the same thing, verbatim, we can't trust him. Joe says that Jenn and Ashley both voted against me this week and they do nothing but love each other, whether it's platonic, or not. Danielle asks do you think anything's there? Joe says maybe that's their thing, maybe Ashley's saying, she's a lesbian. Joe says that if we keep together, nothing can happen to us. Shane says that the only thing that could ruin it is sitting upstairs, he is sitting upstairs. Shane says that when you win HOH this week, who would you like to see go up? Joe says that we would have to sit and think about that. Shane says consider this, say Ashley and Frank go up, then we have the chip bag and there's four of us than can be chosen, and Ian and Jenn are up there, but at least you'll be playing and one or two of us as well. Joe says that he feels more comfortable; and says that nobody should be able to touch us. Shane agrees. Joe says that they don't have a chance in hell. Shane says we need a game plan if it is a Fast Forward; we need to have nominations ready. Joe says put up Frank and Ian. Shane says we could put up Frank and Ashley, so if Frank comes off, we can still put up Ian. Danielle says now we don't have the option of putting up two targets.
Big Brother Live Feeds FREE 3 Day TRIAL: Try them and see what's happening right now!
3:10am – 4:45am Shane and Frank are talking in the backyard. They are talking about what a crazy season this has been so far and that there is still more to come. Frank says that the double eviction will be this week or next and then they'll be down to just a few people. Frank says he doesn't want floaters to end up making it to the final two and says that he would rather be sitting next to a good player. Shane agrees, he says he wants to earn $500,000. Danielle joins them. Frank and Shane talk about the body type they like girls they date to have. Them they talk about past competitions and how they can't wait to watch the season. They head inside to go to bed. Danielle and Shane head up to the HOH room. Danielle starts talking about how the HOH competitions have been altering between quick competitions and endurance. She says that this one will be a quick one. She also says it will be a double eviction. Shane tells Danielle that we both have a great chance at winning America's Choice. Shane says you took Janelle out, and I am taking Boogie out! Shane says and then next week you'll get Frank out. Danielle says bye, bye! Danielle starts comparing her game to Britney and says that she doesn't understand why Britney would be looked at as a bigger threat than she is in the game. Danielle says whatever, I'll win again and save all ya'll's a$$es. Shane says that tomorrow is going to be a sh*t show! They continue to talk about random stuff while she massages him. Then they curl up together and then Danielle heads back down stairs to her bed.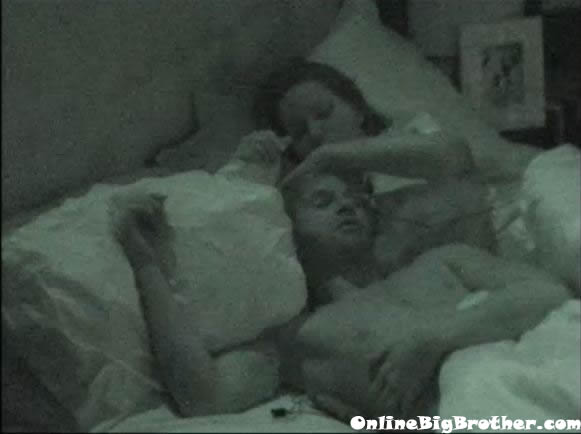 6:20am All the house guests are sleeping..

Share it YO!!
Tweet