Head of Household: Victoria
Nominations: Kiefer and Latoya
The Power of Veto Players are : Latoya, Kiefer, Austin, Ty
POwer of Veto Winner : Jedson
Power of Veto Ceremony : Jed did not use the veto
Have nots: Kyle, Ro, Breydon, Austin, Jed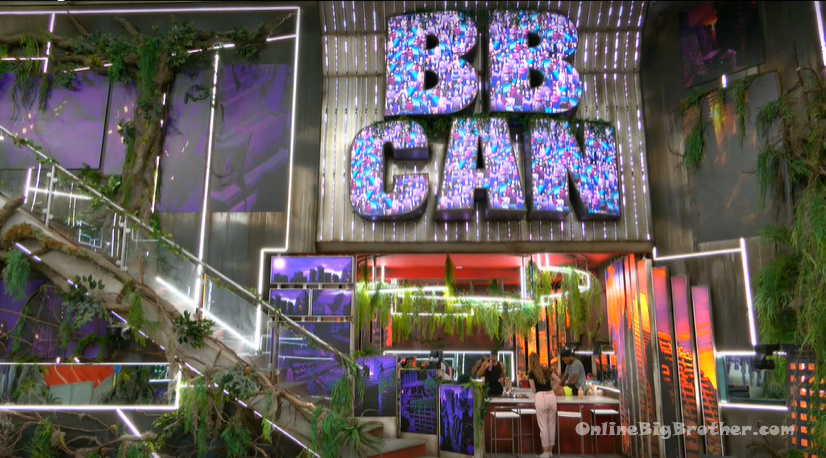 12am Austin and Breydon.
Breydon – I came down yesterday and sat beside Latoya and she asked are you allowed to sit with me or will people get mad at you? And I was like what?! And she was like I don't know! This house is crazy! I am just making sure you're allowed to sit with me. Austin – what?! And this was last night? Breydon – it would have been a little before maybe. Austin – she needs to chill. Breydon – you know it was because of Kyle and Rohan. Austin – its probably because of me. Breydon – I don't think so. That was two days ago. Austin – it can't be 100 or 100 .. there needs to be a middle. You know what my only worry was .. we vote out Latoya or Ty next week and they feel so shook by us that they come after us. Like how do we dodge that? Breydon – yeah, that's my only thing. Austin – it has to be done. Breydon – lets hope that Latoya doesn't come down and she goes home! I don't think Jed or Ty would come after us .. because they don't have anyone else. Austin – true and I could just be like she was the sole reason the house wanted to flip. I could just be like that really scared me and I didn't think Keifer annoyed people.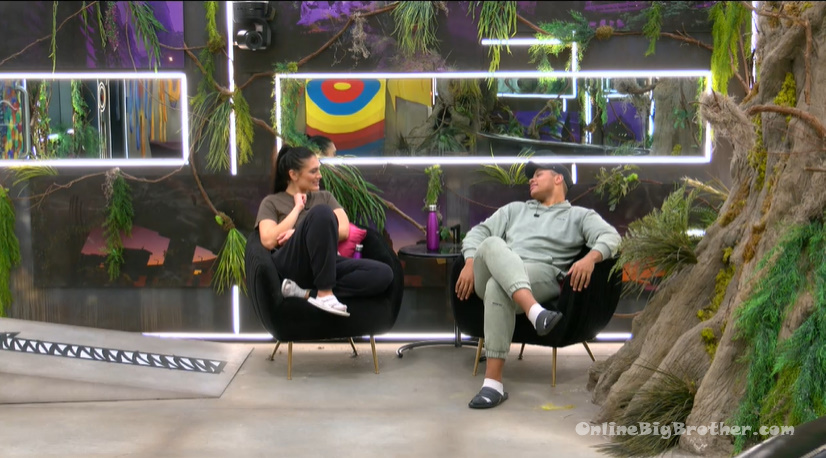 Tina, Tera and Jedson.
Tine – Keifter is probably the better one to stay. Jedson – so anything that happens .. Keifer stays that is the plan. Tera – and you're also telling Keifer that? Jedson – yes, Keifer things he's the target. Tina – yes that's what I mean. Jedson – I think whatever haooens it is good.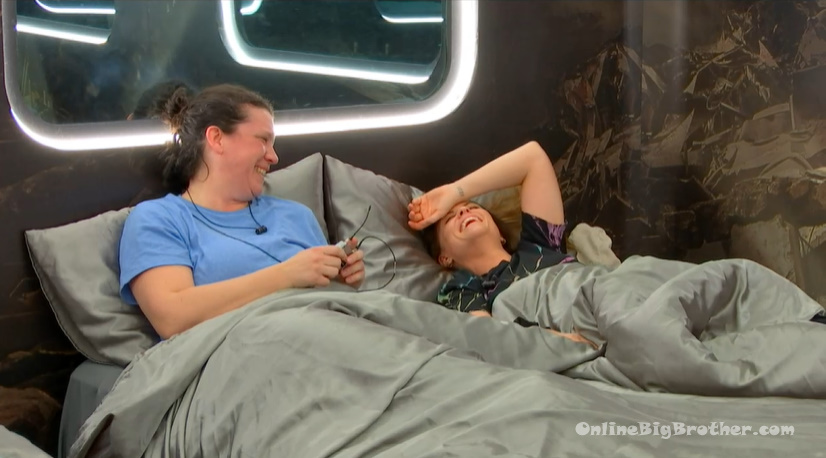 TIME CHANGE… UGH
ZZZZZZZZZZZZZZZZZZZZZZ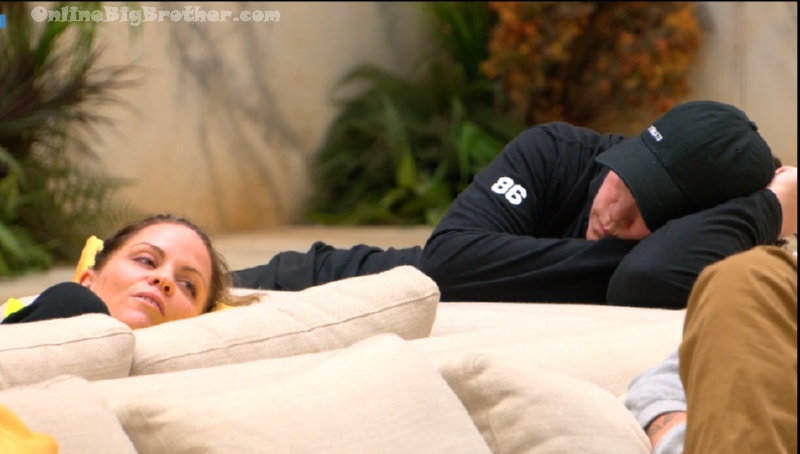 9:30 am Tera, Tina and Kief
Tera saying she thinks Jed is going to use the veto on Latoya.
Tera plays it like she thinks she might go up says to Kief if she doesn't go up she will "low key" campaign for him by saying keep Kief he's Weak. She stresses she doesn't thin kthat but is going to use it as a reason.
Tera asks Kief if they get out of this week alive would he hold it against VIc?
Kief says no "Vic won a chance HOH there are some beast comps coming there's no way there's not"
Kief – these guys are going to start winning sh1t there's no way
They talk about how much of a beast Jed was during the veto competition yesterday.
9:45 am The greatest HOH is preparing for her day.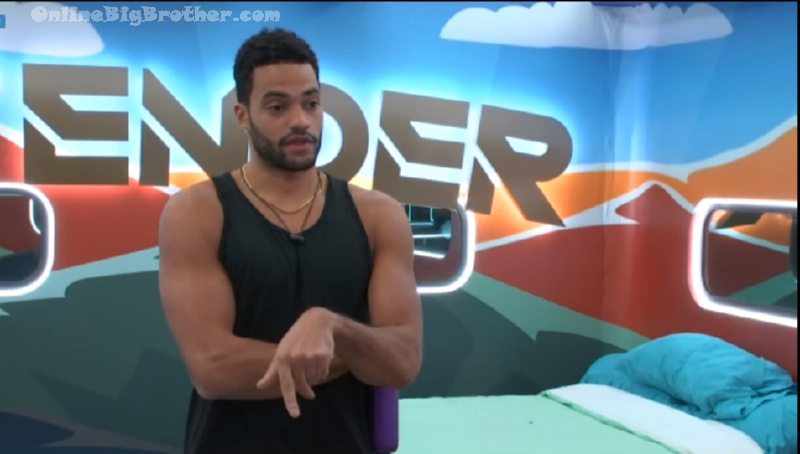 9:50 am Jed and Latoya
Latoya – She's like I just had a conversation with Jed.. She's on CLoud nine
Latoya says it was brilliant of Jed to talk to Tera "make her feel like her opinion matters"
Jed – I was like fo you have any feeling that you are the replacement because if you are I don't want to put you in a situation where you might go up.. She was loving it..
Jed – she's like oh my god I can't believe how loyal you are.
L – I don't know what you said to her but YO you did a number on her.. She literally came in and walked in and hugged me
Jed says that Tera is a number for them now.
L – I said Jed has your back, Ty has your back and you know Tina has your back
Jed – she's down so we're good
Kiefer joins them.
Jed continues to explain his conversation with Tera where she told him she's not ready to pick a side. Jed goes on about how he told her they were never targeting Tera and never trying to get her on the block.
Jed – I don't need to beat around the bush the lines are drawn
L – pick a side because right now you are picking the wrong side. (Latoya's side is the wrong side now)
Kief – Have you talked to Vic yet.
L – I just talked to Austin because she's in my bed
L – You are putting in work..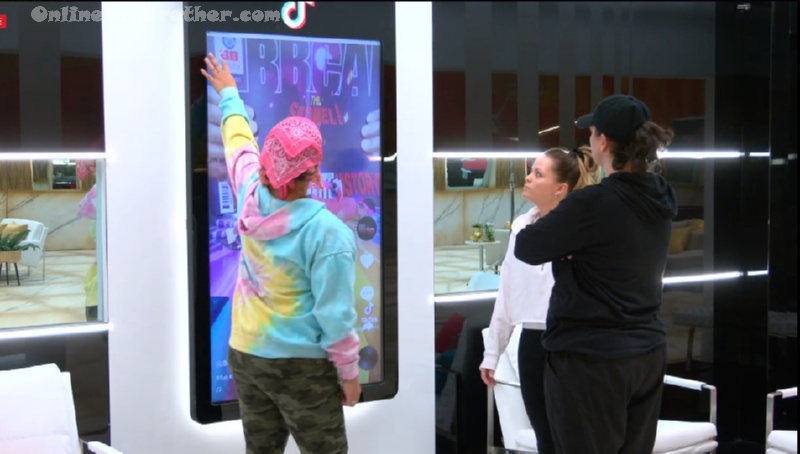 10:03 am Vic, Tera, Tina
Vic – I'm a fan of this game and I told everyone and Canada I would not have a flip on my HOH. I'm not risking it.
Tera brings up Jed coming to her asking her what is going to happen. She said it's Vic's HOH and told him she might go up if Veto is played.
Vic – when I talk to them it'll get heated.. I don't want it to get heated
Vic – I got lots of reasons why I don't want them to use it
Tera – they think if he does use it it'll be me or Breydon
Vic – Ok well I'm telling him I would never put you guys up .. I see you as guys cause I group you guys together.
Tera and Tina say that's fine.
Vic says she promised them she wouldn't put them up and they promised her they would vote out 'kiefer"
Vic laughs "You know"
Vic – he needs to not use it.
10:13 am Tina and Tera
Tera "if Jed's side wins next week they will go after Kyle and Ro, "If our side wins next week they go after Jed and whoever that's where we need to sit"
Tera – honestly I don't care about the pecking order of any of it. If some way we can skate by without Latoya or Keifer going home and neither of us I don't care what they do.
Tina – If Ty goes up it'll be Ty and Kiefer on the block. which means they will want to vote Kiefer out
Tera – not the oddballs. For the oddballs that is a massive target to get out. I just don't know if she will actually do it to be honest. I think she will put up Beth
Tina – for us it would be a better move if they actually did that and Keifer stays. It still pouts you, me, Kiefer, and Latoya in a decent spot
Tera with all the BS going around as much as I love Kiefer and Latoya we cannot jeopardize our game. Vic has made it clear if Latoya comes down she does not want Keifer going home.
Tera – that's the only person I made a promise with Vic..
Tera – right now Oddballs have the numbers the other side needs us more than we need them and straight up I don't care teh order.
They agree not everyone on each side they trust.
Tera says she feels like there are still teams Jed is the other side captain and Kyle's theirs.
Tina doesn't believe that Latoya and Kiefer said her name to Kyle/Ro
Tera – I'm praying she puts up Beth.. BETH LIES
Tina agrees.
They talk about how effortless Beth lied to Tera about the RO vote.
They agree just because they are cool with Latoya and Keifer doesn't mean they are cool with everyone they are loyal to.
Jed, Ty, Beth, I can't tell who is bullshitting me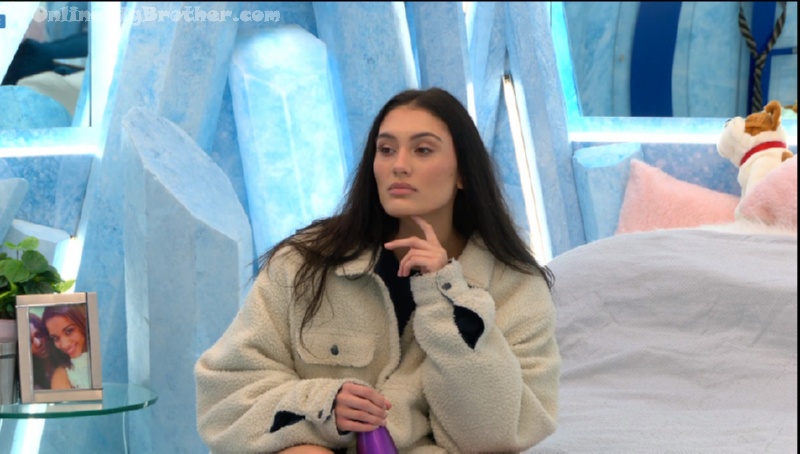 11:20 pm Vic and Austin
Vic saying she's not going to risk there being a flip. If Jed uses the veto on Latoya she'll have to put Ty up because that is the only person that will prevent Latoya from starting a flip.
Vic says that Ty and Jed are going around telling everyone she's a comp beast and a genius at the game. "these things aren't good for my game"
Vic is going to say she wants the noms to stay the same she has the votes for Latoya to stay.
Vic – if they start going off I'll say I'm sorry I'm not doing this. I'm having a good week. Sorry I broke my promises this is big brother (DAM I love Victoria)
Vic – I tried to work with them but they really didn't want to.. I'm going to bring that up..
Austin – me to They came to me and look what they did?
Vic – on your HOH that's so rude
Austin – they didn't tell me anything
Victoria is adamant she's taking out someone on the other side. She tells Austin they are part of something now.
Austin says after this week the other side will be Beth, Ty, Jed, and random Kiefer
Victoria thinks Beth wants to work with them.
Austin – we can work with her but I don't trust her
Victoria – I trust her as far as I can throw her
Austin – she's in with the boys and scurries around with everybody else.
Austin – She told Breydon the second I left the Pantry.. 'just flip with us'
Vic – she did not
Austin – yeah
Vic – she can't be trusted
Austin – she can not be trusted
Austin points out the Beth, Jed, Latoya, and Ty are always in a room together talking.
Austin adds that Breydon pointed out that Kiefer did exactly what Beth is doing but Keifer got caught.
Vic – yes.. he admitted that to he said I got caught playing both sides Vic
Vic – we gotta get one of those other people out this week will be a success
Austin says if they take out Latoya and Ty "What are Jed and Beth to do?"
Vic – they're not in the Odd balls.. you can't get in sorry
Austin – girl you are amazing (Vic = best)
Austin and Vic hug "Foxy posse"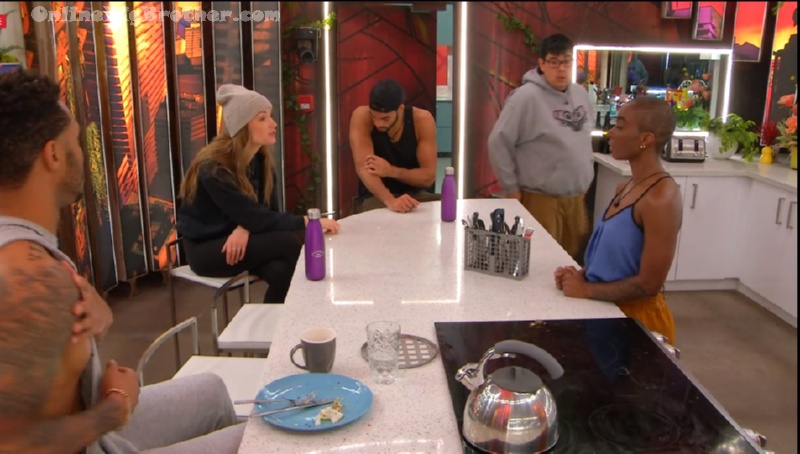 11:45 pm Latoya, Jed, Kief, Ty, Beth
chatting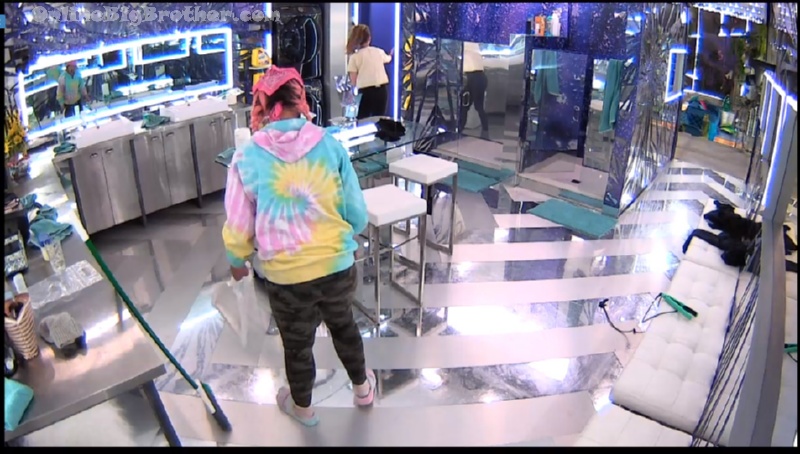 12:25 pm Beth and Victoria
Victoria says it's getting a little stressful trying to figure out who the replacement nominee would be
Beth – have the boys come to talk to you
Vic – no, they need to
Beth says it's a given Jed is taking someone down
Vic – we'll see what he wants to do after I am done talking to him (Every update Victoria gets better)
Beth – I know.. what does that mean .. oh my god you are such a badass. I'm so nervous
Vic – I don't want him to use it I put those two up for a reason. I know Kief will go with Latoya there. On my Hoh I cannot risk there being a flip. I told that to the houseguests I told that to Canada. The only way I can ensure that can happen is if Latoya sits on the block against Keif.
Beth – you need to talk to them.
Vic – you're good.. Austin is totally safe..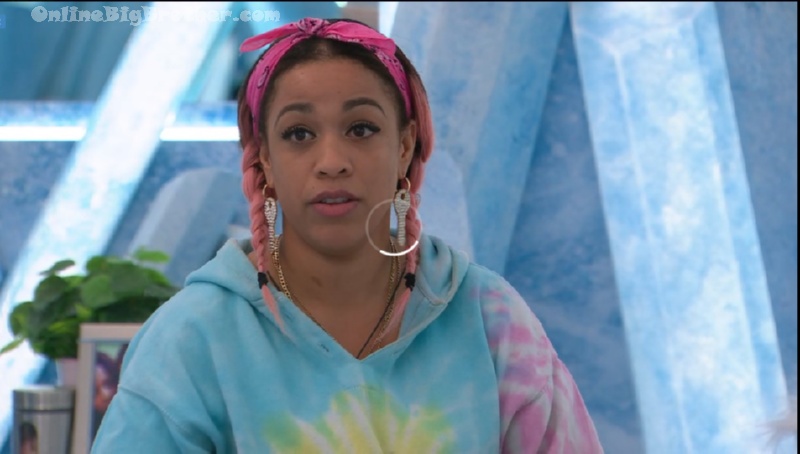 1:45 pm Vic and Jed
Vic – my biggest thing I'm not comfortable making a big move it's important to me I stick to my HOH speech. in my HOH speech, I said I'm putting up Latoya because I don't want any more flipping I'm putting up Keifer because he's saying things about my game
Vic – If LT comes down there is only one person I can put up so you don't flip on me
Vic – I have spoken with everyone they've promised to vote out Kiefer.. he's talking sh1t about me I don't vibe with him I want him gone.
Vic says if Ty goes up beside Kief she's worried he might get evicted.
Vic says she feels like an outsider in this game, Tina and Tera are together, BRey and Austin, Ty and Jed "with Latoya"
Vic reiterates how she has to do something for her own game
Vic – like you said I'm so good at this game and I'm smart I have to do something smart on my game
Vic – you (Ty) are the only person that Latoya won't flip the house on. You were there. She walked around the house asking them all to flip
Vic didn't want the flip she thought it was a bad game move for them all.
Vic – 20 minutes before the eviction what did she do? (LT tried to flip the vote) you didn't listen in the Expedia room you didn't listen at the top of the stairs.
Vic – nobody listened to me.. Am I as close you guys why didn't you listen to me? Now I'm this BIG comp beasts this big smart girl
Vic – If I put Kyle/Tera UP I know LT is going to flip it.. If I put you (Ty) I know she's not going to flip it. I really need you to not use the power of veto
Jed – If you want to work with us and Latoya why would you risk Latoya being on the block..
Vic – she's going to flip it
Jed – I think Kyle is going to flip it
Jed – Latoya has been his number one target in this game.
Vic says she has Tina and Tera's vote she has their vote in her "pocket"
Ty- what if we make you that promise that Latoya won't flip the house
Vic _ I can't believe that she flipped on my alliance member week one ..
Vic – Latoya jumped on you during the POV I had two people come to me about how uncomfortable that made them.
Vic reminds them she came to them multiple times wanting to work together and they really never talked a lot of game with her.
Vic – I need you to not use the veto
Vic – the biggest thing I care about is I told everyone I said there wasn't going to be a flip on my HOH.
Jed – when we spoke before the veto..
Vic – I know what you are going to say but that was before you guys indirectly put a target on my back.. saying I was a comp beast
Jed – we aren't the only ones saying that.. have you had the conversation with Breydon? (Jed saying that Breydon is it )
Vic – no I've had this with Kiefer.. Keifer is the number one person that calls me comp beast..
Vic – she did me dirty she blew up my game she blew up Beth's game.. we can call in everybody I have the votes for Keifer to go.. I need him gone
Jed – I don't respect the threat of putting him on the block after you swore on everything on that letter
Vic – Yeah this is Big BRother.. that is before you put a target on my back..
Jed – you would rather we talked sh1t about you
Vic – the number one rule in big brother you have to do what is best for you're game and what is best for my game is there is no threat.. Latoya is a flipper that's fine you can make big moves.. It breaks my heart about the swearing stuff
Ty – it sounds like you are coming for me
Vic – I am not coming for you
Jed – that is what it sounds like
Vic – I'm looking at you JED I need you to not use the veto
Jed – Are you creating enemies with us? by threatening to put him on the block it sounds like that
Jed – do you want to work with us?
Vic – I do want to work with you guys I've said since the beginning
Vic – LT promised me last week she wasn't going to do the flip and she did it
Jed – it's going to look really bad when Kyle flips on Latortya..
Ty – that is what he's going to do
Vic – Tina, and Tera aren't going to listen to Kyle
She counts the votes and says she's got 6 locked to vote out Keifer.
Victoria reiterates Latoya lying to her face in a room with everyone else in it about the vote flip last week and because of that she can't trust Latoya won't try to flip the vote this week.
Jed and Ty don't get it.
Victoria says she doesn't want to be done dirty on her HOH. Points out that the two of them were doing Austin dirty on her HOH. Austin was never consulted about the Flip.
Victoria – Week one she (Latoya) sent my ally home.. and she tried to do it yesterday (last evcition)
Jed complains that they can never talk to Victoria alone. "You guys are being looked at like a 5.. it's f**Ed"
Ty asks if she ever talks to the people in the "5" that are always up in the HOH now.
Vic says her and Ro/Kyle talk and joke all the time from the beginning. Ro and her life 10 minutes from each other, her and Kyle share party stories. "Kyle gave me the biggest piece of knowledge in this game"
Vic – I'm sorry Keifer needs to go and the only way for that to happen is, there's not a flip. I have the votes.
Vic tells them if Ty won the veto she would say the same thing she doesn't want the veto use she wants "kief" (Latoya) to go
Vic – this is my HOH I need to make sure my targets go home..

They finally leave.
Vic – best to ever play the game..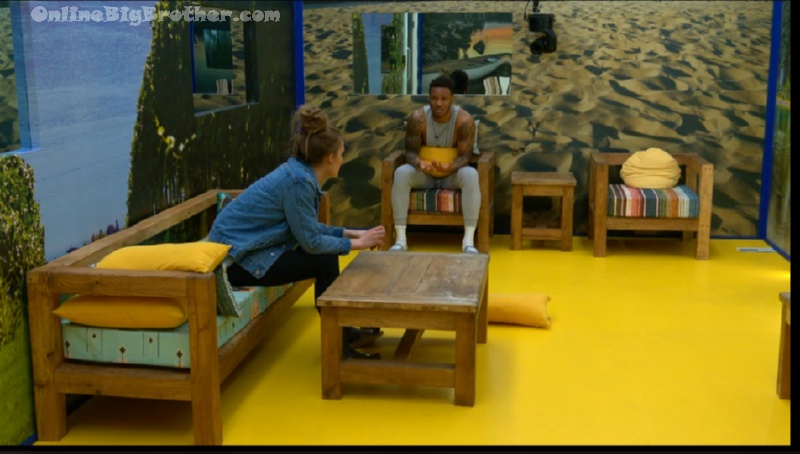 4:05 pm Ty and Beth
Ty – they both made decisions that put them here they are in our alliances but there's only so much we can do ..
They think Latoya is the target.
Ty – we need Tera's vote
They talk about how Tina and Tera think they are the next targets.
Ty mentions that Tina and Tera are floating to the end.
Ty says if he wins HOH next week he's putting Vic up .
Beth – I don't understand what game you are playing where you can toss someone up and next week spark something up
Ty says Vic would put Jed up if he had used the veto
beth – I thought we had her
Ty – we did until we got power (lol sure that's all it took)
Beth – she is not a good player.. VIC I thought she was smart I don't think she is smart anymore. She wants everybody to like her.
Ty – it is accurate she came to us multiple times to want to work with us.. and she felt Latoya was really cold towards her
Ty – she's not saying anything I can deny.. she's hitting us with good points. Our rebuttal is what we promised.. her points about Keif and Latoya are up there are valid.
Ty – I think the nominations are going to stay the same and I think Latoya should say she wants to stay here and her gameplay is generally better than Kief.
Beth says they'll make a fake alliance with Vic and lie through their teeth.
Ty – she is a liar and she has to pay for it.. She will.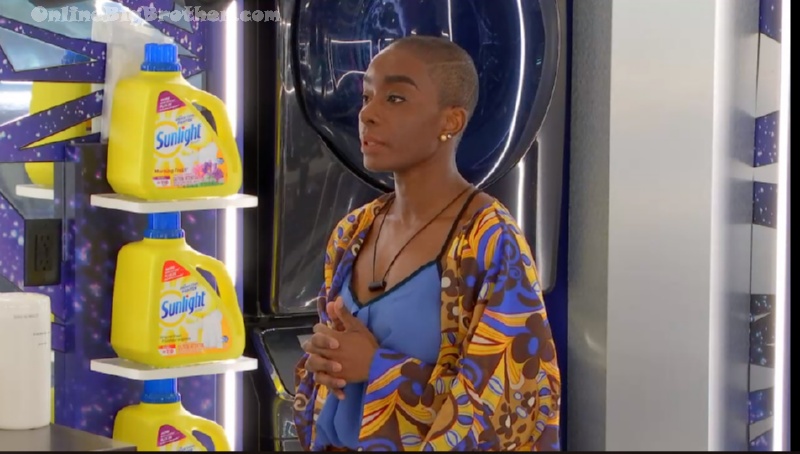 4:00 pm Latoya and Jed
Latoya says Vic is on a power trip if they don't take her
Latoya – if Keif has to go I would rather have him go next to Ty
Jed – people will vote Ty out
Latoya – really?
Jed – it's a big a$$ threat .. we won't definitely have Tina and Tera
Latoya going on about how she won't flip the house this week.
Jed says if Ty goes up he will go home.
Jed says it's pissing him off that Victoria is forcing his hand like this.
Jed says Vic is a joke and if she thinks she's staying next week that is funny (start building the Vic shrines)
They go on about how they are going to pretend to be nice to Vic but put her up as soon as they win HOH.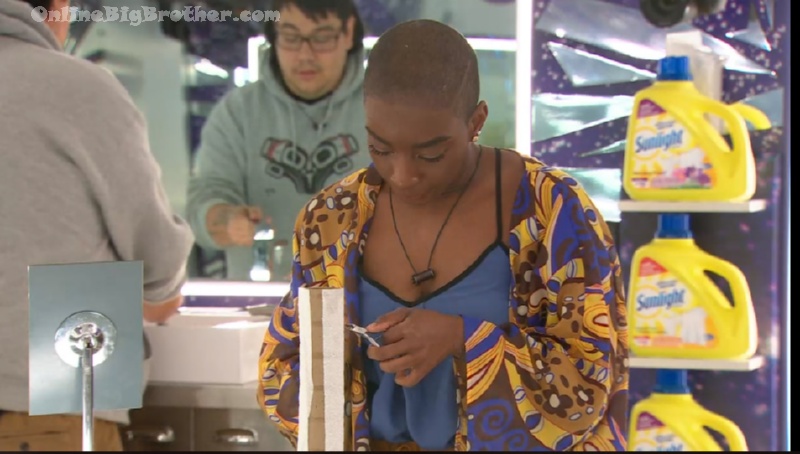 4:12 pm Latoya and Kiefer
Kief – I got a sense of what is going down.. It's all good LT, it's just a game. Jed's not going to use it is he?
L – I don't think so
Kief – Damn…
They head into the bedroom.
Latoya – Vic is disguting.. I'm sorry..
Latoya explains If Veto is played Ty goes up. She wants Kiefer to go home and doesn't want a flip.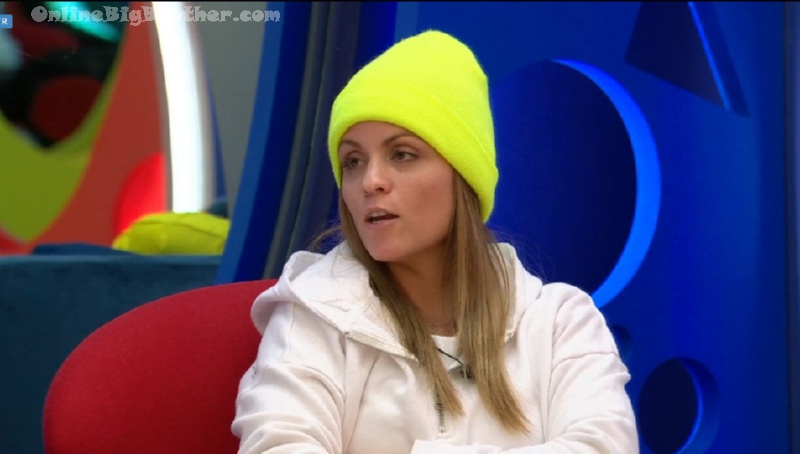 4:58 pm Tina and Tera
Tera – Vic is a wild card. The reason Vic wants Latoya gone is she confronted Latoya to work with her and Latoya said no.
Tera – Latoya is her target and that's fair
They respect Vic standing up against the boys and not backing down.
Tera – watch out for Beth. I like her as a person but I caught her lying right to my face two times
Tera – she's lying about Kyle right now. She says Kyle said he doesn't like Vic. That's a lie he's never said anything bad about Vic at all
They know they're on the bottom with Latoya/Jed/Ty
Tera – we might have to say goodbye to Latoya.. It sucks.. I always got the impression that Latoya was close to the boys
Tina says she felt Latoya was loyal to her.
Tera – day one it was Latoya, Jed, Ty, and then they pulled in Kiefer and then they pulled in Beth, and then they pulled in you. They tried to pull in other people. And now they are trying to pull in me as a last-ditch.
Tera – I'm not saying I'm not working with them. I have to see if one of them wins what they will do.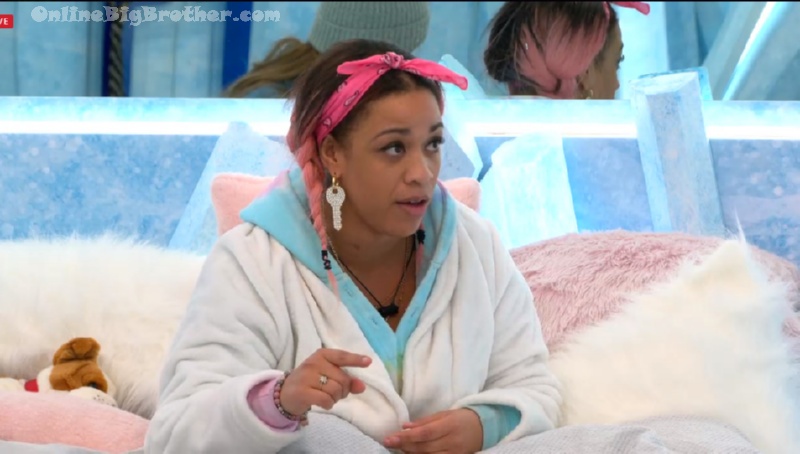 5:47 pm Latoya,Beth, Jed, Ty and Vic
Latoya sticks to what she's said earlier you use veto Ty goes up. Kief's my target don't use the veto.
7:10 pm Feeds down (build your shrines to protect Vic next week)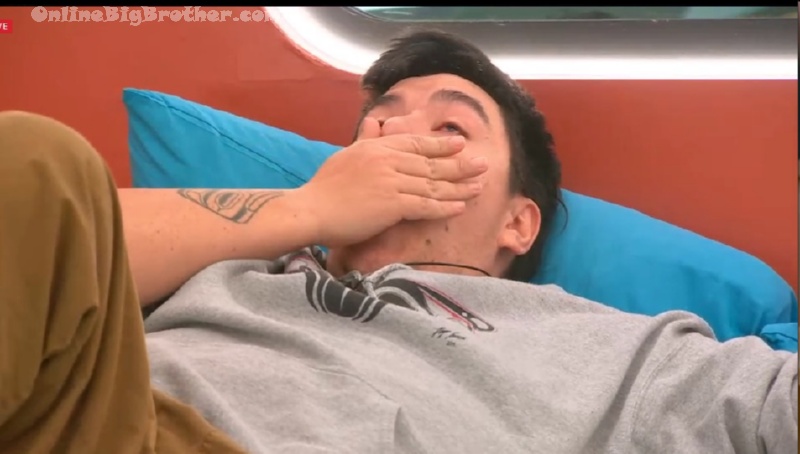 8:30 pm Jed, Latoya, Ty, and Kiefer
Jed – this is big brother bro I've some crazy sh1t bro. I've seen double save powers
Jed – I'm seen diamond vetos I've seen craziness bro
Kiefer – you guys can't trust Tina
Kief says Tina is in the same conversations as Tera and Tera tells him one thing Tina tells him nothing
Latoya – remember I told you.. I told you earlier I was starting to get sketched out
Kiefer says he trusts Beth more than Tina
The rest agree 100%
Kiefer – all of you guys worked for me and Toya and Tina didn't…
Latoya – didn't do anything
Latoya – she's the only one that didn't do anything
Kief – She couldn't do anything for us? She couldn't have a couple of conversations .. crazy
Latoya – when you were in the pantry she didn't say anything
Kief – no she didn't she didn't say sh1t
Ty – they're retreating back they want to watch the war
Latoya – yeah it's all good though
Kief says Tina/Tera isn't fully committed to the other side they're waiting to see who wins HOH.
Jed – we win a couple of HOH we weaken the other side…
Kief – work hard on Austin and Breydon this week you might be able o get them. Did they hear what Vic said about them
Jed – I told them I don't give a f****
Latoya – right now we don't have the numbers
Kief – we only have four votes and that's counting Tina
Latoya – right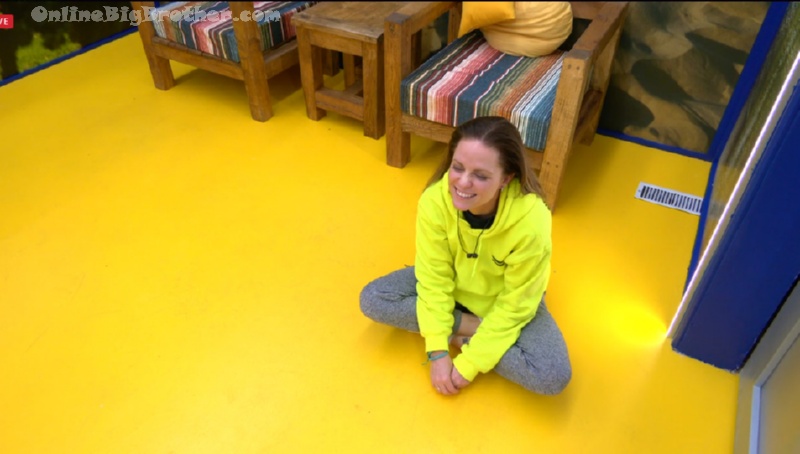 10:43 pm Tina and Tera have been bullshitting in the Expedia room for the last bit.. Pretty funny.. Their siding with Vic's team for now.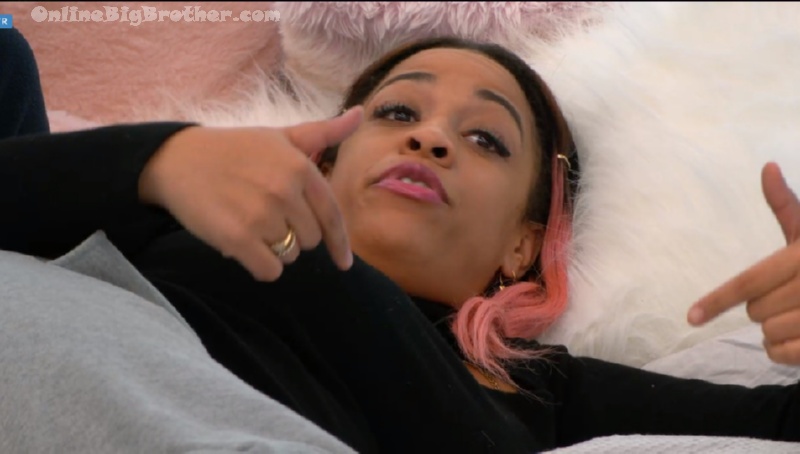 11:25 pm Austin, Breydon, Vic, Kyle
Kyle they just think they're smarter than everybody else
Vic – Yeah I have you in my pocket and I'm coming after you which one is it?
Austin – didn't they pitch an alliance between all of them and us?
Breydon – he was like.. Listen I'm not telling you what to do but I would recommend you are on our side of the house..
Vic – ohh it's war and I don't care like when we were talking I didn't want it to be like war now I don't give a f*** if they know come for me I'm coming for you (balls we rarely see in Big Brother nowadays)
Austin – tell them what Latoya said to you
Feeds cut.