Head of Household: Victoria
Nominations: Kiefer and Latoya
The Power of Veto Players are : Latoya, Kiefer, Austin, Ty
POwer of Veto Winner : Jedson
Power of Veto Ceremony : ????
Have nots: Kyle, Ro, Breydon, Austin, Jed
Last night we had a bit of a dust-up between Kyle/Ro and Latoya/Kiefer Followed by Ro and Kyle pulling everyone aside one on one to explain their case aka "the apology tour" . Victoria's HOH has been some fun. I'm going to relax today and have some Smirnoff Ice .. LOL
Power Of Veto Players
Latoya, Kiefer, Austin, Ty, Jed
Veto plans
Obviously, if Latoya or Kiefer win they will use the veto on themselves. Now in light of the pantry room "integration," I'm not sure who the replacement will be.  Latoya is going to fight like hell to stay. If she's willing to go to such lengths last week to flip the house to keep Josh who knows what she will do to save herself. Should be more good feeds.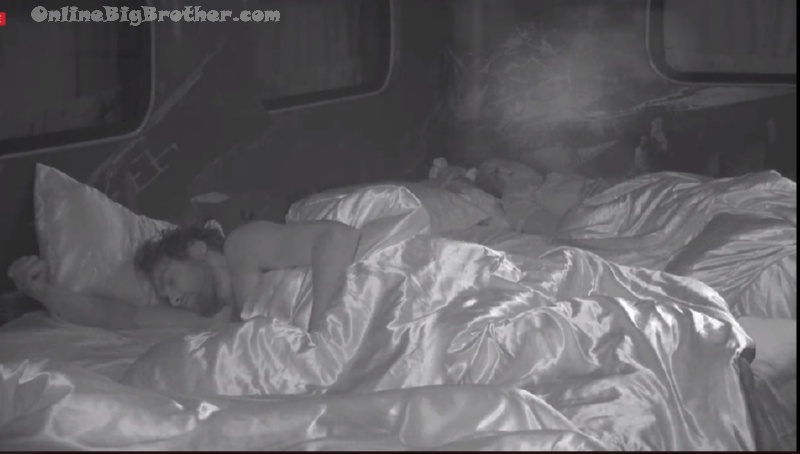 8:15 am Everone sleeping
9:07 am lights on.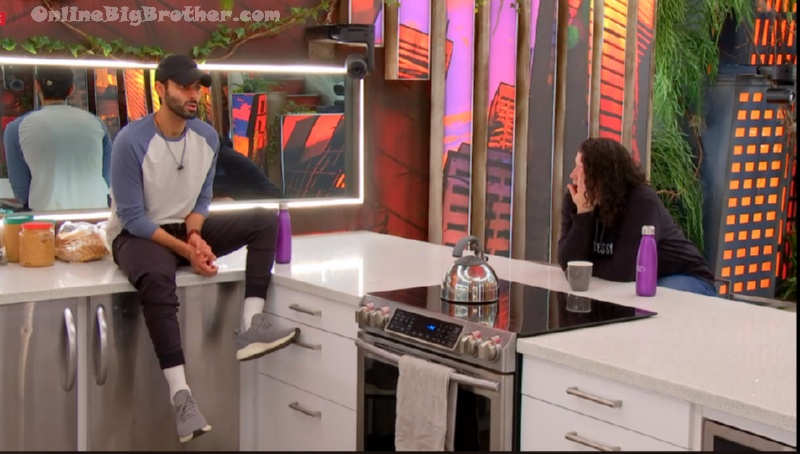 9:30 am Ro and Tina
Chit chat
Ro saying these last 2 weeks have been high stress for him being on the block twice and the near flip the other day.
They agree the house needs to step away from the game for a little bit,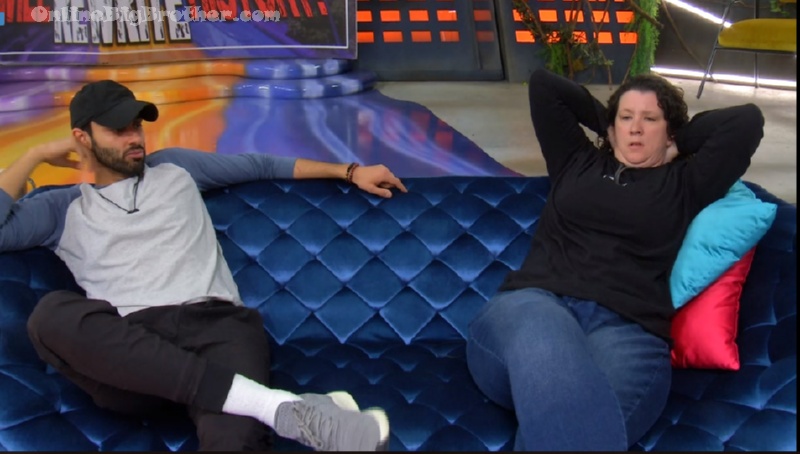 10:00 am Tina and Ro
Dog chit chat.. Tina has 3 dogs. Ro has never had a pet but would like a dog… They
Tina – take it easy these next couple of days
They talk about the pantry room briefly
Tina – that sh1t gets really heightened when you're actually going in and interrupting someone's conversation..
Ro – I don't want Kiefer to go obviously if someone is done with the game they're done with the game.
Tina asks Ro what he will do when Big Brother is over
Ro – call my parents first see what's up
Tina – you going to take some downtime
Ro – Yeah some downtime.. I'm not going back to work the next Monday
Tina – it'll be hard to get back into a full routine
Ro says if he gets out pre-jury he'll watch the show as it happens if he stays until jury he'll give it a couple of months before watching.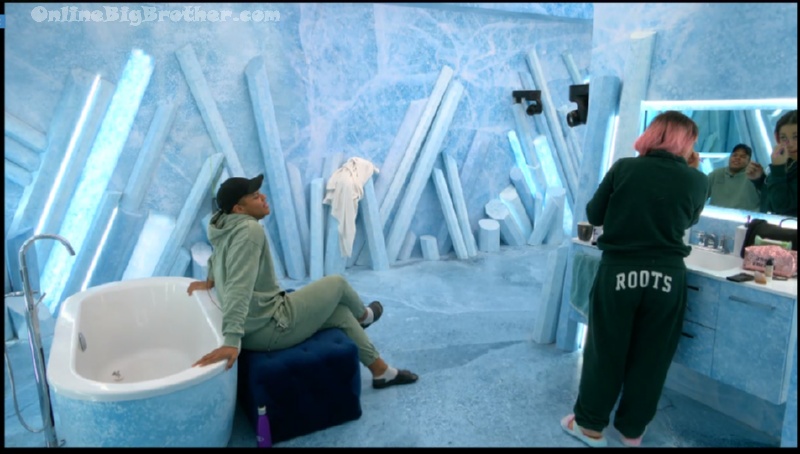 10:10 am Breydon and Vicotria
Breydon – it'll be ok
Vic – it has to
Breydon – 1 hundo
Vic – how was your room last night
Breydon – honestly it was fine. Ro and Latoya were talking they were like Cackling together
Vic – No they were not
Breydon – yes
Vic – that's good
Breydon – I was like thank god .. Kiefer was chiming in they were all cackling.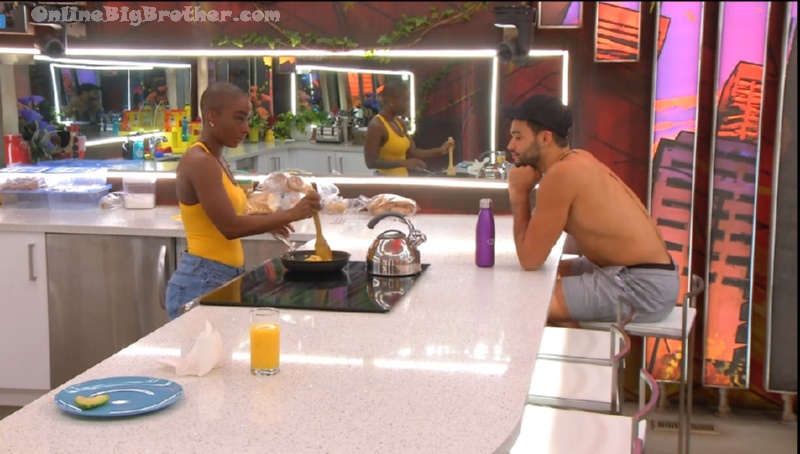 10:10 am Jed and Latoya
L – Kyle was genuine
Jed – I think that is who he is
L – yeah yeah
Jed – Whereas RO I don't know
L – Ro isn't. Ro really didn't apologize to Kief he just got defensive.
Jed -he shifted the blame said it was warranted you escalated
L – that is what he's saying.
Jed – I said to him it wasn't a good look it rubbed people the wrong way. He said he's going to talk to you today
L – I don't think I escalated I saw something and stepped in
Jed – a lot of people wanted to do what you did
L – yeah but they just froze and stood there. I'm not that person I don't stand by and watch people that's not me.
Latoya points out that Tera walked out.
L – they (Tina/Tera) should have stepped and made it stop
Jed – they looked guilty by association
L – that is what it looked like I didn't know they were in there.
10:45 am Feeds blocked
12:46 pm Feeds were on for a bit then blocked again.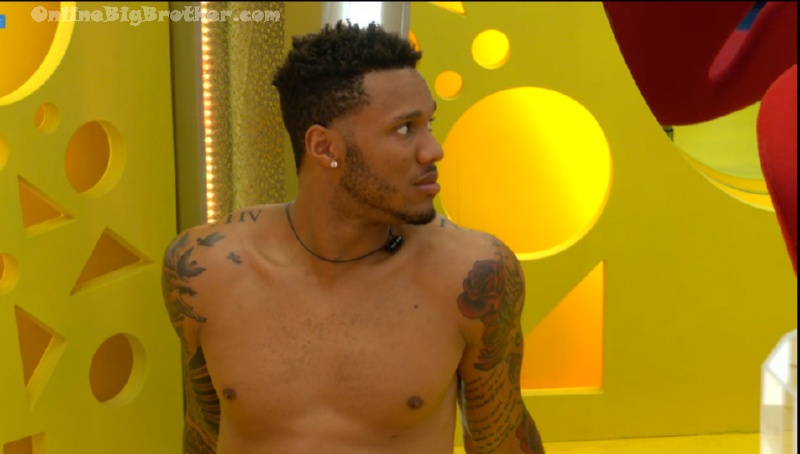 1:30 pm Ty, Kief, and La
Latoya says Austin has cramps isn't feeling well
Ty – Austin won't win. One of us will win.
L – Yeah
Keif – I'm not going to throw it but it's better for you or Jed.
Ty – we protect two people instead of one
Kief – she promised you or Jed that she wouldn't put you up
L – that promise doesn't stick
Kief – She said on some dark sh1t though
L – Doesn't matter we don't trust her
Kief – we can use that as fuel
Ty – who does she put up when we take Latoya down
L – I don't trust her. She's playing with them she's on their side for sure. I'm starting to think I'm her target.
Ty – I think so too
Kief – when I talked to Kyle and Ro adamant it wasn't me
Ty – it's you
L – she's a big Brother superfan she wants to make big moves
Ty – who is the next biggest threat to her?
Ty – is it me and Jed? not Tera
L – she picked Tera to host. It's not Tina?
Ty – who does she put up
Kief – Beth
TY – F*** you think?
Kief – mmmhmmm
Latoya doesn't think Jed or Ty will go up, "She doesn't want that fire"
Kief – with another conversation I had with Tina and Tera we have them
Latoya – I think so too
Kief says Tera wants to ride with them and he believes her.
Kief – even if we lose me or Beth..
Ty – and me.. you all have to take out Vic
L – we have to she's been lying to us . She's been lying to everybody.
Latoya says Vic has no loyalty once the other side is down she will jump ship.
Ty – I noticed I can see it.
L – the good thing is she doesn't know we are allied with Tina or Beth so that limits her choices
Ty – who does that leave?
Kief – Tera
Ty – that's not a big move
Kief – she might think that's what she needs to get me out.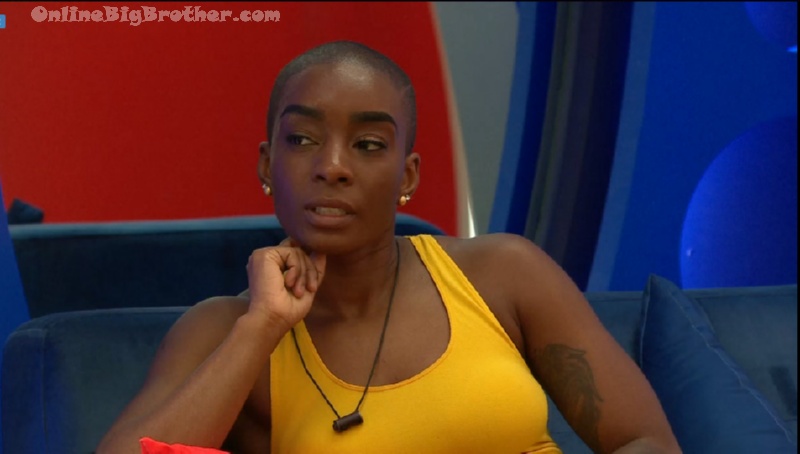 Tina joins them.
Latoya going on about Vic not putting Tina or Tera up.
They start talking about Vic putting up Breydon in the hopes to guarantee Kief/Latoya leaves
Kief – we kinda got best-case scenario with the picks for POV.. and Austin is on slop
Latoya – she's on slop and has cramps
4:00 pm What's the last 3 hours been like?
Some retells about the pantry.
Chit chat
Trying to figure out who the replacement nomination is.
From what I can gather Last night's rumble isn't changing Victoria's plans. Latoya is still the target, If the veto is played I'm feeling Beth will go up but there's whispers that Ty might.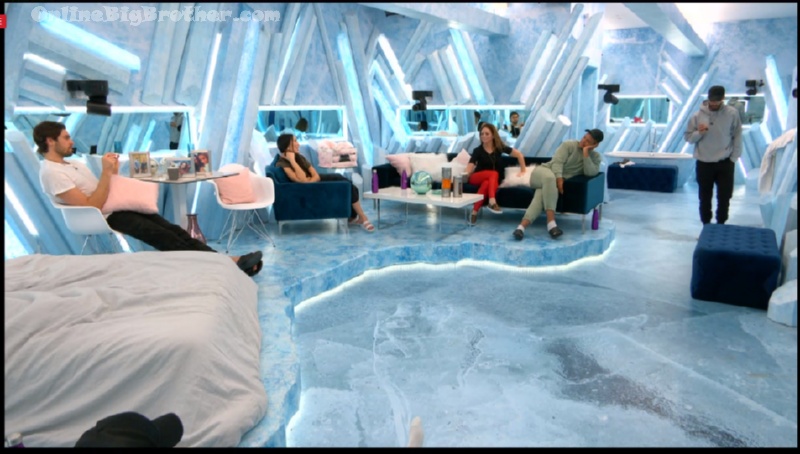 4:30 pm Chit chat chilling before Veto
Breydon, Kyle, Austin, Ro, Tera and Jed
8:53 pm Feeds have been down for a while.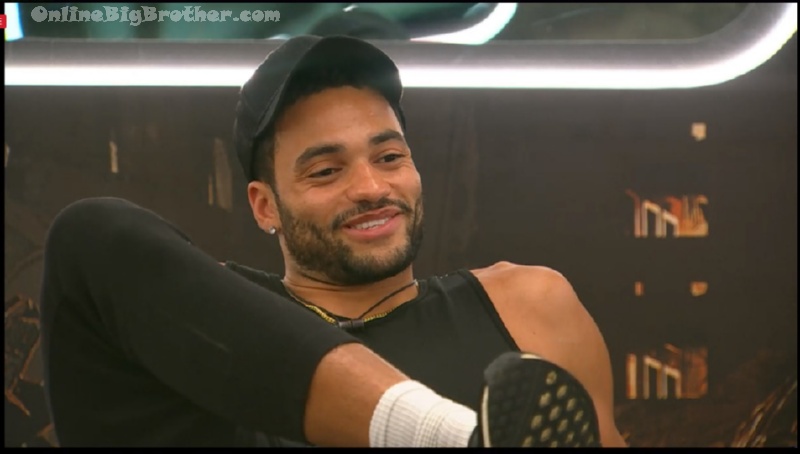 10:30 pm Feeds return Jedons wins!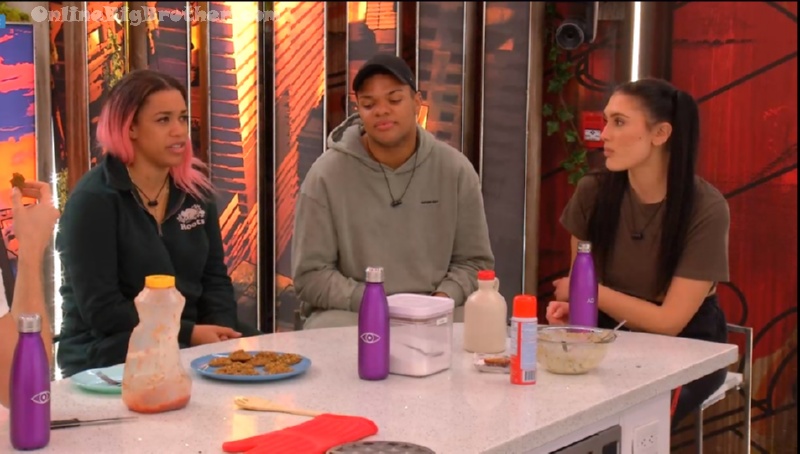 10:38 pm Victoria, Austin, Breydon, Kyle
Victoria – I am going to make a big move this week.
Victoria is going to put up Ty if Veto is played.
Victoria – he's going to be mad
Breydon doesn't think he will.
Vic – alright guys I'm making a big move this week.
Vic – Canada is watching and I made it clear I don't want a flip on my HOH
Kyle says Latoya is going to promise not to flip.
Vicotria says last week the night before the eviction they all swore up and down that they weren't going to flip then 20 minutes before the vote Latoya storms into the room saying they need to flip.
Vic – I can't risk that I'm a super fan of the show Canada heard what I said I would be damned if there was a flip on my HOH..
Victoria explains how she'll tell Latoya she has the votes to keep her safe this week everyone wants Kiefer out.
Kyle – it's kinda cool to be part of a blindside.
Victoria says she swore on her family pictures to Ty and Jedson they wouldn't go up
Vic – that's before you went around telling everyone I'm a mastermind of the game ty.. and Also it's a game
Breydon – it's a game
Kyle says TY told him he would put up a combination of Tina, Tera, and you.
Vic – I want Latoya gone
Kyle – Dude I hate her
Austin says the only way Jed and TY knew to connect to her was through Flirting, "they don't care"
Vic – Latoya or Ty are going home this week. and it's going to be for me
Austin – Bad b1tch
Vic – I just want to be remembered and make it to jury
(Victoria is the best. she did tell Jed and Ty they wouldn't hit the block.)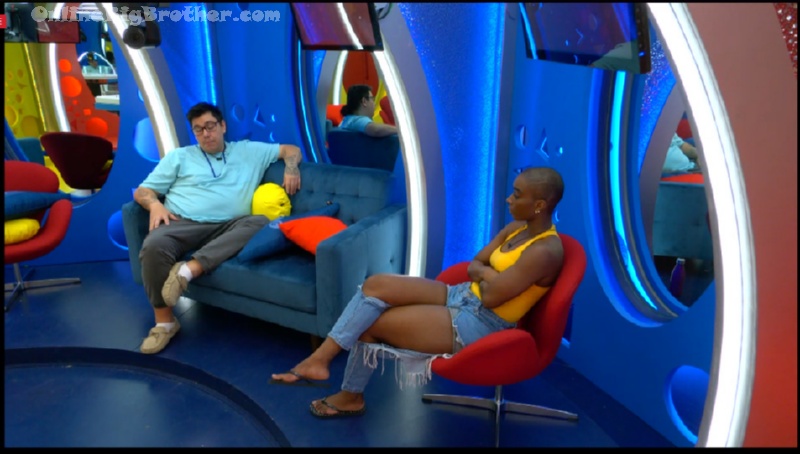 11:03 pm Kief and Latoya
Trying to figure out what to do.
Kief – there's something telling me that Jed isn't using that veto.
Latoya – I am the target. if I'm not the target why are you so bummed about me coming off the block.
Kief – Vic kinda played it good
Latoya – I don't think she likes my relationship with the other boys
Kief – she's jealous
Latoya – so far we've done pretty damn good.. (week 2)
Kief – every week we're navigating through an eviction. If we can make it past this week we can take over.
Latoya says it's been an uphill battle for them.
Kief – She's such a wildcard. whoever is sitting next to me is going to suck. It'll be Tina, Tera, Breydon or Beth (ZOMG! breydon?)
Latoya questions why Vic is close to Kyle and Ro and why is Vic putting those two guys ahead of Breydon.
Kief – I'm not even going to talk to Vic.. I don't need to right?
L – wait till the POV after the POV still talk to her.
K – Yeah
Kief – I know Ty is stressing because he thinks he's going up.
L – you think so
Kief – he doesn't know where vic's head's up she puts anybody up she breaks a promise..
Kief – ohh what a dream it would be if she puts up Kyle or Ro
(those pants are a mess)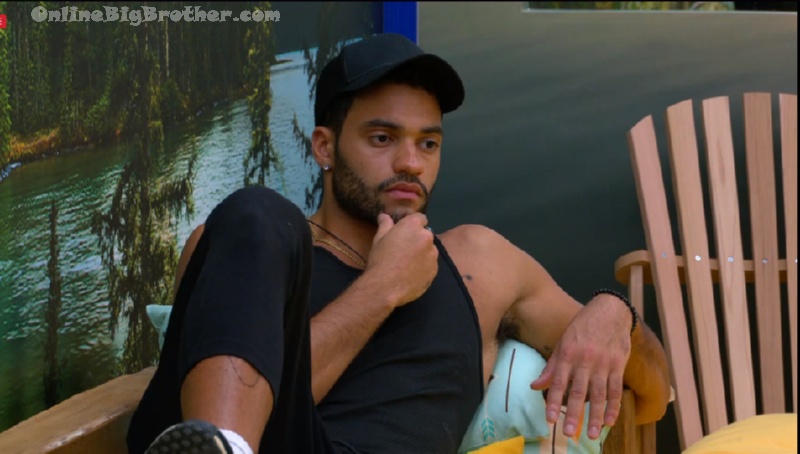 11:24 pm Jedson and Tera
Jedson – I'm using the veto
Tera – Ohh you are using the veto.. You won the veto you absolutely should. I heard possibly me or Breydon could go up but that's not set in stone. You earned the veto yo deserve to use it.
Jedson hasn't heard any names for replacement so she's not sure where her head is at.
Jedson – I would have to use it on Latoya
Tera – how would you feel if she put up someone like Ty
Jedson – I would feel betrayed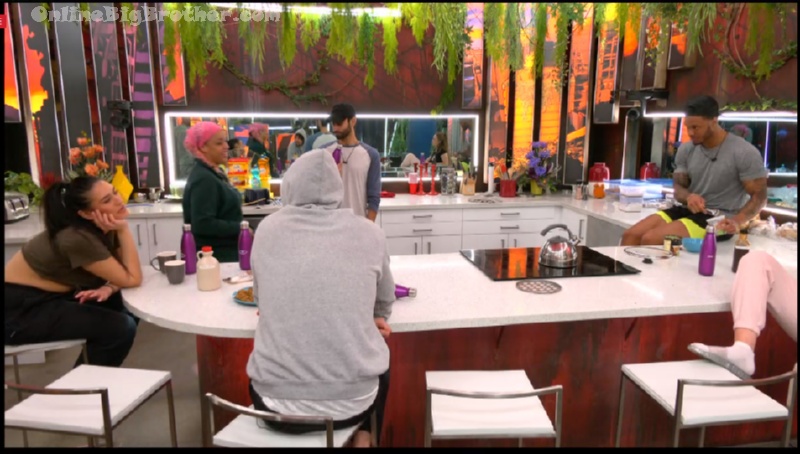 11:40 pm Chit chat