Head of Household: Victoria
Nominations: Kiefer and Latoya
The Power of Veto Players are : Latoya, Kiefer, Austin, Ty
POwer of Veto Winner : Jedson
Power of Veto Ceremony : Jed did not use the veto
Have nots: Kyle, Ro, Breydon, Austin, Jed
For some reason, the veto ceremony was Sunday and not Monday. Jed did not use the veto Kiefer and Latoya remain on the block.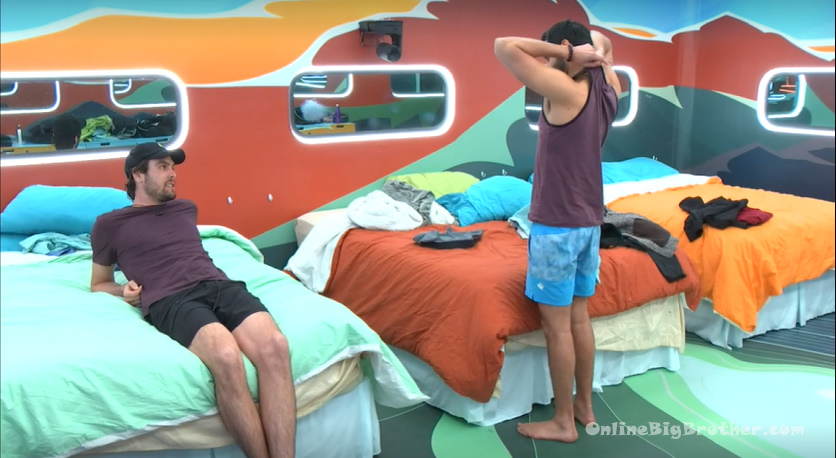 11:40pm Bedroom. Kyle and Rohan
Rohan – I just apologized for lying to some people but I didn't apologize for what was said or what was done. Kyle – oh man I am going to roast LT in the thing. I just don't think they know what they're doing to themselves. Every single lie they tell makes the 7 stronger. Rohan – this is the 5 right here. Kyle – yeah.. if Tina and Tera f**k us this week.. I'm going to snap!! Rohan – no, you know Vic needs to go.. I am going to tell Vic to really work on them because there is only so much that we can do. She needs to go and tell them what they did.. like in that room the four of them. Like not like we tried to form a final five or anything but again they tried to vote tera .. again they tried to vote Kyle.. to flip Kyle as a replacement.. Kyle – she just has to get tell them exactly what she just told us. Rohan – and tell them that they're straight up bullies too. Like Tina is not going to stand for that sh*t! Kyle – no. And what they're doing is much worst than what we're doing. The four of them going into a room at once. Did you hear what LT did? Vic was saying something to her and kind of spoke out of turn and LT was in the middle of a conversation and said EXCUSE.. Big Brother cuts the feeds.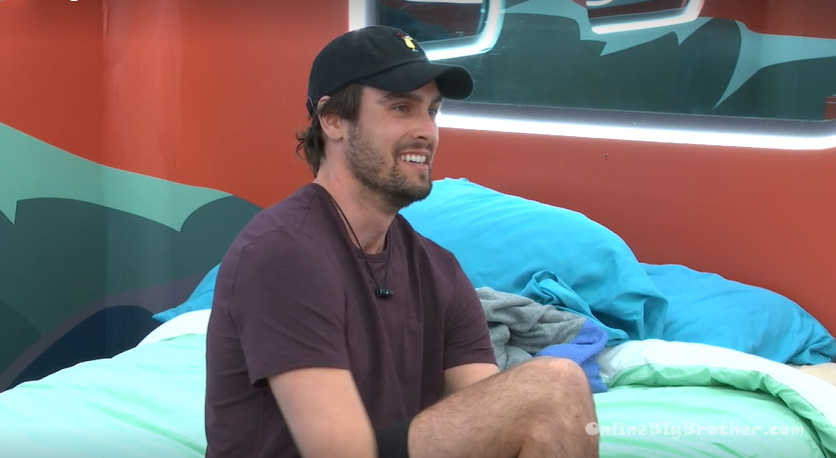 12:35am Bathroom. Beth, Tychon and Jedson.
Jedson – before I went out there I heard them scheming and sh*t. I couldn't really hear that much but I heard them talking about you (Tychon) and I heard them talking about Latoya. And I heard them talking about me. Tychon – what were they saying. Jedson – I really couldn't hear much. I heard Latoya, Latoya, Latoya .. and then a couple f**ks .. you know what I mean? I think they might be just sh*t talking. They were like I don't think Jed is in the drivers seat but .. something something, something. They were clearly talking about us three. Tychon – who? Jedson – Ro and Kyle. Tychon – F**k! Don't worry.. don't worry they'll have their day. Jedson – no it doesn't matter .. you have to win sh*t to do sh*t! They ain't going to win sh*t! Tychon – they'll have their day. Jedson – She is like annoying me around them. Its like they je*k each other off. Tychon – it would be so much more fun if we had control of that room. We should have gotten rid of him when we had the chance. I knew it would be annoying but I didn't foreshadow it being this annoying. Jedson – its like so annoying. Tychon – Had I known I would have been fighting more .. we're doing this .. we have to.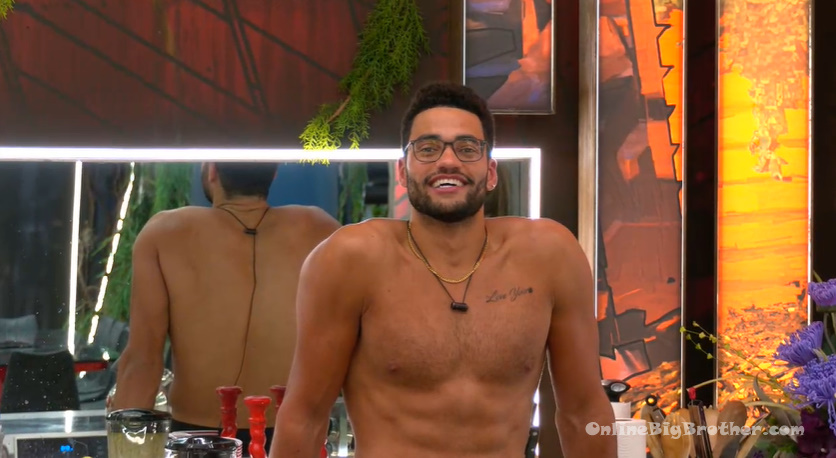 12:40am Tina and Tera.
Tera – I almost wish we could reconfigure the rooms. Better keep ours because we've got the numbers. The more I hear though .. the more I think.. they're so sketchy. Like Jed, Ty and Beth. Tina – yeah. I still don't fully trust Kyle and Ro but I am okay with that. Tera – that is fair. Tera – I trust them more than the others at three. But its still a game .. we can't be kumbaya with everyone. Tina – lord no. Tera – what would you do if Julie and Josh came back? Tine – I don't know but it would likely be more numbers for our side.