POV Holder:
?
Next POV
?
POV Used
?
POV Ceremony
?
HOH Winner:
Andrew
Next HOH:
March 13
Original Nominations:
Paul & Neda
Current Nominations:
Last Evicted Houseguest
Anick
Have Nots
Rachelle, Neda, Heather and Sarah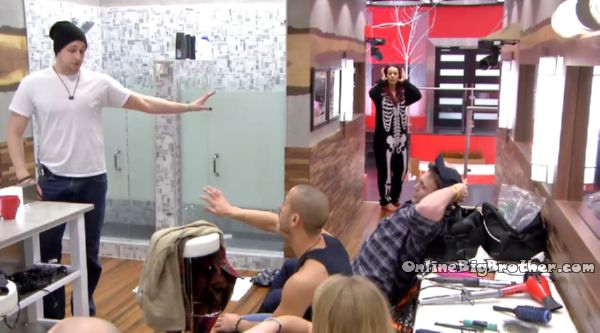 9:20pm bathroom Sabrin, Andrew and Heather
Sabrina is cleaning Andrew's feet. She says that the Diary room told Kyle about the plan to Back D him. Sarah joins them. Sabrina brings up people hiding her sh!t. Andrew says they can just leave their stuff in his room.
Sabrina: "They (Kyle and Co) said we'll have the worst 48 hours of our life"
Sarah – "He's doing what russell hantz brother did he's going to freak out and leave on his own terms"
Sabrina – Floaters will float and some of the floaters will sink
Sarah – you think he's making a comment about your weight.. he's so stupid
Adel and Kyle come in. Adel says people are slandering his name. Andrew says he's doing it to himself. SArah says Adel has been making a fool of himself since day one.
They start arguing. Watch the video..
Near the end of the second video Adel brings up not knowing about the "New rules" … feeds cute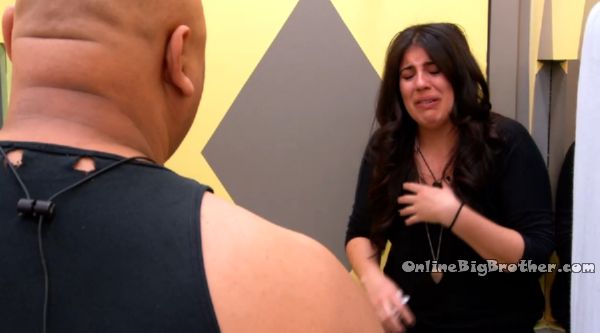 9:40pm Paul and Sarah Storage room
Sabrina melting down because of Adel mooing and calling her a cow. Adel also is saying that Big Brother changed the rules of the game because of Sabrina.. He claims she made remarks about his sexuality and there was a 'misunderstanding' about religion.
Rachelle joins her and Paul leaves..
9:51pm Girls have a pow wow in the storage room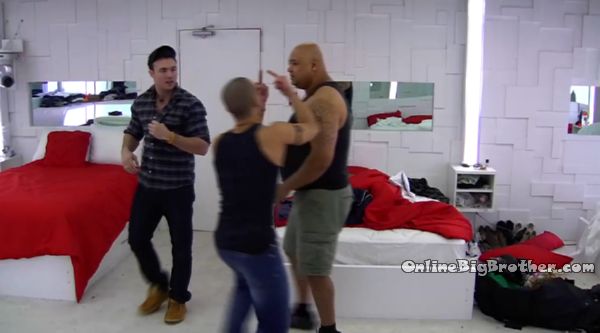 9:40pm Bedroom Paul, Kyle and Adel (Watch this video it's good)
Adel – '"PJ you f*** clown you backstabber go F*** yourself you liar"'
ADel and Kyle both tell Paul to F** off they say his word is not worth sh!t.
Adel starts going off about people bashing his religion. Kyle brings up that Jon threatened Kyle saying "We'll meet you in halifax"
Adel says that is a real threat Kyle should go talk to the producers. … Feeds cut.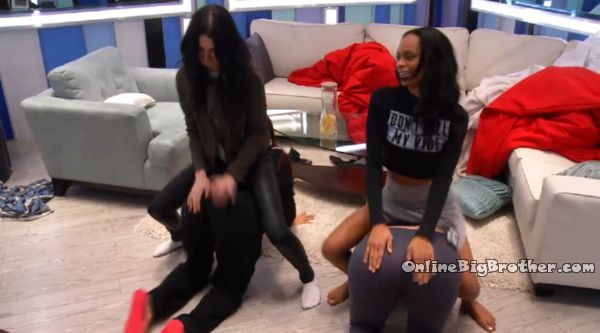 10:30pm Girls practicing their dance routine.
10:45pm Crew spotted in the storage room
Feeds get cut..
11:28pm Feeds out .. they are probably playing in the POV.. Heres a image of the leaked POV comp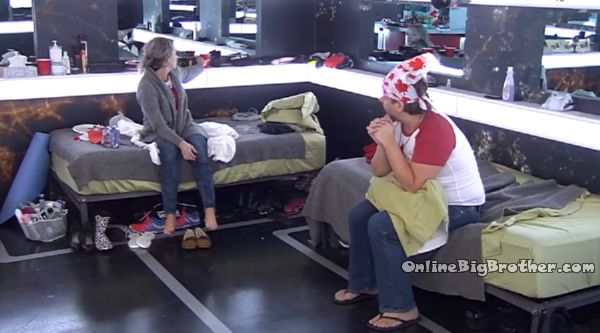 11:40pm Cam5 is showing the war room. They are wearing canada themed t shirts. Scott hates his because it's too small for him. He tries to cover up the bulges with a pillow.
12:00am They finally let scott change his shirt.
POV is going on Andrew. Neda, Kenny, Arlie, Paul, Jon and Sarah got to see the screening of the movie they will be competing in the POV.
Cam 5 Production Leak
Scott: "Oh my god I'm affraid"
Production = "house guests unfortunately Big Brother will not be able to hear your ___ tonight..
there was an unfortunate situation and you will be called into the diary room sometimes tomorrow
Scott says the war room feed TV's might be down tonight.. which means there might not be any feeds.
1:16AM War room
The players in the war room can hear loud noises coming from inside the house. The main bathroom is above the war room.
Scott can hear someone, thinks they are going to be up late tonight because of all the noises. You can hear someone in high heels walking, Nate says it must be Rachelle. You hear someone in boots.
Scott: "Who is that up there sounds like the police are coming through"
1:30am
Allison thinks the houseguests are going to bed. They joke that someone is gone out of the house. Nate says he would be excited cause that could mean two of them entered. (Nate needs two people to self evict to get into this season)
Allison calls the three of them in the war room, "One girl, one guido, one gay"
Allison hears yelling again at 1:46am, Scott can't tell if it's "Feisty" or not.
Nate says it sounds like wrestlemania in the house.
Allison asks what their fans would be called
Scott: 'the contesticles'
Nate: 'Nate the greatest .. no the nateaholics"
Allison: 'I dunnno.. something silly like the alley cats or the alley cat army"
[polldaddy poll=7857961]