| | | | |
| --- | --- | --- | --- |
| POV: | Angela | Next POV: | Aug 4th |
| POV Used | ? | POV Ceremony | Aug 6th |
| HOH: | Angela | Next HOH: | Aug 9nd |
| Noms: | ROCKS and Tyler | Have Nots | |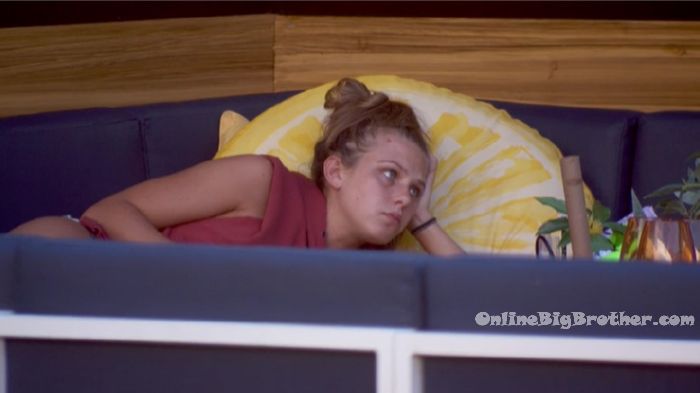 4:50pm Sam, Rockstar and Haleigh talk about Kaitlyn. Sam – I felt like she was really possessive. There is a big difference between being possessive and being loyal. I don't understand.. that was something that I brought up in my thing. That is something I didn't educate myself on past seasons. Like taking over Tylers life. Rockstar – well that really doesn't have to do with past seasons. Sam – she claimed people and just took them over. I felt like that is what she did to you Haleigh. I just felt like that wasn't you. After Swaggy left I had the pleasure of meeting the real Fessie. Then I was on this train.. like fu*K that if that is what we almost missed out on. And then what I said to you .. you were really upset and went through a lot crying in that room. Saying my family watches this.. and you know what you're right. I don't know how I could have worded it or been more specific. I saw your conscience. I don't think that was you or how you would conduct yourself and you been in here without her. And I don't know what the f**k she was trying to do with that!? Hi Kaitlyn!

Haliegh – I think that was a strategy. Sam – well that's cheap. Rockstar – what a big reveal that all ended up being. Haleigh – we talked about that everyday. That was literally 85% of our conversations. Sam – someone said that Rachel had the same showmancy tactic. … how is that a tactic?! Coming in here they asked me if I would have a showmance and I was like are you out of your F**KING MIND?! NO! I have never even farted in front of a guy. God forbid it didn't work out .. and then you're stuck in here with them. Are you out of your mind?! How is that a strategy? Haleigh – I think her strategy was to get in good with all the guys so that they would win the comps and keep her safe. Sam – That's pitiful, win your own damn comps! Haleigh – I am just glad Tyler and Fes started talking. That's why I don't think Joe is real.. you have a 5 year boyfriend and you come in here and tell two guys they're your sole mate and you've never felt this way before … to both of them.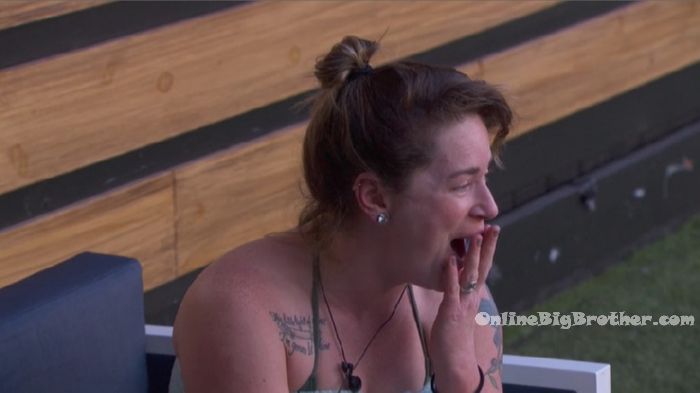 Watch the NEXT WEEK of the Live Feeds for FREE! Click here for your: 1 Week Trial
5:20pm – 5:45pm Havenot room. Bay – I am just annoyed because Sam has been really snappy. I said why are you being so snappy? She's said shes just on edge. I asked her what is wrong. She said everything I do at face value. I don't like being snapped on. She said for F**ks sake just come here and sit down. Fes – how do you feel about tomorrow? Bay – weird. Angela's been having a good day. She's been super nice. She hasn't said anything that would make me worry but she said I don't know what I am going to do until it happens and I'm not going to tell anyone what I'm going to do. Scottie snapped at me. Fes – maybe he snapped because he's nervous. Bay – he could be completely throwing us all under the bus. Fes – he probably is .. but that makes him look bad. What about your power? Did you tell Angela about it? Bay – everyone knows about it. I told her I couldn't use it on her. Fes – just tell her you will. Bay – no I'm not going to lie. Fes – just tell her. We're not going to put her up. Bay – no I'm not going to start lying now. Fes – we need to come together with Brett, Angela and Kaycee. Bay – its too many people. Fes tells Bay about his conversation with Angela about her being a bombshell and how she could make the biggest move in big brother history. Bay – She cares about what Sam things. You might not but she does. Whoever she puts on the block Sam is going to be pissed at her. If she takes Tyler down and puts Scottie up it will go down as the biggest move in big brother history. I think she'll do it. The whole house would be happy if she did. Fes – if we pull this off and stay safe this week.. Bay – I will freak out!! Fes – we have to win HOH. Fes – I am not even excited because I know I will be safe tomorrow but just being a part of all this.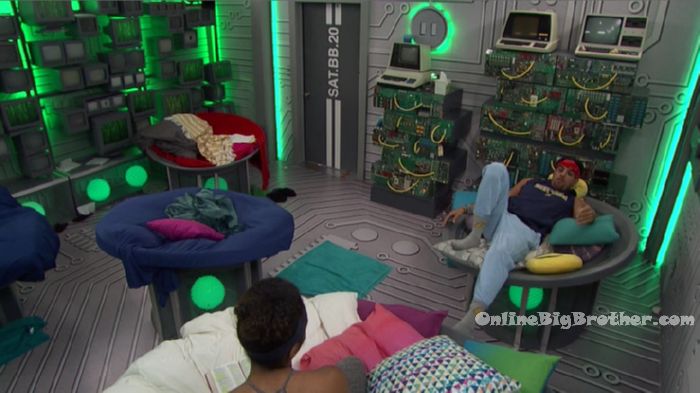 Backyard – JC tells Rockstar that when she was running last night her a$$ was dancing like a Hawaiian hula dancer. JC – Wakita Wakita Wakita..
6:13pm Bathroom. Sam and Tyler. Tyler – did you hear that they tried to start up the all girls thing again. They tried to pitch it to Angela but without you this time.
Haleigh – its really interesting seeing the different sides of people and what they're willing to do to the people that you like.
6:22pm – 6:36pm Big Brother blocks the feeds.
6:40pm Jessie tells Rockstar "It's time to make some Nachos .. and don't forget the nunchucks." Jessie wants to see some sweet moves with each layer.
Rockstar – "Are these some sweet moves?" @bigbspoilers #bb20 pic.twitter.com/FujZTpyL4e

— Dawg (@DawgsBigBrother) August 6, 2018
Brett "100 P wearing this for Halloween!" @bigbspoilers #BB20 pic.twitter.com/Rh8CWQ5QTw

— Dawg (@DawgsBigBrother) August 6, 2018
7:10pm Group photos with the HOH sunglasses camera before the bomb drops tomorrow at the veto ceremony..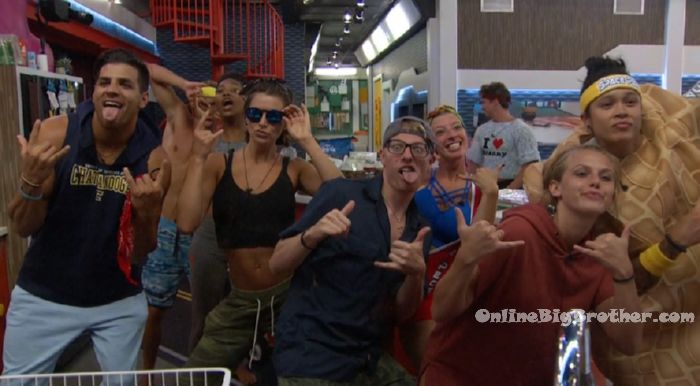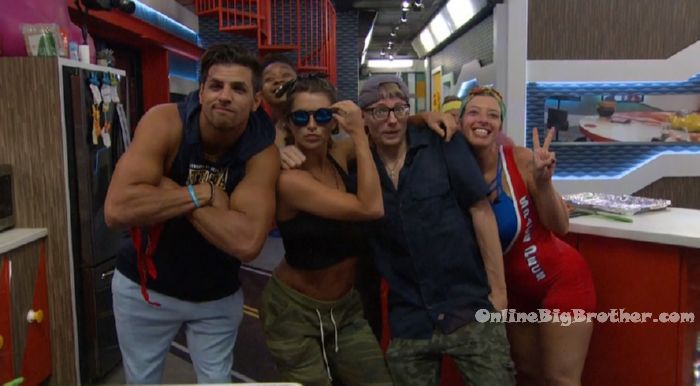 7:42pm Big Brother blocks the feeds.
If you've enjoyed our live feed updates so far this season, please consider donating.
Any amount is greatly appreciated! Your donations go directly to paying the fees required to run this site.
Rank the houseguests!
Easiest way to Rank the house guests use link below