Hey everybody! First and foremost I'd like to thank onlinebigbrother.com for the opportunity to attend the Big Brother 13 wrap party!! I've been living out of the country and the party happened to perfectly coincide with my travel plans back to the states! I was really excited when Simon informed me that I had won. I wasn't sure what to expect from a wrap party but as Big Brother goes, expect the unexpected. I got to Tru Hollywood at about 5:50, the party was set to begin at 6. Of course everyone in line was talking about the show and who their favorite people were. I was surprised to see so many Rachel fans. Sorry in advance to those of you who are Rachel fans but she didn't win me over this season or in person but it's okay we can still be friends. Unfortunately they were running behind letting people in but luckily we were able to see some of the cast members arrive in their shuttle bus limo. Jeff, Jordan, Dominic, Adam, Keith, Kalia, Lawan and Shelly all came out of the bus and immediately greeted fans. Shelly was the first to greet everyone going halfway down the line shaking people's hands. Keith, Dominic, Kalia and Adam quickly followed and greeted fans and posed for pictures. Being America's favorite couple, Jordan and Jeff stayed closer to the front of the line because everyone wanted to talk to them!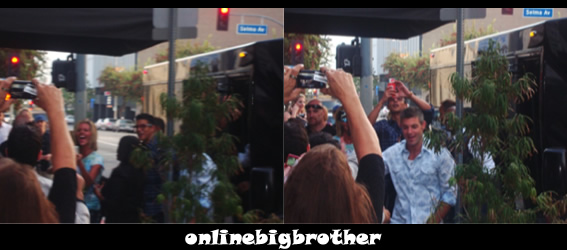 I finally got in around 6:45 (yes they were running quite late) and did a quick walk around. Vienna and Casey from the Bachelor/ette/Bachelor Pad were there (briefly) and it seemed the houseguests had staked out different spots in the club to talk to fans. I wasn't sure how crowded it would be so I thought I better get a picture with Jeff while I can. Kevin (BB) was interviewing Jeff (and the other houseguests throughout the night) so after he finished his interview I went in for my picture with Jeff. I told him how I had been watching the show from overseas and when I told him my husband was in the military he wanted made sure to let me know how much he appreciated the Marines and to tell them they're doing a good job. I thought it was really nice! I had to hug him because as much as I love Jeff, I have friends who love him even more! So when I asked Jeff responded "yeah let's hug it out"….umm when he said it to the people after me I jokingly let him know it was not okay to use the same line on me with everyone else! Jeff was just very nice and personable in person. He's just a likeable guy.


Next I was going to take a picture with Jordan who was nearby but I had to run outside to get my friend. When we came back in I saw that Porshe had arrived so I had to go say hello. Now Porshe wasn't my favorite player, however I thought she really stepped up her game the second half of the show. The first 4 weeks she really couldn't play so I couldn't judge her based on that time. Anyways she was very kind. I told her I was mad that Shelly voted for Rachel and she just responded to the extent of "I know you have to tell her she's over there" and pointed to where Shelly was. As many fans were trying to talk to all the houseguests and former houseguests I didn't have much time to speak with each houseguest. Afterwards we saw Lawan just standing around so we went over to talk to him. He had this fabulous bowtie necklace on that I thought was awesome so I had to take a picture with it. Apparently a fan had sent it to him!
Next up, #3, Adam!! Adam was just lively all night. Shelly and Adam were definitely the most fan friendly, really getting to know people. When I mentioned I was at the party because I won a ticket from onlinebigbrother.com Adam got really excited. He said how much he loved the site and how awesome it was! I was even able to get him to say a little something on video! Don't you just love his martini…I had to hold myself back from taking a sip in the picture, I thought it may be a little inappropriate and fanatical!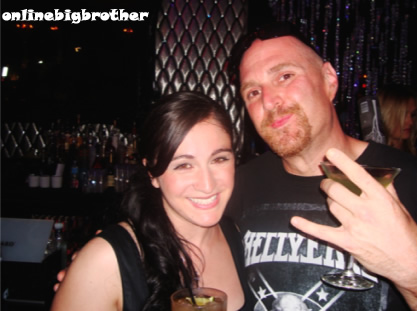 While waiting to talk to Kalia, I saw Janelle standing around. When I asked her how she has been since the show she said she got married and is now pregnant! So congratulations to Janelle. She looked radiant! Porshe came over to talk to Janelle later and it was interesting because it seemed as though they had known each other already. The newbies seemed to know a lot of the past houseguests, which surprised me because I thought they had been under sequester up until Wednesday night. Just something that I had been wondering.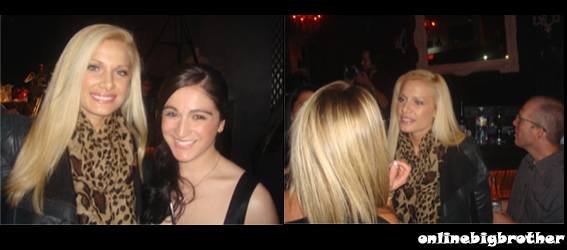 Again while waiting for Kalia, Keith ran into us! He came right up to my friend and gave her a hug. I asked him if he had any issues with people giving him a hard time for being the first person out and he said he didn't. I commented that had the newbies followed their plan from the beginning to get the veterans out, someone else could've won!! His response "EXACTLY! THANK YOU!"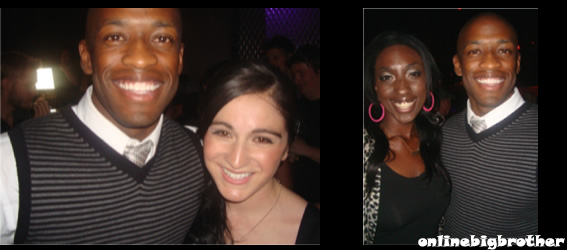 Next up Kalia!! Not to say Kalia did not look good on tv, but the tv didn't do her justice, she is gorgeous and confident (in a good way not a conceited way). My friend and I were asking her how it was like to be the only African American woman in the house, how she got on the show and how much we appreciated seeing a real woman that wasn't a size 0 on the show. She was fantastic and really engaged us in the conversation. To briefly answer the previous questions she said it was hard, she said she believes having confidence and being herself got her on the show and that a lot of people had been telling her they liked seeing a regular woman on the show. It was also nice to see how Kalia and Dani are real friends outside of the house.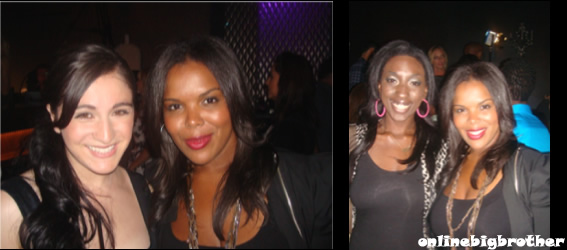 Many of the houseguests were behind us doing interviews for Superpass. Dominic was dancing around with Keith and Lawan so I asked if I could take a picture with him. Being originally from the Bay Area Peninsula I had wanted Dominic to go further. He was very nice. He reminded me of how people from the Bay are! I asked if he watched the show after he was evicted and he said no because he was so bitter!! I'm sure he's been filled in by the season.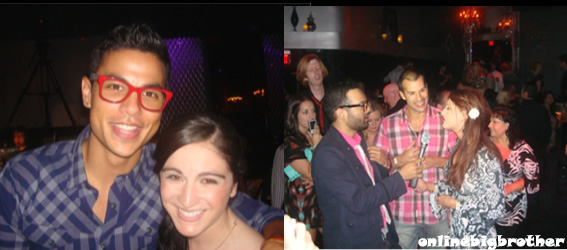 After talking to Dominic I noticed that Brendon and Rachel had arrived. In previous wrap parties I had seen that they introduced the houseguests and winner, but there was no stopping the party to introduce anyone. I was surprised there wasn't a grander entrance for Rachel.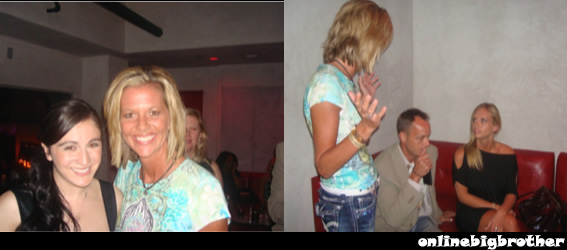 As we were making our way upstairs to the smoking room where Shelly was I saw that Dani had just got in. I went over quickly because I was afraid I wouldn't get a chance later. I personally really like Dani so it was really fun to meet her. She was very kind. Afterwards we went up to talk to Shelly. She was in the middle of a conversation and I hate interrupting people's conversations so we hung back for a few minutes to overlook the party. When the conversation began to die down we made our way over. Shelly was very nice. Greeting us right away, asking how we were. It was hard to be mad at her for her vote (again sorry Rachel fans) because she was so nice. So of course I had to ask her why she voted for Rachel. She said she based it on game play and how she won more challenges than Porshe. I commented on Rachel's personality and how she treated people in the house, especially seeing as how Shelly had brought it up in the jury house and Shelly said it's true she was a mean person but she decided to vote based on game play. It was brought up that Porshe had won the $5,000 from Pandora's box and I mentioned that Kalia had also won $5,000 from Pandora's box. Shelly had no idea what I was talking about! She had no idea Kalia had won money as well. She was not too pleased by it. We started heading down and I found it funny that Porshe had come up and Shelly and her nice husband were over there talking to her. Obviously it's a game and they're going to be over it, but still funny.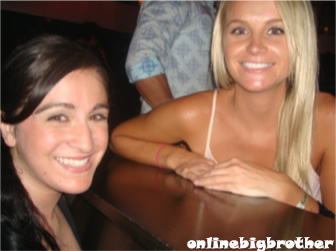 Jordan is by far my favorite houseguest of all time. She's just so sweet.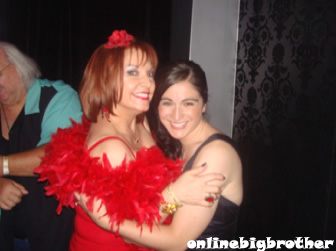 On my way to the bar I ran into the vivacious Renni! She really keeps the party going!!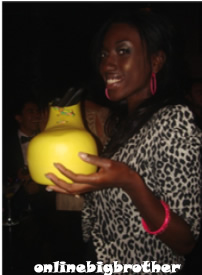 At the bar we found Jeff's demise!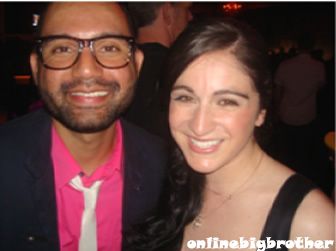 Former houseguest Kevin was around our area taking a break from his hosting duties so I took a moment to chat with him. He is a cutie, nice and funny.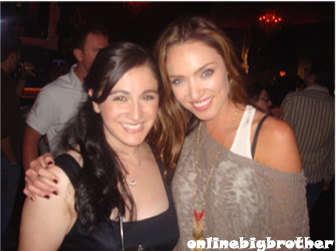 I was pleasantly surprised to find that Cassi was as likeable in person as she was on the show! Though some of the girls tried to give her a bad name by calling her cat-ty, Cassi was sweet and gorgeous in person!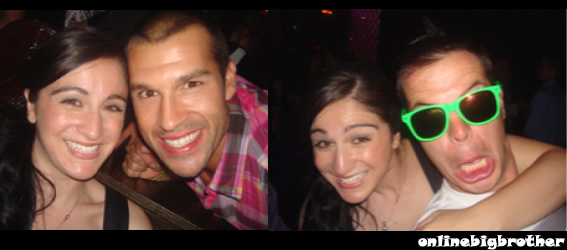 I headed over to the section where most of the current and former houseguests were and found Brendon talking to fans. I started talking to him and was pleasantly surprised. He had moments on the show that were very demeaning so I wasn't sure if I wanted to talk to him. He was very, very nice and relatable. So that was a pleasant surprise. He was talking about how The Talk had given Rachel and him a trip to Aruba for their honeymoon. As I was talking to Brendon I felt someone running their hands along my silhouette…as a married woman I was pretty surprised…until I turned around to see who was doing it, previous houseguest James.
We then moved from BB9 Crazy James to BB6 James Rhine. Again he was in conversation so we waited a few moments. I was just happy that my memory was working and I remembered their names!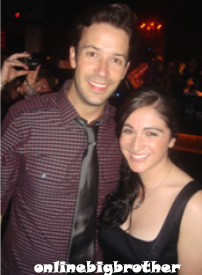 Rachel and Brendon were walking around together so before they were whisked away I jumped in for a quick picture and even congratulated Rachel on her win. It was hard to do, but I did it. She said thanks. Still am not sold on her though, sorry. Most of the houseguests I spoke with said that Brendon and Rachel apart are much easier to deal with but Brendon and Rachel together are destructive…I'm not sure how well that bodes for their pending nuptials, but will wish them the best!

As the night was coming to an end and the Big Brother alumni were figuring out where they would be taking the party next I caught Dani one last time for a better picture and thanked Spicy because she had been running around ensuring the party was running smoothly!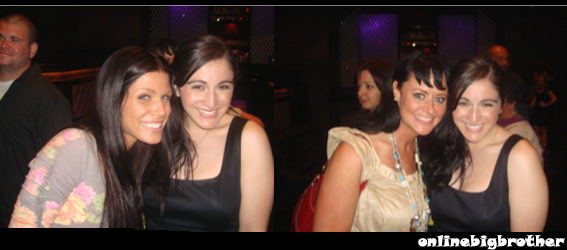 I would like to thank onlinebigbrother.com again for giving me the opportunity to attend the wrap party. It was a lot of fun and I want to do it all over again! If any fans are debating about going in the future I would recommend it. You really do get a few minutes of one-on-one time with the houseguests and you get to see past houseguests as well! Hopefully this gave you some insight into the wrap party.
Thanks Melissa for representing OBB and bringing back all this great material for us all to share. Anyone out there wants to get onto Big Brother 2012? now your chance to read up on the Big Brother 14 Eligibility Requirements and application form
More Wrap party images from meanseasonbb.