POV Holder:
Andy
Next POV
Aug 17th
POV Used
NO
POV Ceremony
Aug 19th
HOH Winner:
ANDY
Next HOH:
Aug 15th
Original Nominations:
Jessie and Spencer
Current Nominations:
Jessie and Spencer
Last Evicted Houseguest
David, Nick, Jeremy, Kaitlin, Howard, Candice, JUDD
Have Nots
Aaryn, Helen , GM, Elissa
8:03pm Spencer and Andy
Talking about Elissa. Andy mentions he wrote in his HOH blog that he could write a dissertation about Elissa.
Andy: 'Elissa is.. I'll give her this she is unlike any other human being I have ever met"
S: "I totally agree.. she's almost extraterrestrial"
A: 'Yup without a doubt"
S: "She's comical.. she's just odd"
A: 'Everything she does is weird as hell"
S: "She's odd"
A: "I feel that Rachel wasn't even that weird"
S: "I agree Rachel was normal"
A: 'Rachel was grating but wasn't so Odd"
S: "She's like an aristocrat she's on the upper echelon the upper tier of society"
A: "Ya"
S: "So she's like .. for one she feels like she's slumming it being here"
Spencer adds that she thinks they are all beneath her and her whole attitude is based along that fact.
Andy says he agrees
8:28pm Backyard Aaryn and Helen
Aaryn explains why her and Elissa stopped being friends. In the beginning Elissa and Aaryn were friends then on day three Aaryn finds out that Elissa had been going around telling everyone that she had MVP. Elissa came up to Aaryn in front of people and said "Aren't you glad you're MVP" Aaryn denied it. Elissa did this to frame Aaryn as the MVP because she didn't want people to suspect her. At that point Aaryn got scared of Elissa and they stopped being close. Helen says she wasn't close to Elissa in the beginning she never heard that story before.
Aaryn says she's an only child and wasn't use to living with all these people. She adds that first 2 weeks Candice was taking sh!t out of everyone's drawers and it really bothered Aaryn.
Helen says early on in this experience it was easy to find a person to pick on and a lot of people picked on Aaryn.
Helen: "you have a very strong presence and you're a pretty girl and a lot of people are threatened by that"
Helen: "It's easy for people to make you a target"
Helen says it's really surprising how Aaryn was able to turn her game around. Helen says most people when faced with what Aaryn faced would have been like Jessie and trying to break enough people down. Helen: 'you've made yourself equal and honestly i'm amazed at your game.. you've played a good game "
Aaryn says it took 4 weeks for her to rebuild her game.
Helen says she didn't feel bad for Candice leaving she was trying to blow Helen's game up. On a personal level she really liked Candice.
They agree that Jessie is trying to do what Candice did that is destroy everyone's game because hers is destroyed
Helen says until Jessie is ready to be kind it's just going to be more bad camera time if they talk.
Aaryn doesn't think Jessie will cause a stink tonight because she is trying to get Amanda and McCrae's vote.
8:48pm Backyard McCrae and Spencer
Spencer: "Hey.. do you have Aaryn under control"
McCrea: "Yup.. should be"
Spencer says he's worried about Aaryn and Helen, "Get Helen in the have nots with her for a week and she'll poison her brain"
MC: 'Her talking to helen worries me but I dunno I have no idea.. I think Amanda is pretty close to Aaryn.. I don't really talk to Aaryn"
S: "Well kick that sh!t into high gear for next week.. I think Helen will use Aaryn to do any dirty work that she can"
MC: I think helen is also worried about Aaryn.. I dunno"
S: "Aaryn is a safety wh***e she wants safety and she'll do whatever for safety"
MC: 'Even if Aaryn got it and you went up.. we still have the numbers it would be you me and andy and we only need three next week"
Spencer laughs says he hopes he doesn't go up "I only voted three times this year"
MC: "She might go after Elissa"
Spencer: 'I think she would"
Talking about final 2 votes. MC thinks Elissa is the best one to take to final 2 because nobody will vote for her. Spencer agrees, "Like you said yesterday she will use that money like toilet paper"
Spencer: "She's worthless"
MC: "Exactly and no one respects her she'll get no votes"
MC saying he doesn't think he would not win against anyone except Elissa.
Spencer thinks McCrae can beat him, "What do I have to hang my hat on, I get thursday afternoon game talk"
McCrae says being on the block 5 times and surviving is something to say.
You can re-watch ever second on the feeds using the flashback feature.. It's just like a DVR and is super easy to use. click this link for a Free Trial —> Subscribe to the Big Brother Live Feeds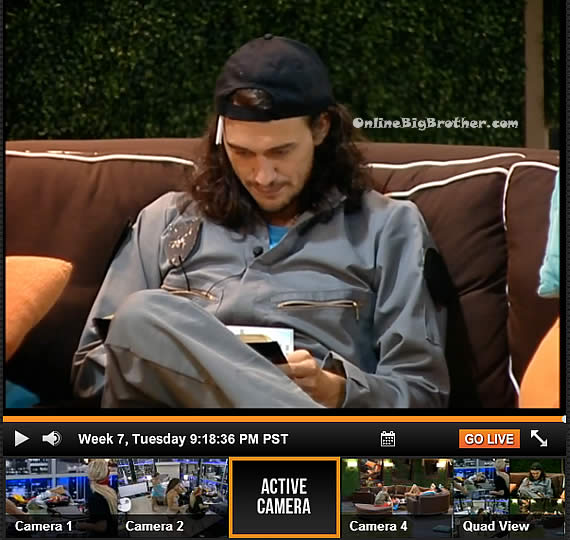 9:04pm Backyard McCrae, Andy and Spencer
Andy: "I like that you call Helen and Elissa the MOM Squad"
Andy says the good news is you'll know when you're on the mom squads radar because they'll stop talking to you and walk out of rooms when you come in.
McCrae is talking about Blowing up on Elissa
McCrae says the one person that he'll get his hands dirty with is Elissa. MC: 'I'll have to be super careful though.. I dunno"
MC is worried he's going to come off as a jacka$$. Spencer doesn't think so if it's done at the right time a lot of people will think "I've been wanting to say that for a long time "
Spencer says he shouldn't call her names just point out her oddities and point out how she always talks down to people
MC: 'Exactly it would be like .. you put yourself on such a pedestal and we all grovel at your feet"
Andy: 'Oh my god the are you on medication comment to Jessie yesterday was unreal"
MC: 'Thats the one I'm wanting Jessie to throw back to her face"
Andy explains what Elissa said. She asked Jessie last night if she was taking any pills it The DR was giving her pills like what Aaryn and Amanda take. (I've heard versions that Elissa asked Jessie if she had stopped taking her pills)
MC says the f*** up thing about Elissa saying that was how after it happened she came to Amanda and him and started playing the victim.
MC points out that he's seen Elissa do this before after she insulted someone. She did it with Amanda during his birthday party. MC adds that Elissa was trying to make it sound like she was legitimately concerned that Jessie wasn't taking her pills. MC also mentions that Elissa told him she cared about the players psychiatric Health. Spencer and Andy groan.
Andy: "you mean she wasn't trying to make Jessie look like insane and needed pills"
MC explains the day after his birthday party. She brought him into the cockpit room and said she was really offended that Amanda Was offended by her. (She said Elissa looked like a stripper.. etc etc)
Andy: 'If any of us get evicted by GM or Elissa I'm going to kill everyone"
Big Brother 15 N*de flashback times here NEW time Stamps added
9:36pm HOH
Andy tells them they only got a bottle of wine and no beer. Amanda tells Andy to go down and Demand more alcohol. Andy says it's best if she goes she'll be more convincing.
10:05pm HOH Wedding starts soon
Amanda is telling Jessie if she goes to everyone and apologize everything will be like it was before. Jessie thinks there's not point because so many people lied to her. Amanda says there's still two days a lot can happen.
| | |
| --- | --- |
| [polldaddy poll=7309671] | [polldaddy poll=7320201] |