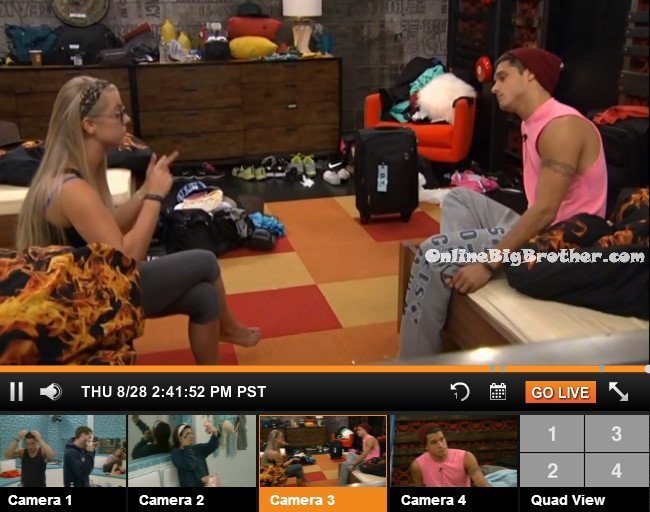 2:38pm – 2:50pm
Nicole talks to Cody in the fire room. Nicole says honestly I'm not stupid I know Frankie is trying to flip the votes. Obviously if I win HOH you are safe. I don't know what else I can say. I talked to Christine and Victoria and they are voting to keep me no matter what. Derrick said he needed to talk to you first. I want to stay here. Cody says that Frankie is scared sh*t-less. He thinks if you win he is going up on the block. Nicole says that Frankie gets what he wants every single week. Cody says that he is pitching that you are working with all the girls and coming after us. Nicole says that is complete bullsh*t! Derrick joins them. Cody says they're trying really hard. Derrick says my thought is we keep her. Cody says I said no to keeping Donny. Derrick says Okay then I am done here. Derrick leaves the room. Nicole says if I was HOH we would have to talk about it and figure it out. I wouldn't put up you or Derrick. Nicole says I think they pitched it while they were in the HOH room looking at the fish. I think they took their mics off. Nicole says I am not even that big of a beast in my eyes. Cody says I think if you stay Frankie is going to be shook as f**k.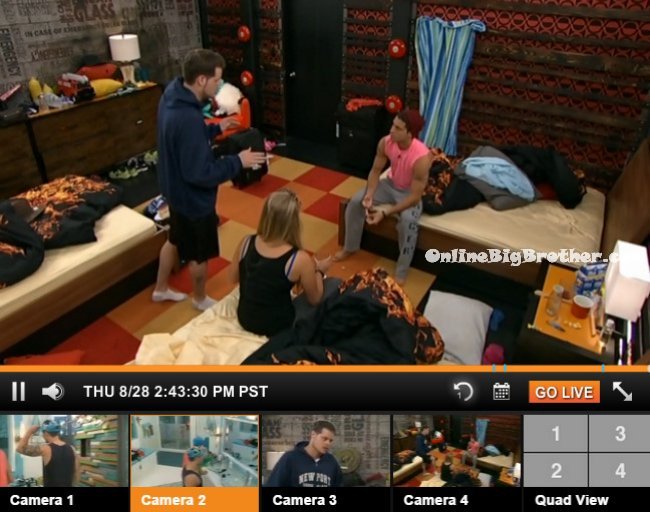 In the earth room – Derrick talks to Caleb and Christine. He says that Donny will say whatever he has to to stay and next week when you're sitting on the block and he's HOH you're going to say we made a deal. And you know what he'll tell you .. this is big brother.
3pm In the bee hive room – Cody talks to Caleb and Frankie about how Donny didn't look him in the eyes. Caleb says when he shook my hand he looked down he didn't look me in the eyes. Cody says that Frankie is going to be mad if Nicole stays. Derrick joins them. Derrick says well my premonition is that Frankie is going to win HOH no matter what. Derrick says that Donny has promised all of us that we aren't going on the block. Nicole hasn't. Which means that Donny lied to one of us. Christine joins them. Caleb says that he is on the fence. They agree that Donny will go home to a 5-0 vote. Cody says that Nicole won't know what's going on and by the time she knows she's staying she will have 10 minutes to plan before the HOH. Meanwhile we'll all know what's going on. Frankie says I think I will talk to Nicole just to clear the air. Christine asks why its big brother. Frankie laughs and agrees.
Frankie talks to Nicole in the fire room. He tells her that he loves her! He asks if she would put him up if she won HOH. Nicole says honestly I would talk to everyone and see. Frankie says I want to vote to keep you in this house and I hope you will consider that as goodwill going forward.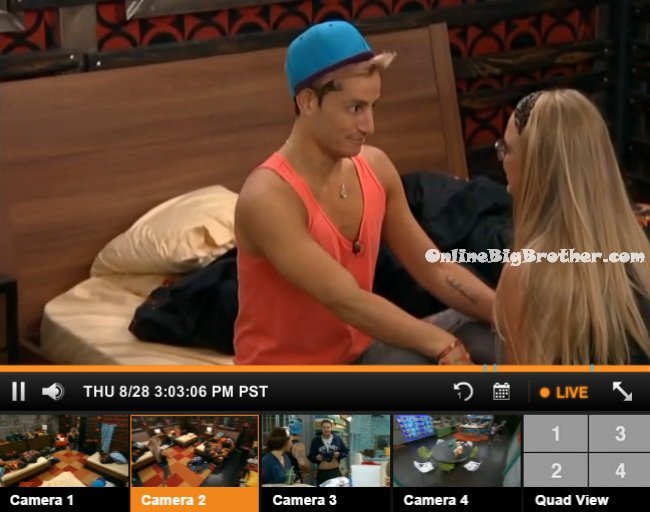 In the storage room – Cody talks to Christine about how Frankie is scared sh*tless of Nicole. He tells Christine about his conversation with Donny. Cody brings up how Donny said it was just a scenario he had talked about with you to get me out. Cody tells Christine that Caleb said Donny couldn't look him in the eyes when he made him promise not to go after Caleb.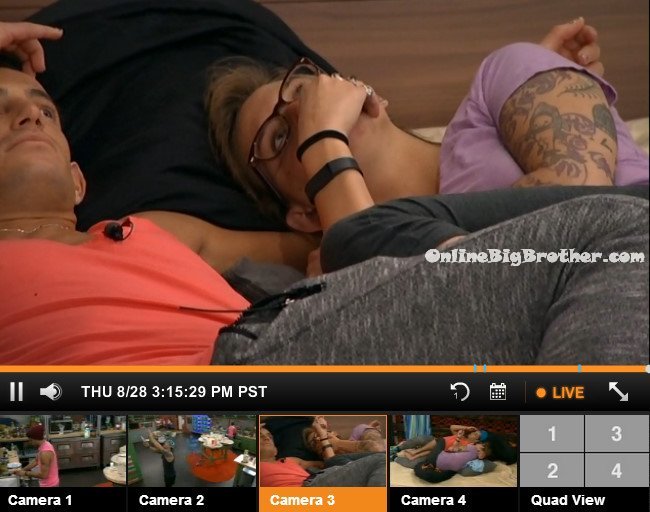 3:15pm
In the fire room – Frankie and Christine talk about how its a difficult decision on who to keep. Christine says that she does think Nicole will do very well in the HOH competition tonight.
Big Brother switches the live feeds to the live feed highlights.. looks like the live feeds will be down till after the Live Eviction / HOH episode tonight…
If you're enjoying the live feed updates this season, please consider donating. Simon and I work 24/7 all season long to keep you updated on everything that happens inside the BBCAN house. Any amount is greatly appreciated! Your donations go directly to paying the server and bandwidth fees required to run this site.
Where the vote is?
Donny going home
[polldaddy poll=8260325]
[polldaddy poll=8261457]
More polls here https://www.onlinebigbrother.com/big-brother-compendium/big-brother-16-polls/
Share it YO!
Tweet