POV Holder:
Hayden
Next POV
Aug 2nd
POV Used
YES
POV Ceremony
July 28th
HOH Winner 1:
Frankie
HOH Winner 2:
 Zach
Battle of the Block Winner
 Nicole/Christine
Next HOH/ Next BOB
July 31/Aug 1
Original Nominations:
ZACH's Noms (Christine & Nicole) Frankie's Noms (JOcasta & Victoria)
Final Nominations:
Amber & Jocasta
Have Nots
Nicole, Caleb, Christine, Derrick
POV Players
Frankie, Victoria, Jocasta, Donny, Hayden & Christine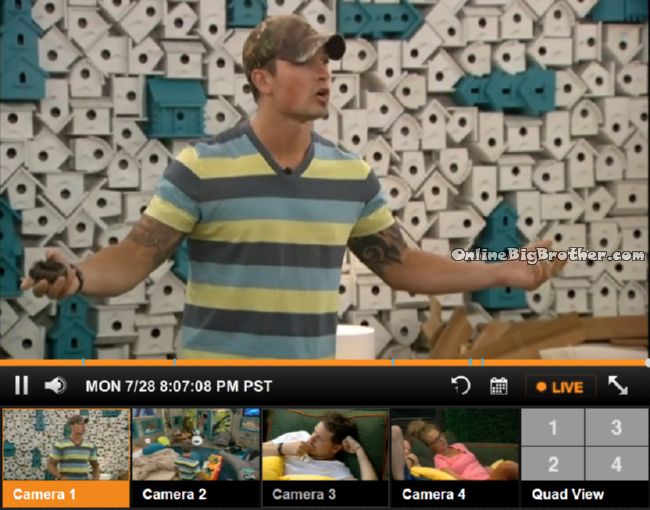 8:01pm HOH Caleb and Zach
(Caleb trying to get votes for Amber)
Caleb I come to find out amber didn't blow up the bombsquad to nicole we've been scrambling all day trying to figure out all this stuff all she said to nicole us girls have to Stick together or the guys are picking them off one by one. She never mentioned the bombsquad
caleb – She mean to be saying it serious she meant to be saying it like she has been the whole time pretending she's not working with the guys.
Caleb – Right now she has the votes to stay you are a big vote for her.
Caleb says at the end of the day Zach isn't Amber's target. Caleb adds that Amber is after Victoria and Jocasta.
Caleb says it would mean the world to AMber if she made it till jury we have four votes all we need is one more. Caleb adds that Nicole, Donny and Victoria were saying earlier if they keep Jocasta it's better for them. Caleb says Amber has Cody, Derrick, him and Christine's
Zach – So i'm the deciding vote
Caleb – you or someone outside the alliance.
Caleb warns him that jocastas coming after Zach. Caleb will do whatever it takes for Zach's vote. "I will make whatever deal I have to do to keep her in the game"
Zach – so if she is not coming after her i'm going to keep her.. I'm going to do what is best for us bro.. if it's keeping amber i'm keeping Amber
Caleb – at the end of the day the other people in the alliance know it backfired it wasn't supposed turn out like this we still made a deal we have a goal we all make it to Jury.
Caleb – she deserves to be in jury with us
Zach – she does
Caleb i would really appreciate if you vote to keep her it would mean a lot to me if you did I know Cody it will mean a lot for him if you vote to keep her.
Zach – ok well if she's not coming after her i'm going to keep her.
Caleb – She deserve to be here she's a beast she's never thrown anyone under the bus and at the end of the day quite frankly if Momma J wins the HOH she's putting us up
Caleb – Keep Amber keep our numbers strong
Zach – "I'm Voting to keep Amber .. alright tell her that"
8:20pm Storage room Zach, Frankie and HAyden
Frankie says he's told Caleb 50 million times if he keeps campaigning for her he's goign to be the target and he doesn't care.
They agree to keep up with operation brittany all of them will tell Amber she's staying this week., Even Hayden is going to tell her she's got his vote.
Zach says he told Caleb he's voting to keep Amber. Frankie says Caleb has been running around campinging like a lunatic so operation brittany is back on.
Zach wonders what happens with Caleb when he finds out they all voted to evict Amber.
Derrick saying Frankie went to Nicole and told her it was a group decision to put her in the middle and tell Caleb Amber blew up the bombsquad to her.
Derick adds that Nicole came up to him and was a bit pissed that nobody told her she had a role in the plan. Derrick told her he knew Amber was going to get Backdoored but he had no idea about Frankie's plan to use Nicole.
Derrick – I didn't f** know" Derrick explains Frankie went back to Nicole to cover himself saying it was a group decision. :you get what i;m saying he used his own initiative to do that and then it backfired"
Cody – And he used us
Derick ya
Derrick – she didn't say us specifically but she assumed us he said it was a group decision.
Cody says he wants to punch Zach in the mouth, when they get outside he's going to "Beat the sh1t out of him"
Derrick laughs says wait until you see my "DR's"
Cody knows why Zach got his a$$ kicked he's the kinda kid COdy see on the weekend and smokes.
Cody can't handle the way Zach speaks to everyone. condescending. Derick says when Zach was saying those things to Brittany "Hey Brittany only 2 thousand more" Derrick went into the diary room and apologized to his daughter, his wife and mom that he's not standing up for brittany.
Production wanted Derrick to elaborate what he would do to Zach outside the house.
Derick "I'm on national TV right now let just say if we were out somewhere and there were no cameras him and me would have a conversation in a alley"
Cody – He's on my list..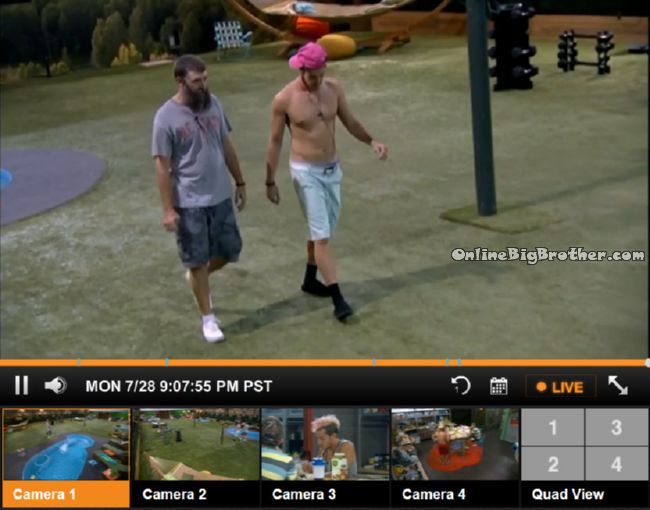 9:07pm Donny and Zach
Zach says he's going to put up Caleb and Victoria. Donny thinks that is a good choice it's a target you want out and a weak one that won't win the veto. Donny adds that Victoria might pick Hayden to play in the veto.
9:27pm Nicole and Hayden HAve nots
Hayden tells her the best bet is to say "I was told to say that by multiple people please dont' think that was me I Was the one put in this situation I was the scapegoat"
Hayden says AMber will start freaking out
Hayden hugs her says Amber is going home he wishes her luck when she talks to Amber.
9:33pm Beehive Nicole, Frankie and Christine
Nicole mentions what hayden told her to say to Amber.
Frankie isn't sure she should say she was "old what to say "
Amber comes in She thinks Zach should be on the block not her, "The fact i'm leaving before him irks me.. What did i do to you all"
Frankie – you are not in this position because of us
Amber hope then she has the votes to stay in the game
Frankie that is a really good point
Amber says people are talking now, Donny and Zach talking says "you're right DOnny we got this"
She feels right after everything happened everyone is in the own clique and she alone with jocasta in the kitchen.
Frankie says she doesn't want to have another brittany situation but she isolated herself by trying to have sex with cody every 4 minutes.
the girls giggle
Amber says she's had so many people backs she hopes they have her back, she wants to make it to the jury house she's worked so hard to get this far in the game.
Rewatch any moment on the live feeds with a subscription Try It Free! Get 24/7 access to the house PLUS more for 48hrs before you decide!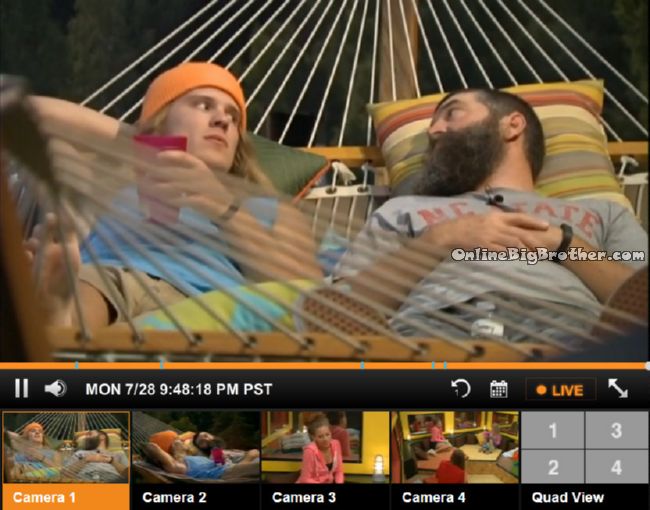 9:48pm Hammock Hayden and Donny
Donny was talking to Nicole near the swimming pool and she mentioned Christine is receptive to talk to him. Donny had a good talk with Christine earlier today. Donny says Christine and nicole are really nervous if Zach wins the HOH he suggests hayden tells the girls right now they have nothing to worry about when it comes to Zach.
Hayden – be very careful with zach.. i'm getting more nervous about him every single day even christine mentioned that Zach was saying he's in an alliance with Donny/cody that means he's talking. hayden adds if tit comes out it will be very bad for them.
hayden isn't talking to Zach anymore.
hayden if it's double eviction Caleb has to go home
Hayden thinks Victoria has to go up for sure as the pawn so they can backd**r Caleb.
Hayden – I would put up Victoria and jocasta
Donny says he would put up Victoria and either caleb, Nicole or cody (one of the HOh's that put him up)
Hayden says Donny and Christine/nicole have no reason to not trust each other hayden has been trying hard to put the good word in to close the rift.
Hayden says the house is trying to blindside Amber.
Donny says if Caleb thinks she's staying and she goes Caleb might be rocked by it and not perform.
Hayden – At some points Frankie has to go he gets himself into an emotional wreck and he gets Nicole into trouble c'mon guy
Donny says if Frankie ever gets put up on the block Donny is voting him out.
So will hayden. Donny – "Everyone in this house like me and everyone likes you but they LOVE frankie"
Hayden says him and Derrick have Victoria wrapped around their finger. Donny thinks Derrick "Especially " does
Donny wants to take someone that can beat mentions the last survivor the last guy brought the person that can beat him to the end and everyone was asking him why he did it but Donny understood. He wouldn't bring someone that didn't deserve to be there.
Donny says Frankie will be impossible to beat. Derrick will also be hard to beat but everyone else is beatable.
Donny points out how they hang out all the time and nobody thinks anything of it. He suspects it's because they are always goofing around.
Donny asks if Frankie can get into Cody's head. Hayden doesn't think so. Donny still trusts Cody but he doesn't talk to him like he talks to hAyden. hayden wishes they could keep Amber in the house just for her cooking and cleaning and evict her gamewise. Donny jokes mentions that once Amber is gone Victoria will look better.
10:09pm kitchen Derrick and Frankie
Frankie says operation brittany is in full effect
Derrick says Hayden and Donny have been in the hammock for a while.
Frankie says they are conspiring to get Caleb out next week.
Says he doesn't think hayden is with them but Hayden isn't targeting them right now.