POV Holder:
Hayden
Next POV
Aug 2nd
POV Used
YES
POV Ceremony
July 28th
HOH Winner 1:
Frankie
HOH Winner 2:
 Zach
Battle of the Block Winner
 Nicole/Christine
Next HOH/ Next BOB
July 31/Aug 1
Original Nominations:
ZACH's Noms (Christine & Nicole) Frankie's Noms (JOcasta & Victoria)
Final Nominations:
Amber & Jocasta
Have Nots
Nicole, Caleb, Christine, Derrick
POV Players
Frankie, Victoria, Jocasta, Donny, Hayden & Christine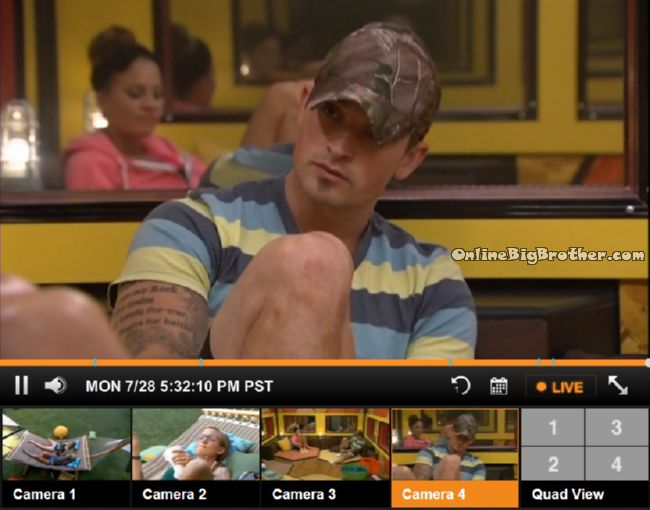 5:28pm Caleb and Amber FIREROOM
Amber – i'm going home because you put me on the block
Caleb – you have to trust people
Amber says she was told to stay close to the other side of the house that is what she did. SHe points out that Frankie is the same way.. She asks him what's the difference between her and Frankie. Caleb agrees he's been telling "them" that.
Caleb says Derrick will do what he wants and he's not going to vote her out. Amber says Zach won't vote Jocasta out, Donny is campaigning to keep Jocasta " I'm not dumb I see it I hear things"
Amber doesn't have the votes because Frankie doesn't get a vote. Caleb point out that she just need to tie it up and frankie will have the say.
Caleb thought Amber was goign to run to him after getting nominated"- You ran to the other side of the fence" This is what spooked the guys.
Caleb says he had no idea about Zach's speech Amber knows Zach knew she was going up.
Amber says she's at least she's up talking to people Jocasta is in the bes sleeping 'I've worked my butt off to get where I am"
Amber points out that Donny is talking a lot to Christine and Nicole and Hayden isn't as close to the guys like they think.
Amber – you got what you wanted
Caleb – that isn't what we wanted we wanted you to come back to us instead of going to them
Caleb says all the guys thinks she's getting the girls together. AMber – "I feel like I'm being picked on in the house.. I mean look at all the …. Feeds cut"
Amber is wondering why she is the one nominated when Zach is left safe, she points out that Zach has thrown them all under the bus including Caleb. Caleb agrees says he's todl that to the guys. .
Amber – You know who is working against you guys, Jocasta, Victoria and Nicole.
Caleb brings up the date, Amber says
"All three of them said you sounded like you didn't want to be there."
Amber explains with the two of them hanging out makes them look like a huge target, everyone was watching she could say no but by saying yes it hurt her game.
Caleb says it's no difference than Hayden and NIcole
Amber is sorry she feels the way he doesn,t "here's my thinking Caleb.. umm.. …I'll tell you later"
Caleb – Tell me now
Amber – it's personal .. I don't want to get upset about it right now my emotions are driving me crazy.. I'm tired of having everyone's back".
Amber – people are going to lie to you about me
Caleb – my mind is going crazy I have so many people in my alliance saying different crap.. my head is going bonkers I don't know what to believe.
Caleb says the house tells hims they are tired of the way she treats him
Amber is surprised.
Amber – I'm not going to have some sob story while I'm here.. theres reason why I'm not going to mention it yet.. I'm playing my game.. ugh i'll tell you later.. I'm playing my game not telling everyone my personal business I want to know I made it without that.. because i'm not clinging to someone because I don't want a showmance,. relationship I don't want to put myself out there it's not personal to you it's me the things I've been through.. I don't know.. like I said even though I'm on the block i'm still not going to use it".
Amber wants to see how far she can get on just her game, She says she doesn't know how to deal with guys anymore She guarded that is the way she is she's always been that way. she gets up and leaves.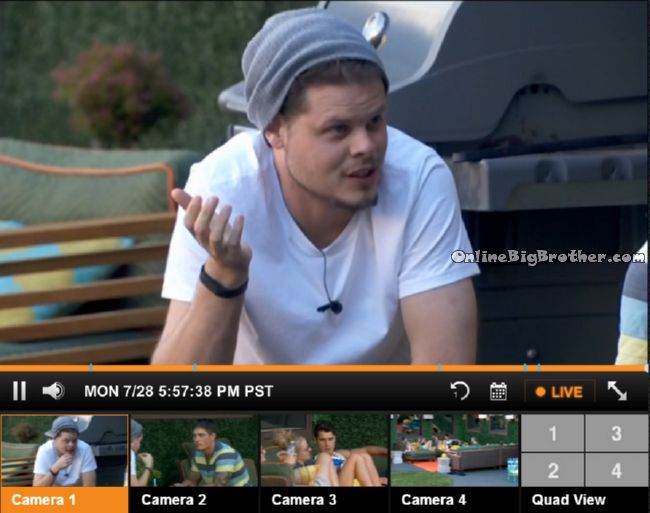 5:49pm Caleb and Derrick
Caleb says Amber overheard christine talking to donny they are forming an alliance with Jocasta and Nicole. She overheard them saying that saving Jocasta is better for them. Caleb mentions that Amber never said names and the fact Zach has done it twice
Caleb wants Amber to stay says if they send jocata home they lower the other sides number if they send Amber home it lowers their numbers. It doesn't matter to Caleb if Amber is the first one gone in jury. Caleb knows what Amber says is true the girls are working together but amber is still with them.
Caleb claims that Amber heard Victoria nicole, christine and donny all said they were keeping Jocasta.
Derrick – I know the truth as much as you know the truth all I want to say is no matter what you do you have to decide what the house is going to do."
Derrick says Caleb cannot be the only guy trying to save Amber, Derrick suggests Caleb goes and talks to everyone and find out what they are going to do.
Derrick points out that the other side all those people he's spoke of haven't won any HOH competitions they have to win it before they can dethrone them. Derrick doesn't see the other side beating them in competitions.
Caleb says if they keep Amber and things go south he'll volunteer to go up. Derrick says he might not have a choice she might tell him she's putting his boys up and letting him watch.
Derrick – Out of these 12 people only 2 of us get to win the money people are going to get boned. Derick mentions something about "They know things are going to get bloody in the soon.
Derrick – I'm telling you bro you're a soldier you already know all this.
Derrick points out that Jocasta can't complete a competition without passing out
Derrick says if the group wants to take out Jocasta he's down for that he's goign with the group that is how he's been playing since day one.
Derrick believes in his heart that Amber told something about the alliance. He mentions that Brittany was always talking about a all guys alliance during the time Amber was up her butt.
Derrick doesn't know why Zach would defend Caleb like that.. what does he have to gain doing that (Todays POV Ceremony Zachattack)
Rewatch any moment on the live feeds with a subscription Try It Free! Get 24/7 access to the house PLUS more for 48hrs before you decide!
Frankie – what happened while I was sleeping
Caleb – We had another talk basically all the same stuff she admits to doing.. running to Nicole.. she claims she's been saying a girls alliance all along. Caleb adds this was how Amber was keeping the girls off the scent of the bombsquad.
Caleb mentions Amber heard nicole, Donny, jocasta, christine and Victoria and they are working together and they are goign to keep Jocasta and turn on the guys.
Caleb – if we keep amber we're keeping a number on our side
Caleb says Amber has done nothing wrong to their alliance. and at the end of the day they had a deal they should stick with.
Caleb says amber explained to him she was guarded that is why she's been acting the way she is. Caleb believes that Amber never blew up the alliance.
Caleb says if they kept Amber and she ends up putting someone other than Zach and Jocasta up he's going to volunteer to go on the block
Frankie is shocked "you just said you will throw away your game for her"
Caleb fumbles says he hates it if an alliance members goes before fake people that don't deserve to be here.
Frankie – You are scrambling you are scrambling for someone who doesn't give a shit about you.
Frankie says amber doesn't care about him it doesn't matter that she says she feels guarded around him it doesn't matter.
Caleb says the two people that care about him are Derrick and Frankie he thinks Amber does care but she's not going to put it up on a pedestal for everyone to see.
Frankie tells him giving his game to Amber is silly.. that's blatantly giving your game up.
Caleb says he's not giving up his game for Amber
Frankie tells him saying you will go up on the block if Amber doesn't do what you say she is going to do is giving up your game.
Caleb doesn't think so
frankie gives up
Caleb at the end of the day I just want to make it to Jury and I don't think it's the two strongest players to make it to the end there never is Hayden (BB12) is the only one to pulled it off
Caleb says he wants to kick Jocasta to the curb
Frankie hugs him and leaves.
6:18pm kitchen derrick and Cody
Derrick says Amber is going to let Caleb run around and do all her dirty work for her again.
Cody We gotta vote her out
Derrick – it's a no brainer for me and you
Cody – we lost her trust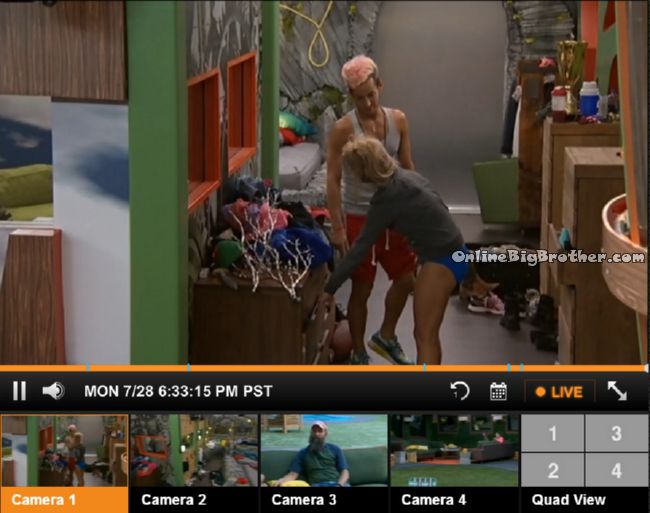 6:33pm Nicole and Frankie
Frankie says Caleb is a mess. He wants us to keep her.
Frankie – how about we get rid of her and you are the first to go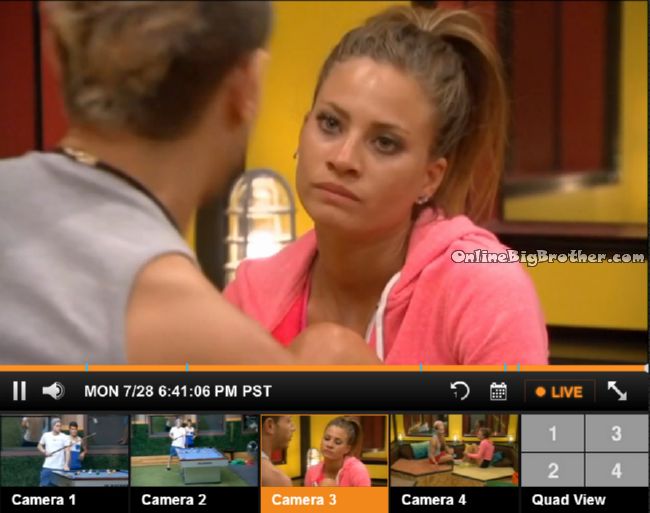 6:42pm BEEHIVE Amber and Frankie '
Frankie says we was approached "they" thought Amber had made a side alliance with the girls and this was a test to see if she would go with the girls or stick with the bombsquad.
Frankie whimpers says he feels so terrible. Amber says she heard Christine talking to Donny and he is campaigning for JOcasta he says he has Nicole, Hayden and Christines vote.
Frankie – that's four people.. this is all because of Caleb's stupid pride I take responsibility for this I put you up
Frankie says Caleb is campaigning for Amber like crazy he's digging her a bigger hole
He explains the whole plan was originally to backdoor zach but everyone forgot about him. Zach calmed down and went to sleep. nobody in the alliance wanted him up everyone was fine with Amber going up. what was he supposed to do "Caleb.. he so persuasive.. I apologize and there is nothing I can say.. you should blame me"
Amber – I'm not blaming anybody.. if Jocasta stays you lose a person that has your back..I have all the guys back"
Frankie tells her that Caleb and Zach made up that entire speech together this was all Caleb's evil maniacal plan.
Frankie says she needs to talk to Zach and if she can get his vote.
Amber please don't lie to me do you want me here
Frankie oh my god I want you in this house i want to be your friend i want to be clubbing with you
Amber this is a pawn situation that went bad
frankie went bad fast too
6:49pm Victoria and Nicole
Victoria says she views Hayden like family only derrick and HAyden would talk to her early on so she's developed a relationship with them.
Nicole says hayden told everyone VIctoria was rubbing him under the shirt. Victoria says that is so not true.
6:56pm Caleb and Christine
Caleb campaigning for amber "At the end of the day ____________ " X 35 = what he says
7:40pm Cam 3-4 Amber and Christine
Amber campaigning
Amber – Where do you think I am be honest
Christine says if Amber has me Derrick, Cody Caleb and Nicole all she needs is one vote.
Amber says the girls could talk Victoria into it, Christine thinks Nicole can. Christine is going to talk to Nicole for Amber. Christine adds that Derrick has controlled Victoria's vote since week one.
7:46pm Have nots Caleb and Cody
Caleb is campaigning wants Amber To stay. Says she is not protected by the girls. Cody says he's not going to vote Amber Out he's just chilling waiting to see what the house thinks
Caleb – Quite frankly I don't want her to go at all my last intentions was seeing her go up simple"
Caleb says everyone is taking it to a personal level saying she treats him like dirt why does he want to keep her so she can keep doing that.
Caleb – "this is not a personal game "
Amber comes in
Caleb says Derrick has his back and if the majority is going to keep her so will Derrick. Amber says Christine is doing the same thing.
Amber – why would the majority vote me out.. after everything I've done
Caleb says he knows they got four votes locked. Cody says they will have to go to Zach to get that 5th vote.
Cody – we're just going to work this week"
Caleb – we can for sure make it happen if that means one of us lying..
Amber – What happened that we're not putting people up until jury
Caleb blames it on Devin.
Amber – My father man.. if I don't stay you boys are in trouble.
One way to support this site that doesn't cost you anything extra is making your Amazon purchases through the links below Amazon.com OnlineBigBrother Link
For Canada use link Amazon Canada OnlineBigBrother
Alliances
Zankie = Frankie/Zach
The Detonators = Derrick, Frankie, Zach, Christine, Cody
Final 2 Deal "The HITMEN" – Cody & Derrick
Trilogy = Nicole, Christine & Hayden
Team America = Donny, Derrick, Frankie
Old timers = Jocasta/Donny
Nicotine = Christine/Nicole
(Defunct or unknown status)
Bomb squad = Caleb, Amber, Frankie, Derrick, Cody, Christine, Zach, Hayden
Not a showmance= Hayden/Nicole
Los Tres Amigos = Derrick, Cody, Zach
The bottom Feeders = Derrick/Nicole
We hate Devin = Christine and Zach
Outsiders = Brittany, Victoria, Jocasta, Donny
Stalker = Caleb/Amber
Quad Kings = Derrick, Zach, Cody and Hayden (still being built)
More polls here https://www.onlinebigbrother.com/big-brother-compendium/big-brother-16-polls/
[polldaddy poll=8207784]