POV Holder:
Hayden
Next POV
Aug 2nd
POV Used
YES
POV Ceremony
July 28th
HOH Winner 1:
Frankie
HOH Winner 2:
 Zach
Battle of the Block Winner
 Nicole/Christine
Next HOH/ Next BOB
July 31/Aug 1
Original Nominations:
ZACH's Noms (Christine & Nicole) Frankie's Noms (JOcasta & Victoria)
Final Nominations:
Amber & Jocasta
Have Nots
Nicole, Caleb, Christine, Derrick
POV Players
Frankie, Victoria, Jocasta, Donny, Hayden & Christine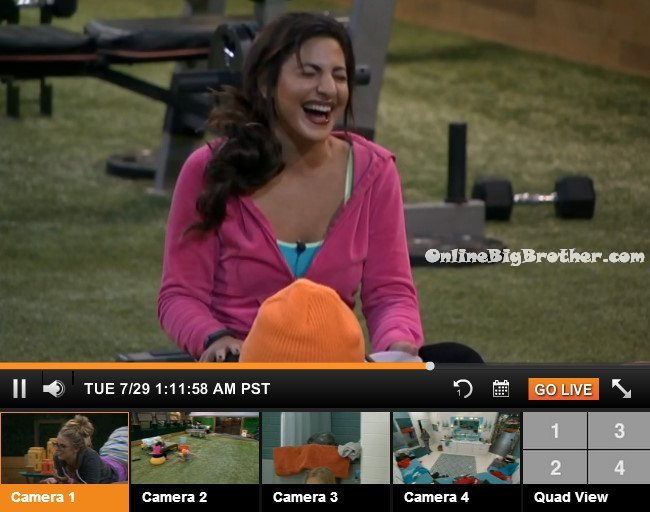 1am – 1:45am Nicole, Caleb, Hayden, Zach are sitting out in the backyard talking. Hayden is talking with his mouth closed pretending to be "Larry" and "Carter" the little people in Hayden's mouth. Victoria stops him after awhile and says I thought these were real people. Caleb and Nicole laugh. Caleb leaves and says that just told me something about you. Victoria laughs and says oh my god! I thought we were going to meet these people. Hayden says after this week we will have 1 person per bed. Zach asks what their favorite competition was Hayden says "Miami Lice". Victoria talks about the apartment she rents in Miami to use for clients on the weekends for makeup for her photo shoots. Zach asks so you don't live there. Victoria says only on the weekends. Zach asks so you pay monthly rent but only use it on the weekends? Victoria says yes. Zach tells Victoria that there is no chance she will win HOH. When pigs fly will Victoria win HOH. Nicole tells Zach to be nice. Zach says I am putting Victoria up this week for the 4th time in a row!! Victoria gets up and leaves. Zach says god I love doing sh*t like that! Nicole says you a-hole! Zach asks what did I do?! I love doing sh*t like that! Nicole says you bullied her. Nicole says she is going to make sure Victoria is okay. Zach asks what's it like … being a floater?! Nicole heads inside and tells Victoria to just ignore him.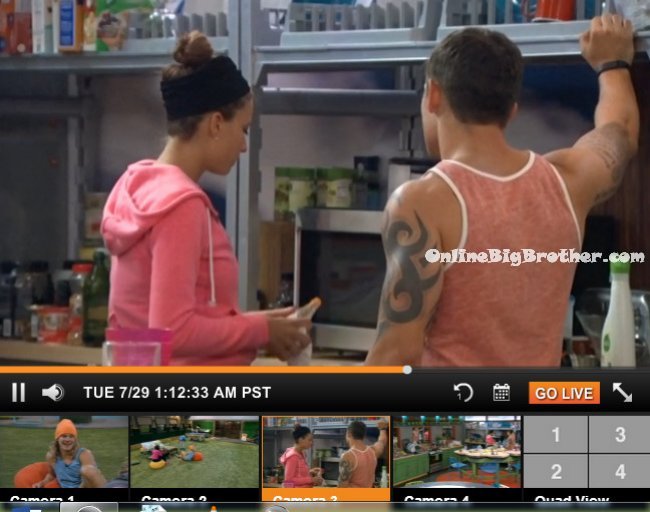 Take Advantage of the FREE 2 day Trial to watch all the drama!
1:15am – 3:15am In the kitchen – Caleb says that he has literally talked to everyone and everyone says they're voting for you to stay. Caleb says I know you're not dumb but make sure Zach knows you won't come after him. Amber says I know. Caleb asks who would you put up if you won HOH. Amber says Donny. Caleb and Amber head into the hive room. Amber says that her plan would be to backdoor Zach. Amber says that she's worried about Caleb using her to get information from her. Caleb says I wouldn't do that. Everyone wants Zach out. I talked to Hayden and told him we have 4 votes from our alliance to keep her and if you don't vote for her you will be next to go. Amber asks do you not think they're just telling you what you want to hear? Caleb says no, I can tell by looking at them. Caleb tells Amber her saying the girls need to stick together makes people think you have a girls alliance. Amber says I've never said that, Christine and I only said we would look out for each other. Amber brings up how Caleb was the one that wanted me up. Amber says she wants Zach gone. Caleb tells her that he will go before she does. Your targets should be everyone outside our alliance first. Amber says but I am tired of being used. Caleb says you're not being used. Amber says I'm tired of doing everything for everyone elses game. Caleb says that he was pissed off at her for personal reasons but all them, they thought you were a flip flopper. Amber says I don't get why I am not being trusted and being used. I don't get why Zach isn't being put up. Caleb says because if we put Zach up he would blow up and call us all out by name. Caleb and Amber talk about her going up and how it was a test to see if they could trust her. Caleb says I yes I had a hand in it but I don't want you to question my trust with you. Caleb says I can't wait for the day when you let out everything you're holding inside to someone you trust so much. Amber says I do too. I came in here leaving that at the door because I didn't want to share the sob stories of my life. When you do hear it you won't expect it. Caleb says I am all about expect the unexpected. From now until Thursday ..just relax and I really don't think you have anything to worry about. Caleb says for one I feel bad, I feel a lot like I literally want to go hang myself because.. Caleb starts talking about his past relationships. Amber asks him did you hit me with a pillow at 5:45am? Caleb at first says he was asleep at 4:30am but then he says he did it. Caleb says I want you to trust in me that I will do everything possible for you to stay on Thursday.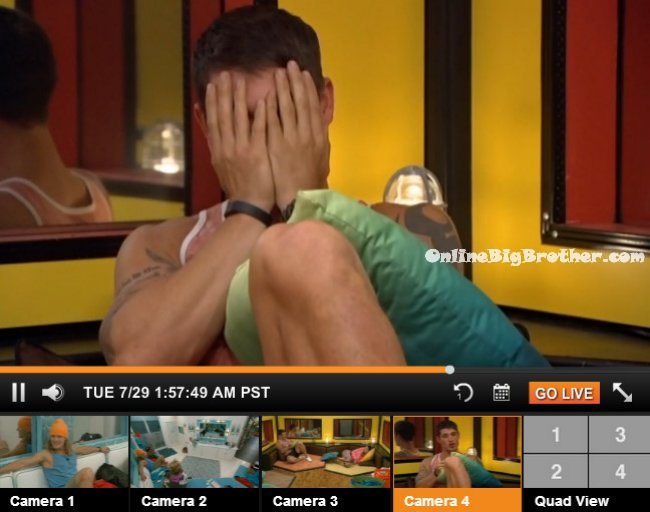 1:50am – 3:15am In the bathroom – Nicole talks to Hayden about her talk with Amber. I just said I was put in a situation where my name was used and my back was against the wall. I am not going to say a name of who it was because I haven't thrown anyone under the bus and I wasn't going to. Hayden smiles. Nicole says don't act like you're telling me how to play. Hayden says I am not. That's good though. Nicole says she said I am sorry but it didn't come from my mouth. And at first she was pissed. I said something that was godo but I can't remember right now. It just fizzled out after that. I told her that she could still have my vote. Hayden says I said that too, that my vote wasn't decided. Caleb is ridiculous.. like his love for her is stupid. Nicole tells Hayden this is so stupid.. I don't want you to think I'm weird… obviously every day I wake up …you know I am annoyed with Victoria and I wake up praying for the strength .. and today I talked to her .. Big Brother blocks the feeds. When then feeds return Nicole is talking about how if Victoria knows I like you she shouldn't sleep in a bed with you. I don't want people to think I am a psycho. Nicole says I like you and it bugs me. Hayden says Victoria is just a vote for us. When we talk game its more me telling her what to do and not do. Like if she won HOH I guarantee I could tell her who to put up. Hayden tells Nicole that if it was you and Christine on the block … Christine would go home. Just keep doing what you're doing being an outsider and laying low. Hayden heads to bed. Nicole cuddles with him for a bit and then heads to the havenot room.
See what they can't show you on TV! -Try the Big Brother 16 live feeds for FREE!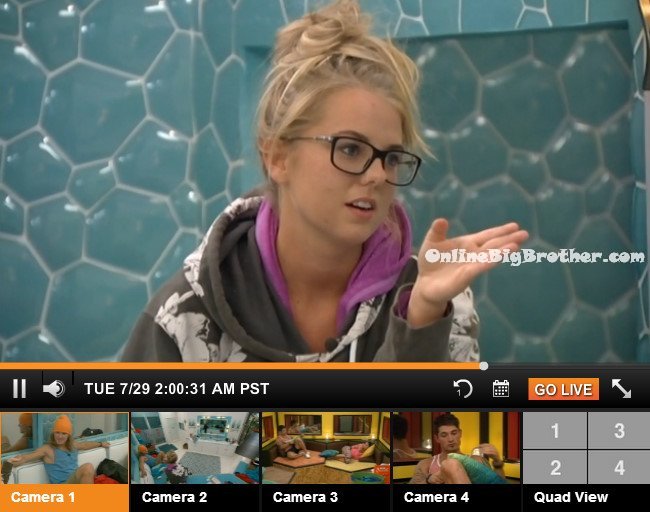 3:15am – 4am Caleb asks Amber what she is going to say on Thursday. Amber says I am not sure because I am just so heated right now. Caleb tells Amber that she needs to put some ice cubes in it because you know if you say the wrong thing then you will go home. The conversation turns back to talking about why they put Amber up and what happened after the veto meeting. It was done more to scare you. Amber says it doesn't scare me because I didn't do anything wrong. Caleb says I can't stress enough that it was dumb. Amber says yeah and if I go home then I am just one less vote that you have. Amber says I just honestly don't understand why you guys trust Zach over me. Caleb says you'll see I am going to win HOH and he will be first one I put up. Amber asks why are all you scared of Zach. This is why you need women to talk to .. you don't think things through. I am just ripping you a new one, right now. Caleb says what has been broken will be fixed. They talk again about him smoking her with the pillow while she was sleeping. Caleb says he is going to start pranking people. I am going to start coming up with some cool stuff to do to people. Amber says if I stay I will think about something to get you 100 worse than what you did to me. Amber says I just can't believe you guys put me on the block. I would never do that to you guys. If I had a problem I would have come talk to that person. Caleb says I didn't put you on the block, Frankie did. Amber says but you had a say so. Caleb says it wasn't me. They keep going back and forth. Caleb tells her she's not going home. Amber asks have you lied to me? Caleb says no, not other than having a hand in putting you up. Amber says you're lying to me. Do I have to eat a banana to stay here this week? Amber says I want to talk to all of you in the room at the same time and see who's lying. Caleb says don't do that, let me handle it. Amber says look what happens when you handle things. Caleb says just trust in me the next 3 days. And then when you stay you can run up to me and give me a big hug. Amber says I don't know what your motives are for me being up. When I pull Christine and Nicole in here .. Nicole said she made a deal with someone that they could use her name to say that she said something that she didn't. Caleb says I haven't heard .. Frankie said Nicole said something but Nicole told me herself so that doesn't work. Amber says all I said to Nicole was about me going up. Amber says but then Nicole said to me that it doesn't mean you don't have my vote. Caleb says I could say to Nicole if I win HOH she can make my noms or that she is won't go up. I would say I control 6 votes in this house and I think she knows that.
4:05am- 4:25am Caleb continues to tell Amber she isn't going home. Amber asks how would you feel if I did go home? Caleb says no feeling could describe if you did… If you did, I would write a cheque in your name to the amount of what I made in the jury house if you go home. When it all comes down to it you will not go home because you're not meant to go home. Amber says I don't see how you guys see more bad than good in my game.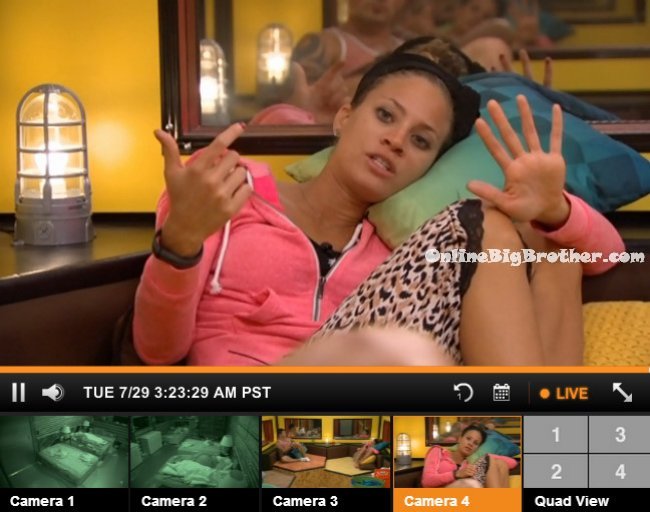 4:30am – 4:40am Caleb and Amber continue to talk about the same things over and over again.. Amber says "I shouldn't need to campaigning with people that are in my "alliance". Amber hit Caleb with a pillow and says people need to stop messing with her game. She gets up and says she's going to bed. Caleb and Amber get ready and head to bed.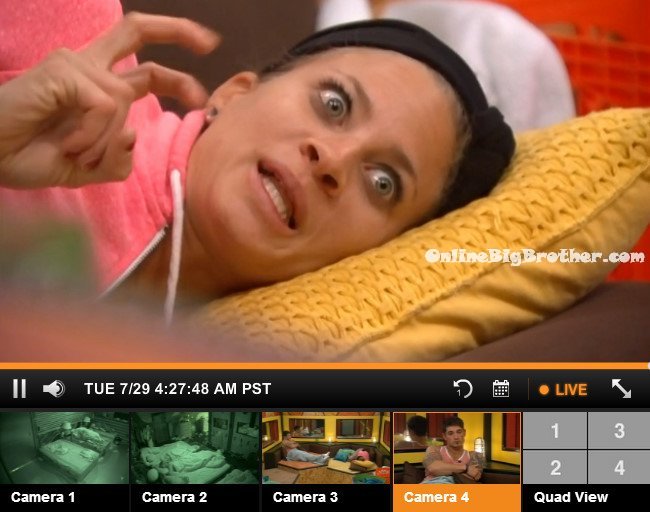 9:55am Donny is the only house guest awake at the moment in the bee hive room reading the bible. Big Brother hasn't woken up the other house guests yet.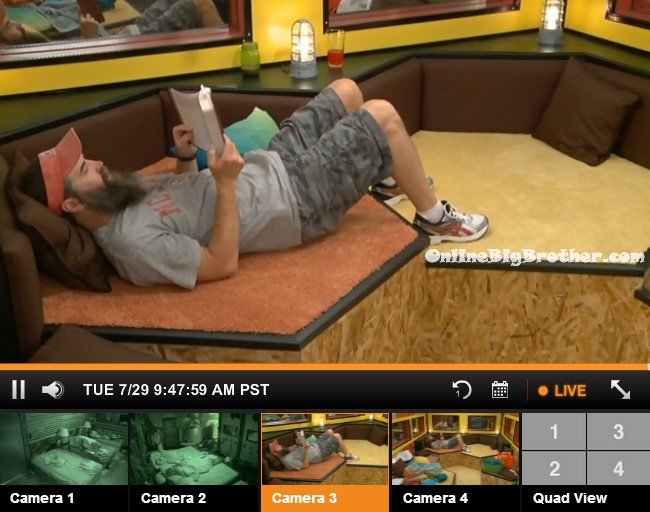 One way to support this site that doesn't cost you anything extra is making your Amazon purchases through the links below Amazon.com OnlineBigBrother Link
For Canada use link Amazon Canada OnlineBigBrother
Alliances
Zankie = Frankie/Zach
The Detonators = Derrick, Frankie, Zach, Christine, Cody
Final 2 Deal "The HITMEN" – Cody & Derrick
Trilogy = Nicole, Christine & Hayden
Team America = Donny, Derrick, Frankie
Old timers = Jocasta/Donny
Nicotine = Christine/Nicole
(Defunct or unknown status)
Bomb squad = Caleb, Amber, Frankie, Derrick, Cody, Christine, Zach, Hayden
Not a showmance= Hayden/Nicole
Los Tres Amigos = Derrick, Cody, Zach
The bottom Feeders = Derrick/Nicole
We hate Devin = Christine and Zach
Outsiders = Brittany, Victoria, Jocasta, Donny
Stalker = Caleb/Amber
Quad Kings = Derrick, Zach, Cody and Hayden (still being built)
More polls here https://www.onlinebigbrother.com/big-brother-compendium/big-brother-16-polls/
[polldaddy poll=8207784]