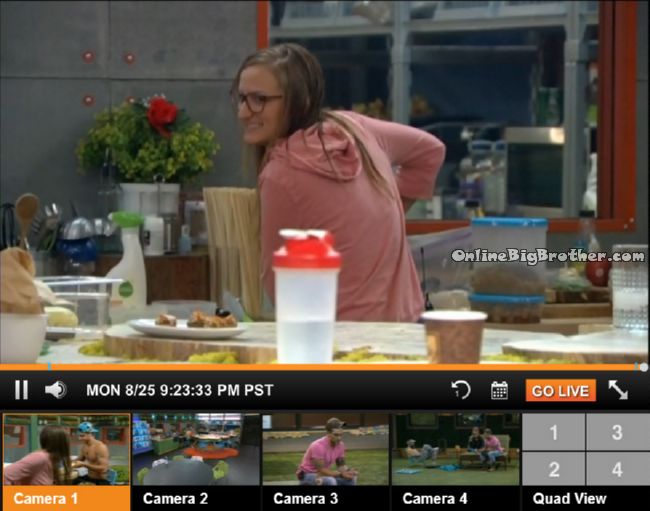 9:24pm Peeling a potato Christine and Cody
Christine – You're peeling off the skin
Cody – Get is a little bit wetter and it's easier to come off
Christine – I did rinse the first one a bit
Cody teasing – I don't know what side of the bed you woke up on I don't like it
Christine – Why don't you get it wet do you want me to wet it for you
Cody – Ohh now we're talking
Christine – YEAH
Cody – NO NO NO don't go there don't do it..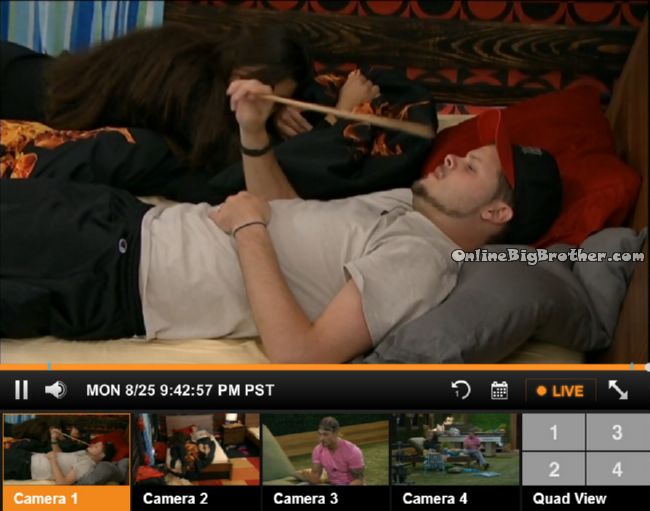 9:42pm Victoria and Derrick FIREROOM
Victoria – I need Cody to undo my knot I think i'm going to pass out so early tonight.. I need sleep
Victoria brings up that Christine is saying that her HOH is a waste because Nicole is back in the game. Christine got all this blood on her hands for no reason. .
Derrick wants to know who CHristine will put up. Victoria thinks it will be her and Caleb. Vicotira is certain that Christine doesn't like her.
Derrick you don't think Nicole
Victoria – ya Nicole if she's still in the house.
Derrick why doesn't Christine like you
Victoria – I just get a feeling.
Victoria – She's a very brutal person.. she plays this game way too hard.. and the way she talks about other people. and she thinks really highly of herself.. . she belittles everybody else, which is annoying.. she doesn't' appreciate my game and that's a fact"
Derrick tells her everyone knows he's not working with Christine that is why he's around her in public. Christine is always up Cody's a$$
Cody comes in.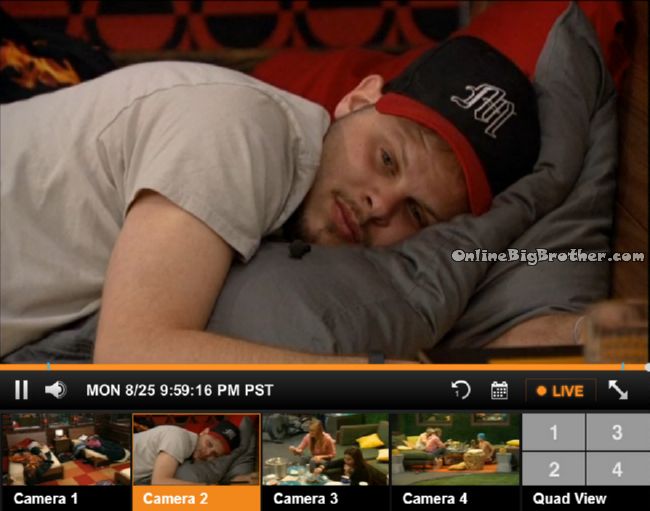 9:55pm Fireroom Caleb and Derrick
Caleb says Frankie was trying to convince him to vote Nicole to leave over DOnny.. "I don't know if that is what he's trying to do.. "
Caleb adds that Frankie is worried Nicole will put him up.
Derrick points out that Nicole won't put up COdy. He thinks she would put up Christine, "She's already back in tight with COdy.. Frankie told me this earlier everywhere she goes she's up his a$$… her and Christine are fighting over him"
Caleb thinks CHristine will not put Victoria up
Cody come in briefly and Frankie comes in to tell them dinner is ready.
Derrick – do you get the feeling that people know how close we are.. seems like everytime we're alone people come in
Caleb says Christine is always following them around when they are in the HOH
Caleb points out that Frankie is studying with the girls he's not sure where Frankie and Christine are right now is worried they may have buried their differences.
Victoria is nice to me but she is useless.. she's not going to win a comp for me..
Caleb – She's a vote
Derrick – The house will vote one way one vote won't help me
Derrick whispers if Christine puts him up she might be able to get the votes to send him home.
Derrick says the brigade made it through the season just like they will they were tight and didn't spread sh1t around the house, "Between the three of us we all bring something to the table"
Derrick warns if Nicole stays another week it gives her more time to get back with the group
Caleb – If I win HOh this week i'm putting up Nicole and CHristine.
Derrick says Christine will vote for COdy he's her idol
Caleb – I don't know man she seems that way but maybe she's doing it for her game.. I think she'll vote based on game play.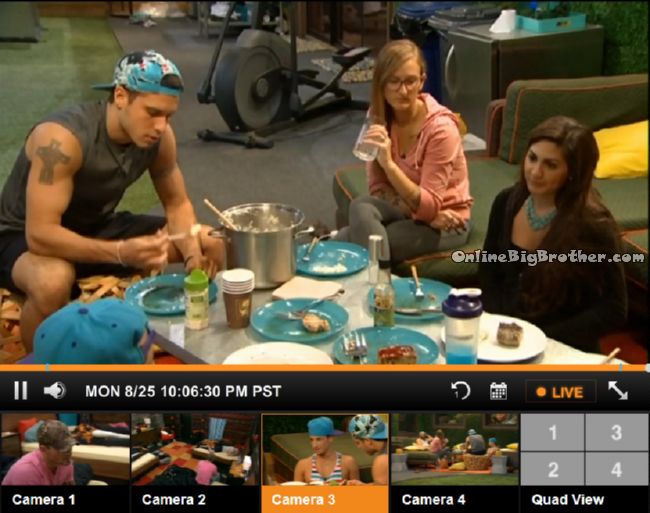 10:05pm outdoor dinner tonight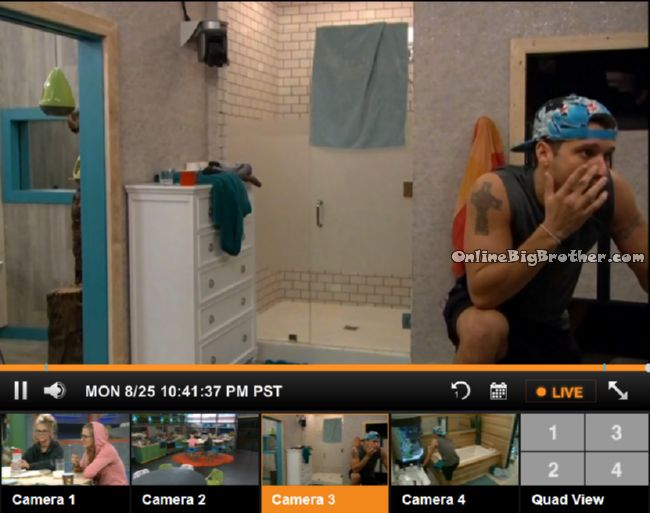 10:40pm Cody and Derrick
COdy – How f***g paranoid is Frankie..
Derrick says he was talking to Caleb and was saying the same thing said A he's America's Favorite player
Cody – Dude Frankie is going to try and keep DOnny..I shut that sh1t it down.. Said it to caleb too he told me..
Derrick – Caleb told me that too though said he wasn't sure Frankie was hinting at it
COdy – he doesn't think Donny will [put him up but he thinks Nicole would it's solo for him.
Derrick – WOW
Derrick is nervous that Nicole will put her up
Cody – you are wrong dude..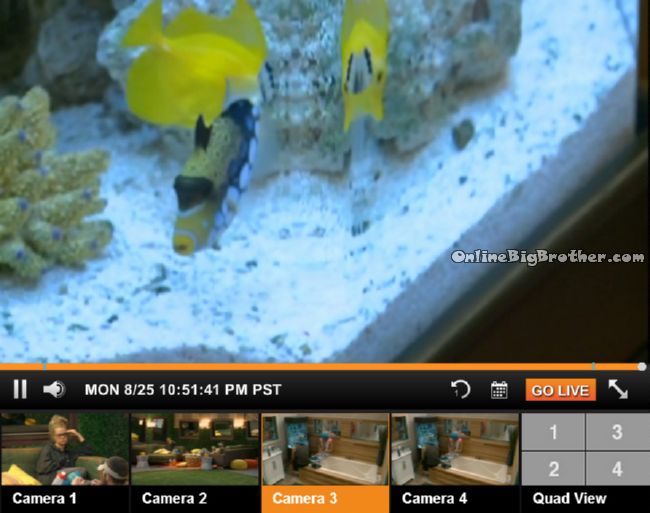 10:57pm HOH the Bros checking out the fish Derrick showering Frankie on the toilet (See image below) Victoria and CHristine join them..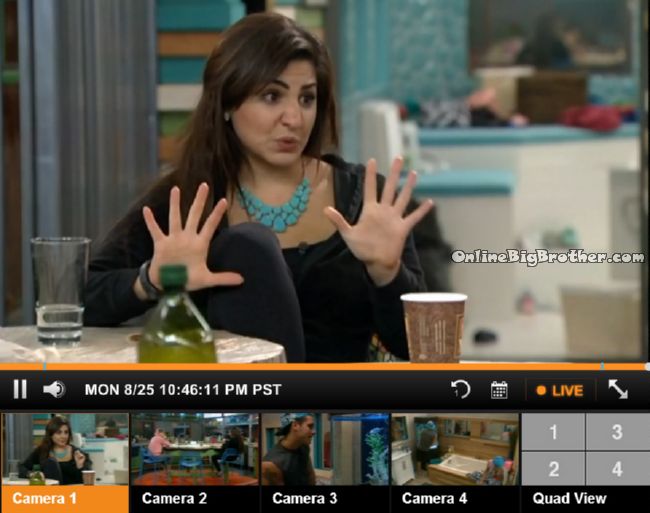 10:46pm Victoria and Christine
B1tching about Donny.. "He's so gross, he's so rude, pisses me off, so frustrating, pissing me the f*** off, Following me around, criticize everything I do.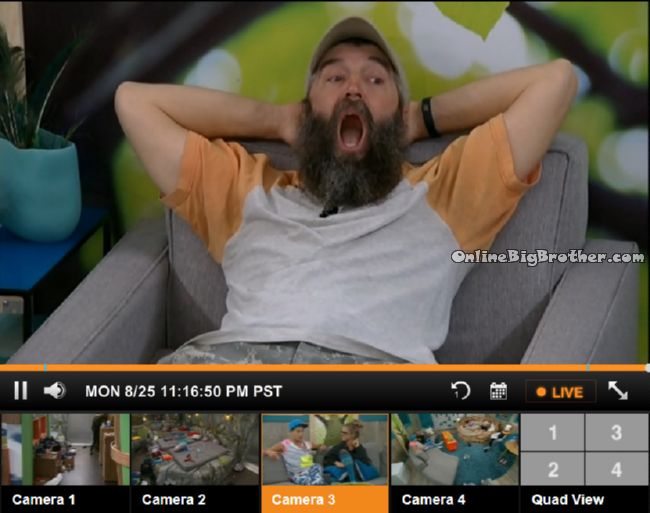 11:16pm Frankie playing a character called "grandma irish" talking about people wanting to suck on her b1g t1tt1es. ASks Donny if he want's a squirt from his teets.. (See image) Frankie goes on and on about his characters old saggy teets
Cody starts doing his french character
The Live Feeds are archived. You can go back and watch everything that happens
Try It Free! Subscribe now to the official BB16 Live Feeds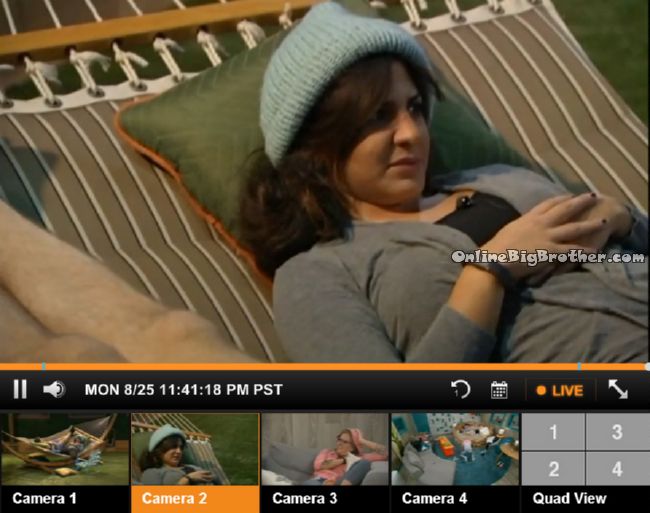 11:34pm – 12:00 Hammock Victoria and Derrick
Victoria asks him what he thinks Of Christine. Derrick says at points he feels Christine is sincere but she's playing the game.
Victoria – She just thinks she's so much better than everyone.. you can't say that isn't true.. people are seeing through it.. she's so fake..
Victoria mentions Caleb bringing up not knowing any married women that acts like Christine does.
Victoria – Different strokes for different folks. she follows cody everywhere and she's so touchy with him..
Victoria – I just know how much crap she talks about me
Derrick says the genuine people in the house are Cody and Caleb.
Victoria – do you really thinks she really finds everything funny..
Derrick – Ya it's typically girls stuff
Victoria – she just admitted to me she fake laughs.. she's just admitted to me
Victoria – she will do Anything for the money.. she doesn't give a f** about anyone
Derrick – I agree
Victoria – her and Nicole were best friends up each other's a$$ 24/7
Victoria calls Christine a b1tch for what she did to Nicole with the speech and the blind side, "She doesn't give a f** and it's almost disgusting.. I do believe she did want to put you and Cody up aI believe that 100 and 20 percent.. that was not a rumour"
Victoria – This week with her is getting to me i see all the nastiness and she admits to disliking a lot of people.. all she does it talk crap about other people/../
Derrick – you can't do nothing about it this week.
Victoria – who the f** are you to talk crap about all these people… honestly if she was really hurt by the whole ZING thing sh1t would have changed..
Victoria – Nothing CHanged.. Nothing.. I think that was all a show.. she doesn't care..
Victoria – Cody tells me he has my back but if it comes down to me and Christine he's choosing Christine.
Victoria – I need to get a lot of sh1t off my chest because i'm about to explode.. what were you guys talking about for 5 hours.
Derick says they talked about the play, Mash potato, she talked a bit of game said Donny's got to go this week she really wants Donny gone.
Victoria – She never tried to make a final 2 deal with you
Derrick – no .. She doesn't trust me she's just trying to keep me close cause she's on the block.. she's scared Nicole is coming after her but she wants Donny gone first.
Victoria says Donny going is better for the house al not only for her.
Derrick says if he wins HOH one of them will go. (Nicole/Christine)
Victoria says Christine talks crap about everyone "I don't want you to get super close to her"
Derrick being sarcastic "I'm super close to her… You;'ll see how much I'm working with her If I win HOH i'll put her on the block"
Derrick – she probably talks crap about me too
Victoria she does
Derrick – how do yo know this
Victoria you think you are special
She talks sh1t about everyone.
Victoria – her social game.. she's practically a guy really good..
Victoria brings up Derrick and Christine whispering last night
Derrick – Ohh you are so jealous.. I believe you are looking out for me but you jealous
Victoria she is not genuine if she could do what she did to her best friend in the house.. no one is any different.
They start studying
More polls here https://www.onlinebigbrother.com/big-brother-compendium/big-brother-16-polls/
[polldaddy poll=8260325]
[polldaddy poll=8261457]
Share it YO!
Tweet