POV Holder:
Cody
Next POV
Aug 30th
POV Used
No
POV Ceremony
Sept 1st
HOH Winner 1:
Cody
Next HOH
Aug 28th
Nominations:
Donny & Nicole
Have Nots
Donny & Nicole
POV Players
Donny, Nicole, Cody, Frankie, Derrick, Christine
Take Advantage of the FREE 2 day Trial to watch all the drama!
12:15am Cody and Christine are playing a game of pool. Over on the hammock Caleb, Derrick and Frankie are talking about Christine and Cody. Caleb says that Christine and Cody were in the hammock holding hands. Caleb asks do you have any idea how that looks outside of here. Frankie says maybe he's gay? Derrick says you think that though, you said that. Caleb and Derrick ask Frankie what do you think? You should be a good read for that kind of stuff. Frankie says I'm not the best read because I just trust that people. Derrick says didn't you say that to me a couple months ago, or a month ago? Frankie says yeah, because Jocasta said that to me. Like immediately. He's on your team. Derrick asks what do you think though. Frankie says its very possible but I have no idea. It's extremely possible, I've had many many a gay men that were like that. Derrick says he's metro. Caleb says I know a lot of men that are metro that aren't gay. Derrick says I don't know I think he's smashing but I'm not gay so I wouldn't.. Frankie says he's smashing something. Derrick says he didn't hookup with Brittany and she definitely wanted him to smash her! She did, she was in bed with him. She was ready.. but Zach was up there too. Caleb asks you don't think Cody was smashing Brittany the whole time she was here? Derrick says no. They only slept up there the one night. Caleb says I just noticed a bunch of the condoms gone. Even the new box is opened. Derrick says yeah I noticed that. Caleb says and in there the top drawer has a box of condoms open. Frankie says I think that was me I put them there on display and I think they got thrown in the drawer. Derrick says I don't think they were f**king, she would have to been a complete idiot to do that on camera. A mother of 3 kids f**king some dude on camera, you're an idiot! Frankie says unless she wasn't a mother of 3. Derrick asks what would be the benefit of that though. Caleb says make it further in the game because people feel sorry for you. Derrick says I guess but she definitely had a motherly instinct about her. Caleb says she cooked, she cleaned. Derrick says the one thing my wife told me not to do was to swear on my wife and kids. Derrick says its just bad karma. Frankie says he wouldn't do it either. They talk about Tony from Survivor and how he swore on his wife and kid and got hated on for it.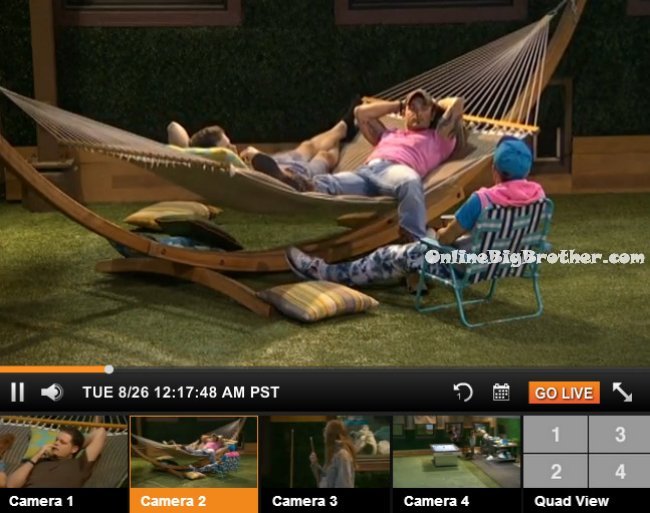 12:20am In the kitchen – Nicole and Victoria are talking. Nicole tells Victoria I just need three votes you, Derrick and Christine. Victoria says yeah. I think Cody would be honest with me too because they're going to jury. Victoria says I know, you want to be on their good side. Victoria asks have we backdo*red any one ..like after you. Oh yeah Zach. Do you think you and Christine will be friends after. Nicole says I don't know. I will have to watch and see. I don't know what the truth is. Nicole says I don't want to look like a fool like wear my second best outfit. Victoria says Oh I would tell you. Nicole says so would Cody. Victoria says but at this point there is no way, no how! Nicole says Donny hasn't started to campaign yet. Victoria says he knows. Nicole says I don't think he does because he told me he doesn't know if it me or him. Victoria says he's mind f**king you!! Nicole asks you think so?! Victoria says Nicole people are telling him. Nicole says oh then he is mind f**king me. Victoria says of course he is telling you that, he wants you to be paranoid. He wants you to do sh*t to f**k up your own game. Come on!?! Nicole says I can't act paranoid. Victoria says I'm telling you as a friend. Victoria says stay away from him for a little bit. He's not as nice as he says he is. He literally called Cody stupid. "All this time I thought you were stupid." If you want to stay here don't let him f**k with you. Victoria says he's rude, he says stuff to Cody all day long. Nicole says he has been more rowdy. Victoria says he was mocking me when I was grilling like Victoria you're such a genius. He's rude! He was standing right behind me while I was cooking. Like get away from me, I don't need to do this for you! He's a competition beast and a genius.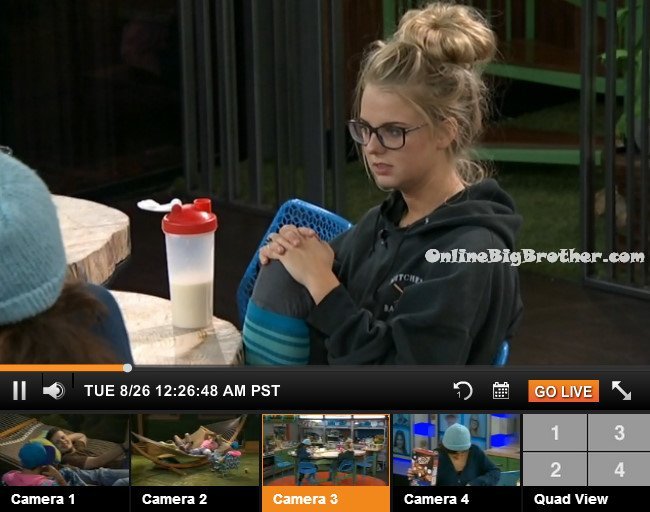 12:30am Frankie, Caleb and Derrick hammock talk. Derrick says that Donny has not proven he's a beast in physical competitions. Frankie says we've been here before and we voted to evict her. Derrick says we have to talk about things. Frankie says and I do know that Nicole is coming after me. Derrick says but she doesn't have the votes. Frankie says I know that. Derrick says and Donny could come after us too. He could! He might not come after you but be could come after me and Cody. Frankie says I think he's toothless. I think Nicole still has fangs. Derrick says we just need to talk about it. If she stayed she would need to beat all of us in the HOH just to be able to put us up. It's not happening. Derrick says I am open to anything. Caleb says I know if Donny makes it to the final 3 he will win this thing. How many times have we been in this position and not done it! Frankie says 3 times. Caleb says if its not Nicole coming after you, its Donny coming after one of us.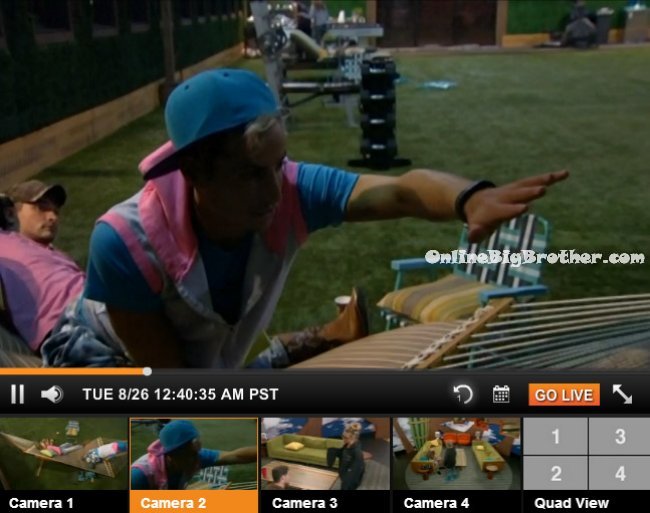 12:40pm Nicole talks Derrick and asks if she is okay. She says Cody, Christine and Victoria all said that I'm good. Derrick says you are. Nicole says okay. Derrick says being honest, you and me really have to talk because I heard some things that hurt me when you left. Nicole says that's what Cody said and we talked it out. Derrick says I heard that you thought Cody and I were master manipulators working everyone in the house. I'm not saying who this stuff came from. I don't believe everything I hear, I'm not that naive. And then I heard that you and I were working together and I couldn't be trusted. Derrick says I am just telling you. Still I am keeping you. I am basically tell you to your face. Nicole says I could have said people that you and I were in an alliance and I could have told people the name but I didn't. Why would I say things if I was still trying to stay. Derrick says maybe you knew you were going. Nicole says if I wanted to blow up your game I could have like with Frankie. Derrick say but that's not classic BB. When I heard those things I was disappointed. Derrick says bottom line you didn't come to me and I am still voting to keep you. Nicole says Cody could be telling you what to do. Derrick says Cody isn't running things, we're all doing our own thing. Donny needs to go. Derrick says if I win HOH, you're not who I'm going after. I think its going to be unanimous to keep you.
Watch the last month of the live feeds for only $9.99!
– PLUS try it out first with the 2 day FREE trial! –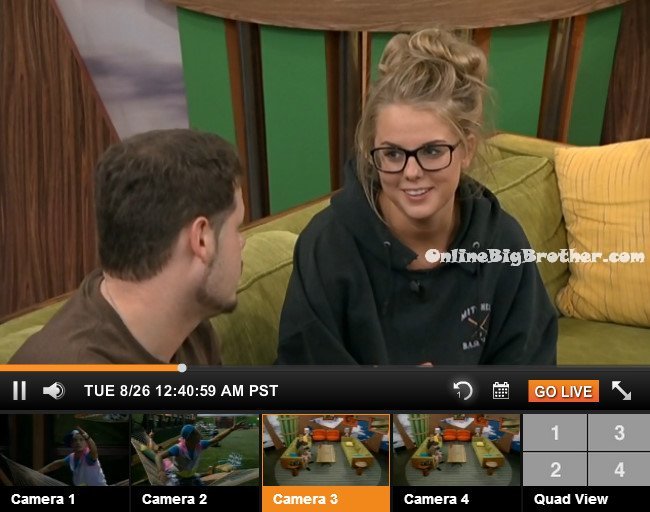 1am In the fire room. Derrick talks to Frankie about his conversation with Nicole. It could have all been a stroke job. Derrick says be prepared to say something because I think she is going to talk to everyone. Derrick says I think you're getting too much resistance on keeping Donny and I don't want you to hurt yourself. Derrick says I feel like there is a lot of eat it, eat it, and there's a lot of resistance pushing back. I don't want it to be Frankie Grande leading the charge. Frankie agrees.
In the hive room –
Nicole tells Caleb that she has talked to a few people and has gotten the vibe that she's staying. So I just wanted to know where you stand. Caleb says you've got my vote. Nicole says okay thanks. I just wanted to talk to you and see where your head was at. Caleb says yup, you're not leaving. Caleb and Nicole leave the room. Caleb then talks to Derrick in the fire room. Derrick asks she talked to you? Caleb says yeah. Derrick says that's good I'm glad she talked to us. Derrick tells Caleb about his conversation with Nicole. Caleb then tells Derrick about his conversation with Nicole. Frankie and Cody join them. Derrick tells Cody about his conversation with Nicole. Caleb tells Cody about how he thinks Christine is jealous that Nicole is back in the house. That's why Christine isn't leaving your side at all. Caleb says at the end of the day I think if Nicole stayed and won HOH she would put Christine up. Cody says I think so too. Frankie says that's what I think now. That Nicole would put up Christine with one of us. Cody says and Donny would put up two of us. Caleb says if Nicole wins HOH we could just tell her to put up Christine and if she doesn't we are all coming after her next week when she can't play for HOH. Cody says if Nicole stays I think we're all in a better situation. Cody says we just have to make sure Christine doesn't feel like on the outs.