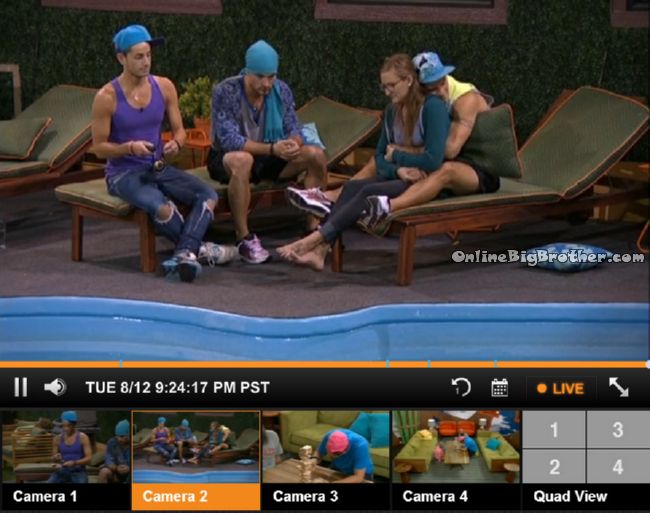 9:20pm Backyard Derrick, Caleb, Christine and Frankie
They tell Frankie Derrick will tell Nicole later tonight she's going home.
Derrick leaves to tell Nicole she's going home he promises Christine he won't make it sound like there was hope for a 3/3 vote and Christine won't keep Nicole . He's going to say it was a house choice.
The Live Feeds are archived. You can go back and watch everything that happens
Try It Free! Subscribe now to the official BB16 Live Feeds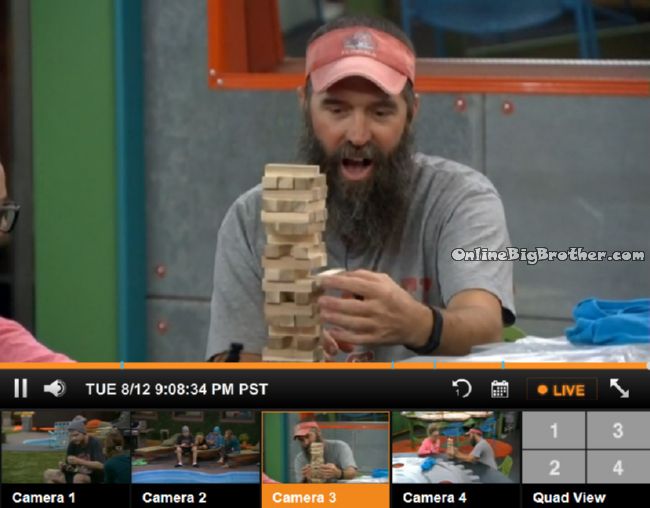 9:28pm Nicole and Donny playing Jenga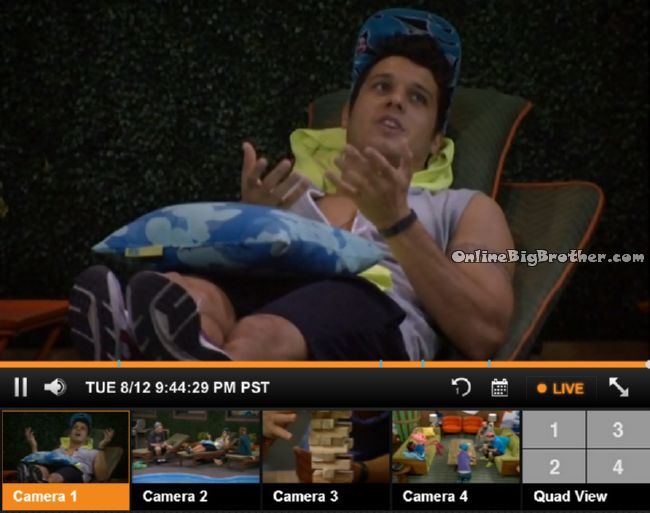 9:46pm Cody Christine and Derrick
(Derrick hasn't told nicole yet)
Cody and Christine want Donny out next week. Cody says Donny is a schemer he's been scheming ever since Devin left. Cody stresses that Zach is close to Donny. Christine will be pissed if Zach makes it too final 2. Cody doesn't think he'll make it.
Nicole joins them drinking a coffee.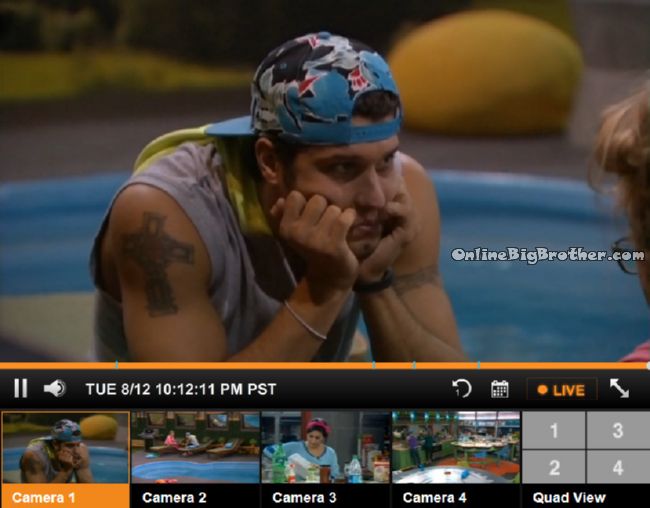 10:12pm Nicole and Cody
Nicole says Donny is coming after Christine and Cody "He thinks that he doesn't trust you and he loves Zach and Caleb"
NIcole – basically it's Caleb, Frankie and Zach playing against their three If they keep Nicole the HOH competition this thursday they'll have 4 against Frankie's 3.
Nicole says it's stupid getting her out of the house when she's helping them and working with them and keep someone that has verbally said they are targeting cody.
Nicole – Before Hayden went home Donny said he was going to get Caleb.. The other day he told me to make up a lie about you so you would go up..
Nicole says to be truthful DOnny never said he wanted Cody nominated but the way he's been talking about COyd and making up lies. .
Cody – I don't think its there i makes me very frustrated.
Nicole – From a big broher perpsecgfice I can't fathom getting someone out of the house that i helping you"
Nicole says she really likes DOnny he's a great person and if she goes home she hopes Donny makes it far.
Cody calls DOnny a f*** d1ck for suggesting NIcole makes up a lie about Cody.
Cody – you and HAyden took the downfall because of donny he's a schemer.
Nicole says she can get out Zach and Frankie, "She said the boys think i know too much"
Nicole – I don't need frankie, Caleb and Zach's vote I need hers
Nicole says Donny has Zach's back..
Cody is frustrated at how long DOnny has stayed in the game. Nicole says if Christine thinks she was going to back door her she can go to her and tell her that I got backed into saying that, and that I'm on her side
Nicole – I'm all about myself..
Cody – You don't have me?
Nicole says he's the only person that can convince her.
Cody – I will try my hardest
Cody didn't want this week to go this way. Nicole says her Big Brother Life rests with Derrick and Cody, "Wouldn't it be nice to shock them once.. I mean this entire game has gone their way"
Nicole says she went with the plan of the house and she got screwed. She wanted to put up Victoria and Caleb. Is she did that she would have been HOH sending Frankie home.
Cody – I knew you weren't going to put up Christine
Nicole – I wouldn't have done it to her I wouldn't have put her up.. I had to say OK in that circumstance.
Nicole – If I Was going to back door her I deserve this but I wasn't you guys knew that.
Nicole – I'm committed to you guys.. I will never come after you..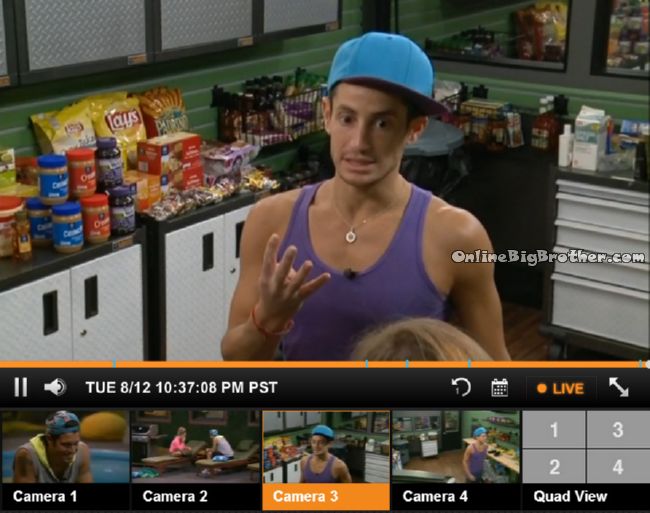 10:36pm Storage room Frankie and Zach
Christine says they have to get Donny out next week. Frankie agrees. Christine things that Zach will require some convincing. Frankie doesn't think so.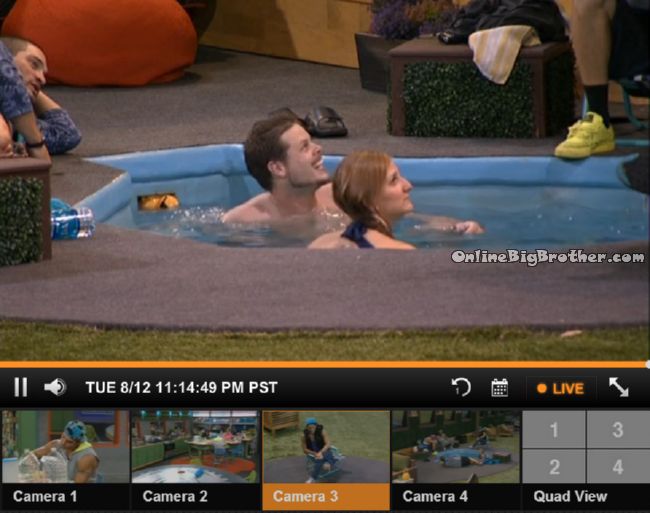 11:01pm Hot tub Donny, Caleb, Derrick, Christine, Zach Frankie
Chit chat about Selfies, Instagram, ZachAttack, Beast mode Cowboy
Frankie claims he get "Carded" all the time when buying drinks.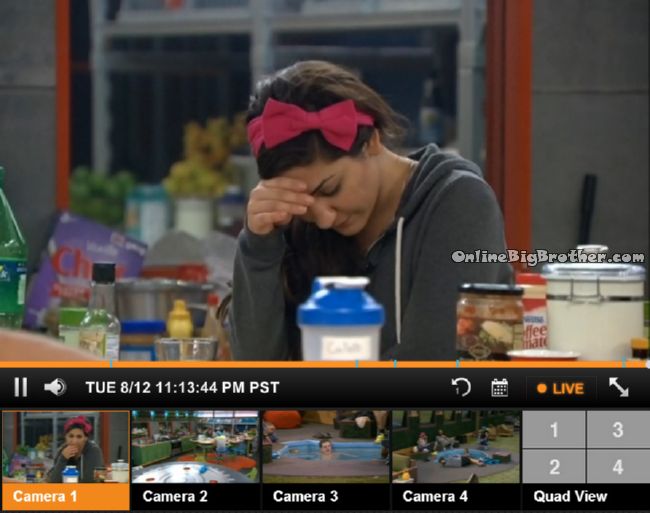 11:14pm Official Nicole says Victoria is sick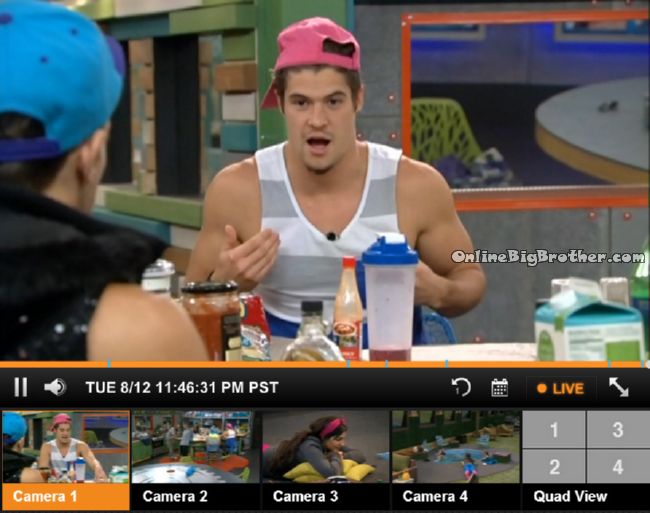 11:31pm Kitchen Zach, Frankie, Cody Zach talking about golf..
Zach tells them if you start playing golf as a kid you go pro "Golf isn't very competitive.." Mentions living in Florida is ideal for Golf unless theres a hurricane you can be outside golfing.
Zach says 150 players have their tour cards.. explains if you are in the top 50% you get 40K for 4 days work.
Zach says he's been pushing his brother all his life to play golf. Zach says he's been working with his brother building up his gold skills. Cody mentions how he heard golfers don't make a lot of money unless they are really good because of all the travelling.
Zach – Every single week there is a tournament.. If you win a tournament you are exempt from losing your card.
Zach rattles off gold tid bits about gold.. Tiger woods is Jacked, Jake Nickolas has 5 green jackets, Tiger woods has won 71 tournaments. Zach adds that where he lives is a mecca for playing golf, there's 4 gold courses. It's where the Honda Classic is the headquarters of PGA NATIONALS, "the best golfers in the country live where I live.. "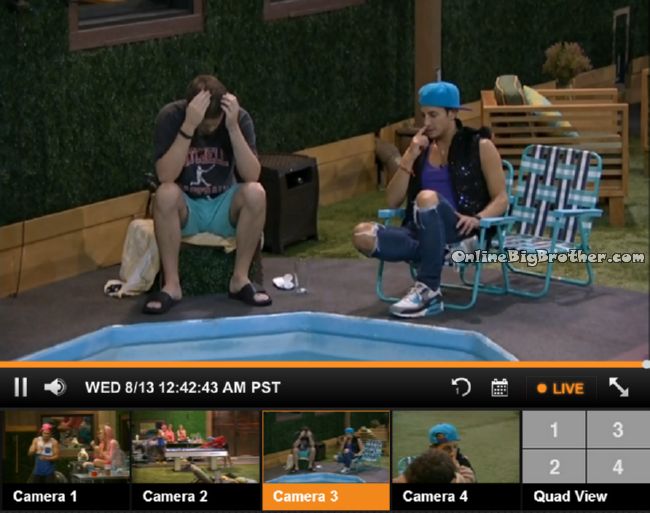 12:19AM Frankie Derrick
Frankie says Victoria is such a mess right now.
Derick -they are going to want Donny out next week that's going to be a problem for us.. He's going on the block..
Derrick says they are fine if Donny wins the HOH he won't put them up. Frankie says Caleb won't either.
Derrick tells him he's got America's favorite in the bag.
Christine comes back they chat about twitter, Christine is certain she'll get in twitter fights.
Christine – there's some BB fans that are heartless
12:45AM Chit chat..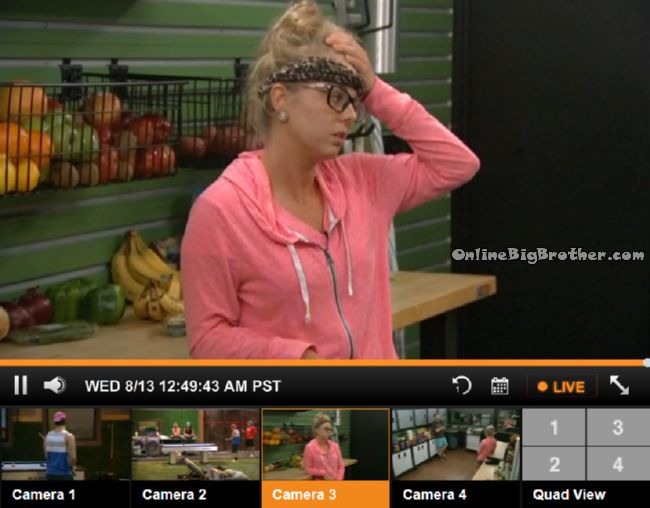 12:48AM Derrick and Nicole Storage room
Nicole says she talked to Cody.. Feeds cut in the middle of this conversation .. Derrick says he doesn't get the impression that Christine wants Nicole to stay. Nicole says Frankie, Zach and Caleb are not budging. Derrick – So it comes down to Christine.
Nicole – Cody truly wants me to stay'
Derrick – I do to
Nicole – he says I got screwed I took the fall for the entire house.
Nicole adds that CHristine is blaming her going home on the boys.
Nicole – I'm better for you and cody's game
Derrick – Agreed..
Derrick says her best chance of persuading Christne is with Cody.
Derrick ads he's been wanting the people that deserve to stay in the game to be in the game.
Nicole says DOnny has been feeding her information and she doesn't think DOnny is going to work with Derrick.
Derrick – I don't want to work with him
Derrick thinks she's making some very good points, "You never know keep your heads up.. This is what i'm telling you before she put you up she knew she had three votes.. who's those three votes are I don't know but I can tell you it's not me"
Derrick – Keep your head up OK i don't want you moping around this house.. I'll talk to Cody"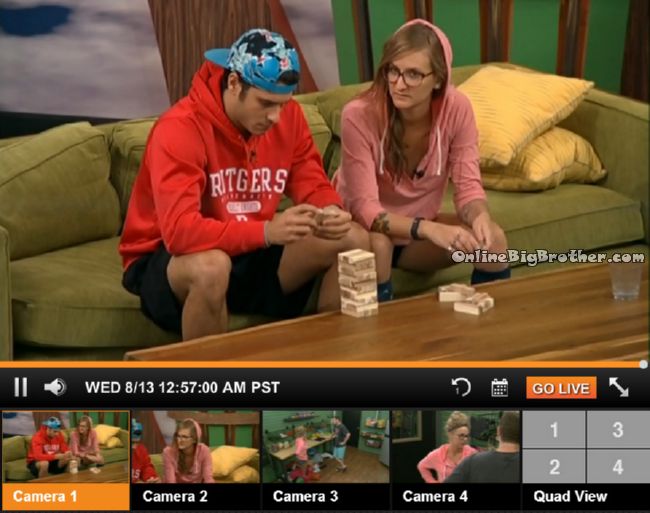 12:56AM COdy and Christine
Christine says Nicole is not coming after her and Cody but if Nicole stays Caleb, Frankie and Zach will be pissed.
Cody – I'm telling you this right now Zach will flip on us for Donny.. If Zach wins HOH he won't saned hom Donny.. he'll say F** whats good for you guys I'm going to do what's good of me."
Cody tells her Nicole was very much pro getting Frankie out
Cody – She wanted Frankie out BAD
Christine – Really
Cody – so bad
Cody's says they've been sending people home that are not targeting them. Cody doesn't trust Nicole says she makes up stories .
Cody is worried about Zach and Donny have a deal..
Christine thinks there's a good chance Nicole is manipulating them, "She flips her story"
Cody says they're taking a bigger gamble keeping Nicole over Donny.
1:15am
late night shift begins playing with the Jenga..
Where the vote stands.. Nicole is going to jury
Alliances
The new bomb squad – Caleb, Zach, Derrick, Frankie, Cody, Christine
"The HITMEN" – Cody & Derrick
Team America = Donny, Derrick, Frankie
More polls here https://www.onlinebigbrother.com/big-brother-compendium/big-brother-16-polls/
[polldaddy poll=8233586]
Share it YO!
Tweet