POV Holder:
Zach
Next POV
Aug 16th
POV Used
Yes
POV Ceremony
Aug 18th
HOH Winner 1:
Nicole
HOH Winner 2:
Christine
Battle of the Block Winner
 Frankie/Caleb
Next HOH
Aug 15th
Original Nominations:
Nicole's Noms (Caleb & Frankie) Christine's Noms (Zach & Donny)
Final Nominations:
Donny & Nicole
Have Nots
Donny and Zach
POV Players
Christine, Zach, Donny, Nicole, Caleb, Derrick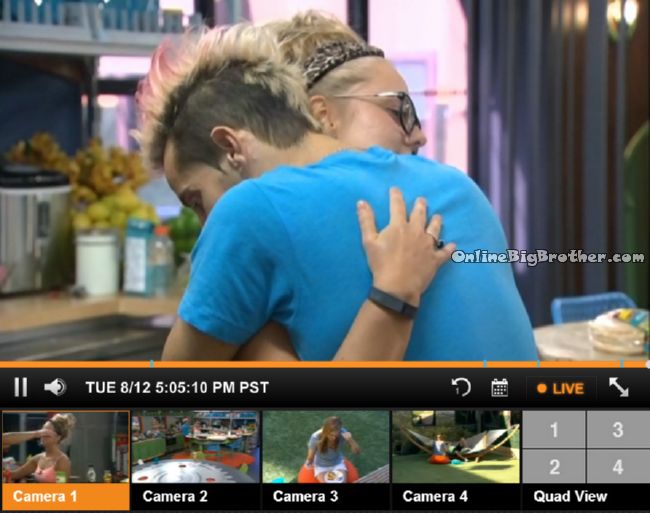 5:05pm Frankie and Nicole hug it out they say sorry it's just a game.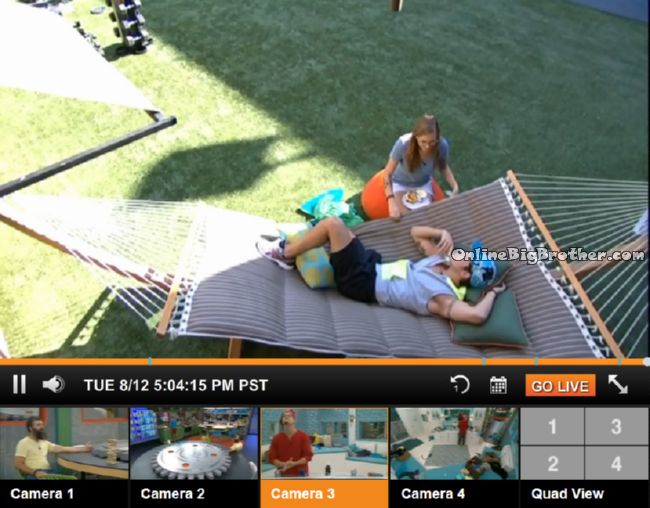 5:06pm Hammock Christine and Cody
Christine says one of her questions was how does it feel to be offered so many alliance and did you expect that she could bring that up in front of Nicole and Donny.
Christine answer that people think she's smart because of her glasses but Nicole is the smart one Christine can't see,.
Cody tells her a long "nightmare" about getting in fights with people on the streets. In this dream he goes out for dinner with pauly, Derrick and his siter. Calls some guys out confronts them they pull out a gun shoot him but he's bulletproof. He chases the thugs down calls them out fights them etc etc..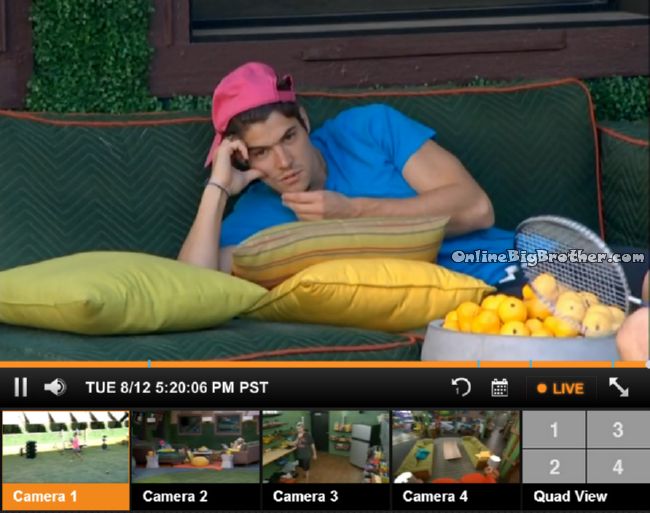 5:18pm backyard Zach and donny
Donny – I have to ride it out let the chip fall..
Donny say whoever he talks to or makes deals with people it doesn't matter they will just change up in the end.
Donny – I was never in on the majority vote.. never no one told me about the majority.. this last time they told me the opposite.. Hayden was right he told you the truth"
Zach – I know
Donny is going to ride the beard until the end if he doesn't go this week theres a good chance he'll go next.
All we have is a month and five days.
Donny always thought those duck dynasty guys toka lifetime to grow their beards but donny's beard is only 1 year.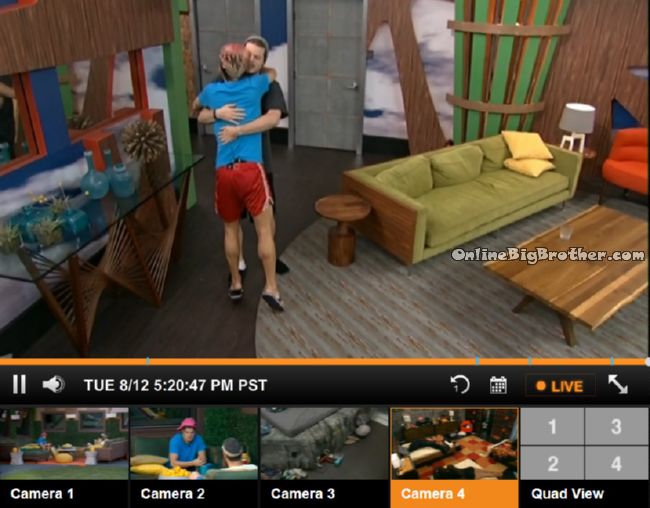 5:20pm Frankie and Derick
Frankie tells him Nicole has made peace with him today before she's sent to jury. Adds that Nicole is ashamed at how she's played the game recently but is proud of ther game as a whole. Derrick point that the Jenga game may be a hint from production the upcoming HOH might be like that, "THey've done it before.. don't tell anyone"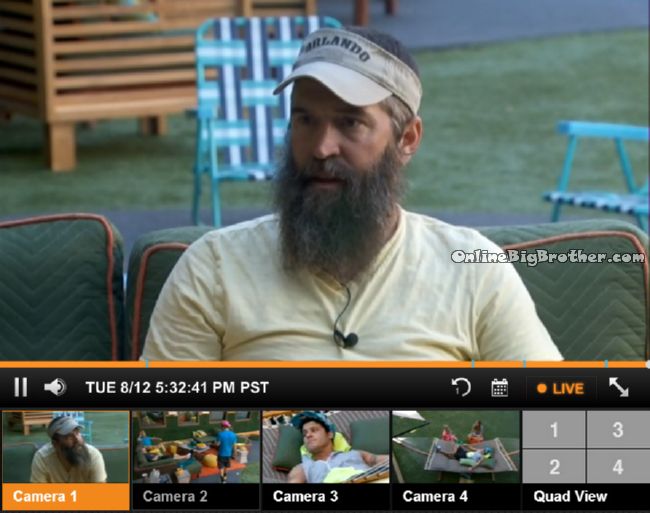 5:28pm Donny and Derrick
Derrick tells him he's good Christine wants Nicole Gone, "You only need three votes.. if it's a tie CHristine won't keep her she just backdoored her.. you have to be mentally prepared for thursday"
Donny – If I win you and him (Frankei) are not going up.. If I win we can collectively decide who to put up.
Derick says the number one thing is to keep Donny safe this week, "We're going to pull this off I didn't think we could do it but we did.. do you think he'll vote for you"
Frankie joins them, Derrick – you only needs 3 you have 2 right here..
Derrick hopes that the ream america tasks from now on are not Game related he doesn't want to mess up his game for it.
Zach finds out as a have nots he can drink Chocolate almond milk. Donny mentions that last time Zach drank a lot of that he got constipated now all he's eating is peanut butter and drinking almond milk.
They've been talking about their jobs, Derrick made up one and DOnny's real one. THey say they like the unpredictability of being a grounds keeper.
Derrick says he's still got a few things on his BB bucket list.. Still needs to get a Veto and be zinged by the zing bot.
Zach – what the hell can they say about you
Derrick – they are going to crush me.. CBS has some of the best writers
Derrick starts saying that Nicole went to a very prestigious nursing school she finished a 5 year program in 4 years, "She's a beast. (Derrick brings this up a lot)
Beat Mode and Frankie roll in..
They start talking about Christine always following Cody around.. Frankie says he use to be attracted to guys like Cody but now he's more attracted to Caleb type guys, "Once you go Beast mode you never go back"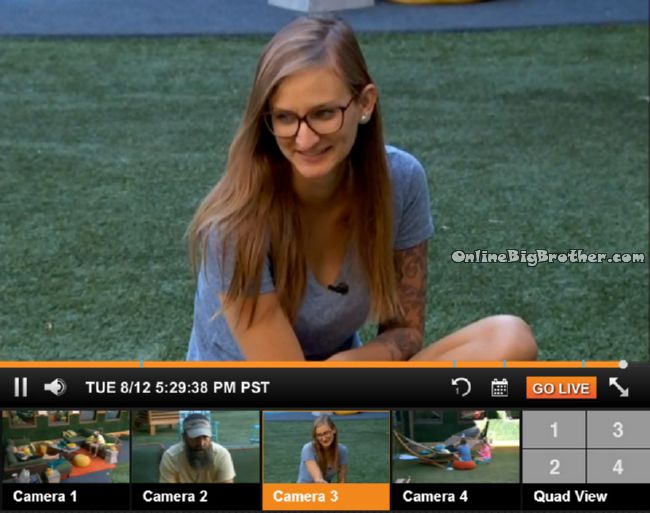 5:29pm Hammock Christine, Cody and Nicole
(Mostly chit chat.. one tid bit)
Christine to Cody – Brittany and Amber wanted you so hard it was awkward to watch. Made me feel uncomfortable.
Nicole – True
Christine – I was like Girls lets calm down be more sly about it maybe you'll get some
Cody – It was uncomfortable.. why
Christine – Because they were so awkward about it.
Nicole – Especially Amber.. didn't see Brittany that much.. I asked Brittany if she liked you and she laughed for 10 minutes and said you were only 23.
Christine – she never said no I asked her to she never said no..
Big brother tells them to take down the shades from the windows.. Christine and Cody treat it like a competition and WIN!
The Live Feeds are archived. You can go back and watch everything that happens
Try It Free! Subscribe now to the official BB16 Live Feeds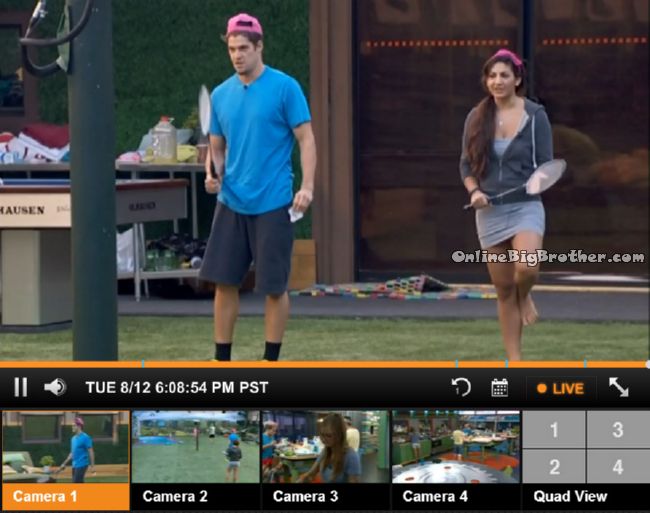 6:09pm Victoria dressed for Badminton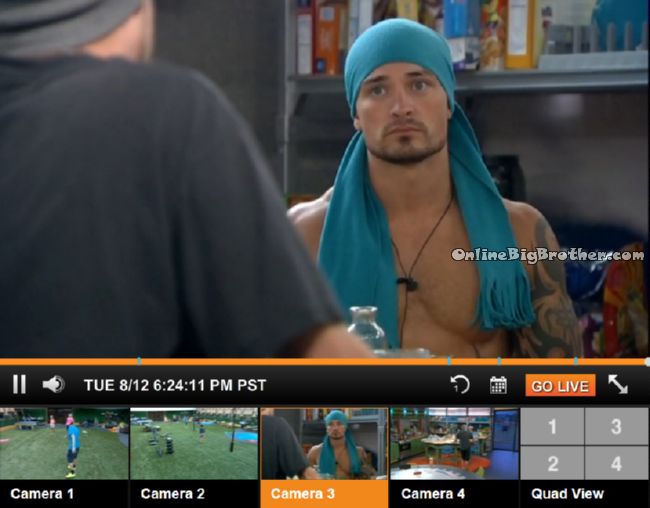 6:19pm kitchen Derrick, Frankie and Caleb
Caleb says he's been asked to do straight porn 3 times when he lived in Nashville "I would never do that.. it was for quite a few thousands.. beast mode was like sorry ladies and gentlemen this pen1s is mine and it's not for sale.. "
Frankie thinks they should have a gentlemen's agreement if you are on the block you're not a have not.
Derrick says it's impossible top do that.
Caleb – If I win HOH i'm putting Christine and Victoria on Slop
Derrick – Victoria has done it twice..
Caleb – I don't really care how many times
Derrick – I'm just saying
Caleb – One of them is going home
Derrick – Christine has only done it once .. Vciotira has done it once I see your logic in that.. Cody has done it twice..
Frankie – I've only done it once
Derrick – you had you had you had a circumstance.. that's a lot different actually
Frankie – A lot different
Derrick – In my opinion a lot different
Caleb – I've done it 5 times basically
Frankie – Caleb I promise you I will not make you ha have not
Caleb – I've been a have not twice where I slept in the bed.
Frankie – Christine has only done it once and it was the longest time ago.. I just finished doing it..
Derrick – ya last week.
Frankie will do it again just doesn't want to be on slop and on the block.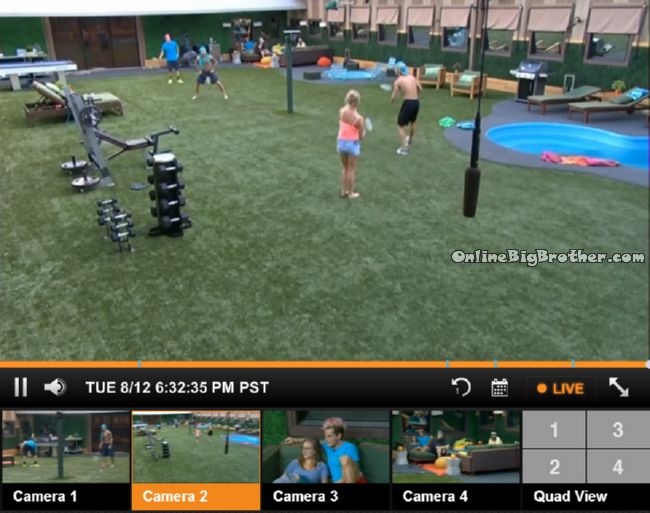 6:40pm Badminton and chit chat.. Cody, Nicole, Caleb and Zach are playing badminton. Christine, Frankie, Donny, Derrick are on the couch watching..
Christine tells them about her twitter questions I said "Dear Dan gheesling I love you please love me back"
Frankie – Who?
Christine – Dan From season 10 and 14
1) What would you do if you win
2)Whose game are you trying to imitate. or who do you think you are playing like
3) ?
She can't say the third question.
Derrick – can you tell us the question and not the answer
Christine – No
Frankie chimes in says he had a question he couldn't tell them "how hard is it keeping your big secret"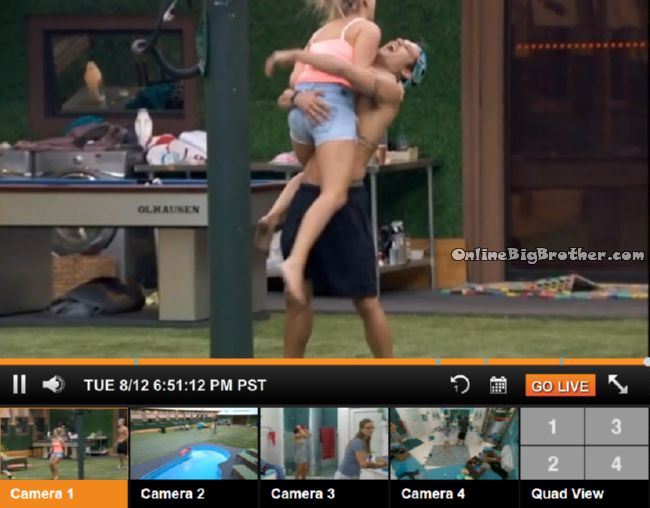 6:51pm Nicole and Cody win the Badminton game.
Caleb wants to play again. Nicole says she's played 5 games wants to take a break.
Zach – you win by hitting the F*** birdie on my f** balls
Nicole – did i Really hit you
Zach – No.. but I made it look that way .. They laugh
Zach – You're a breast Nicole a Beast there's no denying it.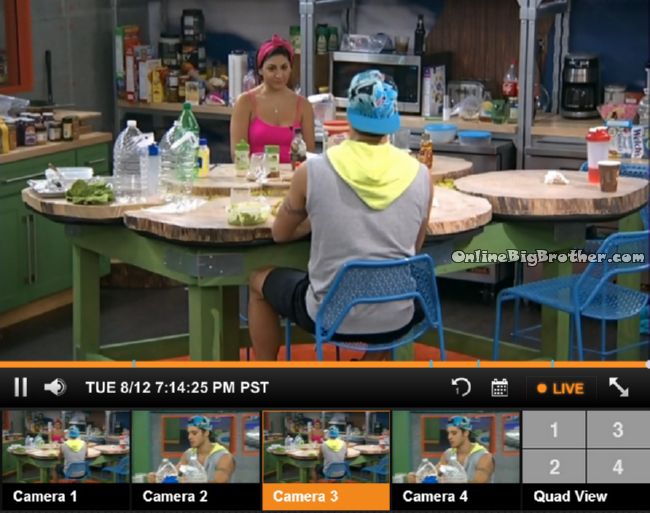 7:11pm Kitchen Cody and Victoria
Cody says he hates it when good people like Nicole are leaving and players like Frankie and Christine are still in the game.
Victoria asks him if he could talk to Christine. .
Victoria wants Nicole to stay. Cody plays it up that he was surprised Christine nominated Nicole. Victoria says Donny is more of a threat to Christine's game than Nicole. Cody tells her when a HOH backdoors someone they usually want that person to go home, "Once this decision gets made.. it's stuck" Victoria wonders if it's a buy back next week. says if Nicole stays and HAyden comes back with Donny they're f*** . Cody wants Donny out next week.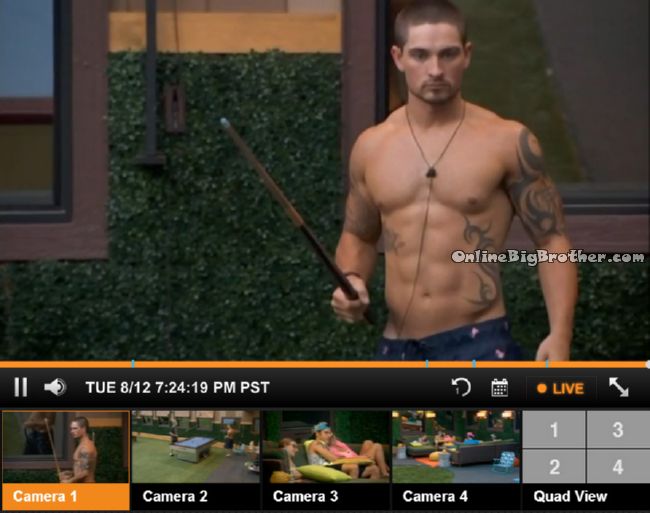 7:20pm Caleb and Derrick pool
Derrick saying beating Frankie in the final 2 will be hard given his sister's fame and his plans to give the winnings to charity. Derrick is really stressing this.
Where the vote stands.. Nicole is going to jury
Alliances
The new bomb squad – Caleb, Zach, Derrick, Frankie, Cody, Christine
"The HITMEN" – Cody & Derrick
Team America = Donny, Derrick, Frankie
More polls here https://www.onlinebigbrother.com/big-brother-compendium/big-brother-16-polls/
[polldaddy poll=8233586]