POV Holder:
Hayden
Next POV
Aug 2nd
POV Used
YES
POV Ceremony
July 28th
HOH Winner 1:
Frankie
HOH Winner 2:
 Zach
Battle of the Block Winner
 Nicole/Christine
Next HOH/ Next BOB
July 31/Aug 1
Original Nominations:
ZACH's Noms (Christine & Nicole) Frankie's Noms (JOcasta & Victoria)
Final Nominations:
Amber & Jocasta
Have Nots
Nicole, Caleb, Christine, Derrick
POV Players
Frankie, Victoria, Jocasta, Donny, Hayden & Christine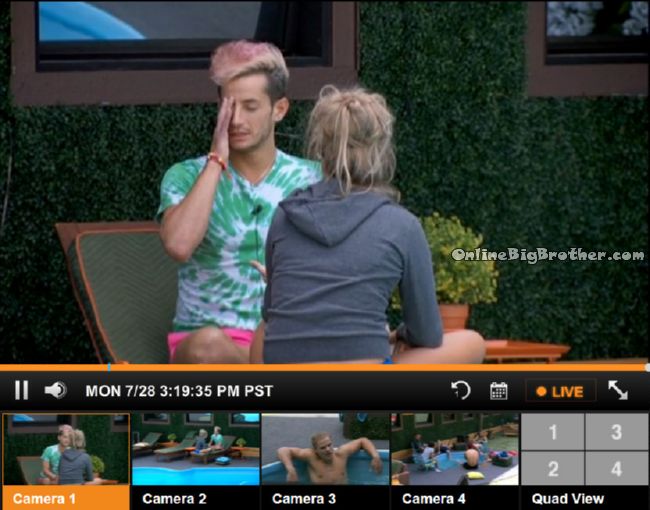 3:20om Backyard Frankie and Nicole
Frankie saying they are going to have to all get together and tell Caleb that they want Amber gone. Nicole is worried Caleb is after her. Frankie tells her to not worry the only person Caleb is after is Zach.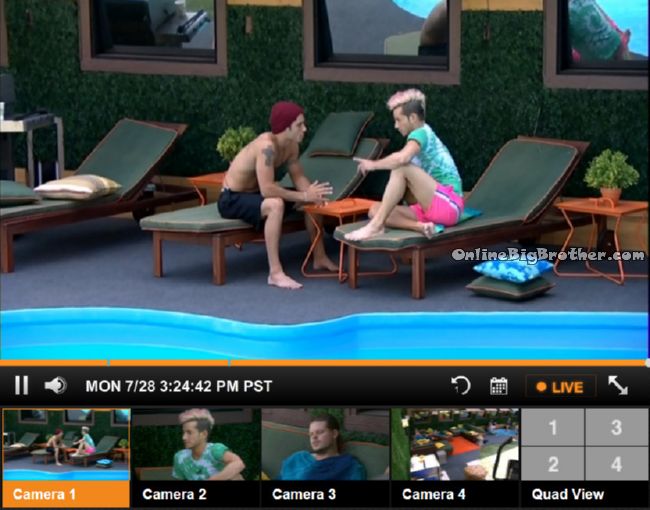 3:23pm Frankie and Cody
Frankie says Caleb basically blew up the whole plan to Amber.
Frankie says now the plan is not to lie to her face just tell her she's going home and send her home on Thursday
Cody wants to know what Caleb said.
Frankie explains that Caleb told Amber he figured out the plan to put her on the block as a test he told Frankie and the guys they were all onboard
Cody sarcastically says – thank you for showing us if something blows up you throw us all under the bus.
Frankie says he got Nicole and Caleb together and Nicole told caleb Amber came up to her and told her the guys are going to pick the guys
Rewatch any moment on the live feeds with a subscription Try It Free! Get 24/7 access to the house PLUS more for 48hrs before you decide!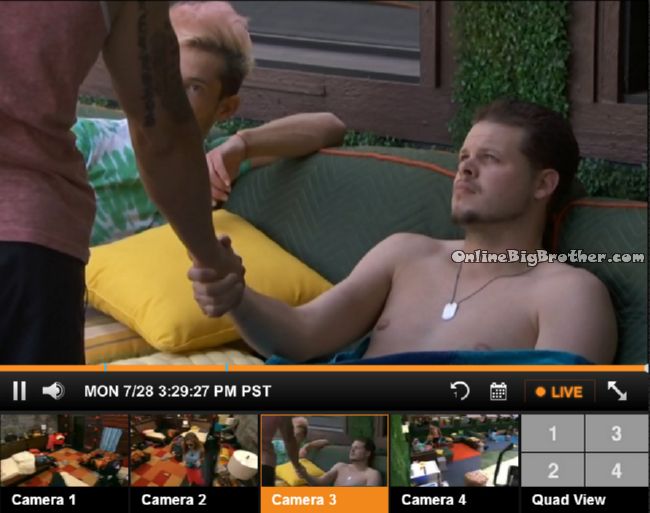 3:30pm Backyard Caleb, Frankie, Cody and Derrick
Cody called into the Diary ROom as he gets up to leave he goes to shake Derricks hand. He's holding his hand saying. "I got your back at the end of the day I got your back
Derrick you're scaring me bro
Caleb – "I got both your backs" Caleb leaves
Frankie looks at Derrick "Caleb told Amber everything .. He proposed the plan and we were all in on it"
Derrick – are you serious
Frankie – He f**d us over with Amber.. I told him we have no choice to vote her out now she hates his gut and he's going to look like an a$$hole in television"
Cody thinks they should say we did it to keep the blood off their hands. Derrick thinks it's time for them to come clean about it say ti her they didn't know. Cody feel they should make up a story.

3:34pm Cody and Derrick
Derrick is saying they shouldn't lie anymore. Nicole joins them
Nicole says Frankie told caleb that amber told her about an alliance when Caleb pulled her in into the BEEHIVE and asked her about this she told him the truth.
Nicole adds that Frankie is running around lying and trying to cover all this stuff up.Frankie was trying to use Nicole to pit Caleb and Amber against each other. Nicole he's making up stuff she said to me that she didn't know about it (Frankie told Caleb that Amber blew up the alliance and said all this "Sh1t". He never talked it all threw with Nicole only the detonators knew he was going to do this. Clab confronted Nicole and she wasn't on board with lying to Caleb)
Nicole – I'm going to keep being brought in the middle when I didn't do anything"
Nicole -"frankie didn't admit that to you.. I swear to god .. it pisse me off" (Nicole thinks that Frankie isn't telling people that Nicole wasn't part of his ploy so everyone will assume it's Nicole getting in the middle of things)
Derrick says he believes Nicole over Frankie
Nicole says this is turning into a giant mess
Victoria comes in
Cody – this is going to blow up don't worry you will fall out of it.
Cody and Derrick tell the girls the storm is coming.
Nicole says this makes her sick she's not going down for something she didn't do, "People are scrambling now trying to cover their freaking tracks"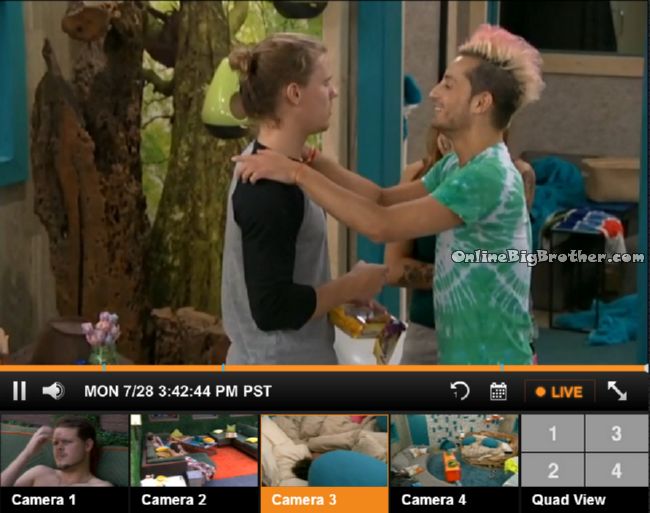 3:41pm Cam 3 HOH Frankie, Cody, Hayden and Christine
frankie explains again what went down… (this past hour he's been speaking a mile a minute)
Caleb grabs Nicole and asks her if Amber blew up the bomb squad
Nicole said no
Caleb pulls in Amber asks her did she blow up the bombsquad She says no. He then asks if what she thought about the date and Amber said she had a good time.
Caleb pulled Frankie into the beehive and frankie told him Amber told Vitoria theres a guys alliance and they are coming after the girls, "how is that not blowing up the bombsquad"
Frankie tells them if Amber comes up to them just tell her she's going home
Frankie told Caleb he is the one sending Amber home this week if Caleb keeps it up he's the next target, "Shut the f** up…Caleb "
Frankie – Oh by the way he's the next target
Cody warns them that Nicole might be pissed for being pulled into the middle Frankie doesn't think so says he talked to her about it she's good.
Nicole and Victoria come in
Zach – So this week worked out unbelievable perfect
Cody says it would have been perfect if she was blindsided.
Frankie mentions how crazy it is that Caleb thought Amber was going to run back into his arms.
Cody says he thinks it's petty and immature that he made up a plan to put her on the block so she would ran to him.
Zach tells Nicole and Victoria that Caleb asked Frankie to put Amber up "BTW"
Zach – Caleb really outdid himself.. he is a mastermind genius .. he's a borderline super genius that he came up with such a crazy elaborate intricate scheme to win his girl back and it failed miserably"
hayden – If I was Amber that really shows me love
3:49pm Nicole and Victoria
Victoria says she's not cool with frankie for putting her on the block.
Christine says Frankie is trying to get amber and Caleb against each other and he's using her. He made up a bunch of stuff about Amber telling Nicole caleb pulled nicole in and asked her if these things were being said and nicole says they weren't.
Frankie made up a bunch of crap and he's scrambling, I was thrown under the bus for no reason and it's fricken annoying i'm trying to keep calm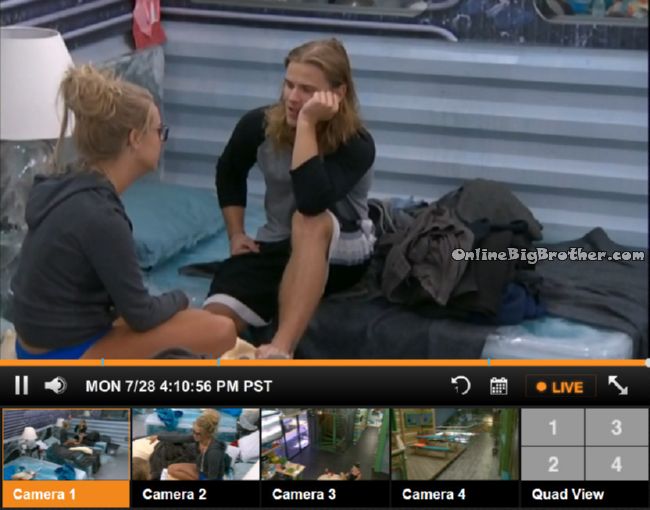 4:11pm Hayden and Nicole
Nicole goes one about Frankie pulling her in the middle. Hayden tells her all the guys knew about it she's good. Nicole smacks his leg is made that they didn't tell her "you guys are A-Holes for not telling me you are not using me..I feel like Danielle here.. I hate you guys.. Did Christine know"
Hayden – I don't know
Nicole says Frankie always looks so worried. hayden says don't worry he'll be gone soon.
4:13pm Caleb and Frankie
Caleb says it sucks when you put it all into one person.. The only thing he can do is believe what she said about the date was true.
Frankie says he's the one more person that has his back "I wouldn't lie to you caleb .."
Caleb – "I thought sach would "
Frankie – He would, Zach lies…. she's run her mouth off to a every one
CAleb was just talking to Cody last night how much he would like Zach to go home.
Caleb says if he knew Zach was going to blow up the bombsquad to Nicole he would have told them to backdoor zach this week.
Frankie didn't know about what Zach did
Caleb knows that CHristine and aMber did why didn't they say anything to them.
Frankie – "Every single person is gunning for Zach"
Frankie – "She doesn't f***ing deserve you it's over"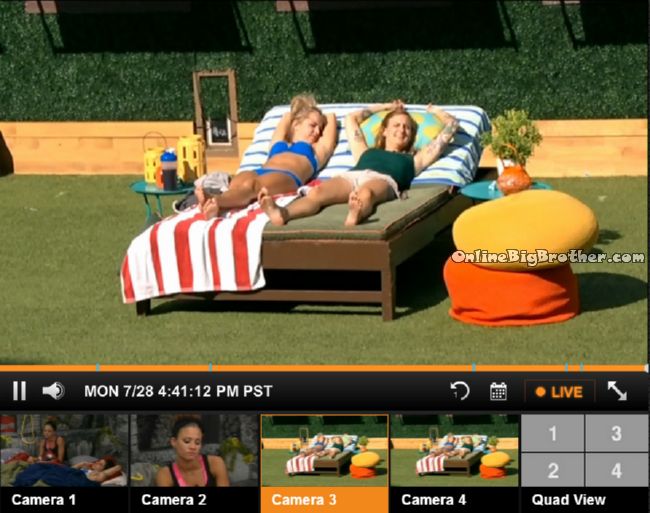 4:40pm Nicole says she's feeling better now knowing that the guys were in on it so she's not looking bad.
4:56pm FIREROOM Caleb and Derrick Caleb trying to get the votes to keep Amber thinks Jocasta won't do anything to their alliance. Caleb at the end of the day it wasn't supposed to go down this way… Amber is a vote for us Jocasta isn't. Caleb believes that the house will vote to keep Amber only Zach will vote to evict her.
Derrick says he might be coming out of here looking like a fool he needs to talk to Zach and find out what she really was saying. She might be makign him look lilke a fool in fron tof his family.
Derrick – You are going to see it outside this house and you are going to feel like a f***g fool.. honesty .. thats me talking to you man to man"
Caleb – "At the end of the day that's personal though"
Derrick – right she shouldn't be saying that because it doesn't affect the game.. She's making you look like a fool to your family watching it.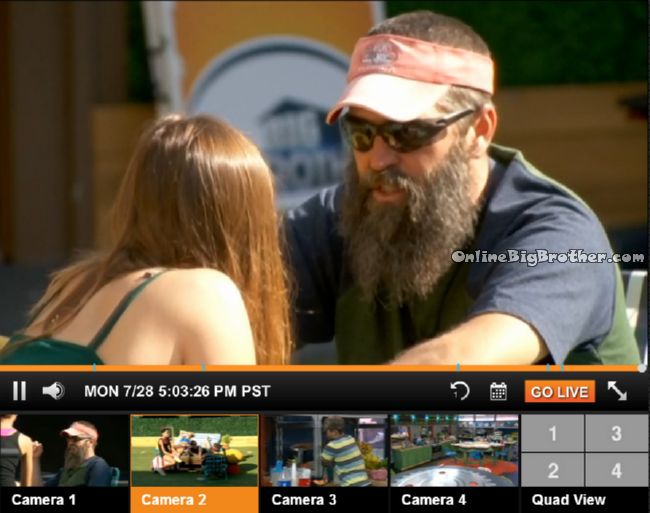 5:03pm Donny and Christine
Donny is saying that Jocasta is just his friend and she a person they can trust and rely on a vote, Donny doesn't think she's going to nominate Christine. Donny want to keep Zach around because it keeps the target off them. Everyone wants to target Zach.
Christine says she's been trusting Hayden a lot lately Donny does to
Donny proposes they assemble "you me Nicole and Hayden" .. Christine 'GOLDEN"
Amber comes by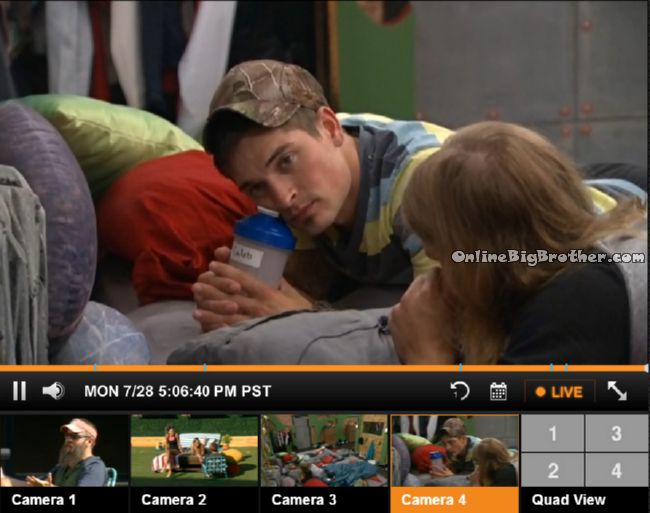 5:05pm Rocke Room Caleb and Hayden
Caleb says it sucks that Amber is going home he feels bad after all she scarficed to be on teh show. He knows how much the money would help her even just getting to Jury. Caleb wonders who would want to keep amber
Hayden – Dude she's doesn't talk highly of you and it's hard for us to listen to
Hayden explains that Caleb pours his heart out to Amber and she doesn't reciprocate anything back.
Caleb – Definitely personal reason..
Caleb says he gave her his word and doesn't like going back on that.
5:10pm Caleb and Derrick
Caleb says he just wanted to get Amber's number
Derrick wishes he had a gun
One way to support this site that doesn't cost you anything extra is making your Amazon purchases through the links below Amazon.com OnlineBigBrother Link
For Canada use link Amazon Canada OnlineBigBrother
Alliances
Zankie = Frankie/Zach
The Detonators = Derrick, Frankie, Zach, Christine, Cody
Final 2 Deal "The HITMEN" – Cody & Derrick
Trilogy = Nicole, Christine & Hayden
Team America = Donny, Derrick, Frankie
Old timers = Jocasta/Donny
Nicotine = Christine/Nicole
(Defunct or unknown status)
Bomb squad = Caleb, Amber, Frankie, Derrick, Cody, Christine, Zach, Hayden
Not a showmance= Hayden/Nicole
Los Tres Amigos = Derrick, Cody, Zach
The bottom Feeders = Derrick/Nicole
We hate Devin = Christine and Zach
Outsiders = Brittany, Victoria, Jocasta, Donny
Stalker = Caleb/Amber
Quad Kings = Derrick, Zach, Cody and Hayden (still being built)
More polls here https://www.onlinebigbrother.com/big-brother-compendium/big-brother-16-polls/
[polldaddy poll=8207784]