| | | | |
| --- | --- | --- | --- |
| POV Holder: | ? | POV Used | ? |
| HOH Winner | Caleb | Nominations: | Frankie and Victoria |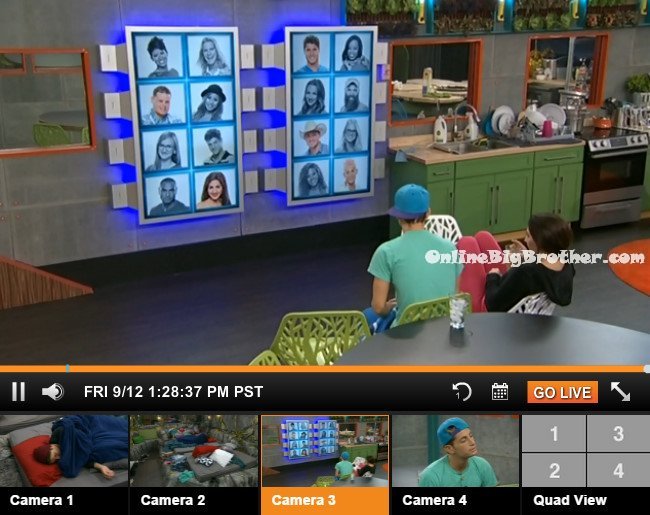 1pm Frankie is awake eating breakfast in front of the memory wall studying the faces for the upcoming face morph power of veto competition. Victoria is in the bathroom getting ready for the day. Victoria joins Frankie in front of the memory wall. Frankie comments about when she went to sleep and how he didn't hear Derrick come to bed. Victoria says that she sat by him last night and he moved his chair away. So I got pissed and just walked away. Derrick walks by and goes to the bathroom. Frankie joins him and hugs him. Derrick says its unbelievable. Frankie says they love us. Derrick says it doesn't change anything we still have got to get there. Frankie says this is affirmation that they've seen how hard we've worked Derrick says yeah because they chose that. So either way its a win. Frankie hugs Derrick again. We've got to get there. Derrick says its still going to be difficult and if we do we're guaranteed to win 550K. Derrick says there's nothing we can do with the jury at this point they're already there. If they're bitter, they're bitter. Frankie says and they love us together. Derrick says oh America, yeah. Absolutely. Derrick says and this is in addition to what we've already won so you're going to be around 575K. That's mind boggling. Mind Boggling. But we've got to get there. Frankie says today's an important day. Derrick says it starts tonight, one of us has to win the veto. But if Cody wins it he's going to keep the noms the same. Same with Caleb. Frankie says but apparently I would.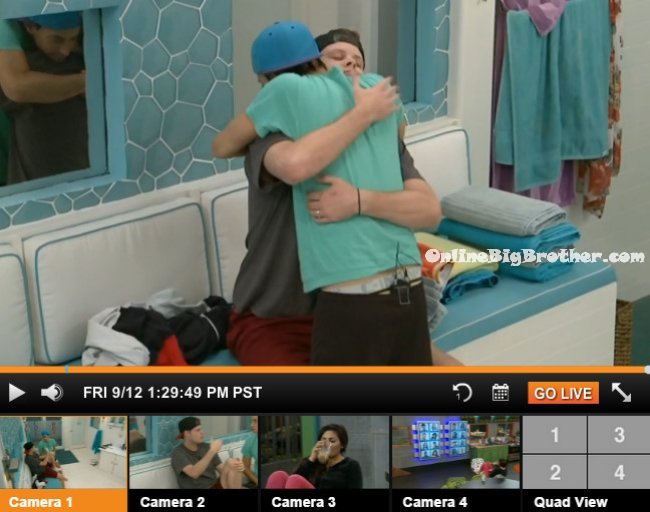 Big Brother 16 Live Feed FREE TRIAL – Use the FLASHBACK feature to watch everything you've missed!
1:30pm – 1:45pm Derrick sarcastically says exactly that's why I don't trust you. That's why I went to Caleb to try and get you out with Cody. Second time I've done that now. Frankie says my god .. well Caleb has to go next week .. there's no other option. Derrick says I agree. He's a great kid but he just knows he can't beat you.
Derrick "it's still gonna be difficult to get there but we can do it, we can definitely do it. and if we get together, we guarantee that one of us gets an extra 50 thousand"
Derrick says there's one thing you can't take away from you.. comp wins. Caleb always tries to one up you. He still doesn't think he can beat you. I think he's well liked in the jury. If we didn't make it together we would need to cross reference sh*t like he (Caleb's) done nothing. If Cody gets there everyone likes him, he's good looking. If you win today Caleb's jaw is going to drop but I don't think he wants you out this week. It doesn't matter because I'm not going to flip and Cody isn't going to. 1:35pm Derrick says "There is only one way, one option to guarantee that one of us wins $550k, and that's we both have to be there" . Because if I nick you off and I get there .. nobody might get it. One of us is going to be the biggest winner in Big Brother history! Derrick says I wish I had won more Comps. Frankie says but that was Dan's strategy. Derrick says but he won comps at the end. Derrick says even if we win HOH next week we still need to win veto to guarantee Caleb goes home next week. Derrick asks do you think we could beat Cody in the end. Frankie says Cody has less comp wins and has had no game other than flirting. Derrick says if the jury goes with the bitter aspect then we have no shot. Frankie says if its you at the end with Cody I will convince them. Derrick says don't even think like that, we're going to get there. Derrick says I would hate to be in the jury and that extra 50K goes up in the air and no one gets it. Frankie says America wants us to go to the end together. Derrick says they want us to win the money, they want us to go together. It's evident! Derrick says A) We like you! B) Go win Big Brother! and C) One of you can win 50K for doing it! Congratulations. Frankie says if I'm sitting at the end with you I'll split it with you. Derrick says okay .. enough said. Frankie says 100K second place. Frankie says if I win 550K, I will let you win 100K. Derrick says okay thank you. Frankie says the card should have read.. Big Brother blocks the feeds. Victoria joins them and the conversation ends.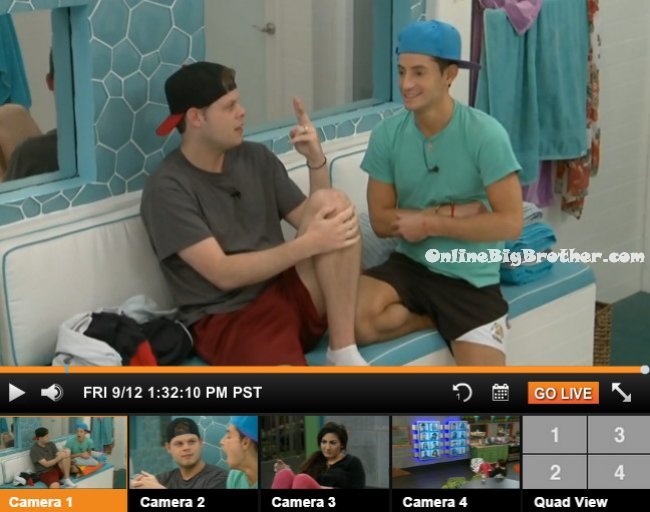 1:45pm – 2:25pm The house guests are awake in the kitchen chatting about random things and studying the memory wall. They talk about how they think the Power of Veto competition will be during the evening because the light will affect the projector. Cody is doing the dishes. Frankie, Cody and Victoria talk about the luxury competition. Frankie says that was the first time Jocasta broke a sweat. She didn't even break a sweat when she go dehydrated because she didn't have any water in her. Caleb joins them. Caleb says if this week is a double eviction.. I will be the last HOH up there. He says so from here on out I want each person to spend a night with me. Derrick says nope! Caleb walks away sad.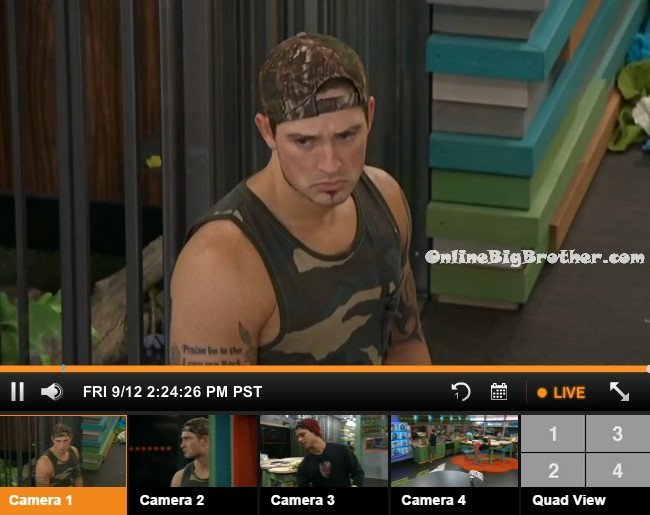 2:30pm – 3pm Cody and Caleb slow motion judi-chopping in the kitchen. They all then discuss what order the house guests names were on the board of the POV face morph comp. Cody, Frankie, Derrick and Victoria continue studying.
Caleb heads up to the HOH room to listen to his HOH cd and stares are his HOH photos.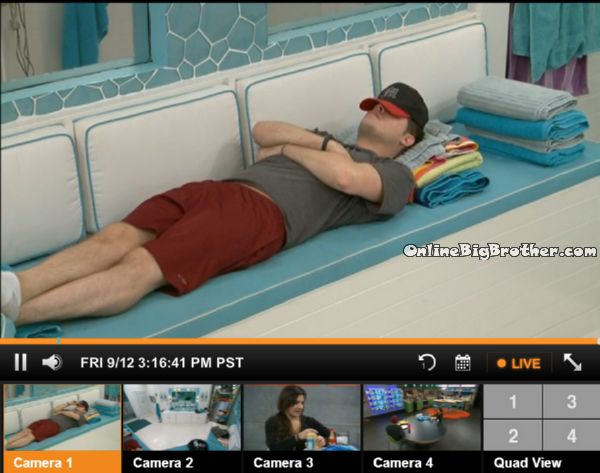 3:18pm everyone either studying or taking a break from studying.
50K vagueness
Lots of excitement about the 50K still vague but just to clear it up
Shelly Moore from BB13 asked CBS on twitter
"Did I read correctly that the @CBSBigBrother DR told Frankie and Derrick they would get n extra 50k if the make it to final 2? Fair? Not!"
Chris roach who works on Big Brother answered with this
"@ShellyMooreBB13 That is not correct"
Here's teh link to the tweet https://twitter.com/ShellyMooreBB13/status/510544806234570753
If you found value in our site, the work we do and the community we foster please consider leaving a donation using pay pal below.