| | | | |
| --- | --- | --- | --- |
| POV Holder: | ? | POV Used | ? |
| HOH Winner | Caleb | Nominations: | Frankie and Victoria |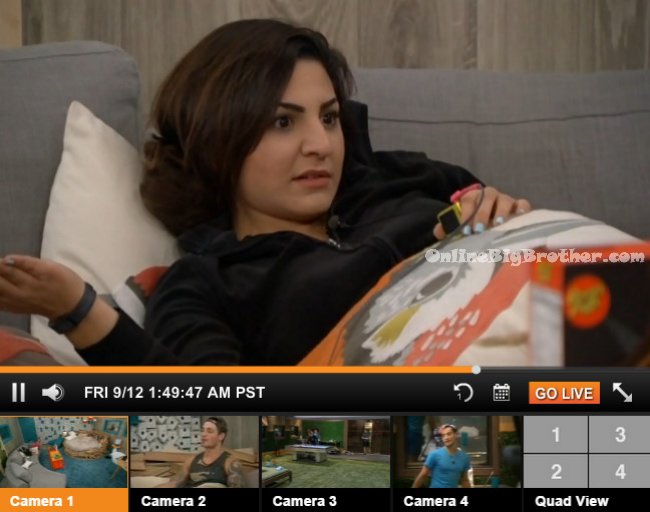 1:15am Victoria says that jury is so bitter. So bitter! Caleb says oh I know! VIctoria says it's kind of scary! Caleb asks What did we do? I mean I understand them trashing the house, flipping beds, throwing pillows. But literally like throwing all the clean dishes in the sink, pouring honey all over them. Victoria says dumping the trash. Is disgusting! Caleb says dumping the trash is the biggest one for me. I was like really, you think there's a chip in the bottom of the trash?! Victoria says they would never do that. Maybe they would put it in the bottom of the thing. Caleb says under the trash bag. Caleb says Jocasta had a chip on her shoulder until she ate it. What did we ever do to them? They just wanted to vandalise the house. Victoria says bring on the hate. I am still here. Like the bathroom door. Caleb says I think it was Christine, she wanted to be the last girl. When they announced you and Hayden won Christine was stomping her feet. When she left she acted like a baby. You call yourself a huge fan but you act like that on national television. Honestly I am scared to death of where we are right now because I can't play next week. Victoria says but you play in the veto and you control what happens. Caleb starts telling Victoria about the bomb squad. My alliance was a bunch of dumbos. Victoria says that's what happens when you start an alliance day 2. Caleb recounts the events of the house and how the bomb squad influenced the game. Caleb says some people were gone because they had no loyalty to anyone. Like Jocasta and Brittany. You were never a target because Derrick knew you enough. Derrick doesn't have the votes jury member wise. Like Jocasta hate him now. Caleb says Derrick is in the best position to go to the final 2 and win 50K. If it was me and Cody, that would be a tough one.
Victoria says I would vote for you to win out of all the 4 guys. Caleb says there are literally 5, 6 people in the jury that are in there because of the bomb squad .. my alliance. Caleb says most times 3rd or 4th usually place wins America's Favorite. I don't think Donny will win it. Was he a good guy and won when his back was against the wall .. yeah. A character in general. I'm sure a lot of people liked him because he was funny. But he's a 40 something year old man. I don't think our generation would you know?! Victoria says no. I think if I was going to have to guess who could beat me in America's Favorite maybe Frankie. Maybe even Zach but not really. He only won 1 competition. Caleb starts talking about Amber and how he held her hand and talked with her forever that one night. Victoria leaves.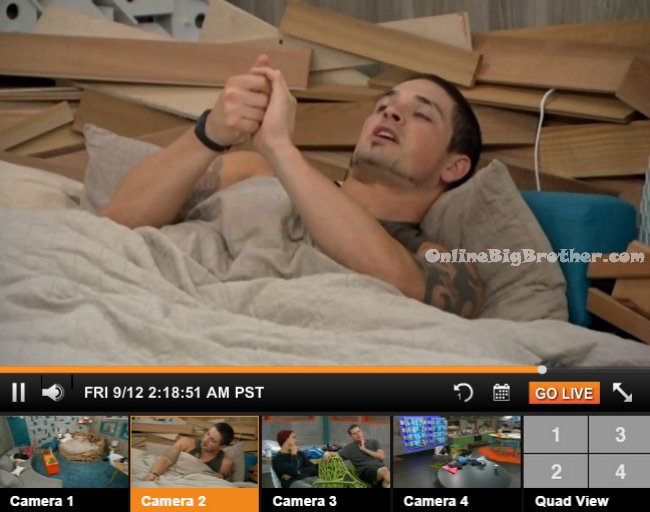 1:15am Meanwhile – Frankie and Cody are in the backyard playing a game of pool. Frankie says I honestly don't know if Caleb knows he's playing a game. Cody says no. Frankie says he just really doesn't know what's going on. When he put me up he said people were telling him so many things and he said he just didn't want to think about it. It doesn't matter because I'm not going anywhere. I have you, I have Derrick. Cody says so we can literally have fun in the veto tomorrow. Frankie says yup. We know what it is, but there is no way to really prep. Frankie says its morons versus geniuses. Cody says I am not by any means a genius. And you know that test we took coming in here, I know I didn't do too well. Frankie says I didn't do too well either, I spent way too long on the math.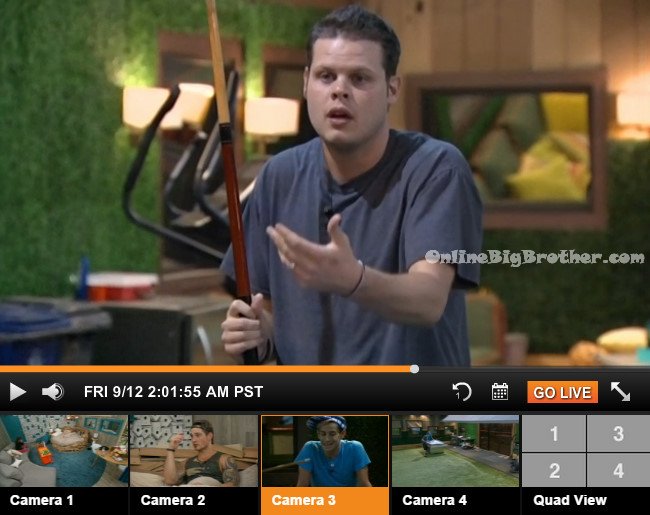 Derrick join them. Derrick tells Frankie that he doesn't need anybody. You're going to go out and win that veto and if you don't win it and pull yourself off then you'll see we have your back. Frankie says there's a way to handle things and there's a way to not handle things and when things are not handled appropriately there are repercussions. That's all I'll say! Derrick says when you're here next week and you win HOH, you make your decision and we'll respect it. Its very f**king simple. Its a game. Frankie says I've been saying this since day 1 .. well since Team America we're going to the end together. Derrick says I hope so Frankie, I really do. Frankie says stop saying that. Derrick says I know you've been tight with Caleb. If I told you something different I would be lying to you and I'm not going to do that. Frankie says I just don't want anyone questioning my word any more. Derrick says you haven't told me that much we're going to the end. I like hearing it. Frankie says I guess I've danced around it a bit. Derrick heads inside to shower.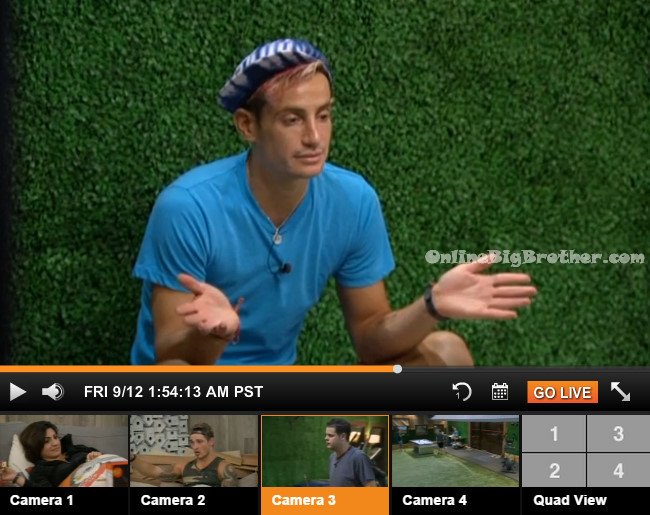 See what they can't show you on TV! -Try the Big Brother 16 live feeds for FREE!
2:15am – 2:55am Derrick studies the memory wall with Coyd. Derrick comes up to the HOH room. Caleb tells Derrick all about his conversation with Victoria and how she told him she would vote for him (Caleb) in the end. Derrick says if I win the final HOH you know I am taking you. And if you win it I would be like Caleb Please! Caleb says oh you know you don't got to say please, you already know I am taking you. Derrick showers. Victoria joins Caleb again.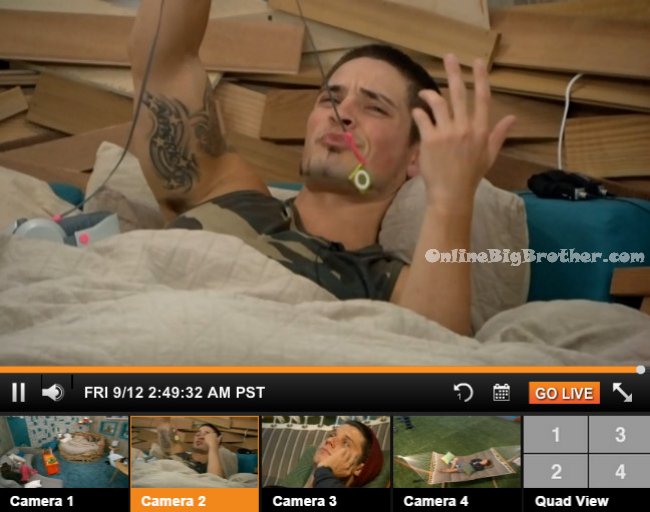 One way to support this site that doesn't cost you anything extra is making your
Amazon purchases through the links Below
For in Canada use the following link:
Amazon.ca
3am – 3:50am
Derrick and Cody are talking. Cody says I am just very very very over Caleb. I just want to win the veto and send Frankie packing. Derrick says I know we're all getting irritable. Cody says its going to be me or you that are going to beat him. Derrick says right, Caleb isn't going to beat him. Cody says the thing I think about we could have gotten rid of Frankie before. Caleb's ego is itching at me. If we blow it now, I would just be so mad. Cody says I don't trust Frankie but I do trust Caleb .. he's just an idiot. Derrick says if we can't get out Frankie, we try to but if we can't then Caleb goes. Cody says I don't think I will slow ball Frankie .. I will say I've been trying to get him out for weeks. Derrick tells Cody about how Caleb told Victoria about the bomb squad. Just throwing salt in the wound. Derrick says he is trying to line up his votes but he's not even going to be there. We will take Victoria to the final 3. Cody says lets just get it done even if she f**king wins. Cody asks do you think Caleb would use the veto on Frankie. Derrick says no. Cody says I just want to smoke Caleb on a different level you know. Victoria comes out to watch them. Cody heads inside. Victoria tells Derrick about about her conversation with Caleb. Derrick says we got Frankie on the block because Caleb thinks you're a vote for him and you hate me. Victoria says Cody loves Zach, it disgusts me. We are dealing with children. Derrick heads inside because he says he's getting paranoid. He says I love you, goodnight. Try not to marry Caleb.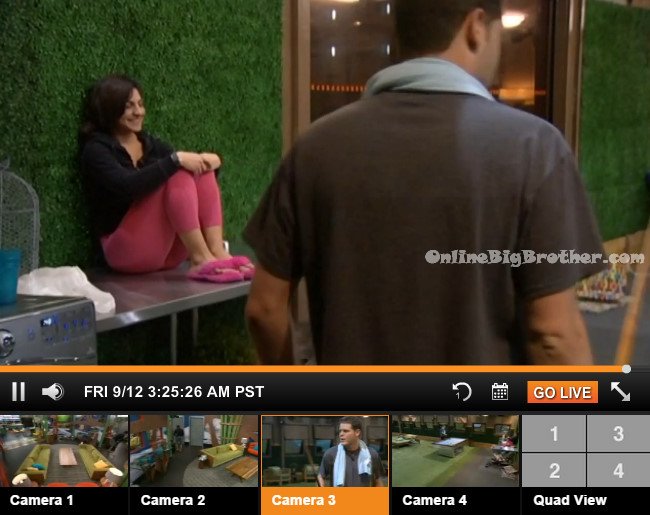 4am Derrick and Victoria studying.. Victoria heads to bed. Derrick stays up a bit longer to study the faces.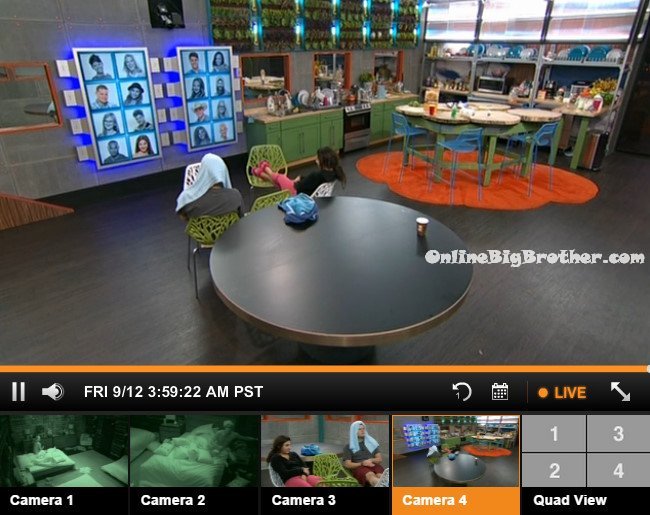 9:45am – 11:15am Big Brother wakes up the house guests but they all go back to sleep.. Caleb is up and studies the memory wall and then heads into the diary room.
12:10pm All the house guests are still sleeping..
12:35pm Frankie is awake getting ready in the bathroom for his diary room session.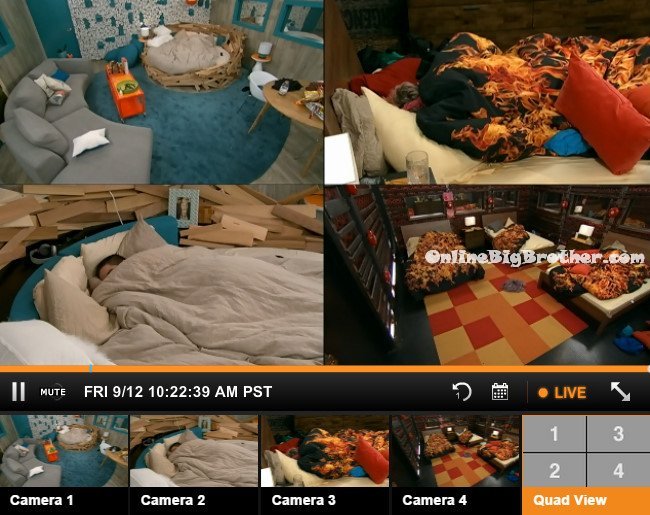 If you found value in our site, the work we do and the community we foster please consider leaving a donation using pay pal below.