| | | | |
| --- | --- | --- | --- |
| POV Holder: | ? | POV Used | ? |
| HOH Winner | Caleb | Nominations: | ? and ? |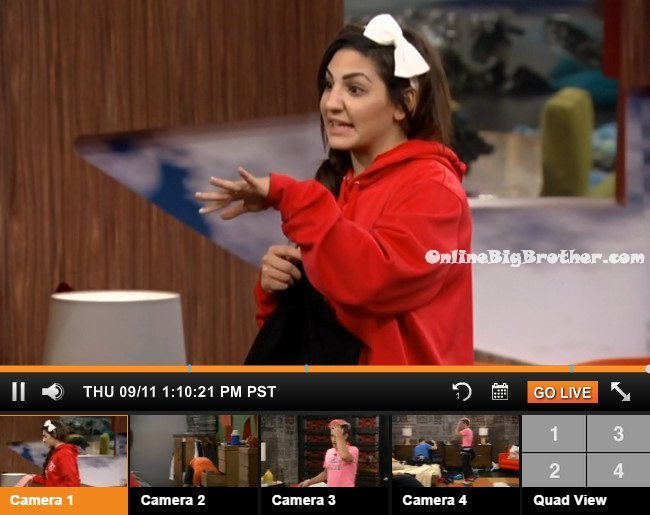 LUXURY COMPETITION Results:
Victoria WON $5,000
AND Hayden also WON $5,000
1pm The live feeds return from being blocked for the luxury competition. Victoria is in the living room talking about how she is pissed!! They better get me a new necklace!! The broke my necklace big brother!! They took my clothes now I don't have my necklace! Victoria says these f**kers! F**king A! Yeah Hayden I F**KING WON! That was my favorite necklace! They better get me a new one! I was going to wear that to the finale! I won and they're going to get me a new necklace! AND its going to come out of their pockets!! Victoria says I never expected them to dump garbage on the floor! That's disgusting. That is a bitter bitter bitter jury!! Frankie say oh yeah none of us are getting the money. Caleb says I don't think anyone did it on purpose. Victoria says that's bullsh*t. Caleb says big brother will pay for it. Someone probably stepped on it under a blanket or something. Victoria says no big brother isn't going to pay for it .. one of the jury members is going to have to pay for it. Big Brother please call me to the diary room because I am pissed!! Caleb says they definitely came in with a malicious intent. I think they went too far. Caleb says the thing is there was no chip in the necklace. There was a chip that the house guests had to find. (Most likely a chip for 5K) The jury members were in the house to make it harder for the house guests to find the chip.
In the fire room – Derrick whispers to Victoria that he is so happy she won. You deserved to win. Derrick hugs Victoria and and tells her that 5K is guaranteed. He's so happy she won.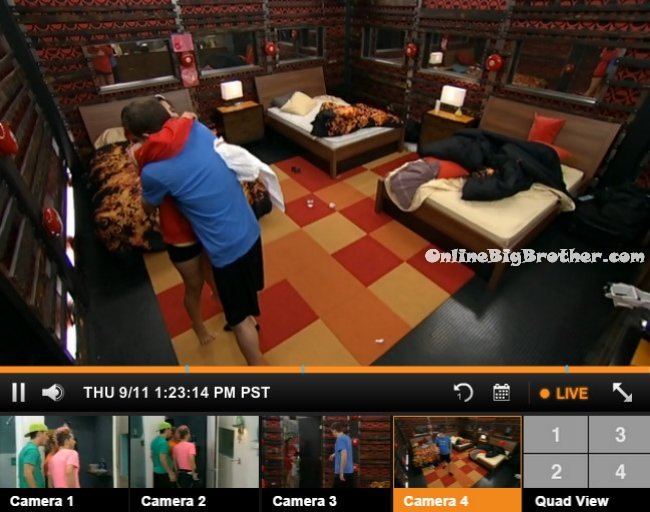 1:30pm Caleb goes to tell Victoria that before she's it for herself .. they put a huge X through your name on the bathroom stall door. Cody and Caleb says that is a better jury. They hate her. Victoria says that is such a disgusting bitter jury! WoW! That is so personal! She scratches it out. They talk about how NOMINATIONS are today.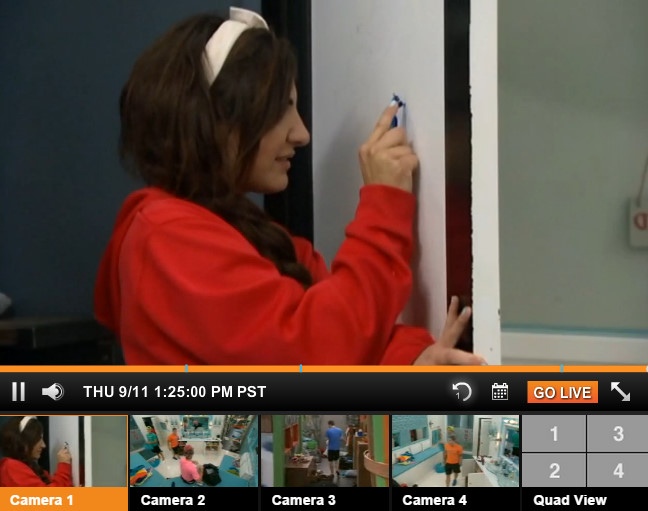 1:40pm Frankie is cleaning up the garbage off the kitchen floor saying WOW Jocasta… really?! The jury members also took out the food out of the fridge and threw it on the ground. Frankie says we have to throw it all out now. Derrick finds a piece of Caleb's cake with his face on it and shows Caleb how it was destroyed. Caleb shows Cody while he's taking a dump and tells Cody to cover his junk. In the kitchen they talk about how the jurors poured out vinegar in the sink. Frankie says its more the fact that we just cleaned the house. Caleb says I think they did a little too much. Frankie asks YOU THINK?!!! Derrick comments on how Jocasta did the worst out of anyone and they didn't expect that from her. Some people are just UGLY when it comes to money. Some of the most beautiful people are ugly when it comes to money. Frankie comments on how Zach was folding stuff. Frankie says I AM EXTREMELY HAPPY JOCASTA LOST! I am so happy that I was team Zach. Caleb says I really didn't want to put on Jocasta's shirt and be on her team.
Big Brother 16 Live Feed FREE TRIAL – Use the FLASHBACK feature to watch everything you've missed!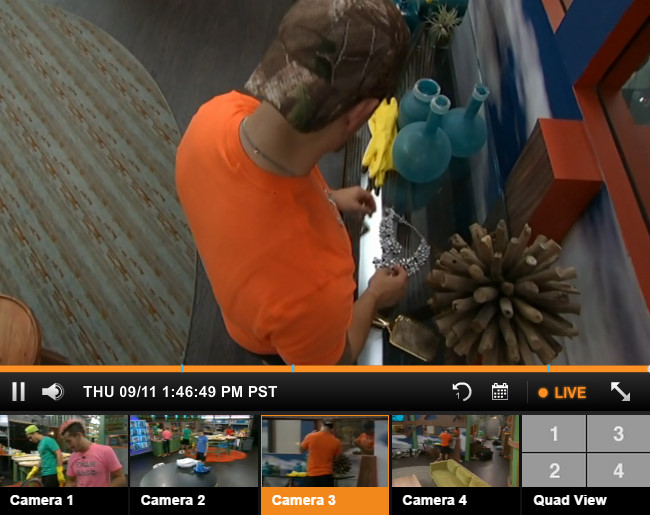 1:40pm – 2pm Victoria asks who do you think destroyed the necklace. Cody says I think you should call them (jurors) out as soon as you get the chance. (Yeah because that will help you get jury votes at the finale when you call them out. lol) Frankie says I don't think it was Zach. They think it was Christine. Caleb says I think it was after you won the money. I think that's when they did it. Cody says no matter what you're going home with more money than they are. Victoria says is just the fact that it was so personal. Victoria says and that X over my name! Frankie says I wouldn't even give them the satisfaction of letting them know it bothered you. Now I have cause to hate them. Frankie comments on how he thinks now the jury member just realized that Victoria is still here. I think Christine was chilling in the hotel until yesterday. Frankie says Christine out first! BOOM! Derrick says that was an awesome luxury comp .. I got a free t-shirt.