| | | | |
| --- | --- | --- | --- |
| POV Holder: | ? | POV Used | ? |
| HOH Winner | Caleb | Nominations: | Frankie and Victoria |
3:26pm Frankie and Victoria
Frankie says they have an ability to connect the dots in live
Victoria – fake it until you make it
Frankie so true fake believe it until you believe it .. if you believe it it's true ultimately
Frankie says everyone is freaking out about this comp he thinks it's because the all know what it's going to be
Victoria – I'm over it, Zach destroying my stuff I'm over it it's so childish so literally middle school or high school when you constantly bully and pick on one person how old are you 5 sorry i'm in the house and you're not sorry i'm doing something right
frankie well thats it they are jealous people

3:33pm Derrick, COdy and Caleb
Studying the Memory WAll or CRUSHING IT as Cody would put it.
Frankie gets called to the Diary room walks by the guys studying after he's gone they start talking about how worried Frankie is he knows he's got to beat all three of them. Derrick thinks Frankie will try to go faster than he's capable of and mess up.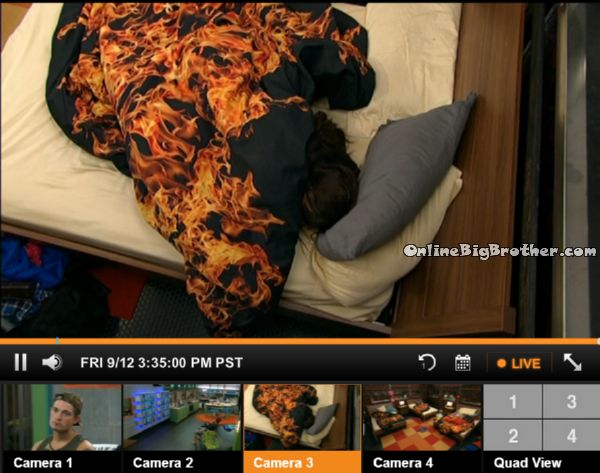 3:35pm Victoria taking a break from the "WALL"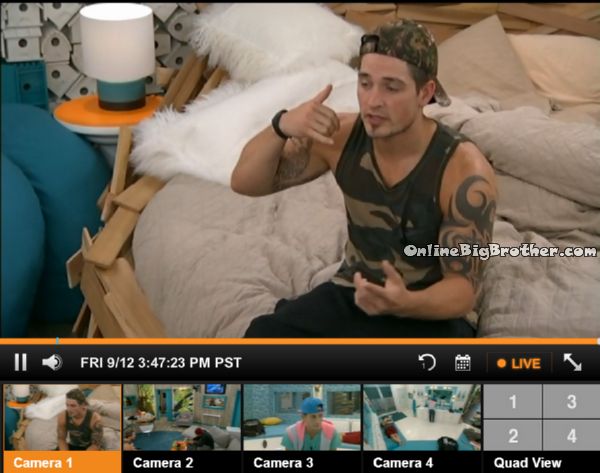 3:46pm HOH Caleb and Cody
Caleb says as soon as the veto is over he's going to get Shawn to call his family tell them to buy their plane tickets because they are going to make it to the final 3. Caleb this competition is HUGE .. this will make us final three.. next week is a given send Victoria packing.
Caleb – I want my mom and four brothers out there sitting right there..
Caleb is acting out how he thinks Frankie is going to be during the competition he's acting nervous and clumsy. Caleb says they will be calm and cool and will win it. Frankie comes up. Caleb going on and on how he's going to win this veto says he's fast and before that veto he never looked at the memory wall.
Caleb says all he has to worry about is he beats Victoria. Says it's like in the wild when you have a bear chasing you you don't have to outrun the bear you have to outrun the person next to you.
Caleb – I don't need to win I just need to outrun Victoria"
Frankie laughs says that's a funny analogy
Caleb goes into a long conversation about hog hunting..
Derrick comes up "I hate that wall"
Caleb – I ain't got to beat the bear I have to beat Victoria"
Derrick tells him Victoria has been studying a lot.. there is nothing "they" want better than Victoria to win this thing would make the rewind special.
Frankie pretending to be production – Victoria we loaded some flash cards.. Feeds cut..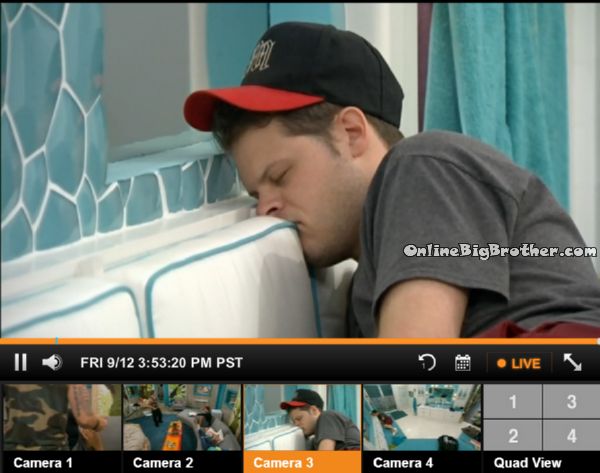 3:53pm Passed out
4:37pm HOH Frankie and Derrick
Derrick says Caleb thinks Frankie's sister's loves him
Frankie yikes
Derrick – "Maybe she will do a duet with me .."
5:03pm Victoria If Frankie wins I'm screwed.
5:25pm THE WALL Derrick and Cody
Derrick says he crushed the morph in six minutes without ever looking at this wall.. it's not a matter if I do it faster I will do it faster.
Cody says Frankie got a nose job so it doesn't curve around it just ends.. reminds Cody of a dragon. Caleb's nose reminds him of jeepers creepers.
Derrick says Caleb is not going to wiun he's up int he hOH planning his country album Derrick feels good that Cody is "Crushing it" because if Derrick can't win Cody winning is second best.
Frankie joins them "You guys are ridiculous" grabs a pillow and lays beside them.
Frankie – Yup still know everything
Derrick – I don't know why i'm doing this but it could help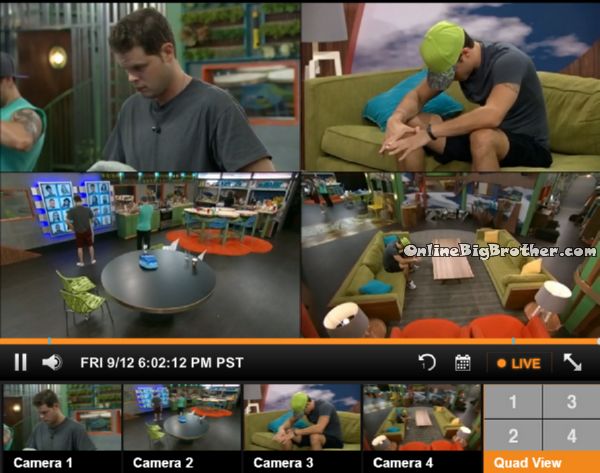 6:00pm Studying and milling around… everyone very quiet..

6:30pm Bathroom Derrick, Caleb and Frankie
Derrick saying he's just as nervous as Frankie he's going through the same thing. Frankie is playing to get off the block Derrick is plying to stay off the block.
50K vagueness
Lots of excitement about the 50K, still a bit vague but just to clear it up
Shelly Moore from BB13 asked CBS on twitter
"Did I read correctly that the @CBSBigBrother DR told Frankie and Derrick they would get n extra 50k if the make it to final 2? Fair? Not!"
Chris roach who works on Big Brother answered with this
"@ShellyMooreBB13 That is not correct"
Here's the link to the tweet https://twitter.com/ShellyMooreBB13/status/510544806234570753
This is what I think…
To guarantee a "team america member" wins the 50K both members have to go to final 2.
Derrick could still go with Victoria and win the 50K but.. As unlikely as it sounds he runs the risk of her winning and therefor "team america" doesn't get the money (No guarantee)
6:43pm Jeff on feeds POV must be starting
one way to support us is to make your Amazon purchases through the links below.
No extra cost to you. links are valid throughout the year.
Amazon.com Link
, Amazon.ca Link
[polldaddy poll=8244330]