POV Holder:
Chrsitne
Next POV
Aug 2nd
POV Used
?
POV Ceremony
Aug 4th
HOH Winner 1:
Donny
HOH Winner 2:
Nicole
Battle of the Block Winner
 Caleb/Victoria
Next HOH/ Next BOB
Aug 7/Aug 8
Original Nominations:
Donny's Noms (Victoria & Caleb) Nicole's Noms (Zach & Jocasta)
Final Nominations:
?
Have Nots
Frankie, Cody and Hayden
POV Players
Nicole, Christine, Jocasta, ZachAttack, Caleb, Victoria,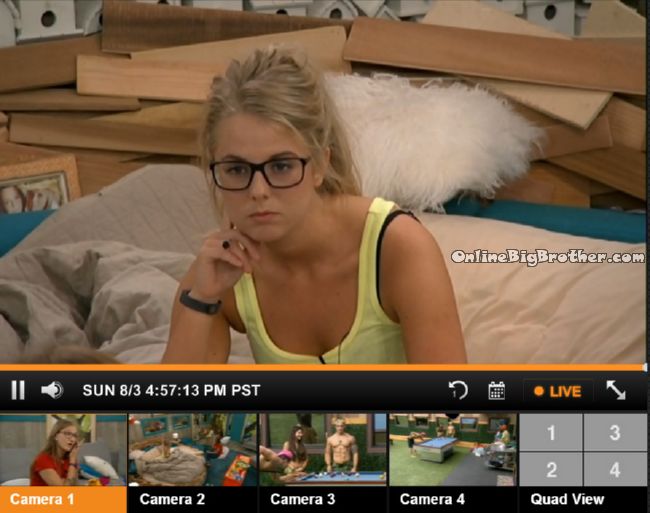 4:56pm HOH Christine and Nicole
CHristine say all the guys want Zach to stay she wants Zach to go. SHe's been planting seeds with Cody about Zach saying Cody is worried about Frankie because of Frankie's popularity. . Christine also some more information that may persuade people to get Zach out.
Christine says Zach wants to back door Hayden. "He told Frankie that"
Nicole – What did Frankie says
I don't remember.. the thing with Zach is he changes every week.
Nicole – He's being Mr nice guy right now and he's not nice.
Nicole doesn't want the house to flip and vote out Jocasta it will be a waste she likes Jocasta doesn't want to see her go.
Christine – He's so confident that's why it has to be another blindside again.
Nicole – will Frankie be pised though.. I don't want to step on his toes.. will that be a blindside for Frankie
Christine – no I'll talk to him
Nicole asks if Frankie can be trusted to work with them
Christine can't say yes she still believes Frankie is working with the guys.
Nicole – It's nothing he did it's Zach.. he needs to realize that Zach is hurting his game.
Christine says Zach needs to keep his mouth shut everything would be fine if he did.
Nicole – I would rather you don't use it.. great theres nothing I need to do then.. if he stays i'm doomed I can't play in the HOH and it could be double eviction so you think zach feels pretty safe right now
Christine – Ya
Nicole says Zach's strategy is "brilliant" however she cannot understand why it's working
Christine cannot understand why the guys want to keep him hes talked sh1t about everyone's game. "If jocata goes home there's just three girls left in the game"
Nicole says if Jocasta goes home she would have accomplished nothing this week.
Nicole says Derrick influences Victoria a lot in the game.
Christine says victoria's parents totally screwed her over all she cares about is looks.
They start talking about Victoria calling her Shelter, Naive, Sad..
Nicole wants the vote to be 4-4 so she sends him home.
Christine – No one ever says anything about Derrick
Nicole – I know
Christine – If it's a double eviction I want to back **r Caleb,, He scares me still
The vote count is Donny and Christine to evict Zach, Christine has planted seeds to get Derrick and Cody to flip their vote and Nicole is going to talk to HAyden and maybe VIctoria. They need 4 votes..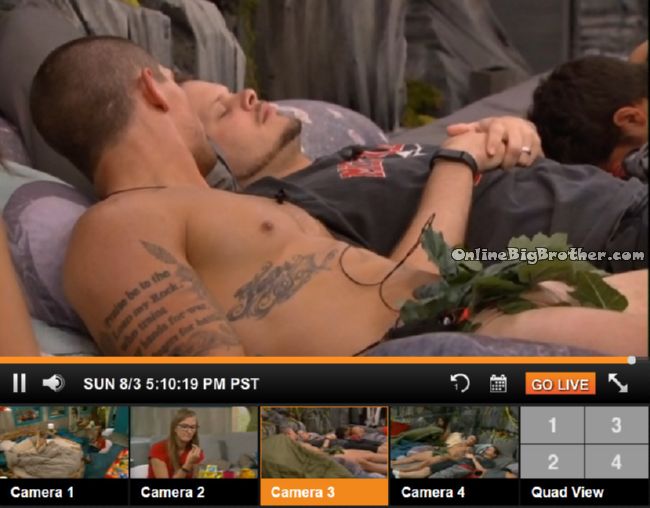 5:10pm ROCK ROOM
Caleb lays in bed beside Derrick "You don't mind if a naked goddess lay beside you with a leaf over his pecker " looks at Derrick
Derrick – No problem bud"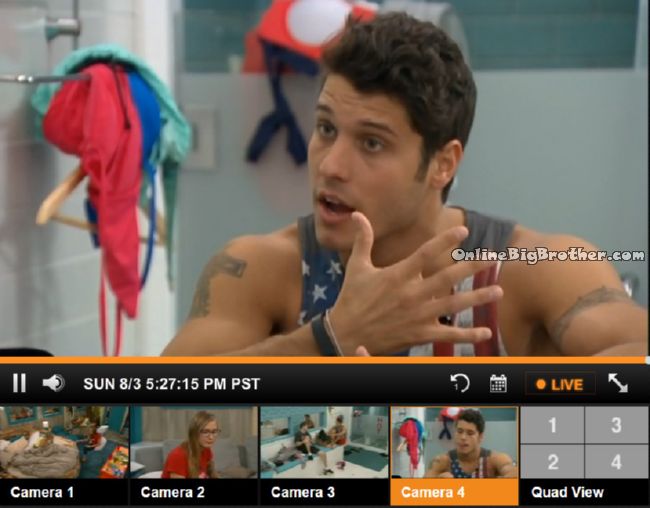 5:20pm Bathroom Cody and Derrick
Cody goes over his conversation with Christine
Cody – Zach comes to me on the reg about Frankie and Frankie comes to me about Zach"
They briefly talk about there being backdoor plan to get rid of one of them. Paranoia at it's best.
Derrick – Christine has no clue Frankie wasi the back door target" Derrick wonders if Nicole is trying to get Christine to use the POV so she can put Frankie up.
They seem to agree to send Zach home this week because he talks so much crap that damages their game and they don't need his numbers.
Cody thinks Zach was sh1t talking about them to Frankie that is why Frankie started sh1t talking about them.
Cody – Zach is the reason why we're cannibalizing ourselves.. He explains Zach started the sh1t with Devin Started with Amber and is now starting it with Cody and Frankie.
Cody and Derick agree to stay tight with the Detonators if they roll with Nicole and HAyden they are on the bottom. Derrick says Nicole is working with Donny he saw them in a conversation where they were talking about votes.
5:30pm POOL Hayden and Cody
Hayden tells COdy that Christine told him she's going to go and try to convince Nicole that ZAch isn't coming after her.
Christine joins them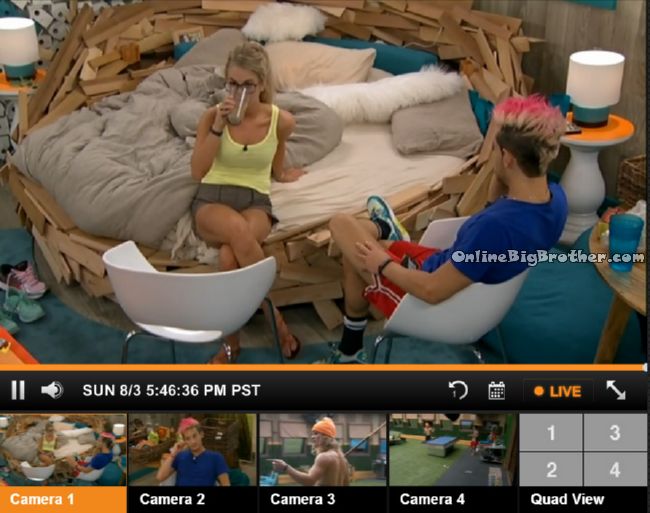 5:33pm HOH Nicole and Frankie
Nicole says Christine isn't using the veto.
Nicole – If Zach isn't going to go home he's not going home regardless.
Frankie thinks she could put someone up that is "'guaranteed" to get the votes to stay someone like Cody or Derrick .
Nicole doesn't want him mad at her because she know sZach is his friends and she's been really "Gung Ho" about getting Zach out this week so she hopes Frankie doesn't take it personally
Frankie says eventually Derrick, Cody and Zach will be coming for him, he's not taking anything personally.
Frankie says him and Caleb are soul mates Caleb is his brother. Frankie mentions it's him, Caleb, CHristine, Nicole and HAyden versus everyone else in the house. Frankie thinks if Caleb is out of this house he needs to worry about Cody and Derrick and Hayden needs to worry about Zach. Frankie asks her if Cody and Zach are a power couple.
Nicole says they were close early but now she doesn't think so. Frankie says Nicole and Christine are kinda a power couple this week. Nicole giggles says they kinda are.
Frankie says Derrick has much more influence on Victoria than Hayden.
Nicole agrees she thinks Victoria has a HUGE crush on Hayden but who knows "Apparently they kissed" Frankie wants her to know if she is wanting to make a big move he will support her. They all know Zach isn't coming after him in the near term so he's not wanting Zach to go home this week. Frankie stresses that Zach is coming after other BIG targets. .
With a live feed subscription you can go back and watch any event that has been shown.
Use our site as an index and watch only the parts worth watching.
Try It Free! Subscribe now to the official BB16 Live Feeds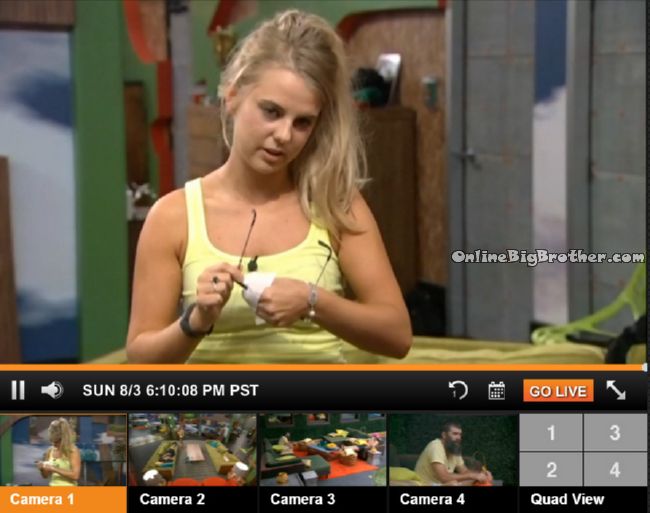 6:07pm Living room Frankie and Derrick
Frankie she knows he's staying Hayden told her it won't make sense to get rid of him this week.
Derrick she know she s
Frankie is going to tell Zach to go some things over with Nicole tonight
Frankie – Christine did beautifully and then I followed up
6:10pm Nicole and Derrick
Nicole says Frankie told her Derrick's Zach's second target and his first is Cody.
Nicole " Frankie is trying everything in the book to keep Zach"
Derrick – Good luck buddy.. wait until he sees his face on Thursday
Nicole says Christine isn't using the veto and she's going to come to you guys and campaign to get rid of Zach. Christine has something to tell everyone to make them want to get Zach out
Nicole – We don't even need to come up with a reason to get Zach out
Derrick – perfect perfect done.. move on to next week.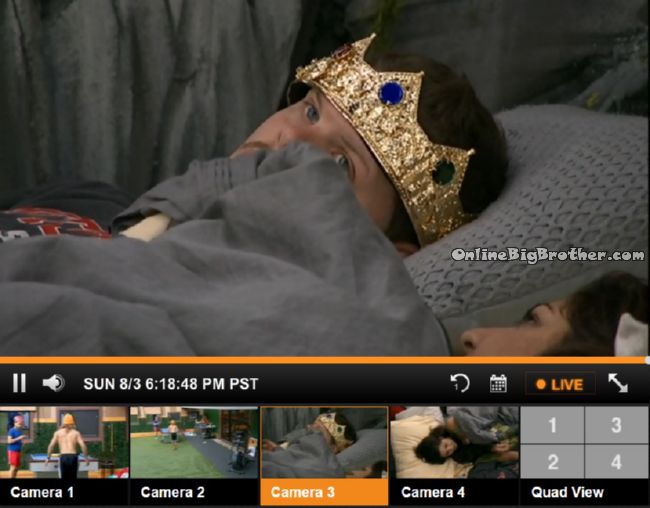 6:19pm ROCK ROOM Derrick and Victoria (+Caleb sleeping)
Derrick says he talked to Frankie earlier about the vote this thursday, "I don't ever tell Frankie shit"
Victoria – He's the worst person
Derrick – I told him it's going as planned.
Victoria – I'm winning Thursday's HOH
Derrick – Good
Victoria – Like for sure
Derrick – Good
Derrick whispers "They" were talking about me and you the other day .. in a good way asking how I felt about you.. I said I hated you
Victoria giggles.
Derrick says he's been replaced by Hayden.. "That is why I've been giving you space.. I hope i'm not in the jury house with you and Hayden because then it would be me by myself."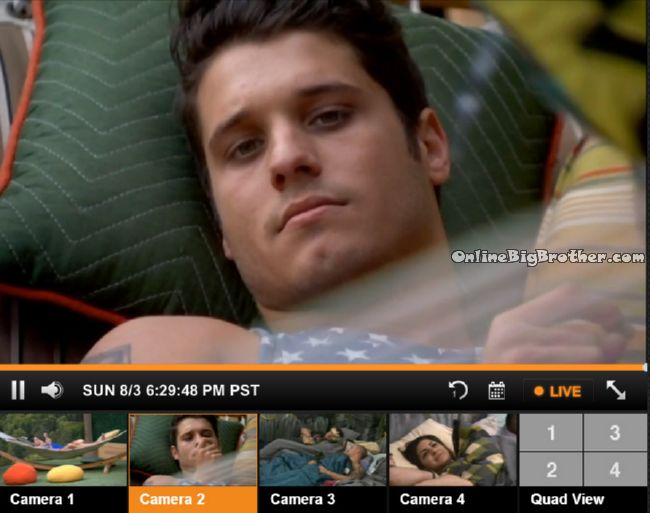 6:45pm Hammock Cody and Frankie
Talking about getting Donny out next week and keeping Zach this week . (So you know how truthful everyone is being)
Frankie says he might put up Hayden just to make sure the POV is played so he can put up Donny.
Frankie says there's no way to be sketched out with Christine.
Cody says Zach has been using his name and it pisses him off.
Where the Vote is.. 
Zach going home.. (it's very confusing right now lots of person X playing person Y playing person X etc etc.. At the end of the day… Zach doesn't have the votes right now 🙁 Frankie and Christine have lost a quite a big of influence. )
Alliances
Quad Squad = Nicole, Derrick, Hayden and Cody
Zankie = Frankie/Zach
The Detonators = Derrick, Frankie, Zach, Christine, Cody
"The HITMEN" – Cody & Derrick
Trilogy = Nicole, Christine & Hayden
Team America = Donny, Derrick, Frankie
Old timers = Jocasta/Donny
Nicotine = Christine/Nicole
bottomfeeders = Derrick and Nicole
More polls here https://www.onlinebigbrother.com/big-brother-compendium/big-brother-16-polls/
[polldaddy poll=8220599]