POV Holder:
Zach
Next POV
Aug 16th
POV Used
Yes
POV Ceremony
Aug 18th
HOH Winner 1:
Nicole
HOH Winner 2:
Christine
Battle of the Block Winner
 Frankie/Caleb
Next HOH
Aug 15th
Original Nominations:
Nicole's Noms (Caleb & Frankie) Christine's Noms (Zach & Donny)
Final Nominations:
Donny & Nicole
Have Nots
Donny and Zach
POV Players
Christine, Zach, Donny, Nicole, Caleb, Derrick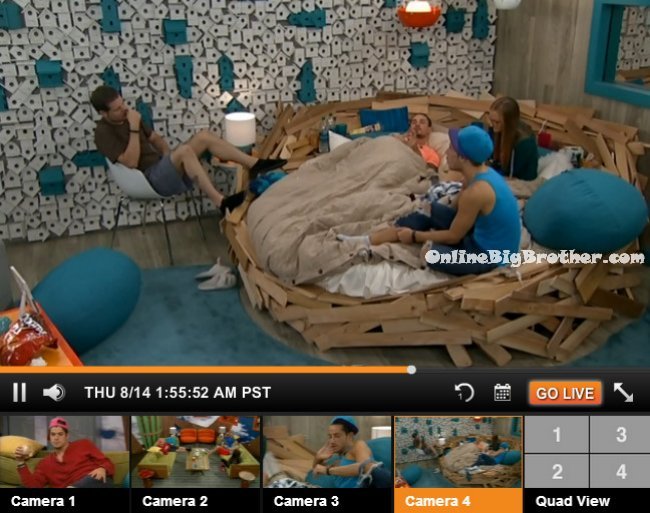 1:45am Up in the HOH – Caleb, Derrick, Frankie and Christine are trying to memorizes the announcements. Caleb comment on how he was annoyed that Donny was sitting there when Zach was going through the announcements. Christine is worried about Donny doing well at it. Frankie reminds her that Donny isn't that good at memorization competitions. Christine wonders if the competition will have a question about them guessing how long their competitions had been. They start guessing the length of the competitions so far. Christine comments on going to bed. Big Brother calls her to the diary room. Frankie says she's not even competing tomorrow.
See what they can't show you on TV! -Try the Big Brother 16 live feeds for FREE!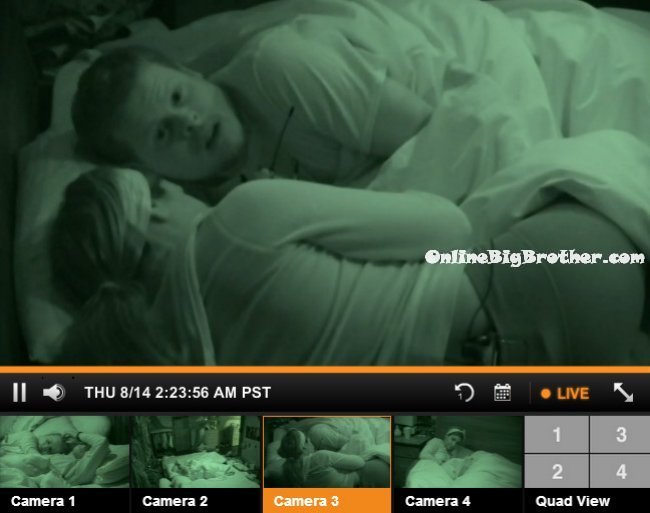 In the fire room – Victoria says that Nicole is so ridiculous. Derrick says that it doesn't even matter no one is going to keep her. Victoria says Nicole was saying I don't get why Derrick wants me out so bad and the fact that he trust Christine when he controls her. Derrick says its fine she's going. Victoria says she keep drilling it in my head that there's a 5 person alliance. She said it has a name something like B or an R something. Derrick says what is it? This is the girl that can memorize everything and she can't remember a name? There's no alliance. Victoria says she said there's an all guys alliance. Derrick says if that's true you're already screwed. But there isn't one, this week Donny was supposed to go home but Nicole wouldn't stop running her mouth so that is why she is going home. Derrick tells Victoria the reason guys are still here is because girls are catty and run their mouths. Derrick tells Victoria to go to bed and memorize the announcements. You'll be good for the HOH tomorrow. Victoria leaves to go to her bed.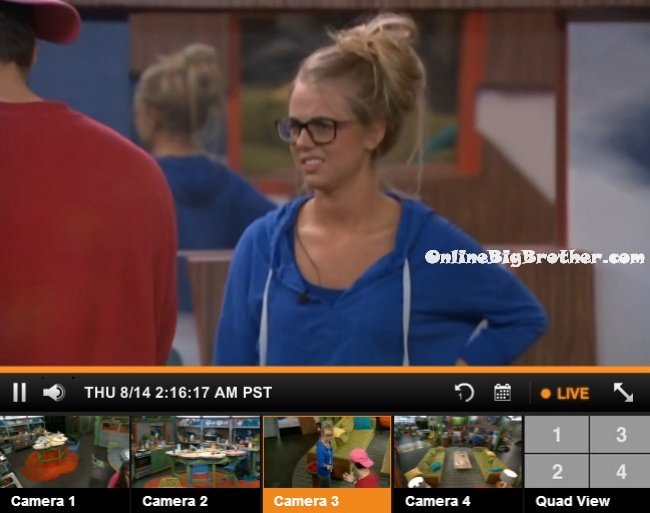 2:15am Down in the living room – Zach acts like he is going recite a poem to Nicole. He stops by the exit door and Nicole tells him that he better not say something smart about her going out the door. Nicole is annoyed and heads into the earth room. She lays on her bed and Zach follows her and lays beside her. Nicole tells him to get out of her bed. Cody tells Zach to leave her the f**k alone! Zach leaves for the HOH room. Up in the HOH room – Caleb talks about when it gets down to Victoria being left in the house he will tell her that he started a guys alliance and all the guys are in it with her being the last one to be evicted. Zach heads to bed.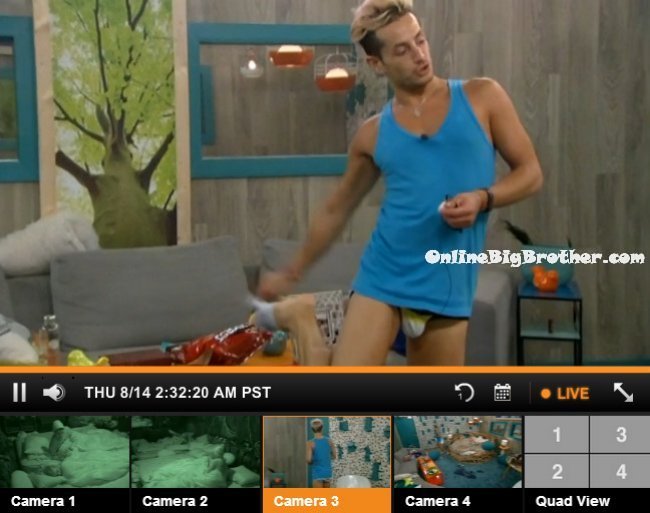 Caleb and Frankie go through the announcements:
The quarantine began Melrose Fairfax and Sunset Figaro. Patient zero started at from 307 to 848 from JennCity to Chilltown.
The virus spread from the east coast starting at Rochester New York to West Orange New Jersey, Athens Ohio, Dallas, Chicago, Georgia, Atlanta.
List of symptoms – The heart rate was 97, the fever went from 105 to 113, confusion, rotting flesh and appetite for brains which means that all previously evicted house guests are safe.
List: Baseball bat, Slop, activity bracelets, make-up, machete, bunny slippers, sweater, HOH key and pink hair dye.
In the last 12 hours 546 cases 40% of the live feeders have been admitted into the St Gheesling hospital.
At 3:24 Las Vegas said that their menu now holds an all you can eat buffet.
The national government said you need to be in a showmance its your last chance stabbing someone in the backs the best way we're good at it.
2:45am Frankie and Caleb shut off the lights and go to sleep.
3:10am Victoria goes through the announcements with Derrick. Victoria is worried about the things Nicole told her about there being a guys alliance. Derrick says Nicole is just trying to tell you things to get you to keep her protect her. But what she doesn't realize is how close we are. Each week the girls would make themselves a target because they're so caddy and that's why they got sent home. One thing you need to realize is that each week its a different person saying things. Donny was going home this week until Nicole started running her mouth. Go to sleep! You're going to drive yourself crazy with things. Victoria goes to sleep.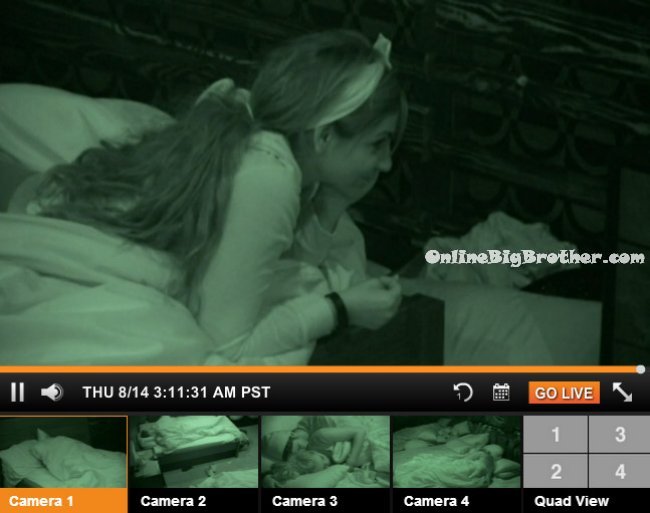 4am Victoria can't sleep so she heads to the bee hive room to tweeze.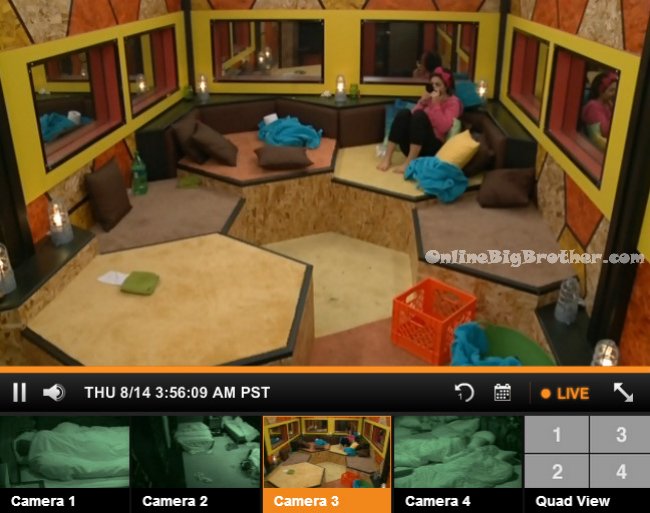 4:15am – 6am Frankie and Zach are up and in the storage room. Derrick, Zach, Frankie, Cody Nicole and Victoira are in the kitchen. Nicole and Vcitoria head back to bed. The others stay up and are eating and talk about random things like Ariana Grande, other celebrities. The conversation turns to getting followers on twitter and instagram. Cody talks about going to Dallas to visit Caleb and Zach says that Victoria will hook him up in Miami.