POV Holder:
Zach
Next POV
Aug 16th
POV Used
Yes
POV Ceremony
Aug 18th
HOH Winner 1:
Nicole
HOH Winner 2:
Christine
Battle of the Block Winner
 Frankie/Caleb
Next HOH
Aug 15th
Original Nominations:
Nicole's Noms (Caleb & Frankie) Christine's Noms (Zach & Donny)
Final Nominations:
Donny & Nicole
Have Nots
Donny and Zach
POV Players
Christine, Zach, Donny, Nicole, Caleb, Derrick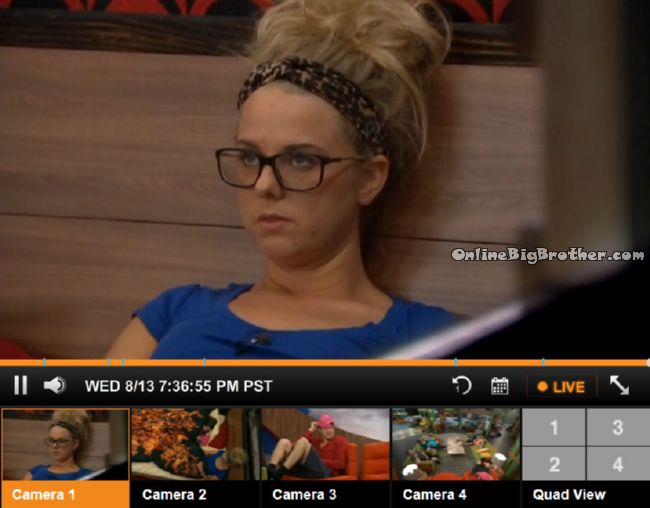 7:29pm FIREROOM Nicole and Victoria
Nicole says the 6 guys have an alliance
Victoria – that's the funniest thing ever if that was the case they wouldn't have been trying to get Frankie out last week.
Nicole – was that the plan?
Nicole – Zach told me there's a final 5 and all the guys are working together on top of it.. CHristine doesn't' know they'll get her out.. THe best CHrsinte can do is final 5 because the guys want Zach out more than her.
Nicole – Zach had to lie to you, to cover Derrick's butt about the alliance.. I don't know Zach could be lying about everything we'll find out the truth we we get out of here.
Nicole – There's nothing i can do about it I would have to convince all of them to let me stay.. Obviously they are going to have to turn on each other.
Nicole – Christine and Frankie want me out superbad..
Nicole talked to Caleb and he said she didn't think she was a liar, "I think Zach was being a little sincere last night.. when he was sitting there saying he would keep me to Derrick I think he was sincere.
Nicole – Derrick got sketched out"
Nicole says there's no reason for them to admit they are working together in a group of 5.. all that would do is make Victoria angry and Nicole furesterated.
Nicole Can't remember the name of the alliance "I don't know what it means… I swear it starts with a B.. "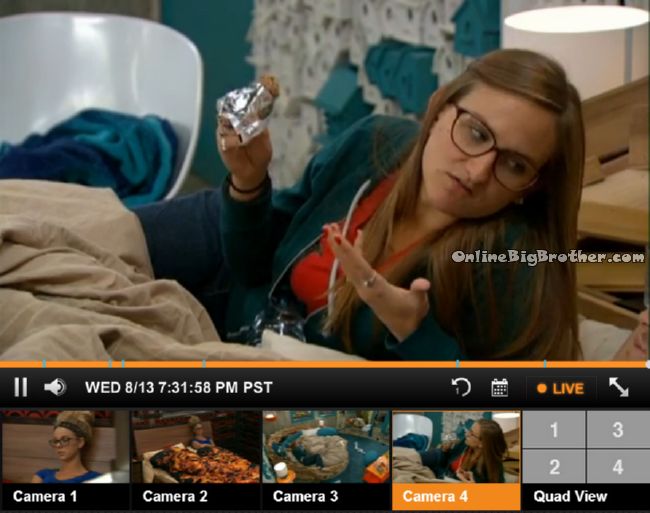 7:31pm HOH Frankie and Christine
Christine – oh my god she's so pissed.. I'm scared she's going to yell at me when she walks out the door
Frankie – Derrick is so pissed.. so pissed.. he said you know she's everything I hate about people that play this game.. lie.. just making sh1t up
Christine – Hours before that she said to me she wouldn't make up a lie about donny because she didn't want to play dirty and then she doesn it..blows my mind .
Frankie – everyone is becoming so predictable this stage of the game. .I thought Nicole was going to come after us.. I don't think she's muddying my name with them.
CHristine says Nicole is targeting Frankei.. "She was so frustrating to talk to yesterday.. "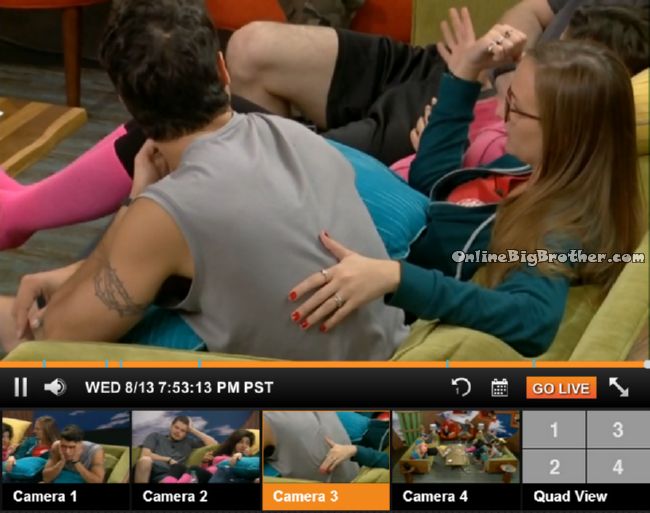 Chit Chat about airlines .. Camera zooms in.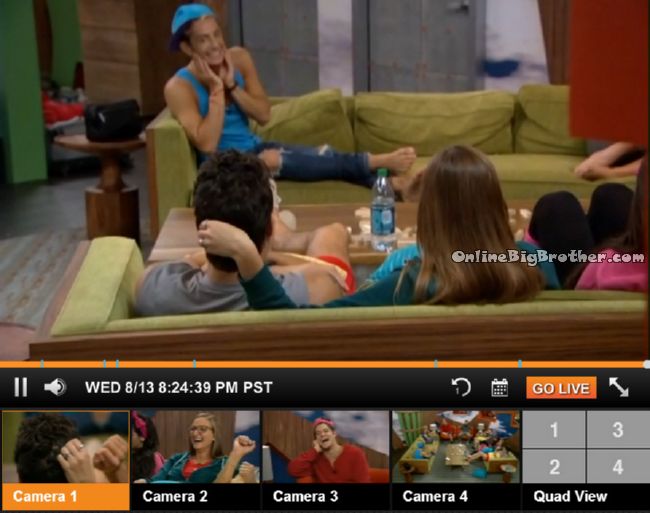 8:08pm – 8:40pm chit chatting..
Frankie says he goes through a Macbook every year he's not rough with it he just uses it so much he claims The ram explodes there's so much information in it and I ask it to do so much
Christine start telling them about being a sign language interpreter . She had one job at a bachelorette party "It was a dirty one to'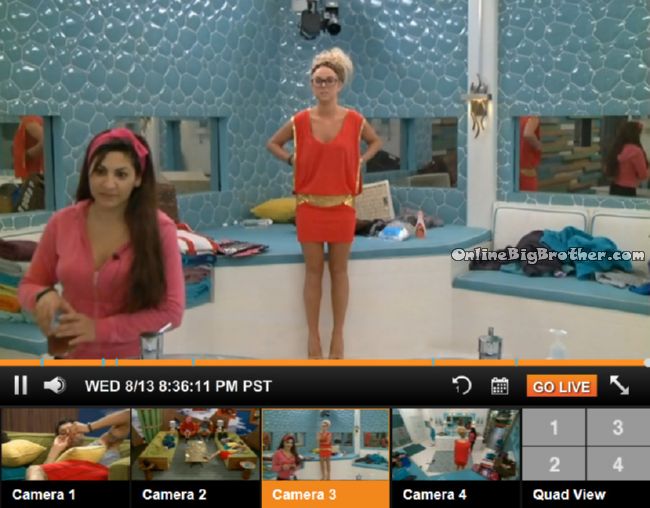 8:38pm Bathroom Frankie, Victoria and Zach
Nicole is trying on clothes for the show tomorrow. Zach – THat looks HOT Nicole… you look like a SMOKE BOMB.
Victoria and Frankie says she looks Stunning..
Talking about Cody cleaning up the bathroom and the kitchen today.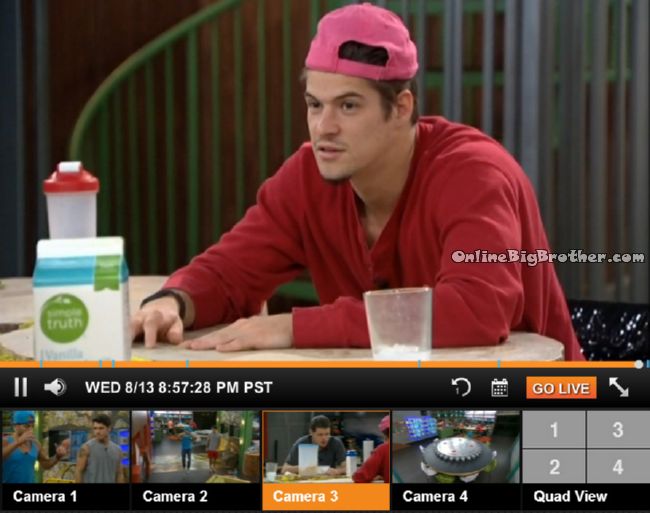 8:57pm Caleb, Derrick and Zach Kichen
Talking about how many twitter followers they will get. Derrick says he'll be glad with 1K. Zach says he's going to get 40K. Mentions that JUDD was the most boring character from last year and he has over 40K. Derrick says Spencer only has 22K followers, "I like Spencer I follow him " Zach says SPencer was boring but not as boring as Judd.
Caleb is worried about his instagram name thinks it will be too difficult wants to change it to Beast mode Cowboy.
Derrick says the lowest person of the season has 5k followers.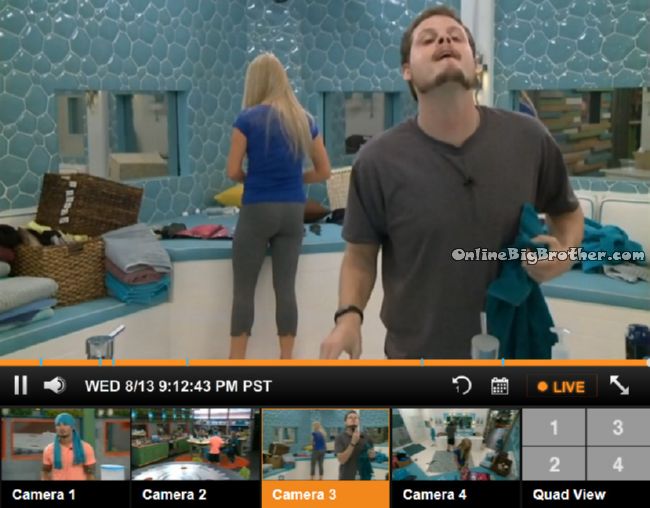 9:11pm Bathroom Nicole and Derrick
Nicole – i'm 100% going home right
Derrick – I don't think you have the votes I think people are lying to you
Derrick I got pissed off last night because people are giving you false hope which I think is wrong
Derrick – you are one of the smartest players in here and you are not easily deceived.
Derrick – you are getting a bad rap for sure
9:20pm Cody and Zach
Cody doesn't want one of them to go home yet he wants Donny gone next week. They agree they are safe as long as Donny and Victoria both win the HOH.
Zach says once they get down to the 5 they tell Caleb the truth about Frankie and take out Frankie.
Nicole joins them
Nicole comes up asks them if she has their vote "I don't want people to think that I gave up.. My speech is goign to be about the summer"
Zach – That's nice"
Nicole – Freaking sucks Cody.. I don['t want to think about it it makes me said
Zach – aww don't think about it.
Nicole mentions she thinks there might be a buy back or something.. She admits to be like Devin right now she's clinging onto anything.
Cody grabs her puts her on his lap. She tells the boys to keep her.. "use me to your advantage.. Donny has won so many vetos those are more important.. there's more than the eye can see i'm not stupid"
Zach – I want to keep you but I can't I'm not allowed to
Nicole – Doesn't matter if i'm in the jury house with brad pit I don't want to be on the Jury house
Zach – Nicole it's going ot be great in the Jury house..
Nicole – I hate you
Zach – I'm sorry babe.. you'll see me in a week..
Nicoel – I would love to see Zach.. I don't want Cody to come into the jury house
Cody – I love Nicole
The Live Feeds are archived. You can go back and watch everything that happens
Try It Free! Subscribe now to the official BB16 Live Feeds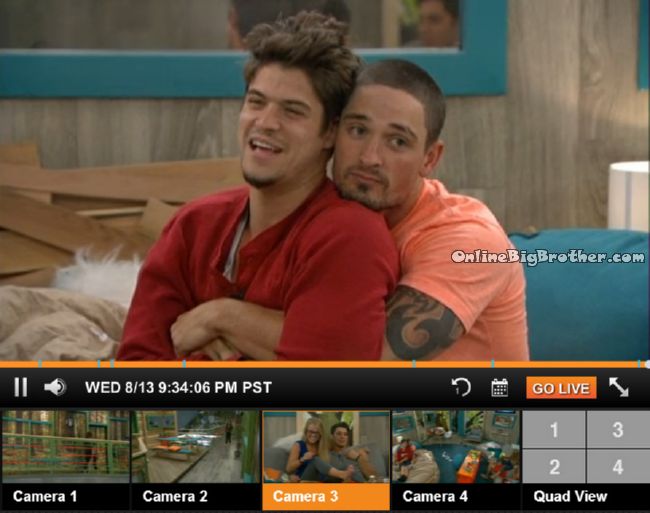 9:36pm HOH Christine, Cody, Zach, Caleb and Nicole
Zach and Caleb calling Cody out for Cuddling with Christine. Caleb demonstrating on Zach how Cody and Christine sit together, "You guys were like this just yesterday"
Cody says it was for 2 seconds
Caleb says more than 2 seconds Caleb was there he saw it.
Cody – You said all the time
Caleb – not all the time I've seen it before
Cody – once.. I've never spooned Christine
Zach That's a LIE a LIE
Claeb – You are going to lie to my face
Zach – you are going to lie to beast modes face.. laying in the rock room you and Christine spooned.
COdy – 100% not true
Zach – So you are calling me a liar
Cody – second biggest liar in this house
Zach laughs – Never lied yet in this game
Caleb says Cody does the same things to Christine as he does with Nicole.
Christine says they never spooned.
Zach – you guys are always touching each other.
Zach – you spooned Christine before
Cody Denies it.