POV Holder:
Zach
Next POV
Aug 16th
POV Used
Yes
POV Ceremony
Aug 18th
HOH Winner 1:
Nicole
HOH Winner 2:
Christine
Battle of the Block Winner
 Frankie/Caleb
Next HOH
Aug 15th
Original Nominations:
Nicole's Noms (Caleb & Frankie) Christine's Noms (Zach & Donny)
Final Nominations:
Donny & Nicole
Have Nots
Donny and Zach
POV Players
Christine, Zach, Donny, Nicole, Caleb, Derrick
Take Advantage of the FREE 2 day Trial to watch all the drama!
1:12pm The live feeds return from being blocked for the HOH lock down. In the kitchen Christine comments on how that was a nightmare of a lock down. Donny asks Zack if he slept at all? Zach says not really. Zach says to Derrick its getting real bad. Will that come out of my stipend? Derrick says that's why they asked for your medical card. Big Brother blocks the feeds. They come back and Zach says to Donny that it was getting real bad. I started to have an attack and I started punching myself. Big Brother blocks the feeds again. When they come back – Caleb is making slop. Christine heads back to bed.
1:20pm – 1:35pm In the kitchen –
Nicole talks to Donny in the kitchen and tells him that he needs to win the HOH. They're talking about how they hoped you were sleeping and didn't hear it. I know a lot of it and I'll share it with you. Donny says okay. Nicole heads to the bathroom and tells Zach that she hopes the people who are looking like fools continue to look like fools. I know there's an alliance of 5. Zach says no there's not. Nicole says don't lie, you already told me there is. It all makes sense now.
In the earth room – Derrick tells Zach we just got to watch her (Nicole) because she's ruining our game. Zach says I am just not going to talk to her.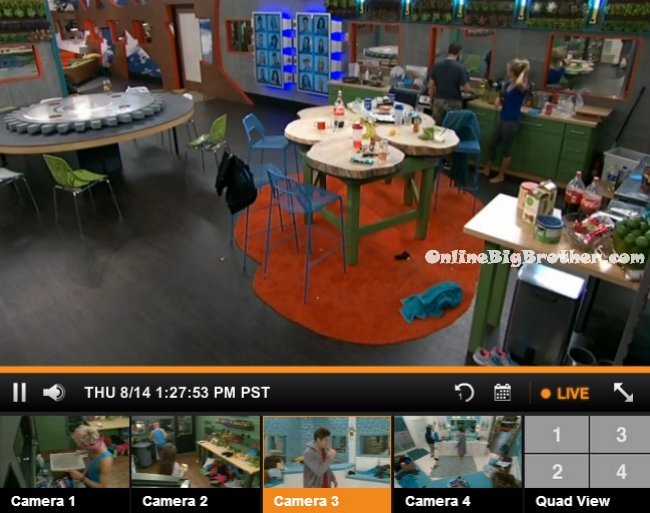 1:35pm – 1:55pm In the bathroom –
Derrick cuts Zach's hair. Meanwhile in the living room – Donny wonders if he and Nicole should go into the havenot room to study. Nicole tells him the living room is fine they already know I'm going to help you. Nicole tells Donny that the house is basically against you. Zach tried to tell you the wrong information. He tried to tell you it was 306 and I corrected him saying its 307. Nicole then starts telling Donny everything she can remember about the announcements last night.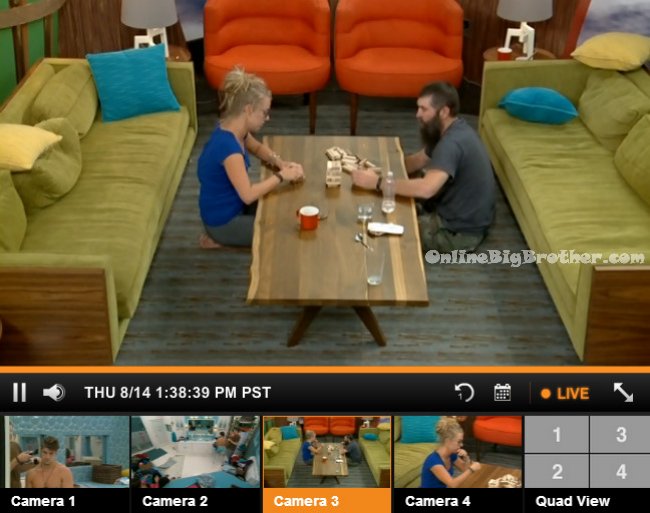 2:10pm – 2:20pm In the living room – Donny and Derrick are whispering. Donny and Derrick talk about getting another Team America mission. Derrick says if we make it another 3 weeks it could be $30,000 each .. that's more than America's Player. Donny says yeah. The conversation turns to talking about what the HOH competition might be tonight. They wonder if its the one were you have to grab pieces and lock in your answer. They talk about how Zach has an amazing memory. Donny says he was in here naming off everyone's birthdays. Derrick says he is going to ace it. Donny says I hope we get the announcements again. Derrick says that Zach was talking during the whole thing so it was messing people up. Derrick says we only need 1 of the 3 of us (Team America – Frankie, Derrick or Donny) to get up there (HOH) because then we'll control one side of it. Victoria is definitely going to go up if she doesn't win. Donny says I hope she doesn't go up next to me because.. Derrick says no, we need someone strong to go up next to you so that you can win battle of the block.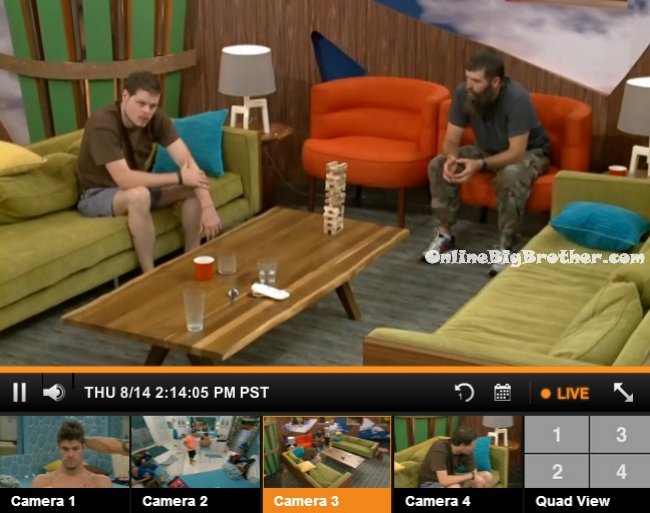 2:30pm – 2:35pm In the bathroom – Zach says that he talked to the doctor and he said there is nothing they can do. Zach says the Doctor said its not going to stop so get used to it. There's nothing they can do. Nicole asks what's wrong? Zach says my ear drum is broken and its been ringing every second of my life since I was young. (I think he had said before that he had surgeries on it when he was younger.)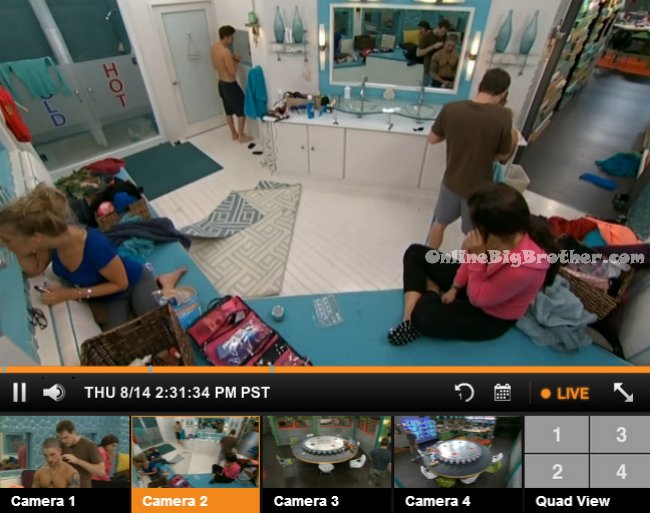 2:50 – 3pm In the living room – Zach is asking Nicole in the kitchen if the number in the announcements last night was 324. (It was 307) Nicole says why would I tell you? Zach says why wouldn't you. Nicole says because I don't want you to win. Zach says it was 324 wasn't it. Nicole says sure. Zach asks what did I ever do to you?! Nicole says leave me alone. Once you start you don't stop! Big Brother why do you let him do that to me! Derrick comes through and says Zachary leave her alone! Zach asks if he can paint her nails. Nicole says you're not getting my vote. You achieved what you wanted. I am actually in a good mood right now and I don't want you to ruin it. Nicole asks are we going to be friends after this? Zach says of course. Nicole says I'm sure you talk so much crap about me in the DR. Zach says I actually don't. Nicole says I know you talk crap about Victoria but you're nice to her face. Nicole says I actually hate you. I can't stand you. Why are you sitting here aggravating me? Zach says we're having a conversation. Nicole says no we're not. You were the meanest person to me in this house. I would rather be attacked by a zombie than ever jump in your arms again. Zach says he was a million times worse in college. I'm filtered here. Zach asks are you going to give me your phone number when we get out of here? Nicole says yeah. Zach asks are we going to be real friends or facebook friends? Can I go to you and Hayden's wedding? Nicole asks are you serious!?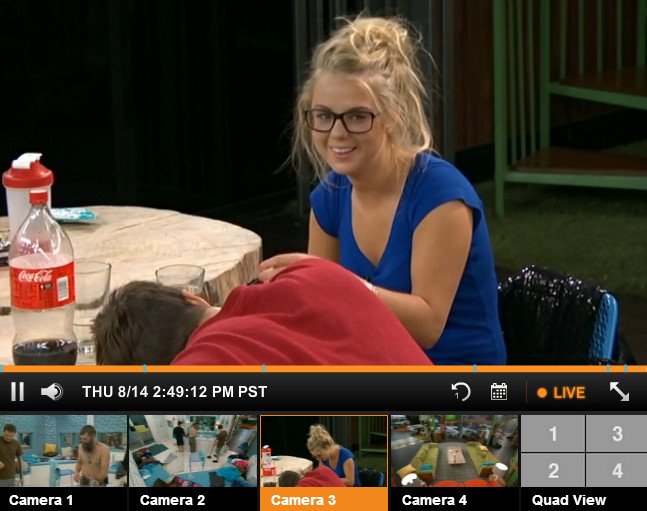 Where the vote stands.. Nicole is going to jury
Alliances
The new bomb squad – Caleb, Zach, Derrick, Frankie, Cody, Christine
"The HITMEN" – Cody & Derrick
Team America = Donny, Derrick, Frankie
More polls here https://www.onlinebigbrother.com/big-brother-compendium/big-brother-16-polls/
[polldaddy poll=8233586]
[polldaddy poll=8244330]