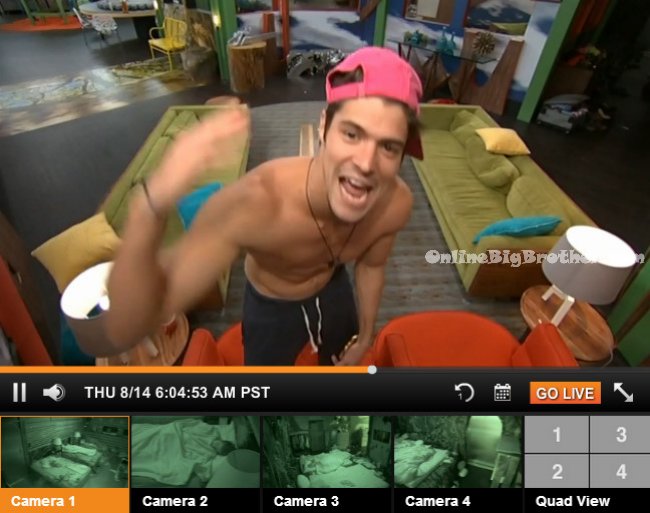 6am – 6:15am
Zach heads to the bee hive room and is talking to himself.. its day 56 and we have a live eviction tonight. Either Donny or Nicole will be gone. If you're taking bets 110% Nicole evicted. He says after tonight there will be 8 HG remaining and we'll have the HOH competition with the Zombie apocalypse. He says its not easy, there's no TV, no Internet.. We just play pool sleep & eat. You're probably saying that's not a bad life but it's not easy. You're always, thinking and talking game. There are a lot of people you cant trust and very few you can trust. Keep your friends close and enemies closer.. He says this doesn't always work. If you keep your enemies close, its that easy to have them stab you in the back. People might ask if I was ever stabbed in the back. I have but did the knife break the skin? no! I am fully suited in carbon fiber armour. I got it at the Big Brother store. You need a great memory, carbon fiber armour, a zipper for your mouth. I talk way too much, I always say the truth. Zach just lie, but I cant to all the feedsters! I love each and everyone of you. If it wasn't for you guys I wouldn't be who I am today… the backbone of this house! I fought every single day. It wasn'tt easy, its what 24 years of social practice sharpening my personable skills so I know how to reciprocate and conjugate with everyone. Living in this house is not easy… nominations, competitions, evictions, its not easy! But I make it work.. living with 76 cameras following your every move. Theres only thirty two days left until I'm out.. Zach then heads to bed..
Take Advantage of the FREE 2 day Trial to watch all the drama!
10:30am – 11:20am
Big Brother wakes up the house guests. Donny and Victoria are awake and in the bathroom. Donny asks her if she remembers all that stuff from last night? Victoria says trying to. Donny asks what was the streets? Victoria says it was Melrose and Fairfax and something else. (Melrose Fairfax and Sunset Figaro) Donny says I thought the first one was just two streets. Victoria say no. I think they might play it again today. Donny says I doubt it. It would be nice. Donny asks which cities did they mention. Victoria lists a few of them off. Donny says asks a few more questions but Victoria can't really remember either. Donny heads to the kitchen to eat slop. Victoria finishes washing her face and then goes back to bed.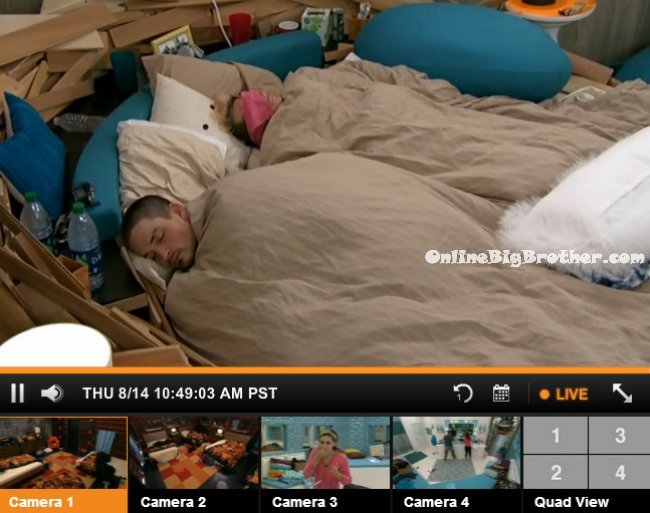 11:20am- 11:30am Big Brother switches the live feeds to the live feed highlights for the HOH lock down.
Where the vote stands.. Nicole is going to jury
Alliances
The new bomb squad – Caleb, Zach, Derrick, Frankie, Cody, Christine
"The HITMEN" – Cody & Derrick
Team America = Donny, Derrick, Frankie
More polls here https://www.onlinebigbrother.com/big-brother-compendium/big-brother-16-polls/
[polldaddy poll=8233586]
[polldaddy poll=8244330]
Share it YO!
Tweet