POV Holder:
?
Next POV
Aug 23rd
POV Used
?
POV Ceremony
Aug 25th
HOH Winner 1:
Cody
Next HOH
Aug 28th
Nominations:
Donny & Nicole
Have Nots
Donny & Nicole
POV Players
?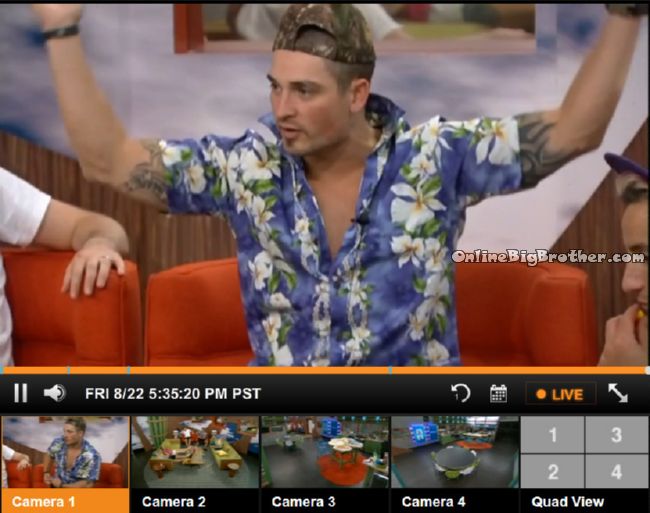 5:30pm Living room Chit Chat
Caleb telling them Amazon is the number one retailer for home improvement supplies. the other two competitors are Home Depot and Lowes.
Derrick likes the husky tools over the kobalt tools so he goes to Home Depot, Caleb – "we have Huckey.. the red and black ones"
Derrick likes lowes more because it's organized better. Caleb "we mop the floors clean up the inventory every night before we go home"
Caleb "every night before we go home.. because I was outside lawn and garden we leaf blew the entire area.. all over the front.. the whole outside.. lawn and garden"
Caleb says he worked in lawn and garden department.
Derrick starts a conversation about lawn, says right before he left for the show he "laid lime down" Caleb recommends scots turf builder.
(off Camera you hear Victoria saying she's in "Disgusting amount of pain" she just wants to lay down)
The Live Feeds are archived. You can go back and watch everything that happens
Try It Free! Subscribe now to the official BB16 Live Feeds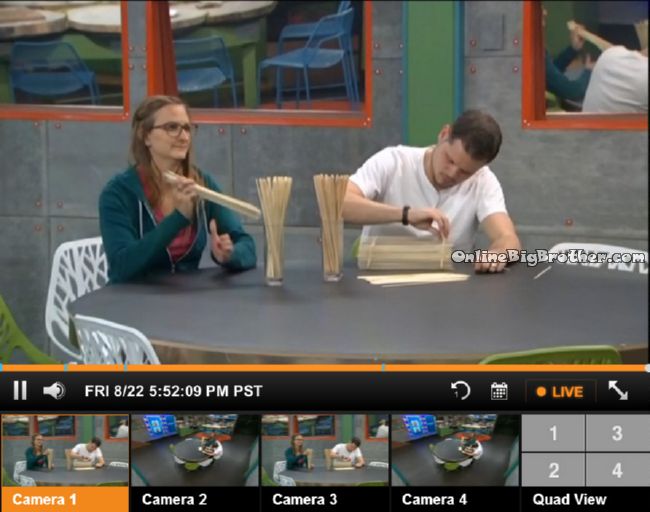 5:51pm
Derrick – "I'm bored feedsters really bored.. I'm sorry"
Christine joins him
Caleb joins them "I knew he was a genius I just knew it.. "
Derrick – For balancing tooth picks.
Cody says his HOH is still locked.
Derrick – our luck there's Pandora's it's a penalty and  THEY will be safe for a week"
Derrick brings up BB13 when Porsche and Straight shooter got screwed over by a Pandora's box. (Porsche had HOH put Rachel and Jordan up. some padora's block twist had the nominees play in pairs so it was Jordan/Rachel Vs Adam/Straight Shooter. Rachel/Jordan win POV are both taken down and Adam/Shelly get nominated. Shelly goes home to death threats. Here's the OBB post from that event.. ) .
Derrick seems certain there is a Pandora's box and when Cody opens it there will be a penalty saving Donny and Nicole. Derrick warns them not to be surprised if he's on the block this week.
Caleb says it's impossible they can't take the nominees down and put other people up "They can't do that"
Christine says that one season there was a crap ton of Pandora's boxes
Derrick mentions there was none last year
Caleb – Has it ever not been open
Christine nah
Caleb – imagine being the only person to not open Pandora's box
Derrick points out if there's the potential for money Beast mode will open it.
6:09pm Everyone but Victoria who's in the FIREROOM writhing in pain
Frankie – If there is a pandora's box it'll be today
Frankie explains how the pandora's box works sometimes it benefits the HOH but is a penalty to everyone in the house other times it hurts the HOH and is a benefit for Everyone else.
Derrick continues to work on this stick tower.. Nicole and Donny with him at the dining room table.
Nicole says she's been on the block five times
Donny laughs say he's been on the block 6 times.
Donny – I can't believe they gave us sharp sticks now that zach is gone they give us sharp sticks,..
Victoria joins them says she's in a lot of pain she hasn't been given any pain medication yet. The doctor is coming to see her.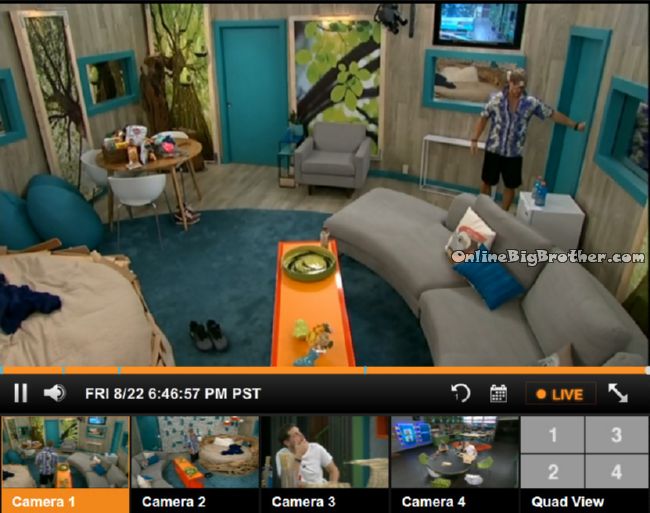 6:37pm Dining room
Caleb telling them it might be a luxury comp just so they can fill in the gaps.
Derrick is leaning more to a Pandora's box, "if he's up there smashing globes for money we're down here getting porked somehow"
Derrick says he hears banging in the back room. Explains to Caleb how the back yard is changed up for pandora's box.
Caleb – it could be it they have to fill that gap with something
Derrick grabs two more handfuls of sticks moves them towards the structures he's already builts "I'm going to build into it.. this is going to take a while"
Caleb – would be sick if he got trapped up there and we got to see the new transformer movie with popcorn..
Derrick – or we win money..
Derrick brings up past season Pandora's boxes.. Luxury designer clothes and Money.
Derrick – Something is going on camera's ain't moving..
Donny – they are all in their sleeping positions
Caleb goes up there to see if the HOH door is open.. walks in and tries the extra door in the HOH room.. it's locked..
It's driving them crazy trying to figure out what is going on.
Derrick starts talking about art says someone could sell the thing he just made for thousands of dollars and call it art, "I call this one transfer of power"
Victoria jokes says he's going to be walking around the store and see this sculpture for sale for a couple thousand dollars. (her tooth doesn't seem to be bothering her that much
7:01pm living room Victoria, Donny and Derrick
(Caleb is walking around looks like he' s searching for something maybe Pandora's box)
Victoria – I just want to shoot naked women all day long
Derrick – me too
Victoria – I Just like to take pictures of them it's not sl*ty pictures I turn them into art. with the props and where we're at.
Derrick – you do a lot of nude photos
Victoria – ya but it's with women..
Victoria says maybe in the future she'll do pictures of couples
She explains they are called boudoir photos.
Derrick asks her what would she do if the couple starting bangin he thinks it would turn into porn pretty quickly. TEases her about it.
She brings up one couple she did but the guy wore underwear.
Derrick – you're into some tinky sh1t you started off with wedding pictures and now you're doing porn.. you're a pornography director
"A pornographer . "
Derrick – congratulations Mr and Misses Rafaeli.. surprise she likes to take pictures of naked women and naked guys… little do you know little princess isn't so much of a princess.. probably not a virgin..
Victoria giggles.
piece of Derrick structure collapses. Caleb – Transfer of power failed..
Derrick says he's going back to it it's a blessing in disguise.
Victoria wonders what it would be like if Amanda was in the house.
Derrick – she would tell us where to go
Caleb looks at Derrick structure "All that power"
Derrick isn't happy with transfer of power he circles around it trying to see what needs to be changed.
Christine walks by sees transfer of POwer.. "Oh my God"
Derrick – I was bored..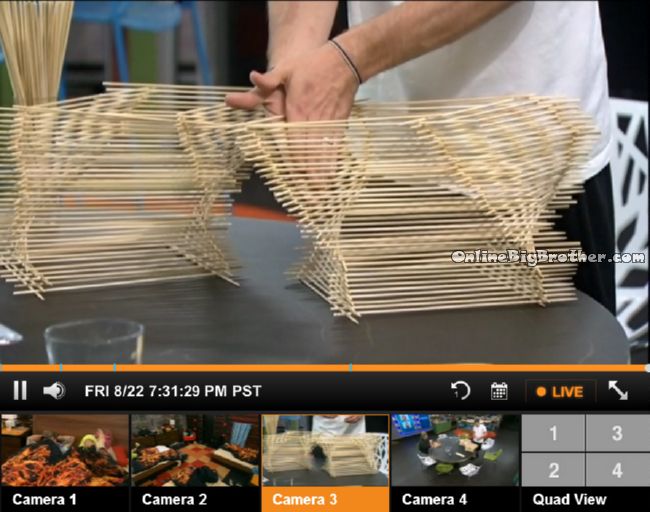 7:32pm after taking down the bridging structure Derrick makes some adjustments and begins the new bridge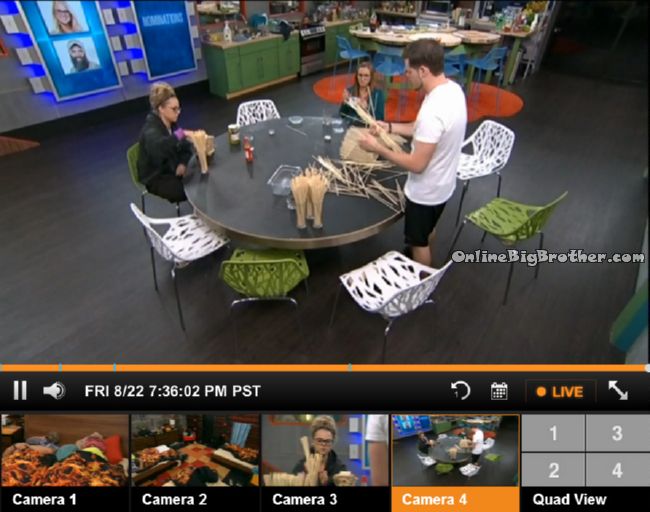 7:36pm Transfer of Power has been destroyed
Derrick – "Done playing"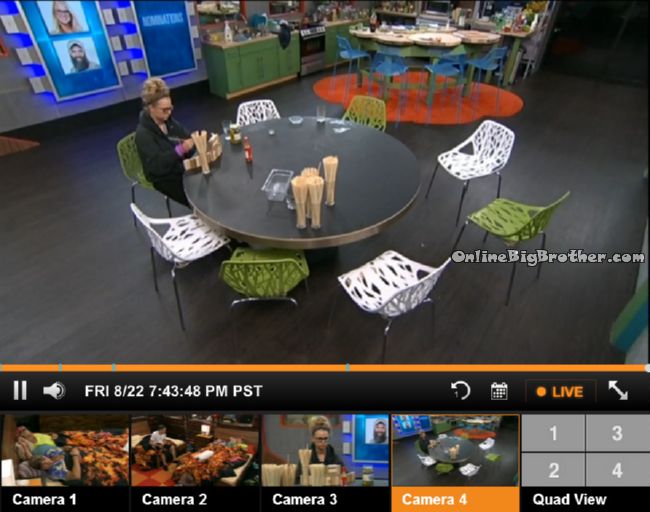 7:45pm Nicole alone building stuff..
Alliances
"The HITMEN" – Cody & Derrick
More polls here https://www.onlinebigbrother.com/big-brother-compendium/big-brother-16-polls/
[polldaddy poll=8260325]