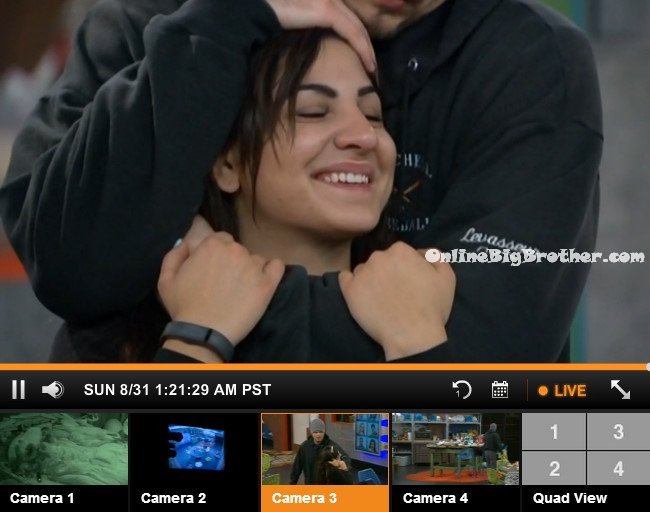 1:20am – 1:45am
Nicole comes out of the diary room. Nicole asks Victoria if she'll stay up with her. Victoria says she will. Victoria tells Derrick that he's her best male friend. Derrick tells Nicole that he's had her back since day 1. Derrick heads to bed. Nicole and Victoria eat and chat in the kitchen. Nicole says I love Derrick. Now I know why you like him so much. He's like your Hayden. Nicole says people need to stop being babies with their HOH's. Quit wasting your HOH's on girls. Victoria says I don't think there have been any big game moves except with Derrick. Nicole says and getting Hayden and me out. Nicole says I don't want to see Christine's ugly face… I don't mean it like that like ugly. Victoria says he has an ugly personality. Victoria says I can't believe how Cody is toughing a married girl. Nicole says maybe he's married. Victoria says no, I think he is just really insecure. He flirts with her because he knows she won't turn him down. She gives him attention that no other girl would. She laughs at everything he says. I don't think anything he says is funny. Nicole says isn't it funny that I'm a bigger target than Frankie, Cody or Caleb. Victoria says if anyone but Derrick wins HOH then I will be out. They don't want girls in the house. Victoria says I need Derrick to win the money if its not me. He's a very good game player and an amazing person. Nicole says I would rather go out making big game moves and going out not wouldn't you? Victoria says yeah.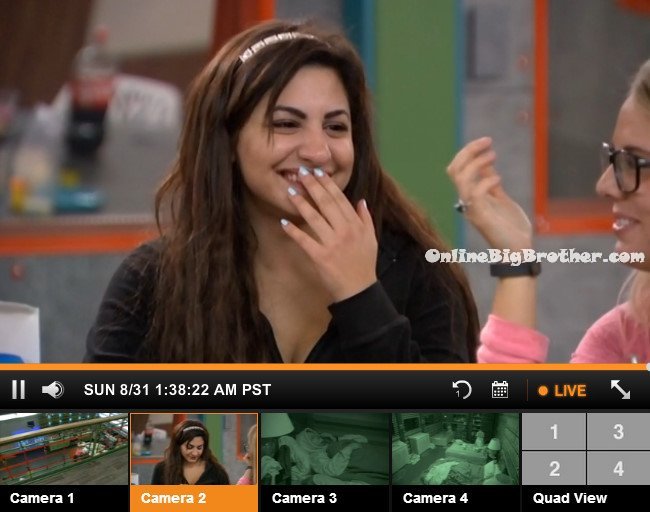 1:50am – 2:25amVictoria goes to say goodnight to Derrick. Nicole joins them and gets into her havenot bed. Derrick tells Victoria to go to sleep before you fall asleep on me. Victoria says she doesn't want to sleep alone in the fire room. What if there are ghosts in there. Derrick says go to sleep in the rock room. Victoria says heck no, not with the dinosaur and mean girl. I might just sleep in here. Nicole says go sleep in your comfy bed. Derrick says no I would be so mad if you did. Victoria leaves. Derrick says to Nicole she's a sweet girl but geez. Derrick says I'm pissed you heard my shout-out and I didn't. Nicole says yeah I don't know what it said though .. they just said your name repeatedly. I think it said save Nicole. Derrick says beast mode always gets shout-outs. Nicole says yeah I bet his DR's are intense. Nicole says she couldn't hear because Cody was talking so loud. I was trying so hard to listen. Derrick says that's what happened last time. Everyone heard different things. Nicole talks about how nice it is in jury without all the cameras. Derrick says it's going to get a lot more crowded in there. Nicole says I might just share a bedroom with Hayden. Derrick says hey now! Nicole says not like that. They talk about Hayden and Donny. Derrick gets called to the diary room. Nicole goes to sleep.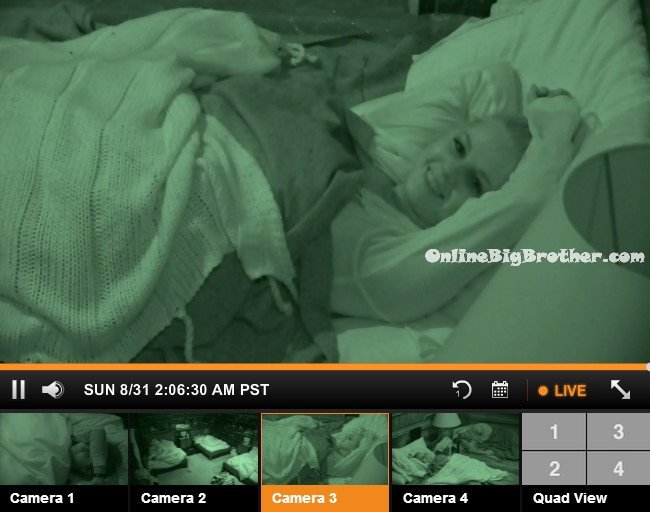 9:35am – 10:55am Big Brother blocks the live feeds to wake up the house guests. When the live feeds return all the house guests are heading back to bed/still sleeping.
11:35am All the house guests are still sleeping..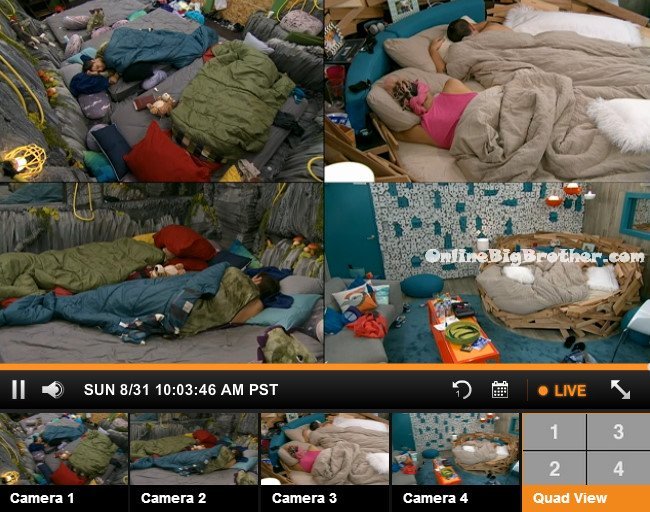 If you're enjoying the live feed updates this season, please consider donating. Simon and I work 24/7 all season long to keep you updated on everything that happens inside the BB16 house. Any amount is greatly appreciated! Your donations go directly to paying the server and bandwidth fees required to run this site.
[polldaddy poll=8274218]