POV Holder:
Christine
Next POV
Aug 30th
POV Used
?
POV Ceremony
Sept 1st
HOH Winner
Caleb
Next HOH
Sept 4th
Nominations:
Nicole and Christine
Have Nots
Derrick and Nicole
POV Players
Victoria, Nicole, Caleb, Cody, Christine and Derrick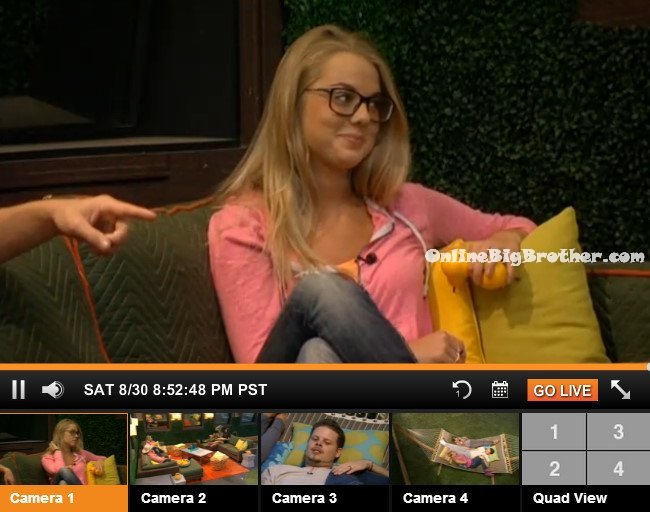 8:50pm – 9:20pm On the backyard couch –
Cody tells Nicole that he would give her a 10 on the scale. Nicole says thanks but you have your beer goggles on. Caleb says I would give you a solid 8. Nicole laughs and says thanks. Caleb says I date 8's. Cody says I never date smoke bombs. Nicole says I'm attracted to personality first. Caleb says let me ask you something if you saw a guy walk over there could you say how attractive his personality is? Nicole says I'm attracted to personality first. Caleb says lie to me again and tell me you're attracted to personality first. Nicole says I liked Hayden for his personality. The first time I saw Hayden I knew I would like him. Cody says Hayden is a very good looking guy. Nicole says I found him better looking as I got to know him. Christine joins their conversation because she believes you can be attracted to someone's personality. Cody comments on how Tim is a good looking guy. Caleb asks Nicole have you ever heard of love at first personality? No! That's because it doesn't exist! Nicole says whatever you can win this if you want. Victoria gets up and asks Derrick if he was in love with Jana his wife at first sight? Derrick says no. I knew she was different but not love at first sight. Victoria says you're not helping me prove my point.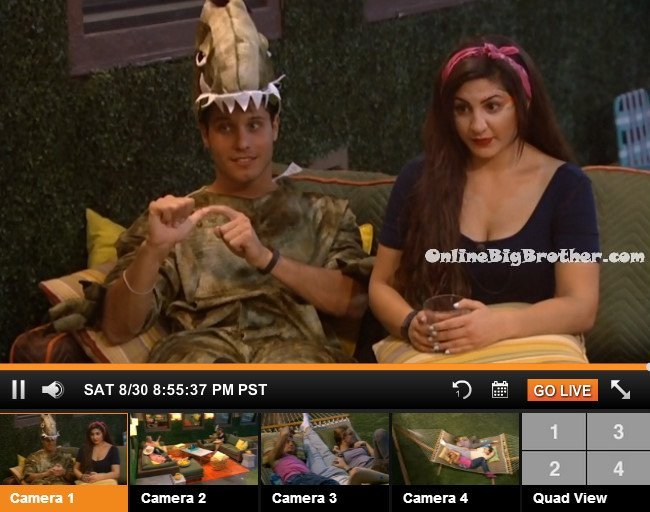 9pm – 9:25pm Derrick and Frankie are talking on the hammock talking about how they still haven't gotten another mission. Frankie says he thinks they'll get a mission that has to do with the Veto ceremony or eviction. Derrick asks and how much time will we get to accomplish it? I am looking for redemption. Frankie agrees he is too. Frankie comments on how Caleb is getting paranoid. Derrick says he's played a respectable game. Frankie says anyone of us would lose against Cody. Derricks says yeah he's a beast. Frankie says I think we could beat Caleb. Derrick says this is going to be a tough week. We need to win the double evict. Frankie says if Victoria wins it one of us are going. Derrick agrees. Derrick comments on how Christine has built a good resume. Frankie wonder if Donny will tell the others in Jury about Team America. Derrick says he doesn't think he would because then he would lose all then money we've earned. I really hope they remind him. If he did and we were at the end there is no way either of us would get the money knowing we've already gotten the team america money. Derrick says for you to guarantee yourself the win you would need to be up there next to Victoria. Derrick asks if Christine won HOH who would she put up next to Victoria? Frankie thinks maybe Caleb. Frankie says this is big brother not best friend. Frankie comments on how hard it was for Caleb to pick havenots. Derrick asks is there anything I could to do to be safer? Frankie says I don't think anyone is worried about taking you further and that's good. Derrick says I hate being that guy .. the Spencer. Derrick says so essentially just stay quiet. Frankie says no one has even mentioned your name to me to this day! That's a great thing.
One way to support this site that doesn't cost you anything extra is making your
Amazon purchases through the links Below
For in Canada use the following link:
Amazon.ca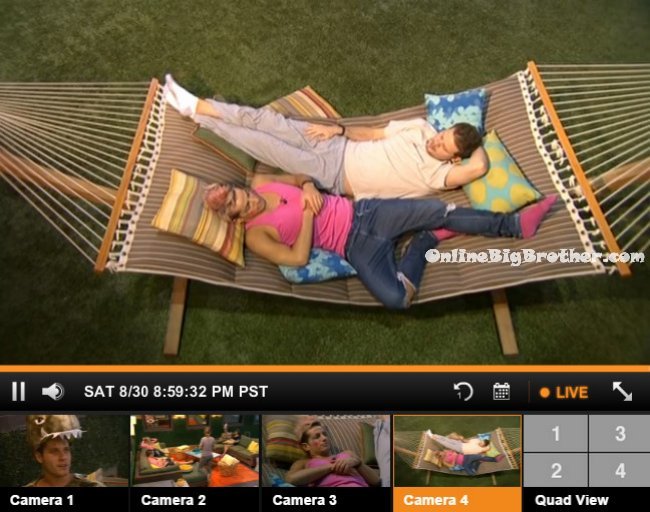 9:25pm – 9:40pm Cody says I am very capable in a fight no one is going to beat me one on one. When I was younger I got beat up by a group of people. It wasn't a small group it was a big group. Cody says I am not talking about people like Caleb who know sh*t. He's been fighting with people that wanted to murder him. Cody says I am willing to bite. I am willing to do whatever I have to. I will not let you mess up my face. Its called never back down! Don't care what your odds are! Go in head first. I will never allow someone to throw a punch on my before I throw the first punch. I will never allow someone to punch me first they could knock me out. Caleb says 8 lbs of pressure is all it takes to knock someone out. Caleb says he doesn't like to fight. Cody says yeah because we're pretty boys.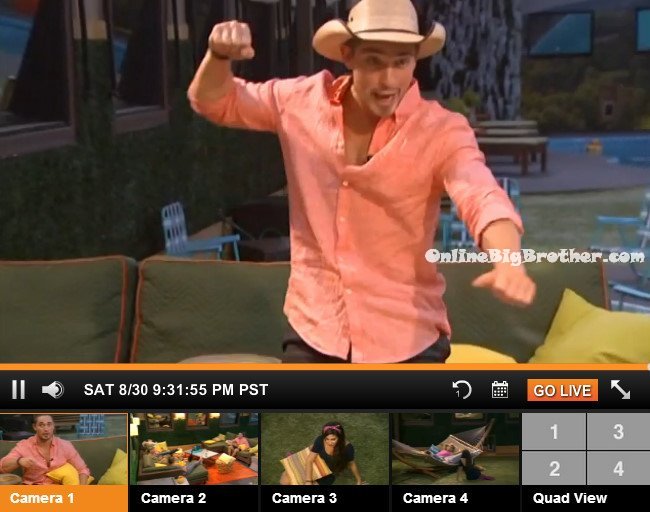 9:40pm There are people yelling outside the Big Brother house. (You can't tell what they're yelling) Big Brother tells the house guests they're on an outdoor lock down. Derrick says Inside! We know! Nicole asks did you hear what they said? Christine says you weren't here before when it happened. We were called into the diary room and told not to talk about it. They all head inside. Victoria says motherf**kers! They all say don't talk about it.

9:50pm – 10:20 In the kitchen – Nicole comments to Christine and Victoria that there's only 2 weeks left to have pandora's box. Christine says she doesn't think they're going to get one just like how last season didn't get one.
Caleb, Derrick, Cody head up to the HOH room. They talk about how it sucks they're inside all night now because of the screamers. Caleb comments to Derrick about how smashed Cody is right now. Derrick and Frankie leave the HOH room. Cody tells Caleb that he will go to the end. Cody says I am tight with Christine to make us better so that if Christine wins HOH she will go after Frankie and not you or Derrick. I love my two dudes! I love you and I love Derrick. I will take you an Derrick over her. She will hate me and probably won't vote for me. I've questioned Christine because I heard she was coming after me but I've never questioned you or Derrick. The only person I am worried about winning is Frankie. If you go to the end with Frankie.. guaranteed you have my vote. If I am going to lose to someone, I am going to lose to you. Caleb says same with you. Cody says if I go home and you or Derrick win it, I would be happy. Cody says that Frankie has crossed all of us. Keeping Frankie tight with you is good for your game but its not good for me. I already know he is coming after me. Cody says to be honest I am not that confident against you or Derrick. To be honest I think you would both beat me. I am not about to cross the two that dragged me to where I'm at right now. If I go to then end with you or Derrick I don't give a F**K what happens. If I lose to anyone else I will be pissed off! Cody says if I lost to Christine, Frankie or Victoria I would be pissed!! Christine joins them.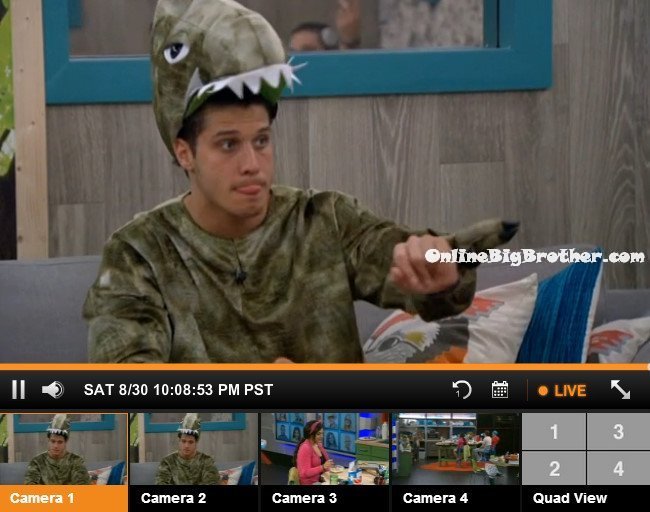 10:20pm – 10:30pm Derrick goes the storage room and comes out to gather everyone in the living room and on the balcony. He goes back to the storage room and comes out with more alcohol. He says they gave me another 6 pack of beer and a bottle of wine. Cody grabs a beer and shot guns it. (Cody's getting pretty drunk.) Derrick talks to Caleb in the HOH room. Caleb tells Cody about his conversation with Cody. Derrick talks to Caleb about how he's had Caleb's back. Caleb says I know if it was you, me and Cody. If you win the final HOH I know 100% you would take me. And if Cody won it I know he would take you and I would respect it. Derrick says and he would expect me to take you. Caleb heads to the diary room. Derrick says to himself "Perfect!"