POV Holder:
Christine
Next POV
Aug 30th
POV Used
?
POV Ceremony
Sept 1st
HOH Winner
Caleb
Next HOH
Sept 4th
Nominations:
Nicole and Christine
Have Nots
Derrick and Nicole
POV Players
Victoria, Nicole, Caleb, Cody, Christine and Derrick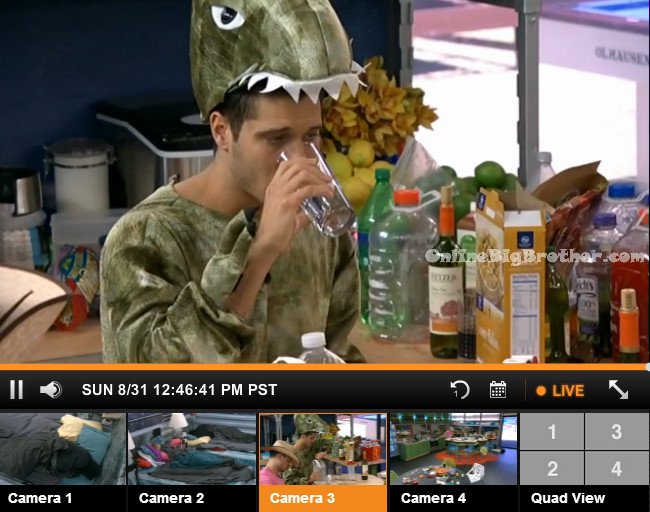 See what they can't show you on TV! -Try the Big Brother 16 live feeds for FREE!
12:30pm – 1:10pm Caleb wakes up does his laundry and then makes lunch. Cody wakes up and joins Caleb in the kitchen. Caleb asks him how he's feeling. Cody shrugs. Cody says man this thing is so hot! Cody asks what time everyone went to bed. Caleb says he can't remember. What time did you go to bed? Cody says I don't know I passed out. Caleb says the last time I looked at the clock Victoria pass drunk on the floor right here. Caleb says maybe 1:30am. Christine wakes up to join them. Christine asks Cody if he's okay. Cody groans. Cody asks what time did I go to bed at? Christine says like 11:45pm. Christine comments on how Cody just left last night. Cody says if I drink and get drunk I just don't want to be around people. Cody talks about his dream where he got evicted. Christine says you guys should have just backdo*red me so I couldn't win the POV! Cody says trust me that's what I told them to do.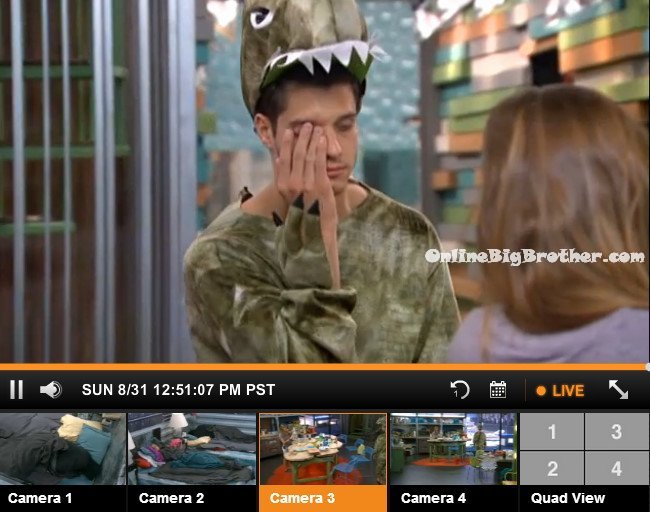 1:10pm Victoria heads outside where Christine is by the washing machine. Victoria says that she was going to fold Derrick's clothes. Christine says that Derrick likes his clothes folded a certain way, not even is wife does it. Victoria says oh really because I've been doing it all along. Victoria goes inside and wakes up Nicole in the havenot room to tell her what Christine said. She tells me this about Derrick! I am so pissed! I hate her!
Big Brother 16 Live Feed FREE TRIAL – Use the FLASHBACK feature to watch everything you've missed!
Derrick joins Cody, Frankie in the kitchen and shows Cody how he was passed out.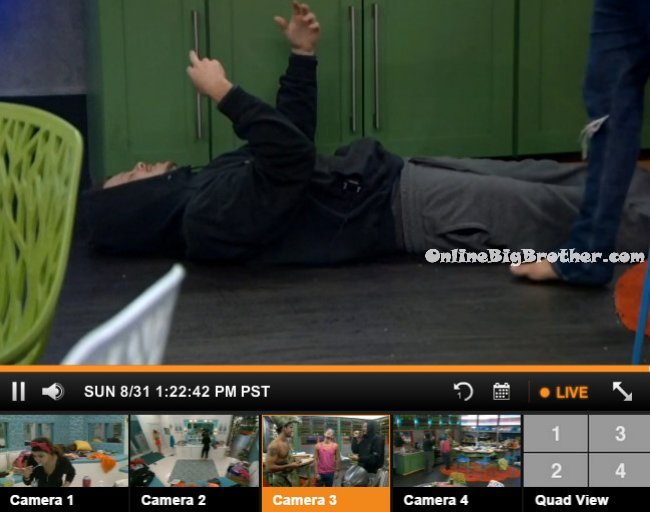 Cody heads out to the backyard and talks to Frankie about how annoyed he is about being drunk last night. Frankie says that he wasn't that bad. You were talking and then you passed out. Frankie tells Cody about how Victoria was on the floor scream laughing about a sheet pan.
1:37pm – 1:40pm In the living room – Victoria is talking to Derrick about how Christine told her not to fold Derrick's clothes. She said that your wife doesn't even fold your clothes. Who is she to say that to me? Derrick says it doesn't matter. Victoria says I was going to slap her! I'm not kidding. "You motherf**king nasty wh*re!" Wouldn't you be mad? Derrick says no, yeah I hear ya.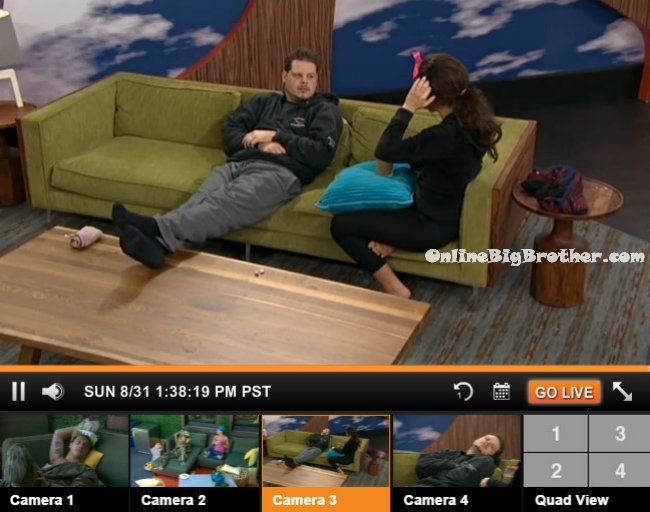 1:55pm – 2:15pm In the kitchen – Nicole and Victoria are sitting at the kitchen table. Meanwhile out in the backyard – Derrick, Caleb and Christine are talking about random things. Big Brother tells them its photo time. Caleb and Frankie are the only house guests that initially go in to take photos. Nicole joins them.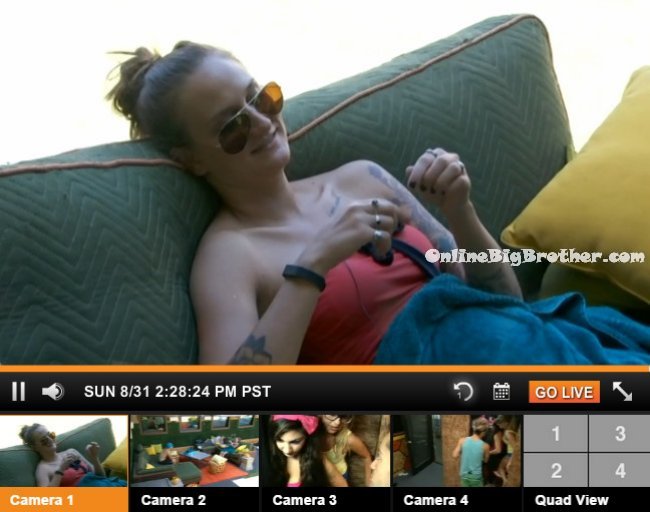 2:20pm – 2:40pm
Derrick talks to Christine out in the backyard. Christine talks about how after she won the veto all Frankie was talking about was how he would have done. And I was like let me enjoy my win. She says even this morning he was questioning her what was going on in the bathroom. I was like I'm just putting my bathing suit on to go in the hot tub. Derrick says he'll calm down after the replacement nom. Christine says if Victoria makes it to the final 3 I will be livid. Derrick says I don't think its good for anyone's game for her to make it to the final 3. Caleb joins them. Christine says I feel so happy getting her out because then finally the useless person is gone. It is smart though leaving the person who can't win anything to the end to get out. Caleb and Derrick agree. Caleb says I'm not going to lie I'm pretty scared about Frankie winning the double eviction. Derrick asks why? Caleb says I think if he has the chance he would try and take Cody or I out because he knows he can't beat us. Christine says all he talks about is himself. Caleb says he scares me. He could beat all you in a comp but he knows he's not going to beat Cody and I. I think its best to get rid of Nicole but we just can't let him win the next part. I trust that you two would do what you've said you would do. Nicole ask already gotten a chance to play and come back and he had 4 opportunities to win to stay and she didn't. Christine says I would rather sit next to any of you guys than that thing (Frankie). Christine goes to take photo booth photos with Frankie.
If you're enjoying the live feed updates this season, please consider donating. Simon and I work 24/7 all season long to keep you updated on everything that happens inside the BB16 house. Any amount is greatly appreciated! Your donations go directly to paying the fees required to run this site.
[polldaddy poll=8274218]