POV Holder:
Christine
Next POV
Aug 30th
POV Used
?
POV Ceremony
Sept 1st
HOH Winner
Caleb
Next HOH
Sept 4th
Nominations:
Nicole and Christine
Have Nots
Derrick and Nicole
POV Players
Victoria, Nicole, Caleb, Cody, Christine and Derrick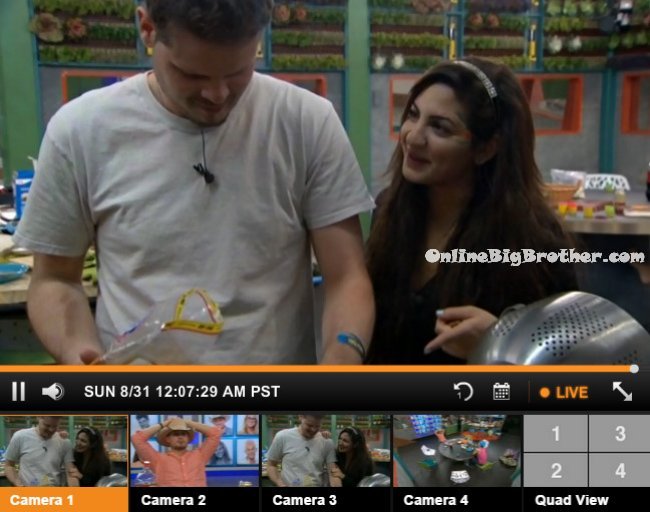 See what they can't show you on TV! -Try the Big Brother 16 live feeds for FREE!
12:10pm In the kitchen – Derrick is cooking slop creations. Victoria joins him. Derrick tells her that the cookie sheet is called a sheet pan. Victoria loses it and starts laughing hysterically saying sheet pan over and over again. It's not a sheet pan!? Victoria drops to the floor laughing. Derrick looks at the camera and asks if the live feeders are watching this. Caleb gets down behind Victoria looks at the camera and points to Victoria. Victoria keeps saying Sheet Pan, Sheet Pan!! Christine comes back from going to bed and tells Victoria its called a sheet pan. Victoria says that's weird. Victoria says tomorrow they should put plastic bags down in the backyard with soap and water. Caleb asks a slip and slide. Derrick says no, we just did that last week. Frankie asks last week?! Derrick says two days ago. Frankie says yes rose, I'm still bruised from it. Caleb says maybe they're building us something in the backyard. Victoria says no we can't go outside because people are yelling. Victoria asks Frankie what they were yelling. Frankie says Donny forever, ya'll are burning in hell! Caleb tells Victoria he is the king of this castle. Derrick says I just got a little aroused. Caleb and Frankie head to the HOH room to go to bed.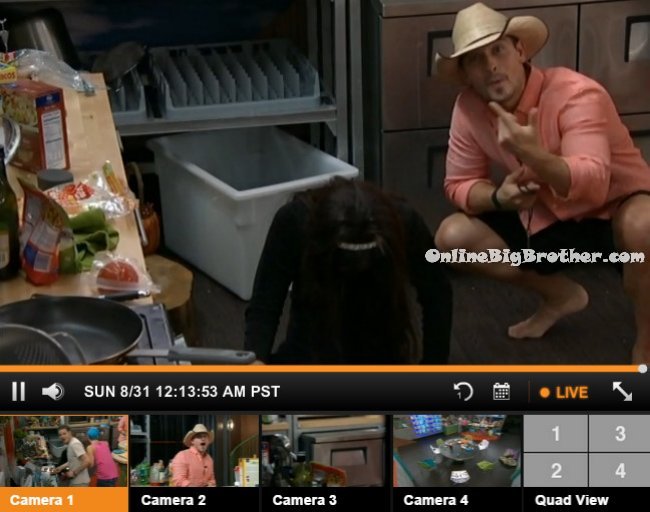 One way to support this site that doesn't cost you anything extra is making your
Amazon purchases through the links Below
For in Canada use the following link:
Amazon.ca
12:35pm Victoria tells Derrick maybe I can convince Caleb to not put me up. Derrick says I don't think you should. Its just going to put a bigger target on your back. If you tell him to put up Frankie and Frankie finds out you'll be his target next week. Derrick says you're not going home. Its just more TV time for you. Everyone wants Nicole gone! She already had two lives. She's gone. Don't take offence to it, he clearly likes you. Derrick says you don't even know for sure you're going up. Victoria says I just feel bad. Not that I feel bad for her leaving because it just means I am just that much closer to half a million dollars but there are just straight up malicious people here. Christine is just so vicious. Derrick says well she's safe this week. Victoria says Hayden deserves to be here. Derrick says no one deserves to be here. You're here because of your game play. Victoria says being malicious shouldn't be respected as game play. She takes pride in putting people down. Victoria says you better freaking fight because you're the only person that deserves to be here. Victoria says if I leave its going to suck. If I leave I want you to win. Derrick says I will try. Victoria says there no loyalty in their game play. Derrick says EAT your quesadilla so I can go to bed! You're just b***hing about them right now. I could careless about them. Victoria says If I leave, I just want you to win! Derrick says I will try, I will try my hardest.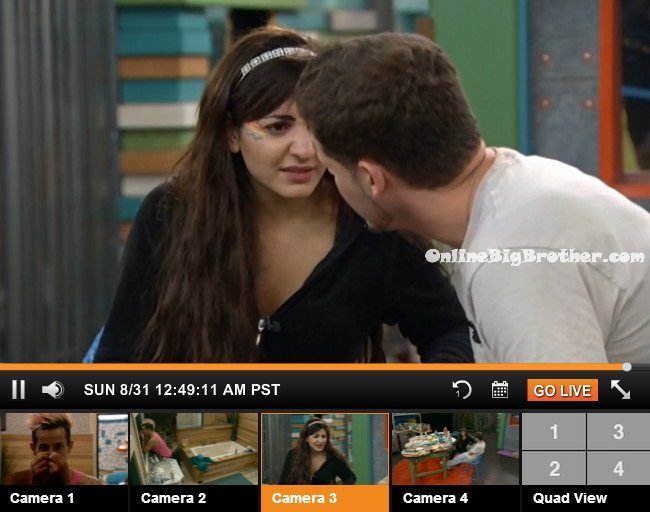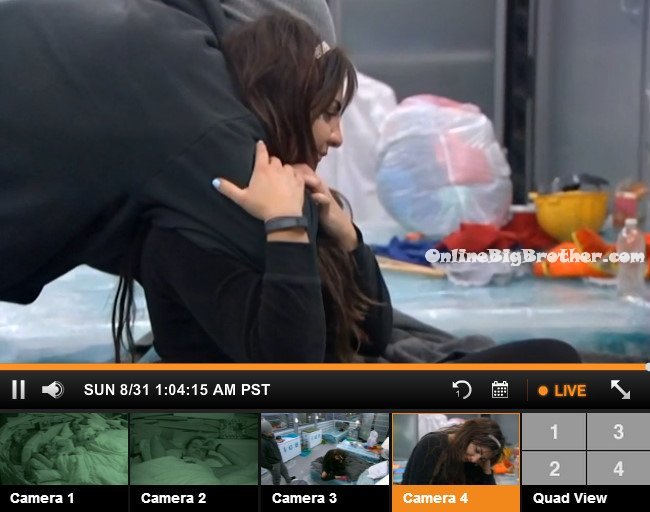 1pm In the havenot room –
Victoria tells Derrick she really doesn't want to go. Derrick says I really want to make it to the end with you but if one of us goes at least we met each other. I am excited because at least this week is in the books. We just have to win to secure our own fate. Whatever's meant to happen will happen. That's all we can do. Why don't you go get some sleep. Victoria starts crying. Derrick tells her to go sleep in the fire room where Christine is sleeping. Victoria says she doesn't want to. Derrick says well she's safe this week so you need to be cordial. Derrick goes to leave and Victoria pulls him in to hug her. He leaves and she lays in his bed. She lays there and cries. She then gets up and hugs Derrick in the hallway. He tells her she's just emotional because she's been drinking. He tells her to go to bed. She says okay and then goes to then bathroom and starts crying again. Derrick comes back and asks her what she's doing? She says she's been holding things in. Derrick says its just a game. She says she's been playing with her heat when she knows she shouldn't. They hug for a bit and then he tells her she's got this, do your thing. Derrick leaves.