POV Holder:
Corey
POV Competition
July 16th
POV Used
YES
POV Ceremony
July 18th
HOH
Paulie
Next HOH
July 21st
Roadkill Competition Winner:
Tiffany
Original Nominations:
Tiffany, Natalie, Corey
After POV Nominations:
Tiffany, Natalie, Da'Vonne
Have Nots
James and Natalie
CBS All Access: Live feeds are only $5.99 per month – Try it FREE for 1 WEEK!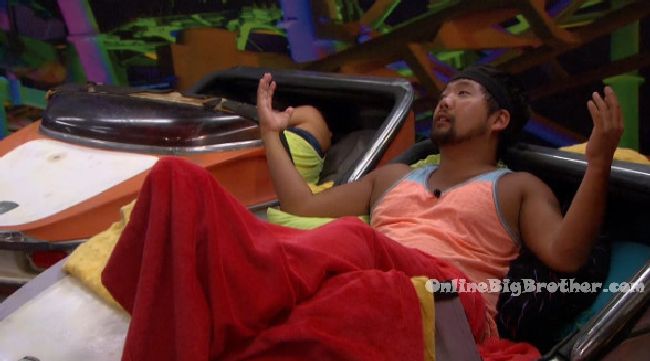 5:05pm – 6pm Havenot room – James and Natalie. Natalie is upset with James because he suggested to cuddle with Nicole in the bumper cars. Natalie says I just feel stupid! I opened up to you so much. James asks why do you feel stupid? Natalie says I feel stupid and dumb. Especially after today with everything you said in front of everyone. I feel like I look stupid. I should not have started liking you. And its so mean that everyone was in on that whole thing today. James asks who was in it. Everyone was outside and clearly knew what was happening and I just sat there like an idiot. I hate when people do stuff like that .. passive aggressive stuff. Its not cool. Natalie says being flirty isn't my strategy. I don't even flirt. James says its all cool. Natalie says yeah well you hurt my feelings bad! Natalie asks what does have my back even mean? James says since we started being friends I had your back. Natalie says I've had your back too. Did you think I was lying about it?! James says I didn't say that. Natalie says well you're free to cuddle with whoever you want now. James says I don't want to cuddle with anyone else. Natalie says do you know how hard it was to come out of this room after all of that. That didn't feel good. James says all it was, was one person said something and then Day said I bet you won't say that in front of Nat. Natalie says I wouldn't do that to you. Everyone knows we fought last night.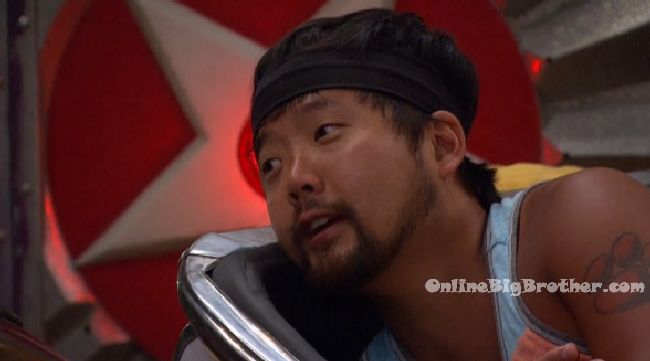 Natalie says everyone massages everyone. I'm not crossing the line or being disrespectful. James says and that's why people ask what are we? Natalie says we clearly flirt, Nicole and Corey, Z and Paulie. That's so uncool that you said that to Nicole "You wanna go cuddle in my go cart?" Who's idea was that?! James says it was my idea, no one elses. Natalie says I don't believe that for a second. You just don't want me to go off on anyone. This is the worst day ever. James asks so Bronte evicted wasn't a worse day? Natalie says no that was up there but you made me feel worthless. Natalie says that doesn't make me feel good when I like someone and they say they want to cuddle with someone else. James says I didn't even really know how you felt about me. Natalie says its so obvious. I don't hang out with any other guys in the house. Natalie says you should talk to me, instead of taunting me in front of everyone outside. Natalie says me rubbing Paulie's leg wasn't anything. I did it right in front of you. James says I was confused. Natalie says so you thought hurting my feelings was the way to go?! James says no. All I can do is apologize and move on. Natalie says I accept your apology. Why did Michelle keep going and say you wanted to cuddle with her in your boxers. James says I don't know. Natalie says mission accomplished you hurt my feelings. I really care for you a lot. That's not going to change. You mean a lot to me. You're such a big flirt too. James says yeah I flirt with the guys too. Natalie says what's the double standard then!? James says you can do it too. James says its a good thing we had this talk. I didn't know you really liked me past the flirting. People might be like sh*t James she rubs my back too .. it doesn't mean she likes you. Natalie says I don't rub other peoples backs. James says maybe that wasn't the right analogy. Natalie says just don't hurt my feelings again. If you're ever feeling some kind of way with me, just come and ask me.
FLASHBACK and watch everything you missed: CBS All Access FREE Trial!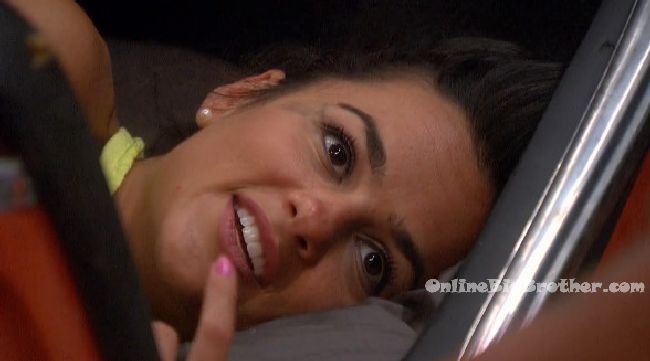 5:40pm – 6:20pm DaVonne and Paulie are talking in the hammock. DaVonne says there was one rumor that I couldn't figure out. Today Z told me that Tiffany said I'm going to put up someone you're working with and its not a girl. Z was like who am I working with Paul is on my team and Day. Tiff was like no the 5 people you're working with. Paulie and DaVonne discuss the events of the last week. Paulie says I was like this is my HOH, and Tiffany is going home. Paulie starts talking about his brother Cody's season.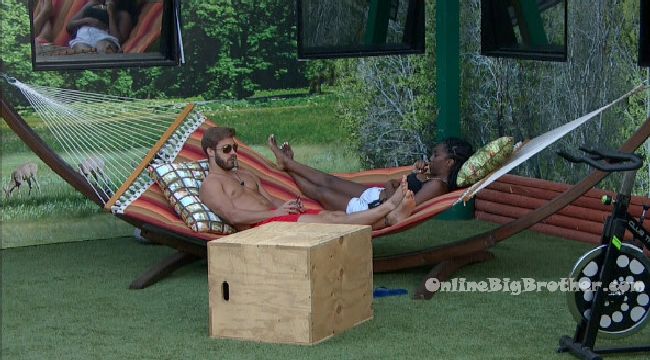 6:15pm Nicole and Z are on the backyard lounger. Nicole says I just know somethings she's (DaVonne) done are true and it sketches me out. Nicole says is different than real life. I trust you, Paulie and Corey 100%. She proved me otherwise. Z says it makes me sad. Nicole says it make me sad too. Nicole says the fact that she come ups and tells us how much she loves us all the time makes me feel like she betrayed us. There was no reason for her to tell people about the 5 person thing. Right now I have to trust her but if she wins next week and puts up Corey and I … I will be so mad. How does Michelle feel about her? Nicole says she doesn't trust her (Day) but wants Tiff out this week. She just came to that yesterday.
6:25pm Natalie is back in James' bumper car.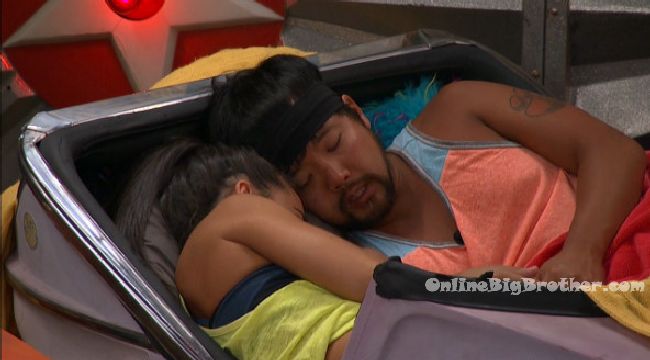 6:35pm Safari room – Frank and Michelle. Frank tells Michelle how Day isn't that likable and isn't good at competitions. Her only strategy is to lie. Frank tells Michelle that she could be vote number 6 or 7 (voting out Day). Frank says I'm getting more and more confident with it. Right now for sure you would be 5 .. maybe even 6 or 7. Wouldn't it be fun to flip the vote like that? Michelle says yeah.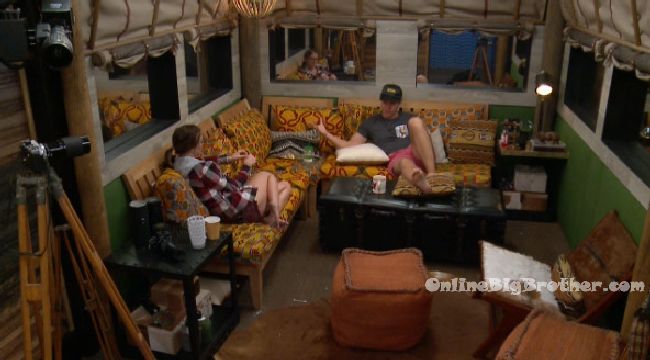 6:50pm – 7:15pm Paulie and Frank are talking in the safari room. Paulie says DaY told him you know if I keep Tiffany they are all going to gun for me. I said that there is no reason for Frank and I to go after each other because we could literally win every other week. Frank says I've never seen her awake this much in the day. And how she's going around complimenting everyone. Paulie says I'm not really worried about Day or Tiff winning anything. Frank says I have to tip my hat to Day because that sh*t she started between Tiff and I f**king worked. Paulie says at the end of the day you do have to tip your hat because she is playing the game. Frank says when you save someone when they're at their bottom, they'll be as loyal as a dog. That's what I think about Tiff. Paulie says I have a gut feeling Tiff would take a shot at me. With Day I don't think she would till it gets down to it. Frank says the thing with Day is she can taint a jury. That's why I want her out before jury. Do you realize what happens if you or I are at the end with a girl. They will win hands down with Day in the jury. Obviously I want to be in the end with you though. Frank says I just think Day is the bigger threat. Paulie says I don't see either of them threats. Frank and Paulie talk about the past events and what the HOH comp might be since they're being locked inside at 6am tomorrow. Frank says I hope its something we can give to Michelle so that its me you and Bridgette in the next week. Paulie says if its a team thing we can.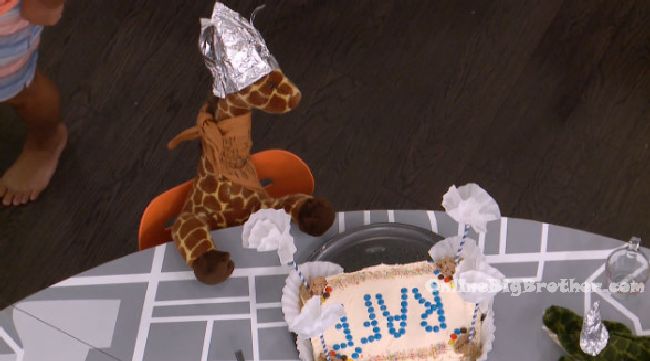 In the havenot room – Tiffany is looking for something but can't find it. She thinks someone stole it and hid it from her. She says she hate these people. I'm so over this house.

In the backyard – Nicole, Michelle, Paul, Paulie, James, DaVonne, Corey and Frank are playing their orange tossing game.
7:40pm – 8pm In the kitchen – Natalie tells Z that James is literally the cutest guy. I like him a lot. I get a little jealous here and there and so does he. Z says I can get a little territorial here and there. Natalie says I genuinely care for him a lot and regardless if we date outside of here or not we will be really good friends. He is everything I look for in a guy. Everything matches with us. Is that how you feel with Paulie. Z says to a degree. We're opposites too. Natalie says opposites attract too.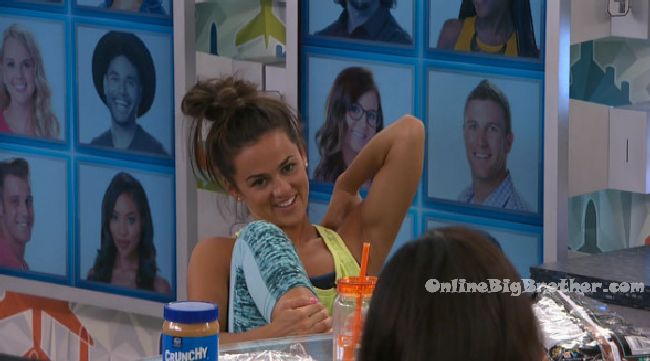 [polldaddy poll=9473607]
[polldaddy poll=9471428]