POV Holder:
Frank
Next POV:
Aug 18 (Saturday)
POV Used
POV Ceremony
Aug 20 (Monday)
HOH Winner:
Shane
Next HOH:
Aug 13 (Thursday)
Original Nominations:
Boogie and Frank
Current Nominations:
Have Nots
No Have Nots This Week
Last Evicted Houseguest
Wil
HOH temptations
Britney Safe this week, Boogie gets 10grand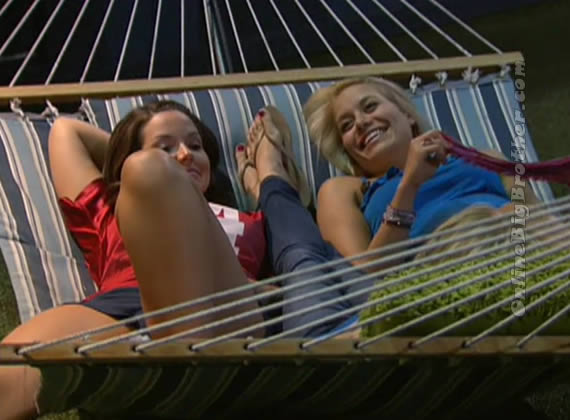 8:55pm Hammock Danielle, Ashley and Brintey
AShley says boogies kiss was so forced and for the camera.. Danielle mentions that Boogie said he would kiss Ashley again. AShley laughs everything Boogie does is for the camera.
AShley thinks Boogie and Frank are talking mad shit about her.. "I don't even Care"
Ashley jokes that they need more alcohol so there will be a make out season her on the hammock between Danielle and Shane.
Danielle :"There will never be something like that on camera.. He's too scared"
AShley: "He's too scared?"
Danielle: "YA"
Danielle asks Ashley what Franks roll is in the show. Ashley really doesn't know she thinks Frank can be mean sometimes but can see him being all "nicey nicey " in the Diary Room.
cut to fish
When it comes back Ashley is saying that Britney is the guys girl she gets along with the guys but she is pretty.
AShley says that Danielle had Jordans roll this season, but Danielle is much smart. Ashley "Again I don't know if Jordan is smart or not"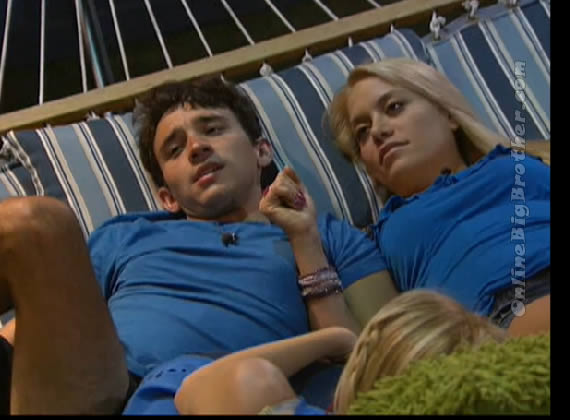 9:00pm Ian joins them and Danielle leaves.
Chit chat.. Britney asks if they want her to leave them alone to snuggle?
9:55pm The houseguests are either working out or in the kitchen eating and chatting. Danielle carries Britney to the backyard lounger. (You know because walking over there is a waste of Britney's energy.. LOL actually Danielle just picked her up and carried her. ON a side note Danielle is packing on the pounds lately.. we may have another Porsche)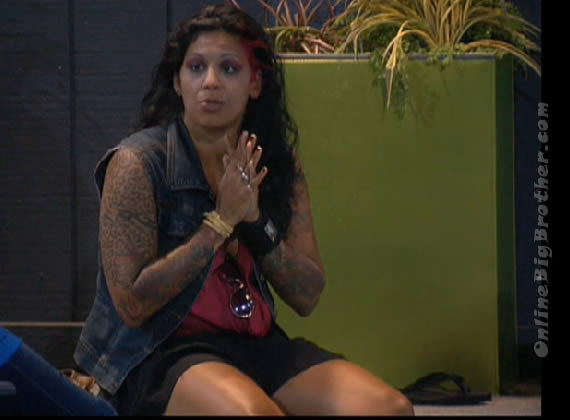 10:12pm Cam 3-4 Jenn, Britney and Shane
Jenn talking about the music industry. Jenn says when she got her big record deal the record executives said iTunes was a fad and now it basically is the industry. She says that the best thing to do is to really push your content out there give it away and make the money on merchandise and live Shows. Jenn says the entire music industry has changed so much it's all about pushing your best content out to as many people as you can.
The main objective should be to pack people into going to a live show.. Each person you can make 20-30 dollars from them plus all the merchandising.
Brintey:"how much longer will it be until they don't make CD"
Jenn: "soon"
Jenn goes on to explain that Bands have to become self sufficient and base their business around Live shows and merchandise. She talks about one of her bands where every one had a job in the band on top of producing the music. Joe joins them. Jenn says the best thing to happen to small bands is their music gets on a summer blockbuster. you make crazy fat stacks on that yo. Jenn: "The big record deals are over"
10:25pm Arcade room Boogie and Frank
Frank one thing real quick I just talk to Joe in the kitchen and smoothed things over. Boogie is saying that 3 people + Britney are telling Shane to put up Dan. Boogie thinks they have a chance because he'll have Dan, Danielle pushing for a pawn and Jenn, Ian, frank, Boogie plus
Britney joins them..
Boogie says the clock is ticking..
Boogie: "Can I ask this is there any part of Shane that is mad at me for taking the 10 grand"
Britney: "He never has said he was to me"
Frank: "We also felt safe with you people"
Boogie: "Yes it was the best of both worlds…"
Britney hasn't had a chance to talk to Shane yet because the entire house has been up in the HOH she plans to get in his ear once everyone falls asleep
Britney: "This place feels like a dream.. its the twilight zone.. the weirdness that happens in this house sometimes.. is out of a dream .. " Britney mentions Danielle picking her up and hauling her around the backyard. Boogie says sometimes i'm in room and i felt like i've never been there before/
Brintey gets up to leave.. Frank: "Dan's not sleeping with me anymore"
Brintey: "I know… silly"
Brintey leaves..
Frank: "She's Definitely better to talk one on one "
Boogie: "I feel good.. " (Boogie actually thinks Britney will try and talk Shane into putting up joe or dan)
Boogie: "The biggest problem is shane.. him and danielle are close and danielle wants Dan in the game"
Frank: "I know"
Boogie: "sometimes i Think Shane doesn't have the sack to put up Dan.. I can't beleive if he doesn't put up JOe.. I think Britney knows enough to try to get Joe up"
Frank has seen that Dan was playing pool with Shane
Boogie thinks that they need to talk to Shane tonight and have him sleep on it. THey also need to hit shane hard tomorrow morning before 11.
Both Frank and Boogie are getting tired of Shane's wishy washy answers. They both wonder that perhaps he likes the attention of people coming to him talking.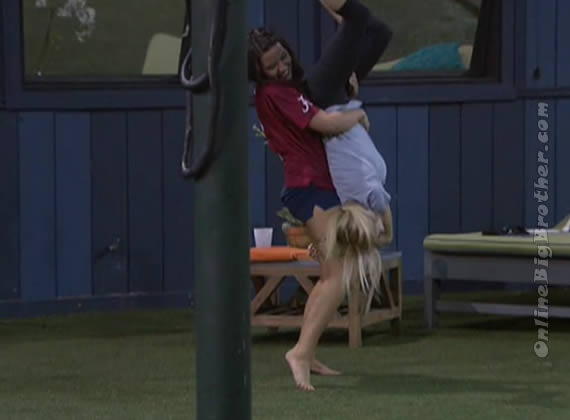 10:44pm Cam 1-2
For some reason Danielle and Britney are really getting into wrestling. (More pictures)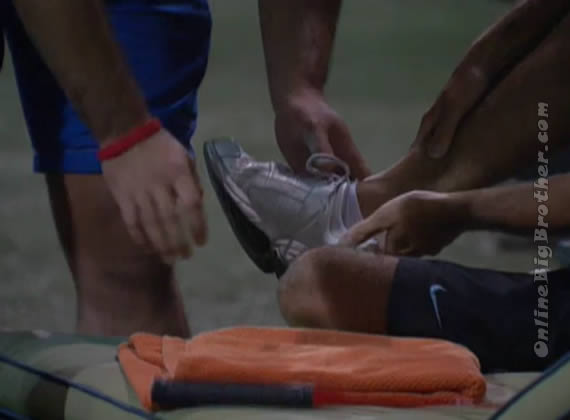 11:32pm cam 3-4 
Playing badminton Ian rolls his ankle Everyone crowding around him. Joe inspecting saying it doesn't look too bad they need to get Ice. Ian saying hey wants them to get the medic. Joe: "did you hurt it hard" Ian: "Ya I heard it pop"
Joe inspects
JOe: "Not too bad Bro"
Boogie: 'What did you do roll it out"
Ian: 'Ya.. ohh Shit.. Ahh fuck.. "
Joe: "it's a low roll"
12:07am Ian and Britney
(Ian with ice on his ankle)
Britney we might need you to win HOH.. What if we are all out and it's only you.
Britney knows he doesn't want to put up Frank but Dan doesn't want to be walking around covering for Ian. Ian understands tells her they'll decide what he'll do with the HOH when he gets it. Britney doesn't want him to throw the comp because he's scared to put up Frank.
Ian: "I think the HOH will be other quicky.. probably a quiz."
12:47Am Cam 3-4 Dan, Danielle and Dan
DAn: "I didn't want to be outside.. "
Britney: "You mean in the awkward zone"
Dan: "I don't really want to be fake anymore"
Dan: "how many times you have been bombarded today"
Britney: "3.. same story get dan out"
Dan: 'is there anything i Need to clear up.. "
Britney: "No nothing to worry about.. we need to get HOH"
Dan: "Whose thise"
Britney looks at the spyscreen "If it's Joe I'm leaving I don't want to look at him"
Shane comes up
They joke that dan wanted to trade Danielle for Jenn week one.
Dan asks Shane how many times has he been approached.
Shane says Shane and Boogie in the morning.. then Frank.. then Jenn.. Ashley… Frank again..
Dane wants to know what Jenn is saying. Shane says all of them are trying to get him to put up Dan. They all talked dirt about Dan.. saying he's a liar and a mastermind. Ian told Shane that Boogie gave orders to Jenn, Ashley and Ian telling him then all the key points and try to get Dan or Joe up.
Shane says taht JEnn only talks to him when he has power either a HOH or POV. Britney brings up that 24 hours ago Boogie was verbally attacking her in the skid row room and now he comes up in the HOH gets all teary eyed and expect for her to look past all that.
They start to question some of the things Boogie is doing. He offered Danielle and Shane a final 3 deal with him and Frank. Shane: "Doesn't he know we all talk"
Dan now realizes that during season 7 it was all Dr Will Boogie was just like the janitor cleaning up. Danielle mentions that Frnak is nothing like Dr. Will
Share it YO!!
Tweet