POV Holder:
?
Next POV:
Aug 25 (Saturday)
POV Used
POV Ceremony
Aug 27 (Monday)
HOH Winner:
Frank
Next HOH:
Aug 30 (Thursday)
Original Nominations:
Dan And Danielle
Current Nominations:
Have Nots
Dan
Last Evicted Houseguest
Boogie and Ashley
Pandora's Box POwer
Ian -> Has a veto power
8:45pm Cam 3-4 Bedroom
Dan says he as a strong feeling it's going to be "How Bad Do you Want it" If thats the case they need to throw the POV to Shane or Britney. Danielle doesn't want to throw the POV competition but she understands it needs to be done.
Dan is concerned about Britney scheming in the HOH with Frank for the past hour. Daneille tells him not to worry she's just working Frank in the event that Dan or Danielle go home this week.
Britney comes down..
Dan: "You need to know that every time I go up there that i'm not going after him (Frank) next week"
Dan: "I just talked to Ian and he said that if Shane or Britney win POV he will use his power" Dan adds that if Frank, Dan, or Danielle win the veto Ian will not use his barbarian power (barbarian power = ian's veto power.. Dan is calling Ian Conan the barbarian now because of his performance in the Competition) .
Britney: "Frank won't fight hard for the Veto.. " Britney adds that Frank doesn't trust Ian at all and he's really worried Ian will use the power but not worried enough. Frank is also skeptical that tomorrow's Power of Veto Competition is "How Bad do you want it" )
Danielle: "Shane won't shave his head.. "
Dan :"Frank won't"
Britney: "Ya.. Neither will Frank"
Brintey: "So I need to take all the punishments"
Dan: "Frank is going for prizes.. I've never played that competition what's the trick you just hit the button"
Britney: "Ya"
Brintey: "I've been up there for over a hour.. Frank's getting all emotional he was crying.. he feels a lone in this game"
Dan: "you are alone buddy"
Danielle says she's going to head up the the head of household bedroom and talk to Frank because he's all emotional
Dan tells Britney they need to try and get a QP meeting tonight..
9:00pm Cam 1-2 Danielle and Frank HOH
Key Points
A) Danielle wants to work with Frank if Dan goes
B) Danielle wanted to get Janelle out before Boogie pitched the idea to them. She didn't think they had the votes
C) Dan S!hit on Franks Dream
D) Frank doesn't hold the AShley thing against Britney and Danielle
E) They Hug it out (Image Link)
9:24pm Hot tub Cam 3-4 Ian, Dan and Britney
Ian says that the Diary Room tried to talk him out of using the veto. They asked him "How does using it benefit you" BRitney: 'You don't feel that way do you" (Cut to fish we only got a bit of the conversation)
9:27pm Cam 2 Ian show his mom the Veto Power he won today.
9:33pm Backyard Cam 3-4 Jenn and Dan Watch with FlashBack FREE TRIAL!
Dan talks about Frank being unstoppable in the competitions. He says that Frank has to be aware that people are starting to get worried and want him out because they will never win against him. Jenn agrees.. Dan :"He's not playing in the HOH next week.. we'll need to win every POV or HOH from here on in.. Anyone that keeps him around is playing for second.. he's got a great shot at winning" .
Dan: "Even if he sends me out I'm not going to vote personally I would consider him to win the game"
Dan points out that Frank is outstanding at winning competitions. HE went through all 6 of them to win the HOH.
Danielle joins them and they start to chit chat
10:16pm Cam 3-4 Danielle, Britney and Dan backyard talking about drunk dialing people. Britney mentions that sometimes she tweets out picture of herself drunk and they look horrible. I think Ian is roaming around the house.. was on the hammock.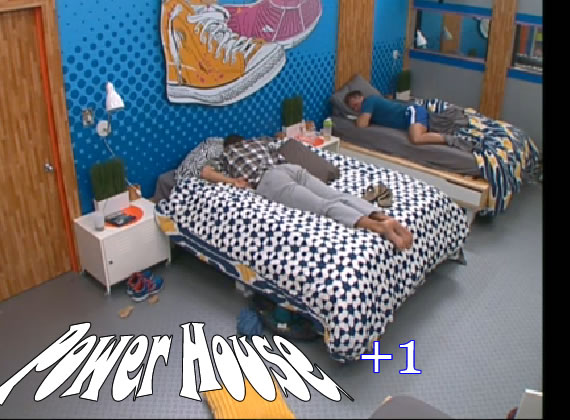 10:17pm Cam 1-2 Powerhouse +1 Sleeping
Off the Feeds you have Frank sleeping in the HOH. (Damn the house feels empty)
10:50pm Powerhouse and Frank sleeping everyone else in the backyard Shane tells them they got Alcohol togging.. Shane: "For 8 people they gave 4 beers and a bottle of wine"
everyone is planning on banking the alcohol.
10:52pm Cam 3-4 Ian, Dan, Shane and Britney
Dan asks Ian if Shane wins the POV will Ian use the power 1000 percent?
Ian says Yes .. He's going to tell Frank before he does it though. DAn :"You are not going to Russell Hantz it and pull it out of your pants"
Ian: "I'm not going to blindside the guy twice"
ian understands that Dan's rolling the dice by throwing the competition so if he should do what is best for him . Dan: "I don't have a problem throwing it as long as I know everyone is up to the plan"
Ian is going to say to Frank that he strongly feels against having a player like Joe in the house. Ian: "Frank even said it himself.. that Joe doesn't deserve to be in this game"
Shane says he will take danielle off and Ian takes Dane off. Britney and Joe go up and Joe goes home.
Jenn comes back and Ruins the Quack Pack meeting.
(I really don't know if Ian can be nominated if he uses the power.. I'm starting to think he can't)
Watch the last month on the Feeds – FREE TRIAL –
11:16pm Cam 3 Backyard Full Quack Pack
Dan: "Freaking Production is trying to talk ian out of using…." Feeds Cut Ian: "they want me and Frank to Work… Feeds Cut .. When we come back Joe is with them they start talking about competitions and which ones could be coming up.
(So according to Ian The Diary Room is trying to get Ian and Frank to work together they do not want him to use the barbarian power )
11:27pm Cam 1-2 Ian and Britney (Image Link)
Britney saying that it's not necessarily a bad thing if Dan goes home this week. Ian: "I agree completely"
Britney: "Because look how sneaky he is… but Frank will kill both of us at comps" Britney adds that Frank was saying he might put up Joe or Jenn up as a gesture of goodwill if we promise not to vote him out.
Britney: "I think Danielle will come work with us and Frank.. and Shane will to.. Thats why we need to win the Veto"
12:11AM Chit chat it's been going strong in the backyard.. Joe, Dan, Danielle, Jenn, Britney, Shane.. Ian on the hammock Frank sleeping.
Share it YO!!
Tweet