First HOH
Dan
Second HOH
Ian
Third HOH
 ?
Final HOH
?
Last Evicted Houseguest
SHANE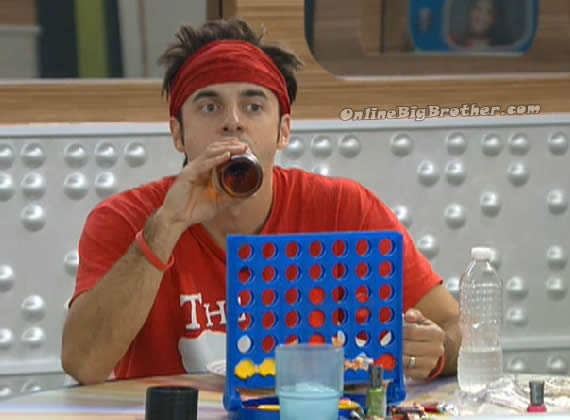 10:18pm Cam 1-2, 3 Kitchen Dan and Ian
Ian tells dan if Danielle comes to him saying he has a final 2 deal with her that it's BS. Je knows he has less of a chance to take Danielle than to take Dan. Dan says same goes with him If Danielle comes up saying she has a final 2 with Dan it's not true. Dan warns Danielle
Dan: "No morph this year"
Ian: "Good.. it's so played out"
Ian mentions that so many competitions are "Played out" they need new ideas.
Ian thinks Boogie will be pissed if he wins the Final HOH. Dan doesn't think so says that boogie will be proud.
Ian: "I like the guy a sh!t ton.. he's funny as hell. "
Ian says he's not going to be putting up with Danielle screaming with him. Dan thinks it'll be all good in a day.
Dan wonders if the Diary room is trying to calm Danielle done. Ian thinks so, Ian again says he's not going to put up with Danielle's crap.
Dan plans to go to bed at Midnight, Ian is going to stay up and wait until the hammock is free.
Dan: "Dude we F**** did it"
Ian: "Renegades did it.. Beat chilltown"
Dan: "Get to steppin Chilltown"
dan is hoping that Ian "rages" with him and memphis on wednesday night. Ian says yes he wants Quack pack and renegade T-shirts made up
Ian starts talking about the competition.
10:30pm Danielle comes out of the Diary room.. walks into the kitchen
doesn't look at the guys. ian continues to talk about the competition.
Ian called into the Diary Room
10:33pm Cam 3-4 Danielle and Dan Dan asks her what is wrong.. She says she feels alone and she knows Ian will not take her to the end. Danielle starts crying, Dan gives her a hug. Tells her not to worry.
Dan goes back to the kitchen.. Says to himself "Wasn't this hard the first time around".. He sites and looks at the memory wall… "What the heck do I do.. If I want to win this I have to make it to the end with Ian"
Dan: "What do I do.. My best move is to throw part 3 to Ian.. If I win My conscience will not allow me to cut Danielle.."
Dan: "Insanity to throw the Final part of HOH. so insane it just might work.. "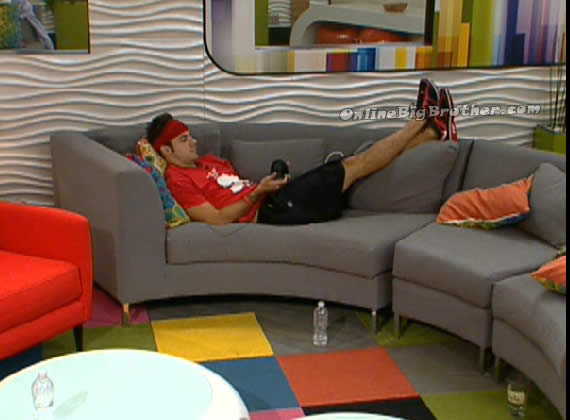 10:50pm Cam 1-2 Dan living Room Playing with the slinky while Danielle is in the bathroom crying her brains out.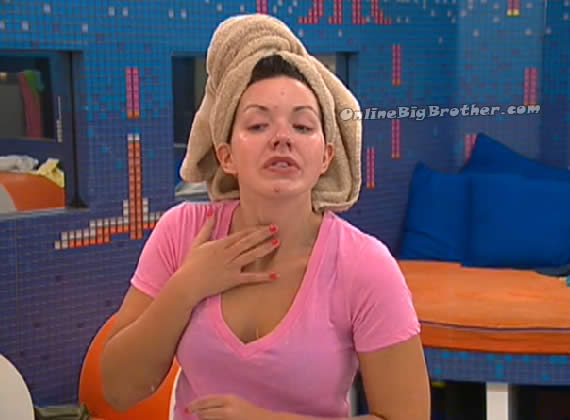 10:51pm Cam 3-4 A rough day for Danielle.. (She's been crying non stop for a while)
11:00pm Dan in the living room and Ian in the kitchen. Danielle walks by, Ian asks her if she is OK. Danielle: "Ya.. I don't want to talk to you right now"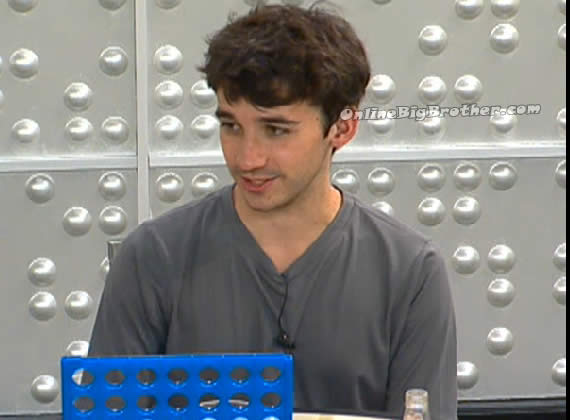 11:06pm Cam 1-2 Dan and Ian
Dan wants to make sure Danielle will not guilt trip Ian into taking her.
Ian says no way, he thinks what Danielle is doing is childish. Dan says that Danielle did a dumb move when she gave Dan the power to take out Shane. Dan wants this to be over he wishes that the finale was tomorrow.
Dan says he doesn't think Ian will Skullduggery him after they've been working together for so long.
They look at the memory wall Dan tells Ian his 2 "Lock Cities" are Britney and Jenn.
Ian says there is no way he will win against Danielle, Ian counts the votes for Danielle. Jenn, Frank, Shane and Ashley. Ian is very excited about the prospect of getting the 50 grand. ..
11:24pm Danielle crying (Image Link)
11:39pm Cam 1-2 bathroom Dan and Ian they are both Giggling about making it. Dan says Frank will be PISSED when it's him and Ian in the final 2.
12:03AM Cam 3-4 Dan goes up to Danielle asks her if she is OK and if it's OK for him to turn off the light. She says yes
Cam 3-4 show Dan and Danielle sleeping
CAm 1-2 show Ian walking around in circles in the kitchen pounding Diet Coke
12:49pm Ian is the only one up.. He's roaming around.. wiggling waiting for the hammock
1:11AM Nothing has changed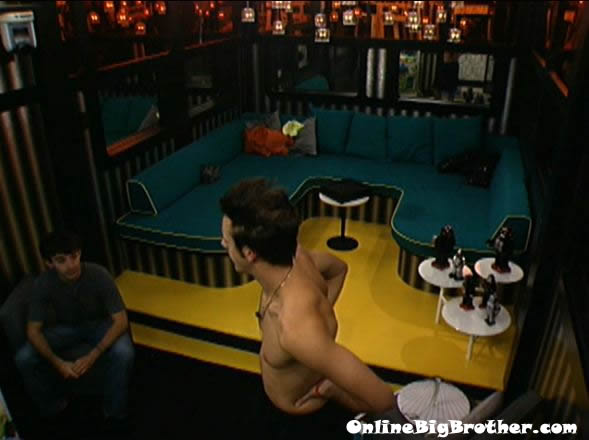 1:15am – 1:20am Ian is pacing back and forth from the kitchen to the bathroom. He ends up going into the arcade room and sitting down in a chair. A minute later Dan comes in and joins him. Dan asks Ian how he is doing? Ian says I don't think they are going to give us the backyard. I am not tired, I am just too amped up! Dan laughs. Ian says shhh! Is she okay? Dan says yeah I mean she just hit the lights. She didn't say anything; she just hit the lights off. Ian says f**k dude it's going to be so awkward around here the next few days. Dan says he thinks it will be okay. Ian says it will be okay, okay. Ian says I can't believe I got to 50 thousand bucks! Dan laughs and leaves the room to go to the bathroom. Ian goes into the bathroom and asks Dan if Danielle is asleep? Dan says yeah she hasn't said anything. Ian asks if his bear and snake are okay? Then he asks if Dan's monkey is okay? She didn't do anything to them? Dan says no they are fine. Ian says she better not touch them. Dan and Ian go into the arcade room. Dan and Ian say "wrap f**king city!" Ian says it's over kids! Wrap f***ing city! Dan says good job and and hugs Ian. Dan says that he is going back to bed. Ian says that f**king s**t was tiring and the worst part was getting s**t in my mouth. He says by the end of it his mouth was so dry and he was coughing up s**t. Dan says they heard (production) you throwing up. Ian says by the time I was going for the last one and went for the button I was coughing my head off. Ian says you know what else happened, for the clean one I had it on Willie, and had to clean it entirely.. I had to clean that W. Big Brother cuts the feeds. When the feeds come back Ian continues to pace. Dan heads back to bed. Ian continues to pace. Danielle gets up and goes to the washroom. When she comes back through the kitchen she asks Ian what time it is. Ian says 1:30am. Danielle says geezz. Ian says I don't think they are going to open the backyard; I will give it till 2am. Danielle goes back to bed and puts her head in her hands and then rolls over to go to sleep.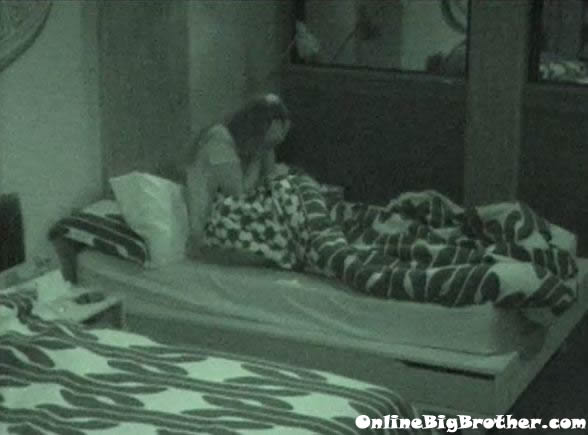 1:35am Dan and Danielle are both sleeping in the kicks room. Meanwhile in the kitchen, the backyard opens up and Ian says sweet! Lock down's over! Ian heads outside to swing in the hammock. Ian keeps saying over and over again 12 point buck, 12 point buck. He continues to mumble to himself. Last time I misfired, this time 12 point buck.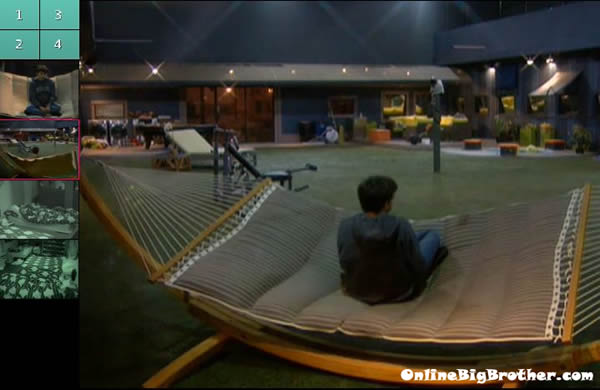 3:05am Ian is still swinging in the hammock mumbling to himself… He is going over what he will say to the jury. "Every man and woman for himself.." "Danielle was going to send me home.." "hook line and sinker.." "I gave you a trip to Maui, I could have given to my mother and father." "With two people that would never take me to the end." "it just made mathematical sense to split two and two once they got to final 4" "It just makes mathematical sense" "I took you down, I was being loyal to my alliance, the quack pack." "I went to great lengths to hide it." "based on statistics" "I made a big move to get to the end" "I never threw any of you under the bus" ..etc…
3:10am Ian heads inside. He goes to the washroom, then heads into the living room. He strips down to his underwear in the living room and then goes to bed in the kicks room.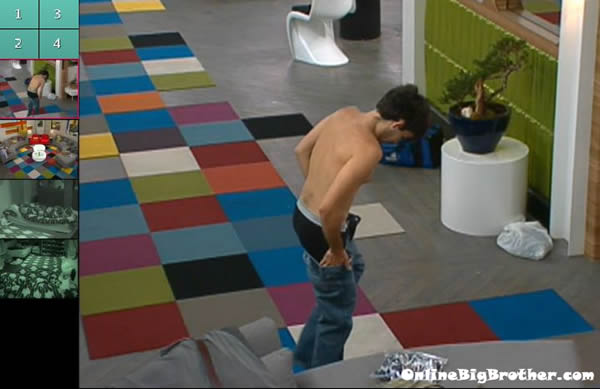 3:20am All the house guests are in bed sleeping..
8:25am All the house guests are still sleeping..
9:30am Still sleeping..
10:10am No wake up call yet, the final 3 are sleeping their way to half a mil…
10:30am ZZZZZzzz…