POV Holder:

1

Christine
Next POV
March 5th
POV Used
No
POV Ceremony
March 7th
HOH Winner:
Jared
Next HOH:
March 10th
Original Nominations:
Loveita and Sharry
Current Nominations:
Loveita and Sharry
Last Evicted Houseguest
Paige
Have Nots
Loveita, Sharry, Joel, Cassandra
Use the Hide My Ass VPN and watch the live feeds on your mobile phones and tablets. One subscription pays for all. It works on any device. Including internet enabled TVs and games consoles. You can even use it on two devices at the same time. HideMyAss VPN
ALLIANCES IN THE HOUSE
There will likely be a lot of alliances during the season – keep track with our alliance help guide.
10:30am The live feeds were blocked part of the morning.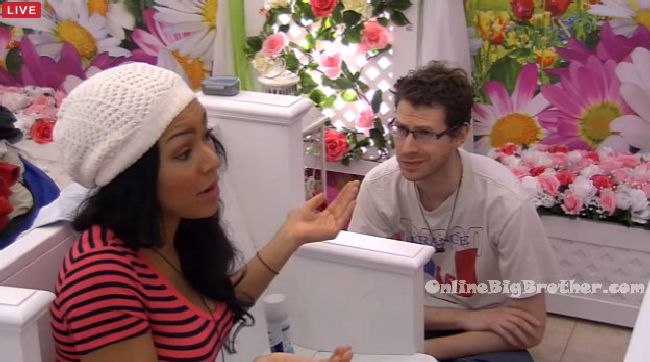 10:50am Loveita is talking to Mitch in the havenot room with Joel. She is campaigning hard. Mitch says that he thinks Loveita has a good chance to stay. He likes both of them but that doesn't really know where Sharry stands with him. Loveita says you don't have to be outwardly open for me. If I stay and win HOH I can take the hit. I know I have 2 other votes outside of this room. She says she has Cassandra and Dallas. (With Joel) Mitch says that he thinks she can get the brothers too. Loveita says I'm going to support my people and I'm not going to betray my people. Mitch says he thinks she can convince Tim and Nikki too. Mitch says that Jared is going to be a major threat in this game. Loveita says and he can't play HOH and I can. We can't play the gravy train. Mitch asks where she thinks Dallas is at? Loveita says she thinks Dallas will go with the majority because of the blow up that happened with him. Loveita says that she wants to be here for the house flip. Mitch tells Loveita that it was nice to see her laughing and having fun last night. Loveita says yeah I was twerking. Mitch says if you can just have fun with people, you can match Sharry's social game.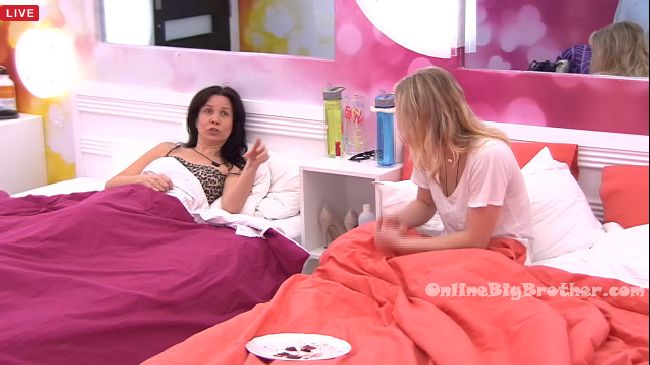 11am In the bedroom – Maddy and Christine are talking. Dallas tells Christine and Maddy that he's punting Loveita. Talking about my game, bit*ch you don't got a game. You've got an expiration date! Christine says that's a good one! Maddy says that she HATES Loveita!


Want to watch the Big Brother Canada 4 live feeds but live outside of Canada?
Bypass the geoblocking with HideMyAss VPN and be Canadian Anywhere: VPN Help Guide
11:25pm – 11:45am Backyard –
Loveita talks to Dallas outside. Dallas tells Loveita that he thinks she and Joel have a hidden agenda because they stopped talking when he came in the room. Loveita says we don't. Joel joins them. Loveita says we're not scheming. Everyone is paranoid in this house. Loveita tells Joel to tell Dallas why they stopped talking. Joel says we were counting the votes. (Joel acts weird when answering making Dallas more suspicious.) Loveita says you already gave me your word. Dallas says if I think you're scheming, I don't know. Dallas had walked in hearing his name and they stopped talking. Loveita says we were counting your vote as one of my votes. Dallas asks Joel – You give me your word that's what you were talking about? Joel says I give you my word. The shake hands. Loveita says I give you my life. And you can watch it back and see. Dallas says I'm just worried about people plotting against me. Okay I'll take your word for it. Dallas says Its in my best interest to keep you. I know. Dallas says I'll keep you love, you've got my word on that. Dallas leaves. Loveita tells Joel that things are good with Dallas now but that Joel needs to be more direct with people because it sketches people out when you beat around the bush.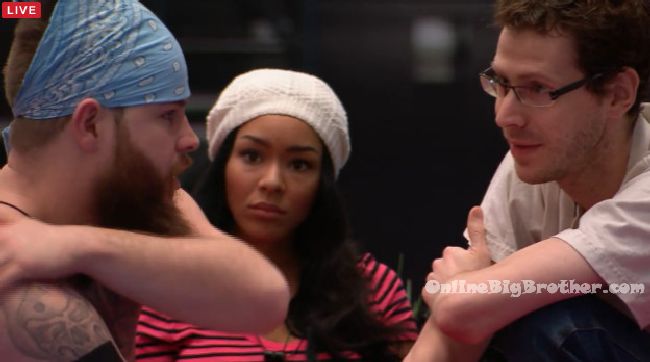 12pm – Havenot room – Joel has another talk with Dallas to make sure the air is clear without Loveita. Joel says that if Loveita says she is going after the big fish .. Jared and Kelsey. Dallas says yeah that's why its good to keep her. Loveita joins them and says that she has 4 votes if they (Joel and Dallas) vote with her. Loveita then goes and campaigns to Maddy. (Maddy hates Loveita)
12:30pm Hot Tub room –
Phil asks Joel which why he is leaning? Joel says he is leaning towards keeping Loveita. Phil says he's thinking the same thing. Joel says obviously Kelsey wants Loveita to go… Phil says so its better if she stays. Joel says exactly that way next week they'll be going after each other. Loveita is going to be pumped up and is going to want to win every competition. And she wouldn't be going after us. Phil asks do you think you have any influence over anyone? They agree to talk to Ramsey. Joel agrees to and says Ramsey is a wildcard. Phil says I think I'm going to tell Jared that Sharry is the head of the snake so I'm just going to vote that way. Joel says that Jared didn't say what he wanted. He said you guys do what you want. Phil leaves. Loveita joins Joel.
12:40pm – 1pm The feeds are blocked..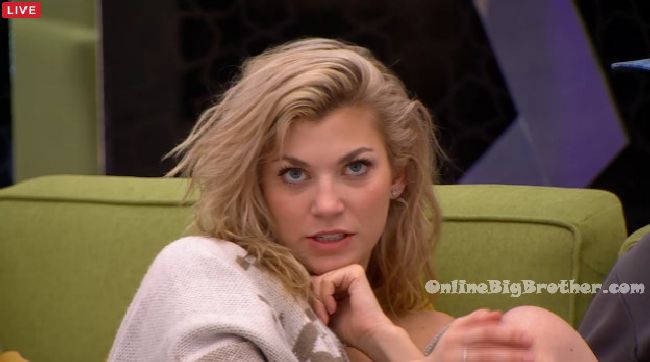 1:20pm – 1:55pm Kelsey, Phil Joel and Mitch. Kelsey says that she could go either way. Loveita is a tough competitor. I don't know, I'm down either way. If people needed my vote to Sharry then I could be swayed. I know there are other people that would put me up too. Phil says you have friends in this house too. Kelsey says I'm worried if Ramsey or Dallas win HOH because I would be going up. They agree it all depends on who wins HOH. Loveita joins them. Phil asks so when is eviction? Loveita says tomorrow. (Its not, Thursday is eviction day) Kelsey says that she finds Loveita just so awkward, like when she sits down my initial reaction is to get up and leave. Mitch says that's how most people feel.
Use the Hide My Ass VPN and watch the live feeds on your mobile phones and tablets. One subscription pays for all. It works on any device. Including internet enabled TVs and games consoles. You can even use it on two devices at the same time. HideMyAss VPN
If you're using an Adblocker, you're making a kitten cry! PLEASE consider disabling it for www.onlinebigbrother.com by adding us to your whitelist.
This is very easy to do: simply load www.onlinebigbrother.com in your browser, left click the adblocker and click "disable for this site"
If don't want to but want to stop the kittens from crying, please consider making a donation.