POV Holder:
Paul
POV Competition
June, 24th
POV Used
?
POV Ceremony
June, 26th
HOH
Nicole
Next HOH
June, 30
Roadkill Competition Winner:
Frank
Original Nominations:
Paulie, Jozea, and Paul
After POV Nominations:
? and ?
Have Nots
?
12:01am Jozea and Frank
Jozea – you can trust me.. I'm confident I have nothing to hide
Jozea – I'm into the whole Xena.. respect the warrior.. As guys we're men and let's do this.. You beat me fair and square that it..
Jozea wants to leave the gossip and lies to the girls.
Jozea – I'm a whole different ball of gay i'm so deeply into the manly part of it
Jozea apologizes for rambling on
Frank – that's what friends are for
Jozea – it looks good at this point
Jozea: I hope America sees how F***ing bam I am glue. They call me the glue I stick people together
Frank – Who
Joeza – Everyone I feel like i'm the messiah.. I feel master speeches on passion and hearts and souls and connections
Jozea – American be like he's the f***g messiah or some shit like that
Jozea – I do feel sometimes i'm the glue .. nobody else does the talking.. They look to me for answers.. But then again I did pull out that card the angel watches over joseph when Sarah did my sh1t (sarah?).. Maybe that's something maybe these are my children I have such a connection to them I don't want to see any of them go home.. Especially Bronte she's like my little sister
Jozea mentions the houseguests finding out about the shooting in Orlando,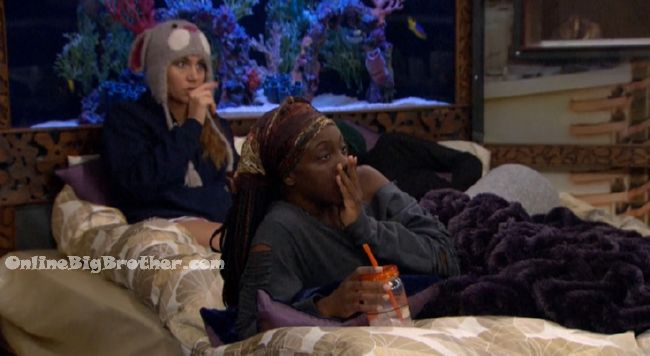 12:20am HOH Fatal 5
Nicole brings up talking to Victor today and he told her there was 6 votes for sure Jozea to stay. Tiffany says they are doing a good job making Jozea feel safe. Nicole says Jozea told her jokingly she is a target of the newbs but there's others before her.
Tiffany wants to know who his before Nicole.
Nicole – he didn't give names
Da'Vonne – you are for sure before her
Tiffany – why
Da'Vonne -you you …
Tiffany – why would you say that
Da'Vonne – calm down this is what they say every day i'm just relaying to you what they say Chill out
Tiffany – I am chill I'm just asking why you would say I'm before..
Zakiyah – every day they switch
Da'Vonne – back and forth
Nicole – Tomorrow it will be her (Zakiyah)
Da'Vonne – we got the numbers
Nicole – It'll be back to me tomorrow
Zakiyah – Doesn't matter They're all going anyways
Da'Vonne – First blindside of the summer it's going to be hilarious
Fatal 5 isn't trusting Paulie or BRidgette. Michelle says Paulie doesn't trust Bridgette at all. Michelle brings up that Bridgette is always playing the victim card.
Da'Vonne – she's not fooling me
Nicole – that doesn't bother me because everyone see it
Zakiyah – Frank really believes her
Michelle calls Bridgette a snake
Nicole – I don't like her game wise.. I can feel her staring me down 99 percent of the time
Da;Vonne offers if she wins HOH she'll take Bridgette out.
Zakiyah pecking order has Victor at the top of the list.
Da'Vonne says Victor gets on her nerves. Nicole would rather Bronte leaves first before Victor leaves. Nicole says a lot of people are targeting Victor he won't make it as far as Bronte.
Michelle says Paulie told her he wants Victor gone, She proposes they get Paulie to take Victor out.
Paulie comes up followed by Natalie. Paulie tells them they have to wear the pixels until Midnight on Tuesday
Michelle says the pixel outfits are Awful. Sounds like Frank got a modified shorts because the original were so tight.
Nicole says the Power of Veto ceremony is happening on Sunday, Da'Vonne agrees.
Da'Vonne – that gives us a whole week..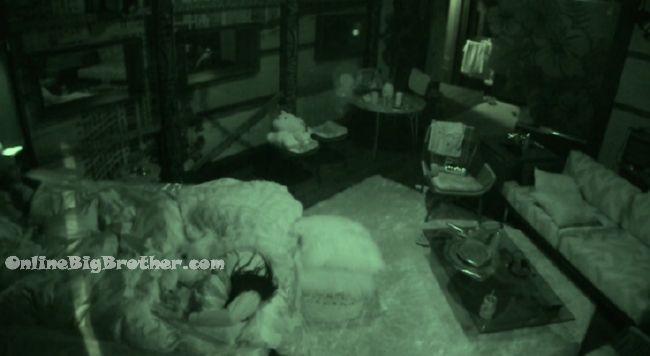 12:40am Nicole, Zakiyah and Da'Vonne
Nicole – God, you cannot tell Tiffany anything.. She flips out
Da'Vonne – ya ay ay a
Nicole – don't tell her anything.. Don't stress her out she can't hand it
Da'Vonne – she can't
Zakiyah – That's weird
Da'Vonne – Gohs..
Zakiyah – that was weird.. Has she flipped out on you
Nicole – No
They agree Tiffany is too sensitive. Sounds like they told her she was a potential target and flipped out. Nicole proposes they don't tell Tiffany anything unless she's in immediate danger. Nicole is worried Tiffany will now run downstairs and start something.
Zakiyah – her emotions are too erratic..
Da'Vonne – I'm not telling her shit. I don't care if an ice cream truck pulls in the backyard y'all tell her.
Nicole wants them all to tell Tiffany Nicole is the number one target.
Zakiyah is worried Tiffany will stop trusting them.
Nicole says there is nowhere for Tiffany to go so she has to trust her, "We just know we can't tell her anything"
Da'Vonne – me and James started talking about that two of the 8 she's the 1 with a big question mark.
Da'Vonne says when she was in the house Vanessa wasn't emotional but what Da'Vonne say on the feeds she was an "Emotional roller coaster"
They agree Tiffany is fragile.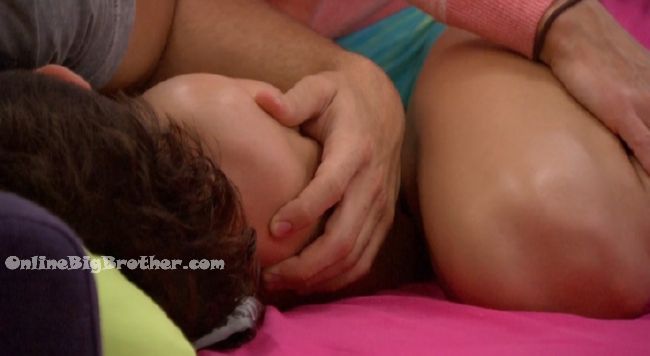 12:31am cam 3-4
Paul and Bronte chit chatting..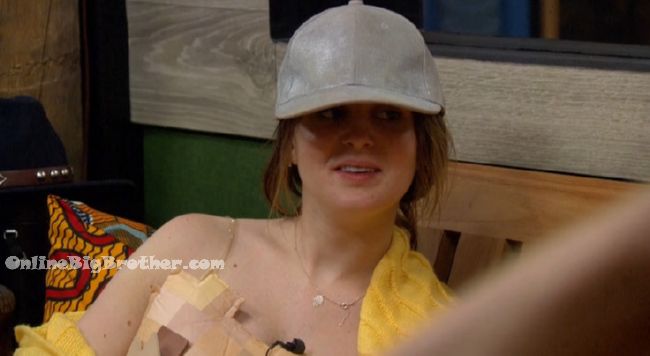 1:04am Michelle, Paulie and Tiffany
Michelle doesn't think Glenn was forth coming about his past.
When she saw Glenn at first back in May "I tell ya he… he didn't look goofy like that at all"
Paulie says Glenns, arms, traps and back were solid he was like a boulder.
Michele doesn't think Bronte is a preschool teacher not with a body like that.
Paulie says Bronte could be a fitness model maybe a Zumba instructor but he doesn't thin she's lying
Tiffany doesn't think someone would lie about being a zumba instructor.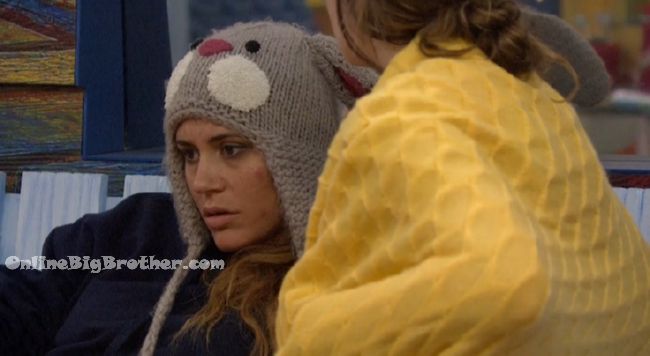 1:46am Bathroom Michelle and Tiffany
Tiffany is pissed at Da'Vonne.
Tiffany – Am I being antisocial today..
Michelle – you've been really social
Tiffany – I feel like I've been in a bad mood everyone pisses me off.. did you see how she reacted to me..
Michelle – ya .. I was like shit this is awkward
Tiffany – who was getting snippy first.. who was it..
Michelle – I don't remember the conversation
Tiffany – I go whose going first
Michelle – yeah you were just curious
Tiffany – she was like calm down, I was hey why the fuc* are you talking to me like that can't stand people talking to me like that…. are you f***G kidding me.. and she's like Chill out.. I'm not feeling it man
Tiffany says Da'Vonne always brings up that she never trusted Vanessa.
Tiffany – Notice Da'Vonne likes to talk shit
Tiffany wants Michelle to let her know if Da'Vonne is starting shit about her.
Michelle says NAtalie reminds her of Jordan Loyd
Tiffany – I feel like people have been mean to me today
Tiffany is warning her about Da'Vonne "Keep your eyes open" Tiffany wants to trust her but she's getting a "Vibe" From Da'Vonne.
(LOL so the fatal five starts to crack)
Michelle doesn't like Bridgette, "I hate talking to her"
Michelle only really wants to talk to the "8 People". Michelle doesn't mind Paul and Natalie but doesn't like Victor.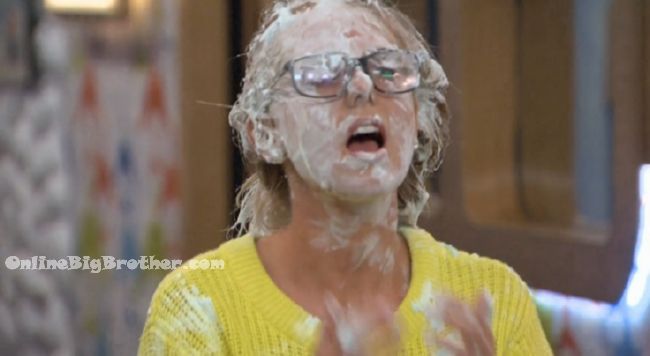 2:09am Nicole gets pranked
Late Night #BB18 @DawgsBigBrother pic.twitter.com/NCGVoADrfy

— OnlineBigBrother.com (@bigbspoilers) June 26, 2016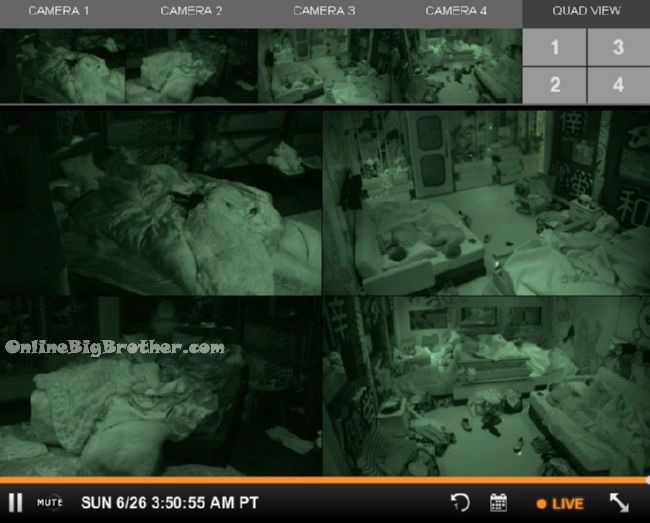 3:51am Everyone sleeping
7:07am still sleeping
8:21am sleeping
8:49am Feeds on Jeff possible POV ceremony.
9:10am Feeds back
Victor finds a piece of Chalk outside.
9:45am nothing going on houseguests making breakfast waking up.
Lots of excitement over this story Corey shared last night. Apparently his friend bought a goat for their frat house and got so drunk one night tried to light it on fire by spraying lighter fluid on it. Corey's Goat story found here https://www.onlinebigbrother.com/frank-tells-paulie-act-worried-we-want-him-to-feel-comfortable-so-his-reaction-is-that-much-better/2/ (FYI with a live feed subscription you can go back to any point on the feeds and rewatch.
June 25th11:05pm Cam 1-2 Kitchen Corey,James, Natalie, Paul, Frank
Corey – he went and bought a goat and put in it there backyard.. it was in our baseball house he got f*** up one night he got some lighter fluid and sprayed it on it tried to light that mother f****r on fire he was so drunk
James – he tired to light a goat on fire
Corey – this goat it was scared to death.. it was right by the fire place.. it wouldn't even move
Paul – why did you hurt goats
Corey – he wasn't going to move he was so scared
Paul – why would you light a goat on fire thats not nice.. i would never light a goat on fire
Corey – he tried to light that mother f***r on fire… he was the drunkest person